Southwestern Party Nuts Recipe
For this first recipe, I thought of my dad and his love for party nuts. He always them on hand to serve to guests and munch on himself. My mom has to tell him to stop eating all the nuts sometimes. He's 'nuts' over these Southwestern Party Nuts recipe. It's one my mom likes to make and she adapted it from a Betty Crocker cookbook.
Think a lot of spice with a dash of sweetness. They aren't too hot though that you'll need water or anything! Warning…they are addicting! This recipe is so simple to make and literally takes about 10 minutes. Make a batch or two now and keep them on hand for any guests that drop in.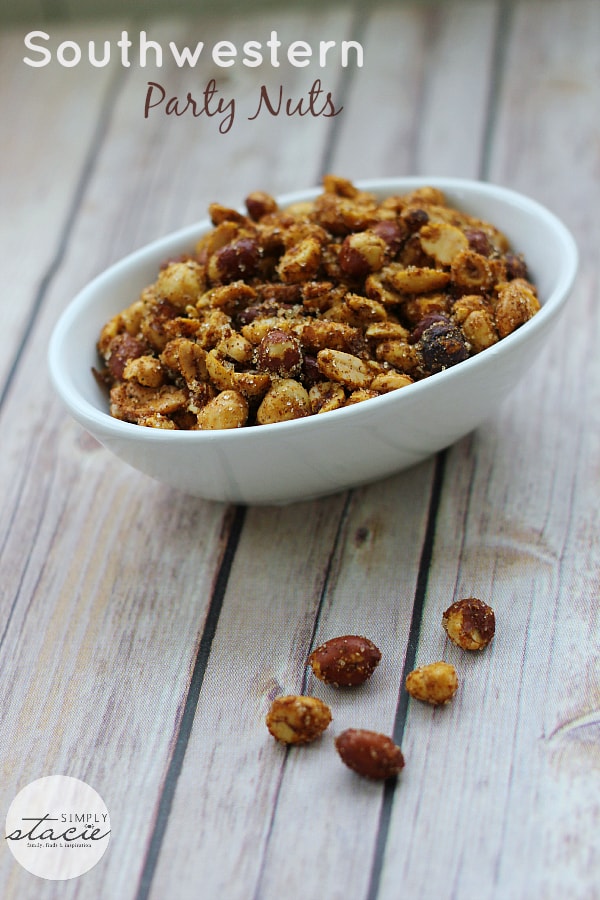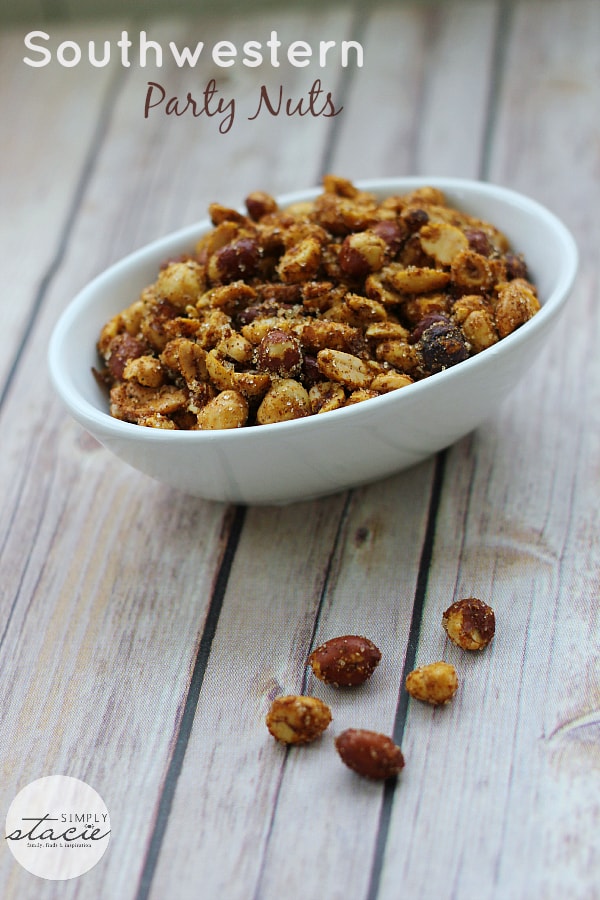 Southwestern Party Nuts
Yield: 6
Prep Time: 5 minutes
Cook Time: 10 minutes
Total Time: 15 minutes
A dash of spice and hint of sweetness make for an addicting treat!
Ingredients
1 can (9.5 oz to 11.5 oz) salted mixed nuts
1 tbsp butter, melted
2 tsp chili powder
½ tsp garlic powder
½ tsp onion powder
¼ tsp cinnamon
¼ tsp cayenne pepper
2 tbsp sugar
Instructions
Preheat oven to 300°F.
In a bowl, mix together nuts and melted butter.
In another small bowl, combine chili powder, garlic powder, onion powder, cinnamon and cayenne pepper. Sprinkle over top nuts and mix together until nuts are coated with the spices.
Spread nuts on a cookie sheet in a single layer and bake for 10 minutes.
Add nuts to a bowl while they're still fresh from the oven and sprinkle with sugar and toss to coat. Serve warm or allow to cool completely. Store them in an airtight container at room temperature for up to 3 weeks.
Recommended Products
As an Amazon Associate and member of other affiliate programs, I earn from qualifying purchases.
Nutrition Information:
Yield: 6
Serving Size: 1
Amount Per Serving:
Calories: 66
Total Fat: 4g
Saturated Fat: 2g
Trans Fat: 0g
Unsaturated Fat: 3g
Cholesterol: 5mg
Sodium: 58mg
Carbohydrates: 6g
Fiber: 1g
Sugar: 4g
Protein: 1g