Presidential Chili Recipe
It's National Chili Day at the end of February so this week the Friday Recipe Club is sharing our favourite chili recipes. Growing up my mom often made chili. Her recipe included tomatoes, onions, ground beef, mushrooms, green pepper, kidney beans and lots of chili powder. I often make it the same way, but today I wanted to share a slight variation on the recipe. This recipe is an interpretation of President Obama's family chili recipe!
Another yummy chili recipe to try: Taco Chili.
I discovered it in one of my cookbooks, Make It Fast, Cook It Slow, but changed a few things. They used ground turkey where I use ground beef. They also used fresh tomatoes and I prefer to use cans of diced tomatoes.
This recipe has a few different spices in it like turmeric and basil which I normally don't put in chili. It also has a secret ingredient: red wine vinegar. Don't knock it till you try it. It complements the flavours perfectly. I'm adding red wine vinegar to all my chili recipes from now on. It takes the chili to a whole new level of delicious!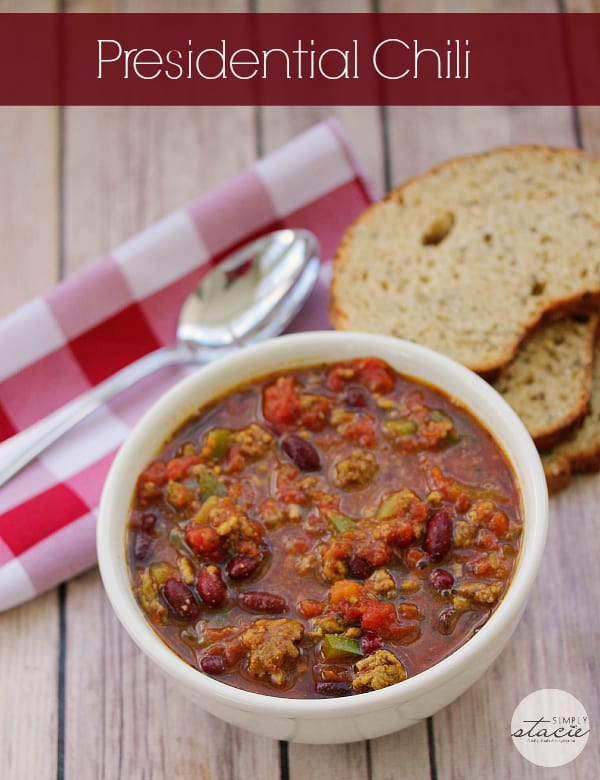 Check out these other chili recipes: No Bean Hawaiian Chili, White Chicken Chili, Classic Chili Con Carne, Crockpot Chili, Spicy Chicken Chili , Crockpot Lime Chicken Chili, Easy Chili and Jalapeno Popper Chili.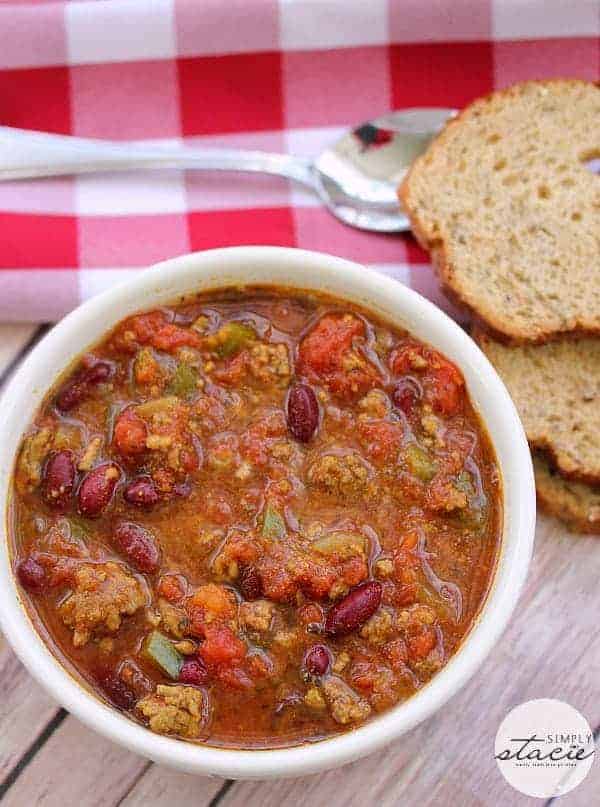 Yield: 6
Presidential Chili
Made with a secret ingredient to take this mouthwatering comfort food to a whole new level of deliciousness!
Ingredients:
1 lb lean ground beef
2 28 oz cans diced tomatoes
4 cloves garlic, minced
1 onion, chopped
1 green pepper, chopped
1 19 oz can kidney beans, drained
1 tsp cumin
1 tsp basil
1 tsp oregano
1 tsp turmeric
2 tsp chili powder
1 tsp salt
3 tbsp red wine vinegar
Directions:
Brown the ground beef on the stove top. Drain the fat and add into your slow cooker.
Add the remaining ingredients into the slow cooker and stir to combine.
Cover and cook on low heat for 8 hours. Serve over rice or with a slice of bread if desired.