Blueberry Buckle Recipe
If you're looking for an easy cake recipe that's not overly sweet, you need to try this Blueberry Buckle! A buckle is basically a single layer cake with a streusel topping. The top is not smooth and looks like it's "buckling". I guess it's pretty much a coffee cake. Whatever it is, it's delicious! I like mine with blueberries, but you could really add any berry you wanted to use. The flavour of the berries really shines through and I like that this recipe isn't too rich. The streusel topping adds the element of sweetness and I love finding like crunchy bits to sink my teeth into.
Top with a scoop of vanilla ice cream or enjoy on it's own. It's addicting though! I always want one more than one piece for dessert.
I'll likely make this more often when blueberry picking season arrives. It's an excellent way to use up those blueberries in an easy fool-proof recipe.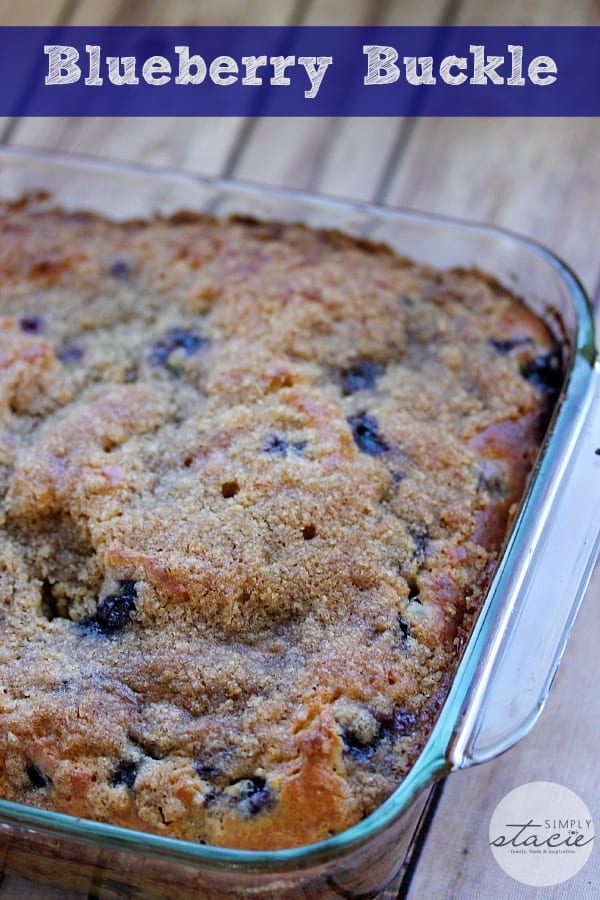 Yield: 8
Blueberry Buckle
A single layer of blueberry cake with a sweet streusel topping. Serve with a scoop of vanilla ice cream!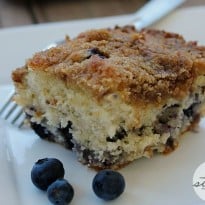 Ingredients:
¼ cup butter
¾ cup sugar
2 eggs
1 tsp vanilla
2 cups flour
2 tsp baking powder
½ tsp salt
½ tsp cinnamon
½ cup buttermilk
1 cup fresh blueberries
Streusel topping
¼ cup flour
¼ cup sugar
¼ cup brown sugar
½ tsp cinnamon
½ cup butter (hardened butter; make sure its not too soft!)
Directions:
Preheat oven to 375°F. Grease an 8 inch baking pan and set aside.
Beat sugar and butter together with an electric mixer on medium until blended. Beat in eggs and vanilla.
In another bowl, combine flour, baking powder, salt and cinnamon.
Stir flour mixture and buttermilk into the sugar mixture until well blended.
Stir in blueberries and spoon the batter into the baking pan.
For the Streusel topping, combine all the ingredients except the butter. Add butter in and mix until it becomes crumb like. Sprinkle the streusel evenly over the batter.
Bake 30 to 35 minutes or until a toothpick comes clean from the centre of the cake.