I only recently learned about Vaisakhi, the harvest festival celebrated in the Punjab region of Indian, occurring on April 13th. It marks the start of the new year and new beginnings. In Canada, the Sikh community holds its annual Vaisakhi celebrations in April with a parade in Surrey, BC. Large numbers attend and according to Wikipedia, 200,000 people were at the parade in 2014.
What better way to celebrate a new fresh beginning than using fresh ingredients in a delicious Indian recipe. Through my partnership with Patak's Canada, I was challenged this month to create a festive dish using fresh Indian herbs. I selected mint as my herb and settled on making Tandoori Shrimp with Mint Chutney. I think that's an appropriate recipe for a fresh start and a yummy way to "mix in a little India" at a our family's dinner table.
I selected Patak's Tandoori Sauce for Two along with shrimp, onions and garlic. I made a mint chutney with fresh mint (obviously), cilantro, lime juice, garlic, green chilies and olive oil. The meal came together in about 20 minutes and that includes me cooking the rice to serve it with.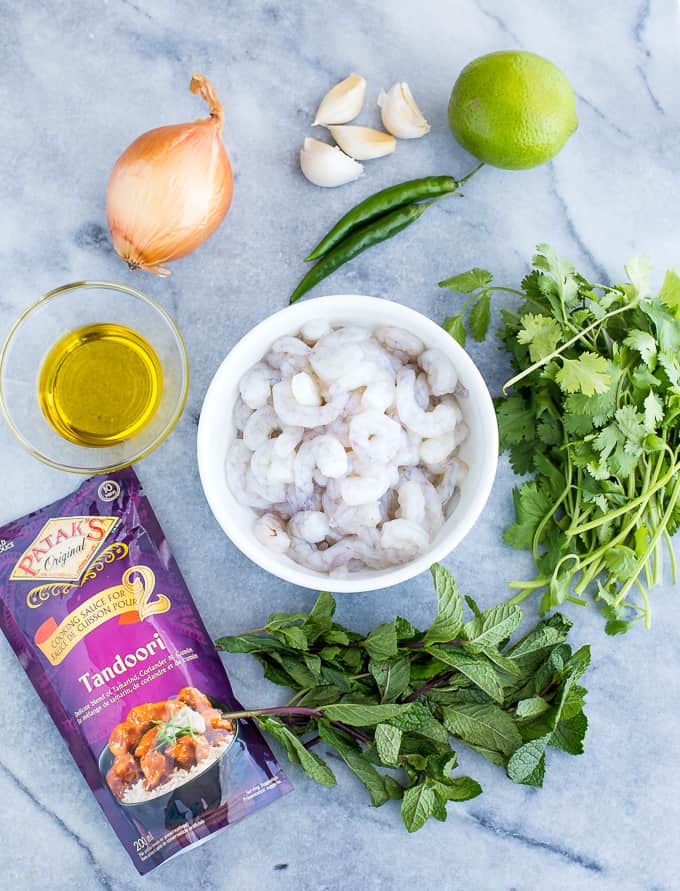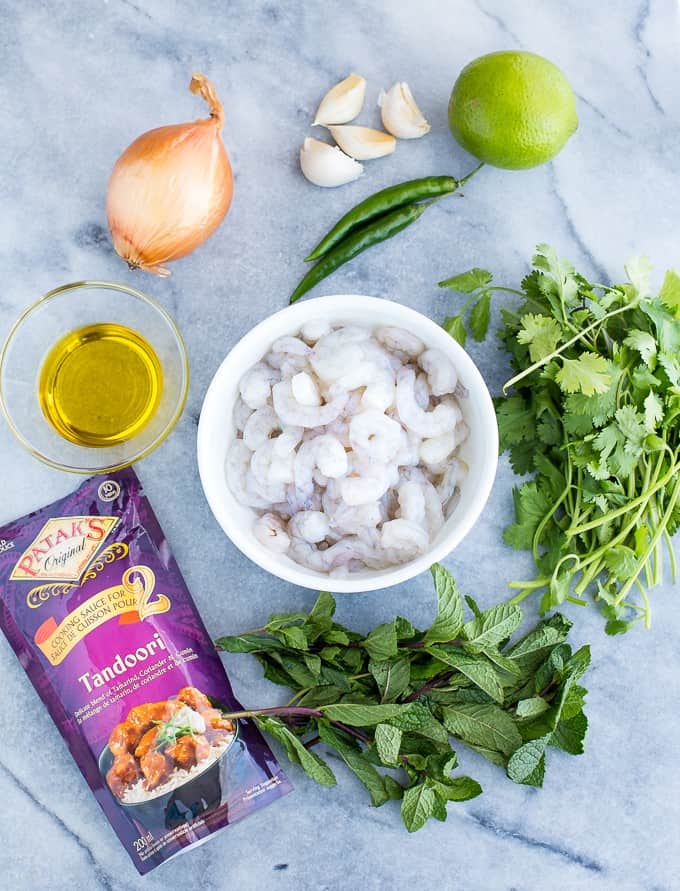 Tandoori Shrimp with Mint Chutney
Normally, you think of chicken served with Tandoori, but I thought it would be fun to try a different protein. We are big seafood fans, especially shrimp. I choose well because the dish turned out fabulous.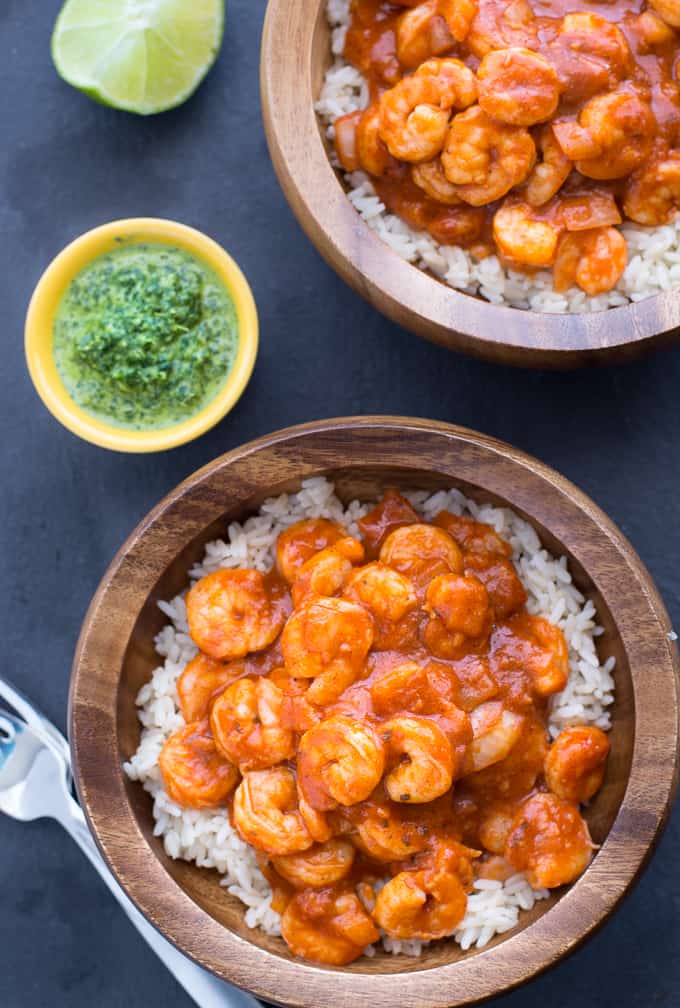 Tandoori sauce is fairly mild with its blend of tamarind, coriander and cumin. It won't overwhelm your tastebuds with heat as some other types of Indian sauces can.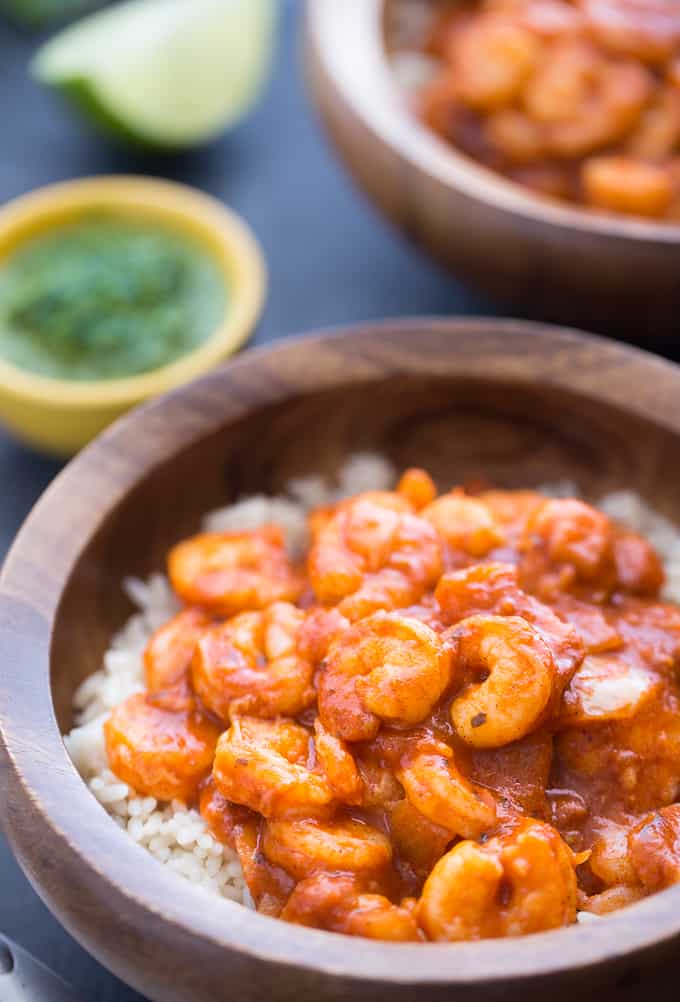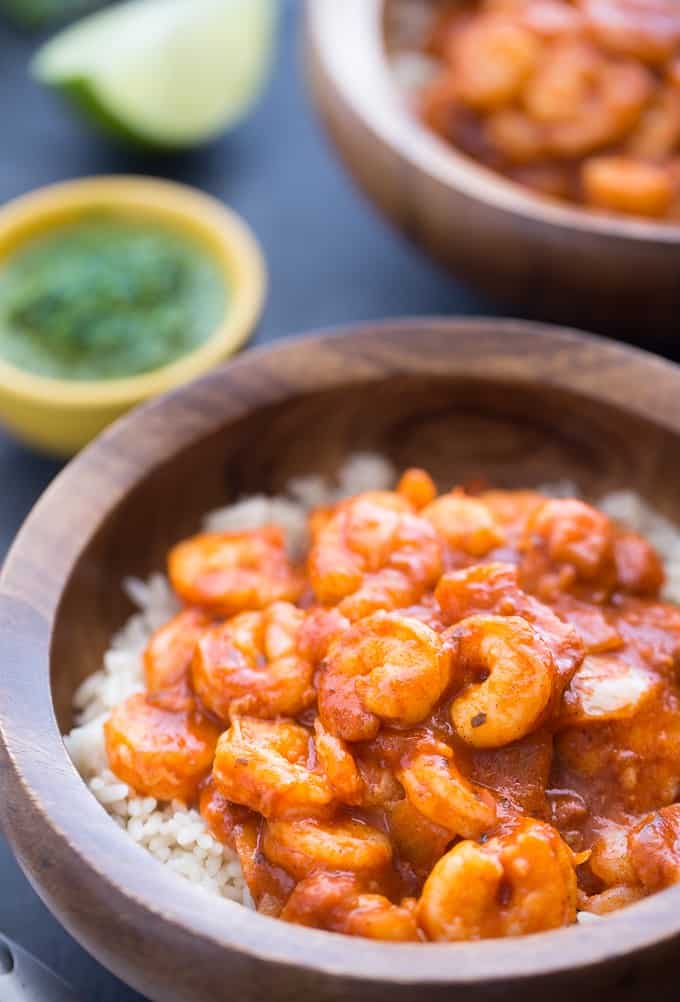 I pureed the herbs, garlic, lime and olive oil to create this flavourful mint chutney. It gives a nice contrast of flavours paired with the Tandoori Shrimp.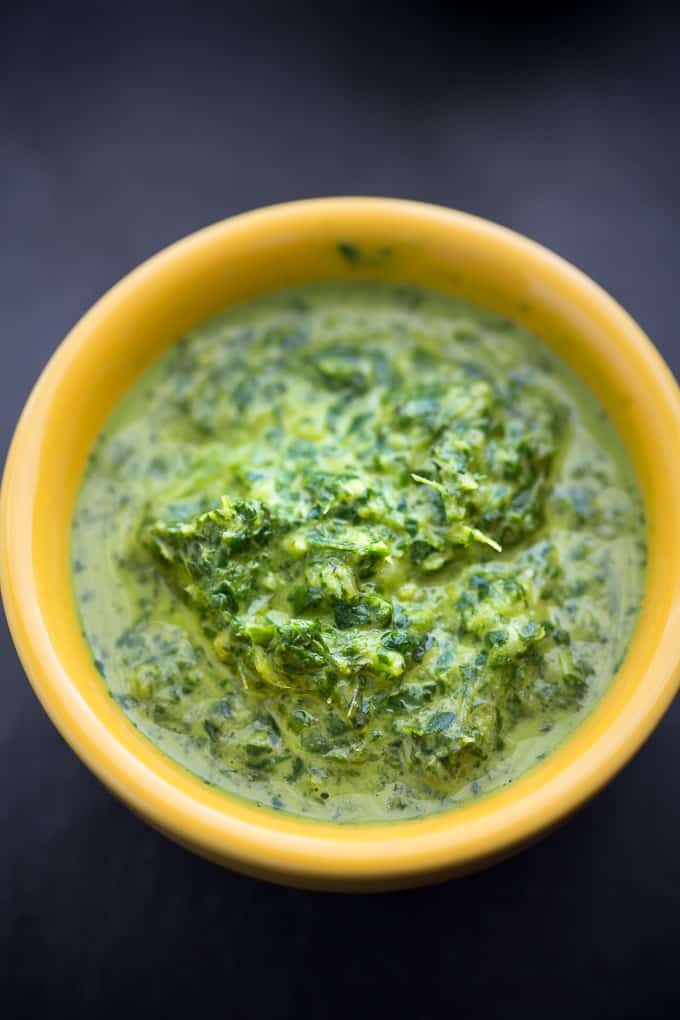 I added about a tablespoonful to each bowl and then mixed it in to enjoy. I loved the extra burst of freshness!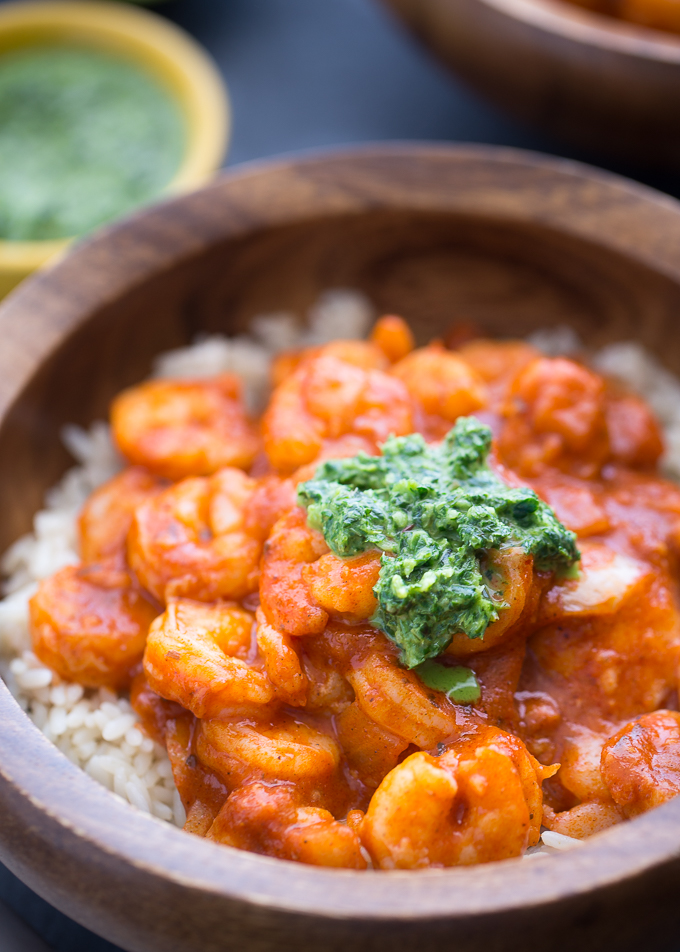 Next time I make this recipe, I'm going to double it. We ate it one evening when the kids were over at Grandma and Poppa's house. I think my girls would like it. I'm not sure if they'd eat the mint chutney so I'd keep that on the side just in case.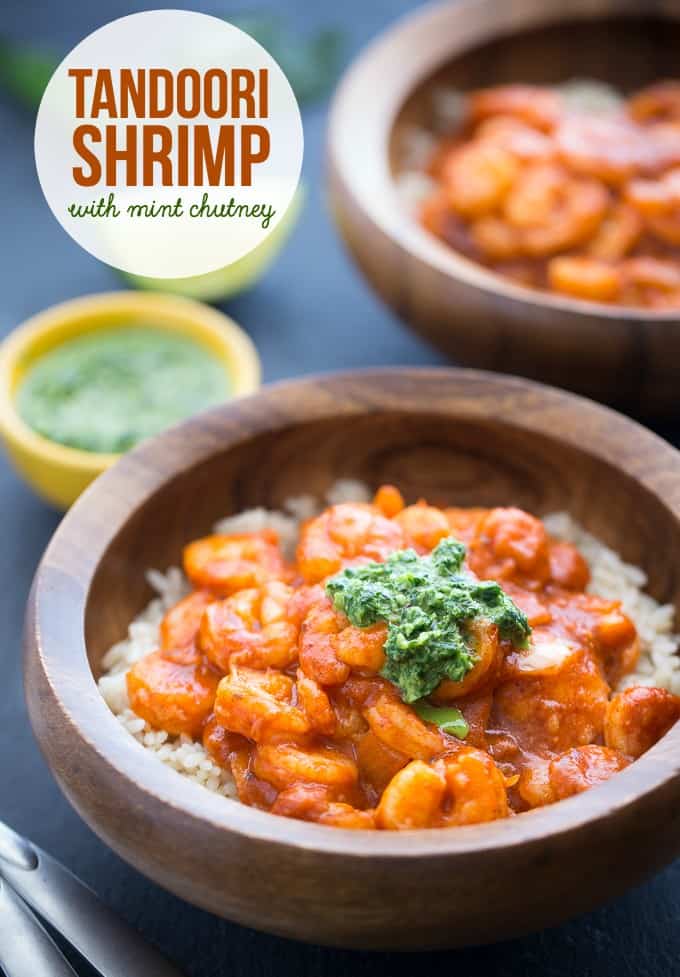 Patak's Canada has another recipe you could try with the Tandoori Sauce for Two: Tandoori Roasted Root Vegetable Stew.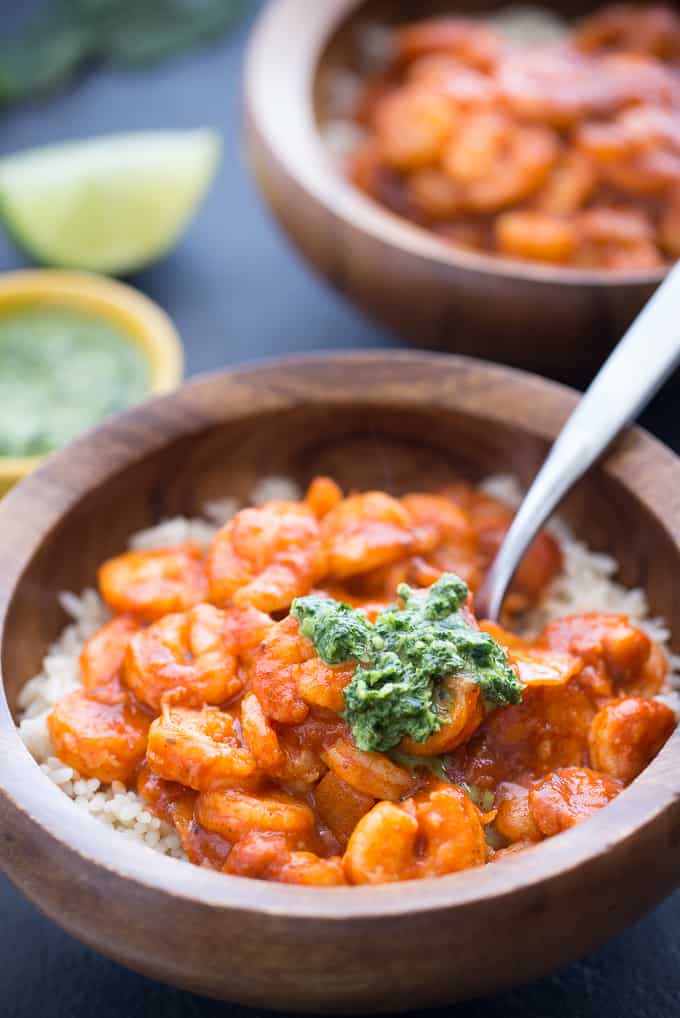 Check out my previous recipes made with Patak's Canada products: Curried Lentil Rice, Butter Chicken Hand Pies, Indian Meatloaf , Bacon Wrapped Chicken Bites with Mango Chutney and Butter Chicken Lasagna Soup.
You might also like these Curried Shrimp Rolls and Shrimp Chowder.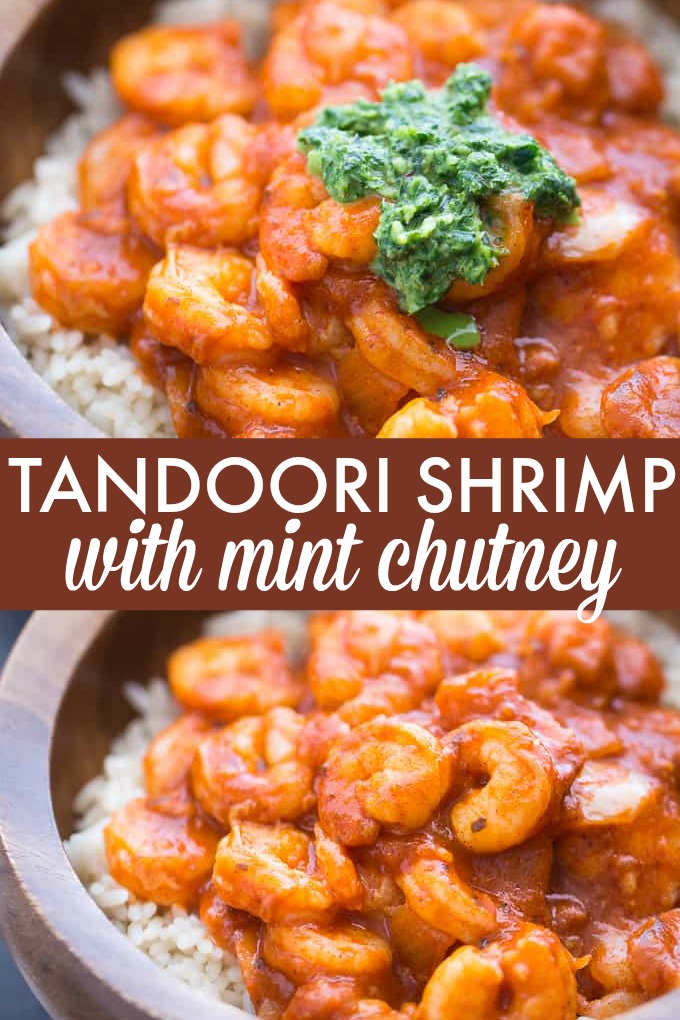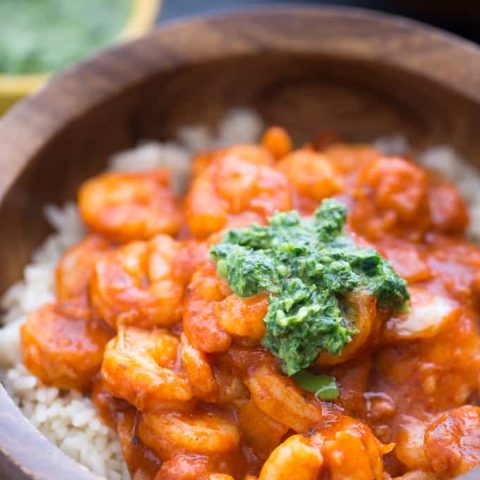 Tandoori Shrimp with Mint Chutney
Bring a taste of India to your kitchen tonight! Make this mild seafood dish full of flavor in less than 20 minutes.
Ingredients
1 tbsp extra virgin olive oil
1 onion, chopped
2 cloves garlic, minced
1 1/2 cups shrimp, uncooked, peeled, deveined
1 package of Patak's Tandoori Sauce for Two
2 to 3 cups cooked rice, if desired
Mint Chutney
1 cup mint leaves, roughly chopped
1 cup cilantro, roughly chopped
2 green chilies, chopped
2 cloves garlic, minced
juice of half a lime
1 tbsp olive oil
salt to taste
Instructions
In a large skillet, heat 1 tbsp olive oil over medium heat. Add onions, garlic and shrimp and stir to combine. Cook for 4 to 5 minutes, stirring occasionally, until shrimp is cooked and onions are softened.
Stir in one package of Patak's Tandoori Sauce for Two. Turn heat to medium low and simmer for 3 to 4 minutes, until heated through.
How to Make Mint Chutney
Add all ingredients into a blender or food processor and process into a puree.
To Serve
Divide rice evenly between two serving bowls. Top with Tandoori Shrimp mixture. Add about a tablespoon of mint chutney on top, if desired.
Recommended Products
As an Amazon Associate and member of other affiliate programs, I earn from qualifying purchases.
Nutrition Information:
Yield:

2
Serving Size:

1
Amount Per Serving:
Calories:

1022
Total Fat:

18g
Saturated Fat:

3g
Trans Fat:

0g
Unsaturated Fat:

14g
Cholesterol:

231mg
Sodium:

1699mg
Carbohydrates:

170g
Fiber:

6g
Sugar:

23g
Protein:

41g
How do you mix in a little India to your meals?
Connect with Patak's Canada on Facebook and Twitter.
Disclosure: I am part of The Cultured Kitchen Ambassador program in partnership with Patak's Canada and Blue Dragon Canada and I receive special perks as part of my affiliation with this group. The opinions on this blog are my own.