Sweet and Sour Chicken is an easy meal your family will love. Each bite is the perfect combination of flavours and is a go-to dinner for busy weeknights.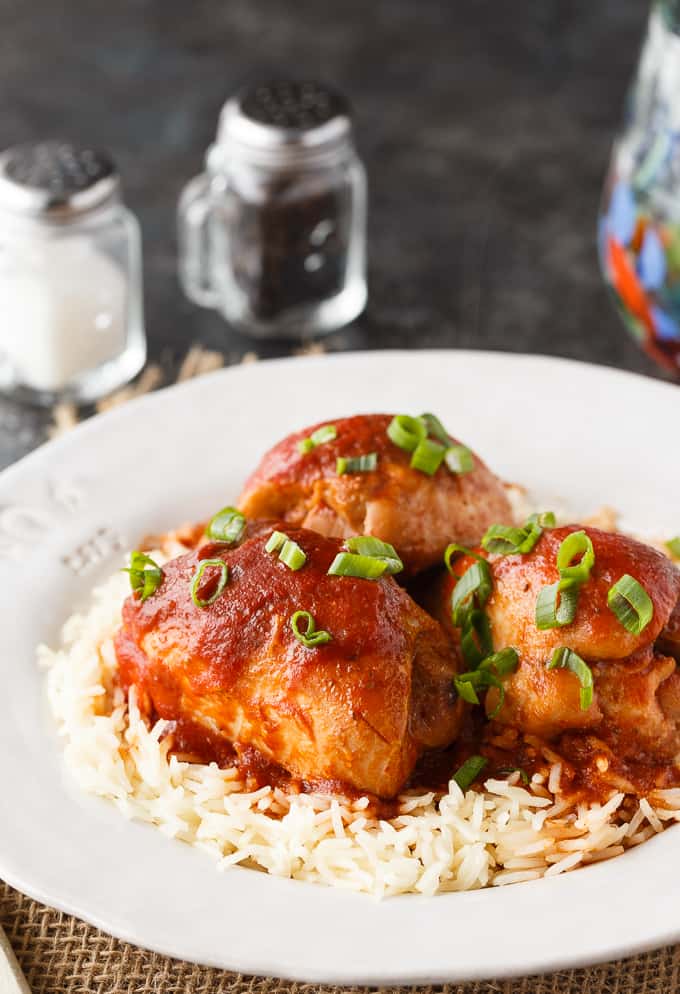 I wish I could say I'm so glad that spring is here, but it feels like winter never left. It's like April is trying to be January. Not cool, Mother Nature, not cool. Here in Ontario we are just finishing up with an ice storm. We were lucky here in Pembroke and only lost power for a few minutes and Internet was out a few hours. Still, I'm not taking off my snow tires until probably May because you never know what is next!
Disclosure: I am participating in the Chicken Farmers of Canada campaign managed by SJ Consulting. I received compensation in exchange for my participation in this campaign. The opinions on this blog are my own.
Let's think positive though and hope for the best. Soon will be experiencing all the glory that spring has to offer. The snow will melt, the flowers will bloom and the sun will shine. I'm ready. I'm also ready for some spring chicken!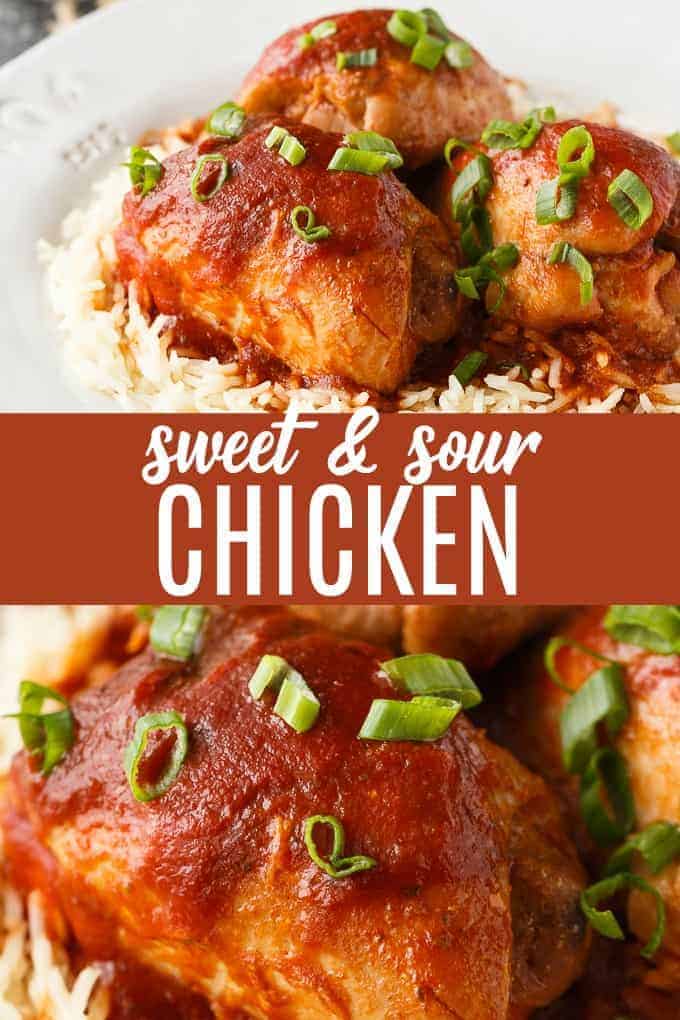 Sweet and Sour Chicken
I rarely cook chicken without some kind of sauce or rub. They add so much extra flavour so why leave it off? One of my favourite dinners to cook for my family is Sweet and Sour Chicken. You can use any cut of chicken you like and the sauce is to die for!
For this recipe, I used chicken thighs because they were on sale at the grocery store. My youngest daughter loves dark meat. Remember to always look for the Raised by a Canadian Farmer logo on your chicken.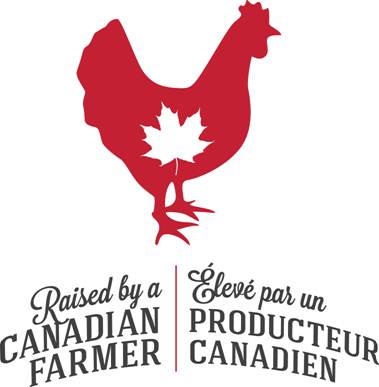 That's how you'll know for sure where your chicken comes from and that it was raised to the highest quality standards.
Each bite is juicy, tender and flavourful. At first bite, you get the hint of sweet that transitions into the tangy sour notes. The chicken bakes in the sauce so it can absorb all that good delicious flavour.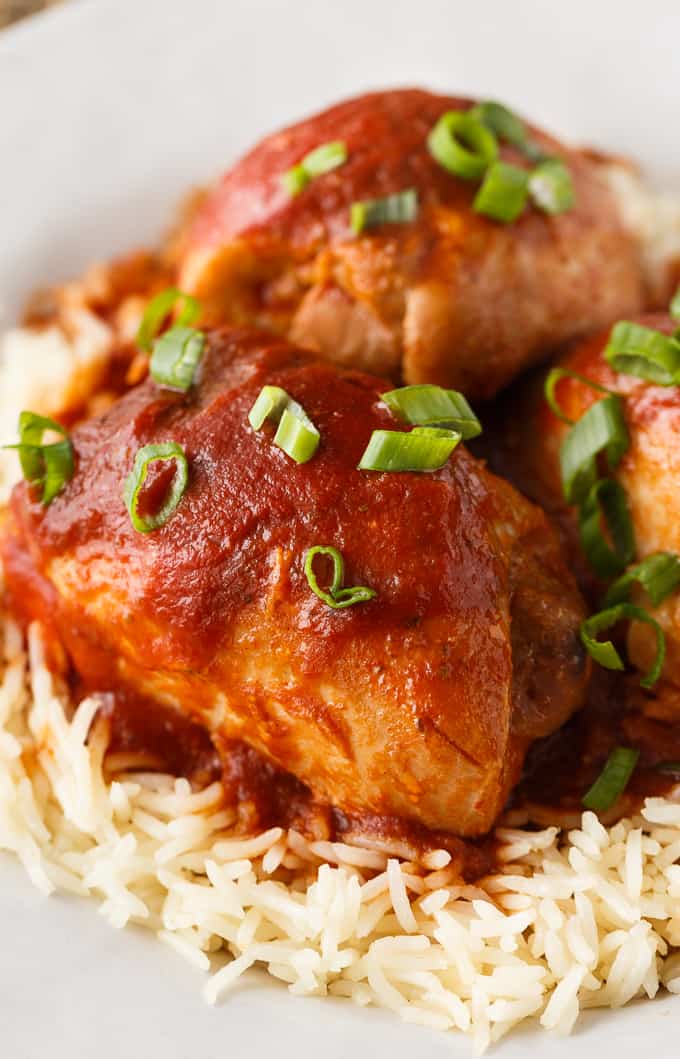 How to Make Sweet and Sour Chicken
This recipe has a few steps, but they don't take long to do. Place the chicken thighs in a baking dish. A 13×9 casserole dish works great. If you don't have that many chicken thighs, use something a little smaller.
The soya sauce and vegetable oil are mixed together and poured over the thighs. The spices and brown sugar are sprinkled on next. There's your sweetness. Broil the chicken thighs for 5 minutes until the sugar starts to melt and caramelize. This step really helps to lock in the yummy flavour.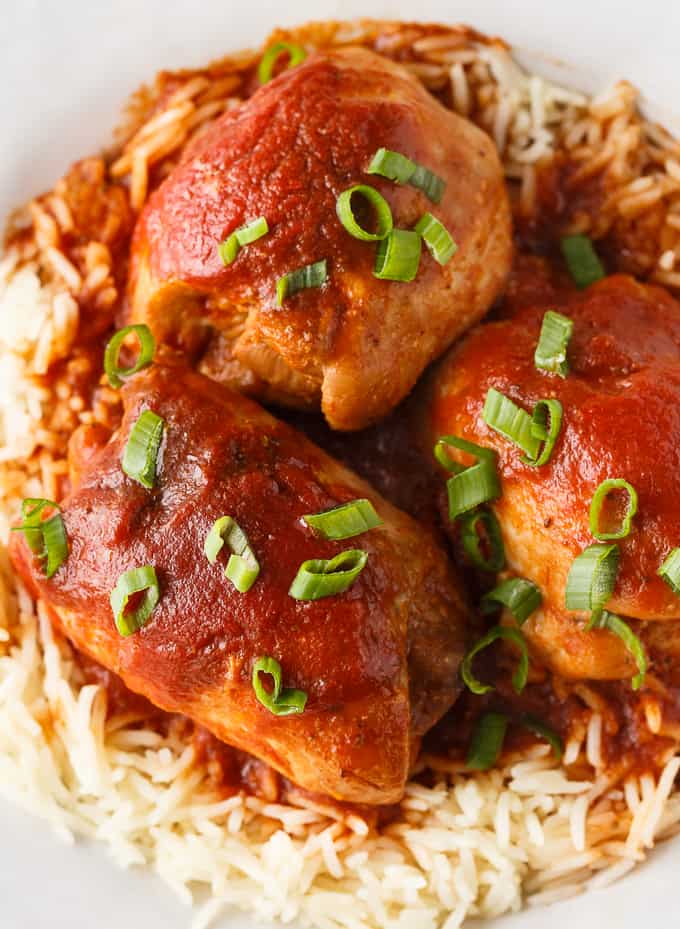 After you've broiled the chicken, remove it from the oven. Mix together the tomato sauce and vinegar and pour over top. If you don't have tomato sauce on hand, a can of tomato soup will also work.
Bake for 50 minutes. You can check it with a meat thermometer to make sure it's done. Mine was perfectly cooked after 50 minutes in my oven. Everyone's ovens are different so I always recommend checking with a thermometer just in case.
What to Serve with Sweet and Sour Chicken
Sweet and Sour Chicken is best served over rice, in my opinion. The rice will soak up all that yummy sauce and make for an even more mouthwatering meal. My daughter loves rice and wants it almost every night so she'd tell you the same thing. Rice is best.
I also sprinkled a little sliced green onion on top for a pop of colour and burst of fresh flavour. Leave it off if your family isn't a fan.
More Chicken Recipes
Chicken Farmers of Canada has a large selection of chicken recipes to try. Make sure you check out their section on BBQ sauces and rubs while you're there.
You can also download their Grocery App. It will help you plan your shopping trips and find new chicken recipes to try. I use it often.
I also have a few chicken recipes you might like including Sticky Chicken, Roasted Red Pepper Chicken, One-Pan Lemon Thyme Chicken, Honey Curried Chicken, Peking Chicken, Hawaiian Chicken, Peach Chicken, Cabbage & Peanut Butter Chicken Stir-Fry and Chicken Cordon Bleu Casserole.
Connect with the Chicken Farmers of Canada on Facebook, Twitter, Instagram and Pinterest.
Sweet and Sour Chicken
Make this easy chicken recipe your family will love in just 30 minutes! This Asian-inspired weeknight dinner lets you skip takeout.
Ingredients
8 to 10 boneless, skinless chicken thighs
1/4 cup soya sauce
2 tbsp vegetable oil
1/2 tsp chili powder
1/2 tsp celery seed
1/4 tsp garlic powder
1/4 cup brown sugar
1 1/2 cups tomato sauce
1/2 cup vinegar
Green onions, for garnish, optional
Instructions
Preheat oven to broil on high.
Place chicken thighs in a casserole dish.
Add soya sauce and vegetable oil to a small bowl and stir to combine. Pour over chicken thighs.
In a small bowl, stir together chili powder, celery seed, garlic powder and brown sugar. Sprinkle over chicken thighs.
Broil for 5 minutes. Remove from oven.
In a medium bowl, stir together tomato sauce and vinegar. Pour over chicken.
Bake for 50 minutes at 375F. Serve over rice.
Recommended Products
As an Amazon Associate and member of other affiliate programs, I earn from qualifying purchases.
Nutrition Information:
Yield:

5
Serving Size:

1 piece
Amount Per Serving:
Calories:

402
Total Fat:

15.6g
Saturated Fat:

7.1g
Unsaturated Fat:

6.8g
Cholesterol:

224.1mg
Sodium:

581.7mg
Carbohydrates:

13.3g
Fiber:

1.3g
Sugar:

10.4g
Protein:

48.8g