Butterscotch Sauce is my absolute favourite topping for ice cream. Hands down. I'll choose it every time. It's rich, buttery and sweet. It's the kind of flavour that you remember long after you've eaten it.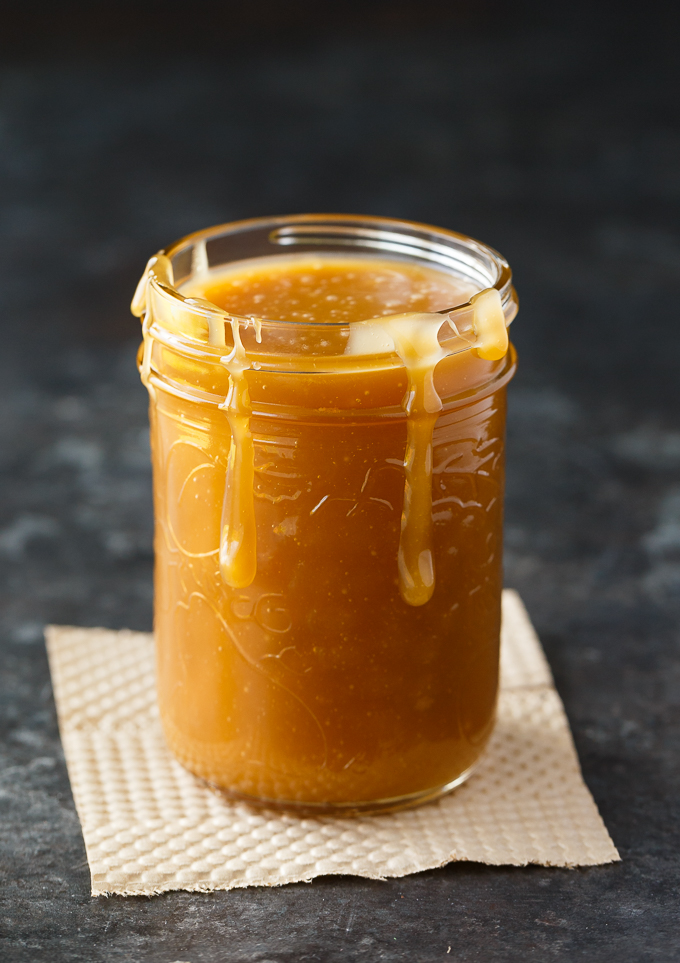 Butterscotch Sauce
You can buy butterscotch sauce at the grocery store, but homemade is so much better, in my opinion. It's not that hard to make either and you don't need any fancy equipment. If it was hard, I wouldn't make it!
I've been making this recipe for years and it's always been a hit with my family. We eat a lot of ice cream in the summer months and it's nice to be able to add a little extra oomph of flavour to the bowl.
How to Make Butterscotch Sauce
Start by adding the sugar, brown sugar, butter, whipping cream, light corn syrup and salt to a saucepan over low heat. Stir until the butter melts.
Once the butter melts, increase the temperature to medium heat. Remember it's important to continue to stir so nothing burns. Once the mixture starts boiling, watch the clock and leave it boil for 5 minutes.
After the 5 minutes are up, remove the pot from the heat. Let it cool at room temperature for 20 minutes. It will start to thicken up more.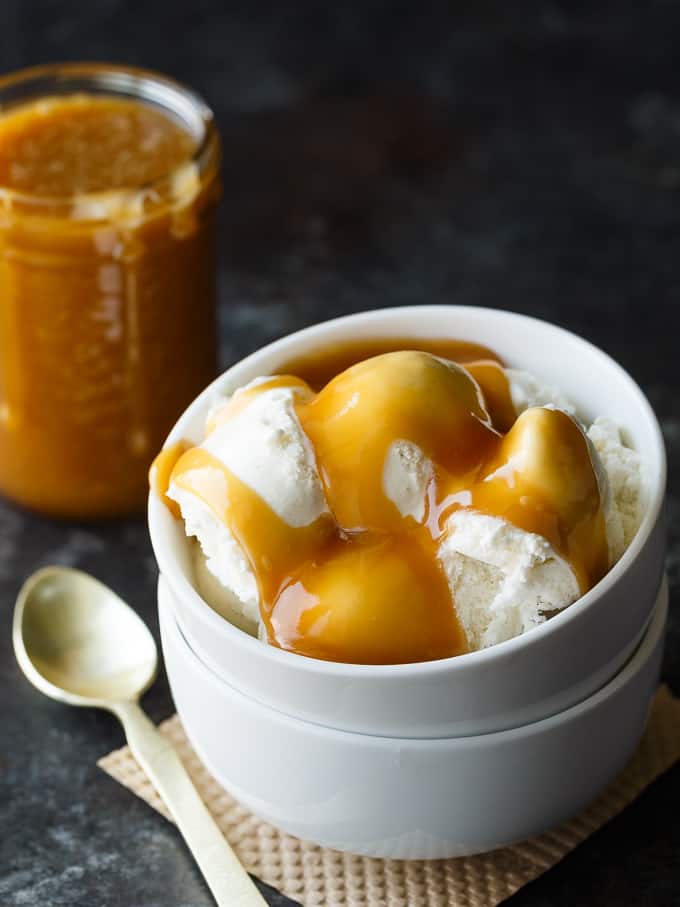 After your timer has buzzed at the 20 minute mark, stir in the vanilla extract. You are now ready to serve it over ice cream, cake or whatever confection you have on hand.
Helpful Kitchen Tools
This post contains affiliate links.
The longer you leave the butterscotch to cool, the more it will thicken. If it gets too thick for your liking, pop it in the microwave for a few seconds to heat it up.
Note: if you overheat it, it will become too thin so only reheat slightly.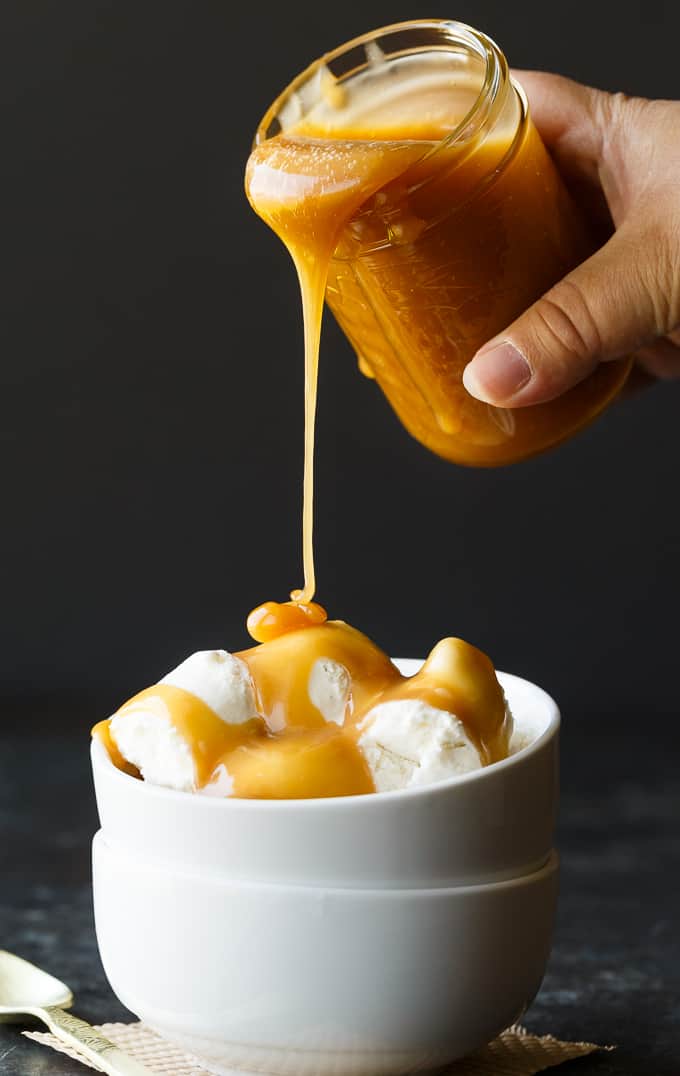 For storage, you can get a little fancy and use a mason jar or just use a reusable container with a lid. It keeps in the fridge for up to 10 days. You will need to reheat after it's been in the fridge. Though I grabbed a spoon and snuck a few bites with it in its solid form. Yum!
You'll have ice cream topping for days or enough to offer family and friends when they come for a visit and want a cold treat.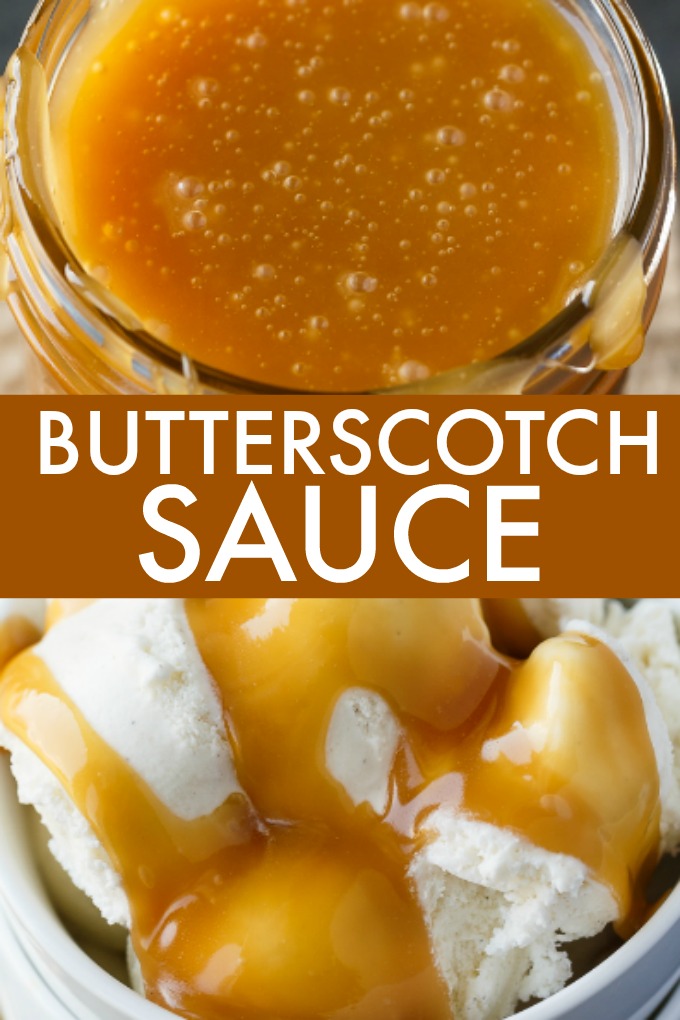 I gave a little bit to my cousin who was making a banana cheesecake and was going to use the butterscotch sauce as a topping.

For more butterscotch recipes, try my Butterscotch Steamer, Butterscotch Pudding Cookies, Butterscotch Blondies, Butterscotch Cheesecake Bars and No-Bake Butterscotch Cookies. You might also like this Instant Pot Dulce de Leche, Peanut Butter Magic Shell, Caramel Sauce or Hot Fudge Sauce.
Are you a butterscotch fan?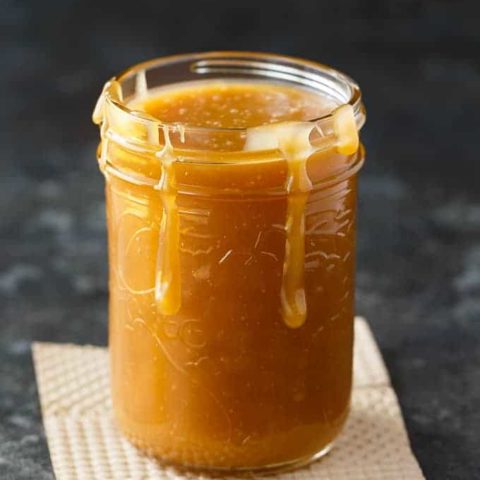 Butterscotch Sauce
Make your own sundae topping or sweet dipping sauce! You'll remember this rich and buttery flavor long after you've eaten it. This easy homemade sauce tastes amazing on ice cream, cheesecake or bread pudding.
Ingredients
1/2 cup sugar
1/2 cup brown sugar
6 tbsp butter
1/2 cup whipping cream
1/2 cup light corn syrup
1/2 tsp salt
1 tsp vanilla
Instructions
Add sugar, brown sugar, butter, whipping cream, corn syrup and salt to a saucepan over low heat. Stir constantly until butter is melted.
Increase heat to medium, stirring constantly. Once boiling, continue to boil for 5 minutes. Remove from heat. Set aside to cool for 20 minutes.
Stir in vanilla extract. Serve over ice cream, cheesecake or bread pudding or whatever you like!
Notes
Store in the fridge for up to 10 days. The sauce will firm up when chilled. Heat slightly before serving.
Recommended Products
As an Amazon Associate and member of other affiliate programs, I earn from qualifying purchases.
Nutrition Information:
Yield:

8
Serving Size:

1/8 cup
Amount Per Serving:
Calories:

205
Total Fat:

13.3g
Saturated Fat:

8.3g
Trans Fat:

0g
Unsaturated Fat:

4.4g
Cholesterol:

39.5mg
Sodium:

9.9mg
Carbohydrates:

22.4g
Fiber:

0g
Sugar:

22.3g
Protein:

0.4g