Try your favourite sandwich as a salad – a BLT Salad! You'll love the fresh lettuce, juicy tomatoes and crispy bacon topped with savory homemade croutons and honey dijon vinaigrette.
Trust me, this dish takes the classic BLT sandwich we all know and love and turns it into a mouthwatering salad form that's gonna knock your socks off!
Picture this: we've got all the key players from the iconic BLT combo, but we're kicking things up a notch. Crisp lettuce, juicy tomatoes, and, hold onto your hats, perfectly crispy and salty bacon! I mean, who can resist that heavenly combo? And here's the best part: we're not stopping there. Oh no! We're throwing in a bunch of fresh ingredients and a dressing that'll make your taste buds do a happy dance.
Think about it—each forkful of this salad is a burst of flavors and textures. You've got that satisfying crunch from the romaine lettuce, the tanginess of the tomatoes, and the irresistible salty goodness of the bacon. And let's not forget about the magic of the dressing that brings everything together. It's a symphony of tastes that'll make you fall head over heels for this BLT salad recipe.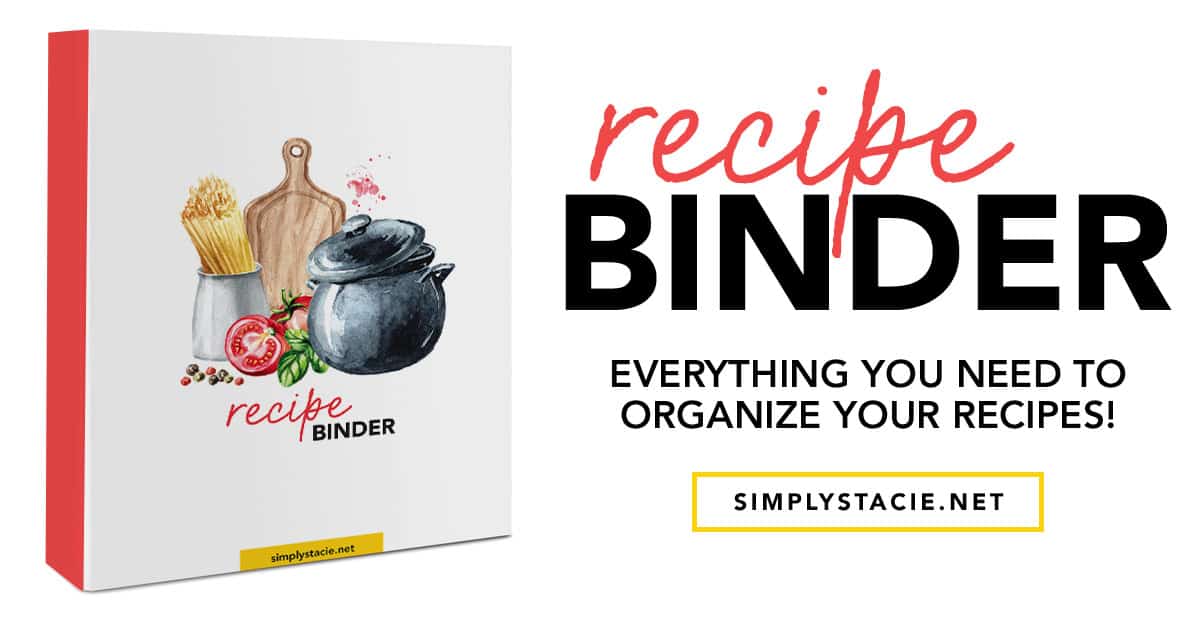 Why You'll Love This Bacon Lettuce Tomato Salad
Classic with a Twist: This salad takes the classic sandwich and gives it a fresh spin. You get to enjoy all the familiar flavors of bacon, lettuce, and fresh tomatoes in a new exciting way.
Crispy Bacon Delight: Who can resist perfectly crispy bacon? It adds a savory, smoky crunch to the salad, elevating the overall taste and satisfying your bacon cravings.
Flavorful Dressing: The honey dijon dressing is the secret weapon that ties everything together.
Versatility at its Best: While this BLT Salad is already incredible, you can easily customize it to suit your preferences.
Quick and Easy: No need to spend hours in the kitchen to enjoy this salad. It comes together in a breeze, making it a perfect option for a quick lunch, a side dish, or even a main course on a busy day.
Crowd-Pleaser: Whether you're hosting a gathering or enjoying a meal with your loved ones, this BLT Salad is guaranteed to impress. It's a crowd-pleaser that appeals to all ages and tastes.
Endless Summer Vibes: With its vibrant colors and refreshing flavors, this salad brings a taste of summer to your table. It's perfect for picnics, BBQs, or occasions when you need a great salad to impress your friends and family.
Delicious Leftovers: If you have any leftovers (which is rare because it's so darn tasty), this salad holds up nicely for the next day's lunch. Pack it in a container or a mason jar and take it with you for a satisfying and flavorful meal.
Ingredients
The full printable recipe card with measurements and instructions is found at the bottom of the post.
I love the fresh veggies and simple ingredients!
Leaf lettuce
Cooked bacon
Cherry tomatoes (or grape tomatoes)
White bread
Extra virgin olive oil
Dried basil
White wine vinegar
Honey
Dijon mustard
Salt and pepper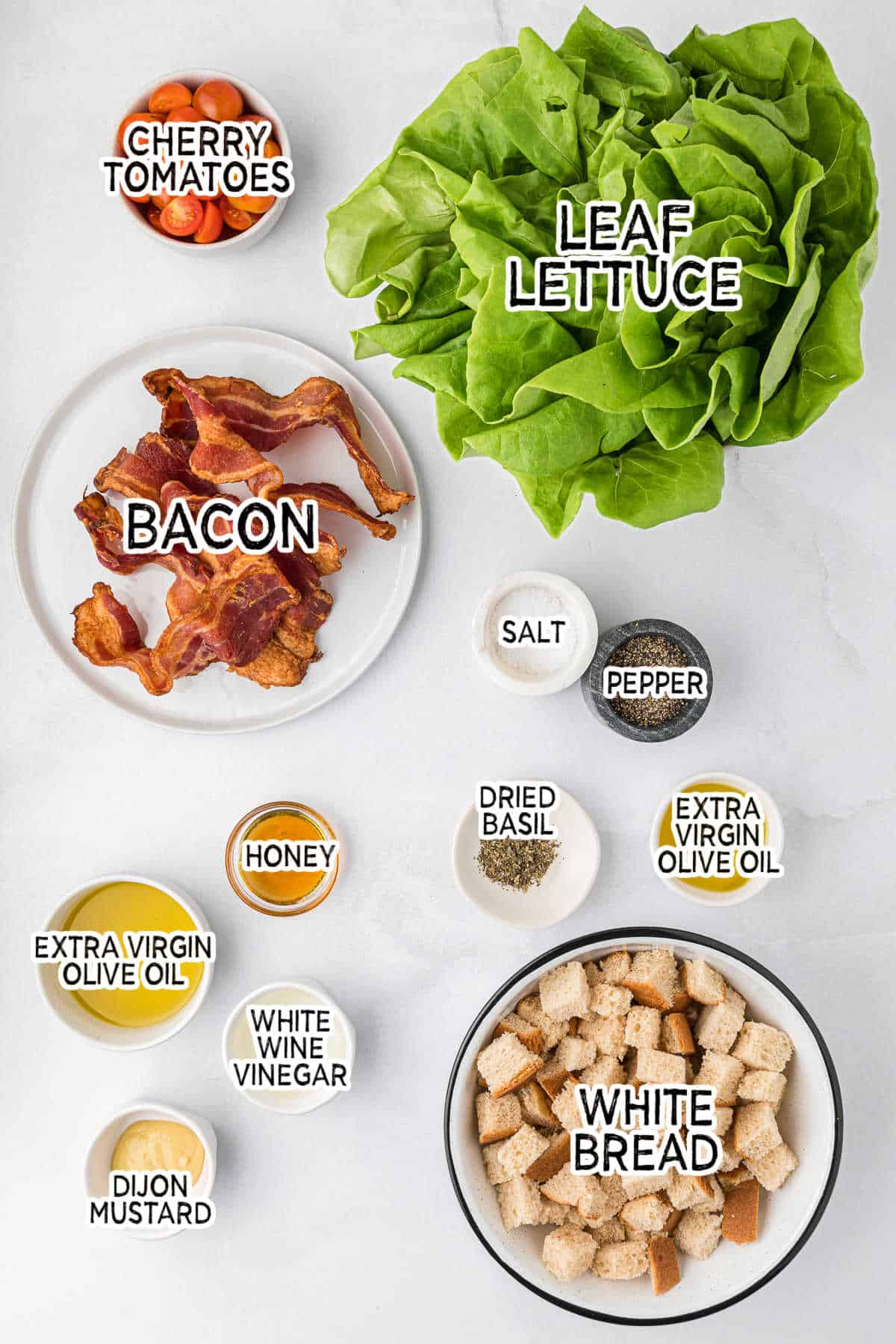 How to Make BLT Salad
Step One: Preheat oven to 375°F. Add bread cubes to a baking sheet. Drizzle 1/8 cup olive oil over the bread. Sprinkle on dried basil. Toss to coat and lay on a baking sheet in a single layer.
Step Two: Bake for 5 minutes. Toss. Bake for an additional 3 to 5 minutes until it reaches your desired doneness. Set aside to cool.
Step Three: Whisk together 1/4 cup extra virgin olive, white wine vinegar, honey, Dijon mustard, salt and black pepper in a small bowl. Set aside.
Step Four: Add lettuce, tomatoes, bacon and croutons to a large bowl. Drizzle on vinaigrette and toss to combine.
Equipment Needed
This post contains affiliate links.
What to Serve with a Delicious BLT Salad
Grilled Chicken: Add some grilled chicken breast or sliced grilled chicken on the side to make it a heartier meal. Rotisserie chicken will also be a great choice.
Garlic Bread: The warm, toasty bread with a hint of garlic will be the perfect accompaniment to soak up any remaining dressing and add a delicious crunch.
Soup: Tomato soup or creamy vegetable soup would be excellent choices.
Pasta Salad: Double up on the salads by serving a cold pasta salad. Opt for a light, refreshing pasta salad with ingredients like cherry tomatoes, cucumber, and a zesty vinaigrette.
Grilled Corn on the Cob: The charred sweetness of the corn perfectly balances the savory flavors of the BLT Salad.
Sweet Potato Fries: Crispy and slightly sweet, sweet potato fries make a fantastic side dish.
Tomato Sandwich: One of my favorite sandwiches is the perfect complement to a hearty salad.

Variations and Substitutions
Grilled Chicken: Add grilled chicken breast or shredded chicken for a more substantial protein-packed salad.
Smoked Turkey: Replace the bacon with thinly sliced smoked turkey for a lighter and healthier twist.
Grilled Shrimp: Grill some shrimp and toss them into the salad for a seafood twist. It adds a delightful flavor and texture.
Feta Cheese: Crumble some tangy feta cheese over the salad for a creamy and salty contrast to the fresh ingredients.
Blue Cheese: If you're a fan of bold flavors, try adding crumbled blue cheese to elevate the taste of the salad.
Shredded Cheddar: Sprinkle some shredded cheddar cheese for a classic cheesy touch.
Avocado: Slice some ripe avocado and add it to the salad for a creamy, buttery texture.
Red Onion: Thinly slice some red onion to add a mild bite and a pop of color to the salad.
Cucumber: Dice and toss some cucumber for extra crunch and freshness.
Lettuce: Try another kind of lettuce like iceberg lettuce, butter lettuce or crispy romaine lettuce.
Ranch Dressing: Swap the vinaigrette with creamy homemade ranch dressing for a rich and tangy flavor. Buttermilk ranch dressing is delish!
Balsamic Glaze: Drizzle some balsamic glaze over the salad instead of the vinaigrette for a slightly sweeter and tangier taste.
Lemon-Herb Dressing: Combine lemon juice, olive oil, chopped herbs (such as basil, parsley, and chives), salt, and pepper for a refreshing citrusy dressing.
Croutons: Instead of cutting the bread into cubes, toast the bread and cut it into crunchy croutons to add a satisfying texture.
Baguette Slices: Brush the bread slices with olive oil and grill or toast them to serve as a crunchy side with the salad.
Tortilla Strips: Swap the bread cubes for crispy tortilla strips to give the salad a southwestern twist.
Storage Instructions
If you have leftover salad, store it in the refrigerator for up to 2 days. Store in an airtight container or cover the salad bowl tightly in plastic wrap.
Recipe Tips
Fresh and Crisp Ingredients: To make the best BLT Salad, choose fresh and crisp lettuce, ripe tomatoes, and quality bacon. The freshness of the ingredients is key to achieving a vibrant and flavorful salad.
Cook the Bacon Properly: Cook the bacon until it's crispy and golden brown. This ensures that it adds a delightful crunch and smoky flavor to the salad. You can cook the bacon on the stovetop, in the oven, or even use microwave bacon.
Salad Dressing Balance: When preparing the dressing, taste it as you go and adjust the ingredients to achieve the desired balance of flavors. If you prefer a tangier dressing, add more white wine vinegar or a squeeze of lemon juice. If you like it sweeter, increase the amount of honey. Don't forget to season with salt and pepper to enhance the overall taste.
Toss Just Before Serving: To keep the salad fresh and prevent the lettuce from wilting, toss the ingredients with the dressing before serving. This ensures that the flavors meld together without compromising the crunchiness of the lettuce.
Customize to Your Preference: Don't be afraid to customize the BLT Salad to your liking. Add extra ingredients like avocado, red onion, or crumbled cheese for added flavor and texture. You can also adjust the quantities of the existing ingredients based on your taste preferences.
Enjoy Immediately: BLT Salad is best enjoyed immediately after it's prepared. The combination of fresh ingredients, crispy bacon, and flavorful dressing is at its peak when consumed immediately. So gather your loved ones and dig in!
FAQ
What are some other kinds of salad dressings I could use?
Try Ranch dressing, balsamic dressing, thousand islands dressing, or Italian dressing instead.
What kind of lettuce do I use?
I love leaf lettuce, but you could also use iceberg lettuce, romaine lettuce or butter lettuce.
Salad Recipes
You'll also like this Tex Mex Lunch Bowl.
Follow me on Instagram @simplystacieblog, Facebook at Simply Stacie, TikTok @simplystacierecipes or Pinterest at @simplystacie and let me know how you liked this recipe and my other recipes.
Ingredients
1

head

leaf lettuce

roughly chopped

6

slices

bacon

cooked and crumbled

¾

cup

cherry tomatoes

halved
Homemade Croutons
4

slices

white bread

cut into 1/2 inch cubes

⅛

cup

extra virgin olive oil

½

tsp

dried basil
Honey Dijon Vinaigrette
¼

cup

extra virgin olive oil

2

tbsp

white wine vinegar

2

tsp

honey

2

tsp

Dijon mustard

salt and pepper

to taste
Instructions
Homemade Croutons
Preheat oven to 375°F. Add bread cubes to a baking sheet. Drizzle olive oil over the bread. Sprinkle on dried basil. Toss to coat and lay on baking sheet in a single layer.

Bake for 5 minutes. Toss. Bake for an additional 3 to 5 minutes, until it reaches your desired doneness. Set aside to cool.
Honey Dijon Vinaigrette
Whisk ingredients in together in a small bowl. Set aside.
Assembly
Add lettuce, tomatoes, bacon and croutons to a large bowl. Drizzle on vinaigrette and toss to combine.
Kitchen Tools
Nutrition
Serving:
1
g
|
Calories:
381
kcal
|
Carbohydrates:
24
g
|
Protein:
11
g
|
Fat:
28
g
|
Saturated Fat:
5
g
|
Polyunsaturated Fat:
21
g
|
Cholesterol:
17
mg
|
Sodium:
594
mg
|
Fiber:
5
g
|
Sugar:
7
g
The information shown is an estimate provided by an online nutrition calculator. It should not be considered a substitute for a professional nutritionist's advice.
Love Recipes? Join our Free Facebook Group!
Join Mom's Best Recipes to find more delicious family recipes.
Save
Saved!