Peking Chicken
I recently finished up a Craftsy course online, Slow-Cooker Savvy: Make Your Best Meals with Michele Scicolone. One of the recipes she featured piqued my interest and I wanted to try it out and see how our family would enjoy it. Peking Chicken was inspired by the classic Peking Duck recipe. I've never tried Peking Duck so I can't compare, but if it's anything like Peking Chicken, it's pretty darn good!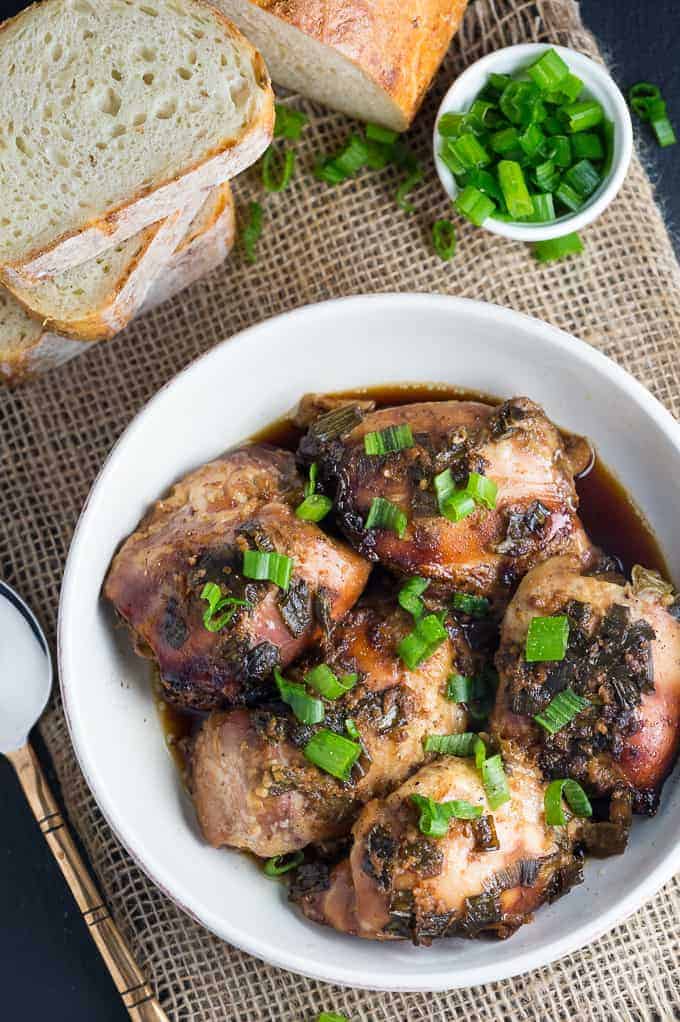 Peking Chicken
Michelle, the Craftsy instructor, recommended chicken thighs for this recipe since it would most closely resemble duck meat. I typically cook chicken breasts, my favourite cut, so it was a nice change to try something different. The chicken thighs were tender, flavourful and held up well to slow cooking. Sometimes chicken breasts fall apart in the slow cooker.
I used a meat thermometer to make sure my chicken was cooked completely. I'm nervous about cooking meat sometimes so I wanted to be sure I wasn't serving my family raw chicken. I was good to go with the amount of time suggested in the recipe!
If you've tried Peking Duck before, make this recipe for Peking Chicken and let me know how it compares. I'd love to hear how it turned out for you.
Yield: 4 to 6
Peking Chicken
If you love Peking Duck, give the chicken version a try! It's tender, flavorful and cooked to perfection in the slow cooker.
Ingredients:
Cooking spray
5 to 8 boneless, skinless chicken thighs
6 green onions, sliced
4 cloves garlic, minced
1/4 cups soy sauce
3 tbsp honey
1 tbsp ginger, grated
1 tsp sesame oil
salt and pepper
Directions:
Spray the inside of the slow cooker with cooking spray. Place chicken thighs inside and season with salt and pepper on both sides.
In a small bowl, mix together green onions, garlic, soy sauce, honey, ginger and sesame oil. Pour over top of the chicken thighs.
Cook on low for 6 to 7 ours or until chicken is cooked completely.