So you're looking for a new heavy-duty professional blender. You may be thinking that you need to shell out a lot of dough to get one. When I was looking, I saw that they were almost $600 or more, depending on the brand and type. I don't know about you, but I think that's a lot of money to pay for a blender! I wanted one, but just couldn't justify paying that much money.
The good news is that there is now another affordable option. Meet the new KenmorePro Professional Blender. It offers everything you'd expect from a high-powered blender, but at a fraction of the cost. This blender costs $149.97! Yes, I'm totally serious.
Sears Canada sent me my own KenmorePro Professional Blender to try out at home. I had a blender, but it was nothing fancy and did not have all the bells & whistles that this one has. I couldn't wait to test it out with some recipes, particularly pureed soup! Yay for no chunks!
First off, this blender is huge compared to my other blender. The jug will hold 2 litres of liquid. That's great news when you want to make recipes to feed your family. No more blending in batches.
It has a 1.95 HP motor and six Japanese-made blades so you can blend, chop, churn, cream and grind to your heart's content. You can even use it to chop and crush ice. Hello holiday drinks!
It has numerous safety features like rubber feet to stabilize, overheat/overcurrent protection so it won't overheat during use, a soft start motor so it wont suddenly surge with power and a safety switch that disables the motor when the jug is not properly placed.
It also comes with a tamper so you can push food or liquid inside while the blender is in use.
I have a recipe for Roasted Garlic & Tomato Soup that I love to eat, but it's a pain to make without a good blender. Before, I'd always end up with chunks because my blender would never fully puree all the ingredients. Not so great when you want your soup to be super smooth and creamy.
I put the KenmorePro Professional Blender to the test with this recipe. To make it, you need to first roast tomatoes and an entire garlic clove in the oven. They become nice and soft and ready to mix with the other ingredients. I simmered the roasted garlic, tomatoes, onions, chicken broth and spices on the stove for 30 minutes to let the flavours mingle together.
Then it was time to get the soup ready to serve using the blender. I poured the entire pot of hot soup into the blender and I had lots of room. I could have easily tripled my recipe and still had room to spare.
I turned it on at the lowest setting just to see what would happen and was amazed at how quickly it pureed my soup. It was less than 30 seconds! I poured into our bowls and there was zero chunks. This is how the soup is supposed to taste! Finally, I get it right 100%.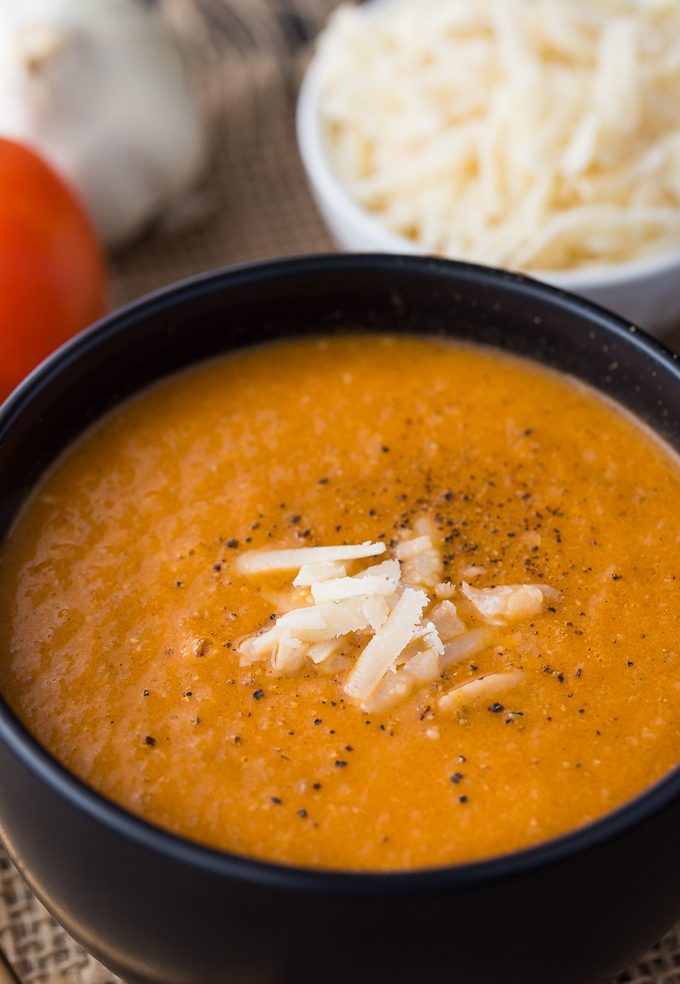 Though the soup has no dairy in it, it has a creamy smooth texture. You can taste the sweetness of the roasted garlic in each bite. I garnished with a bit of Parmesan cheese and freshly cracked black pepper. Divine!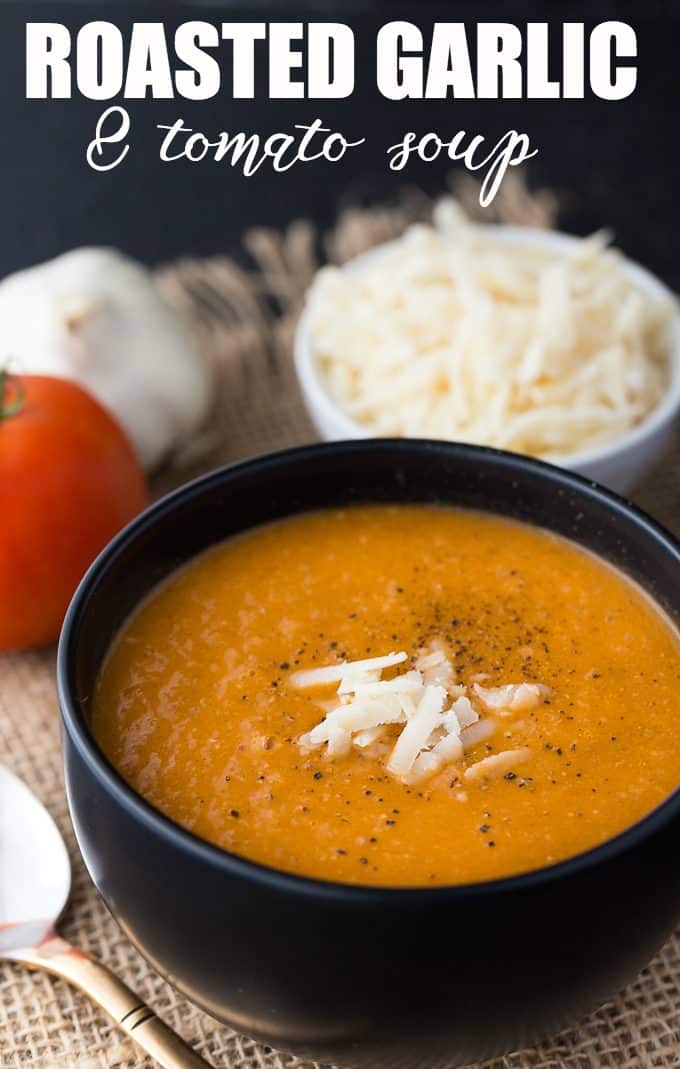 I'm very happy with the result and can't wait to try more recipes using my KenmorePro Professional Blender. Now I can make smoothies with kale and spinach without worrying about little green leaf bits getting in my teeth.

Purchase your own KenmorePro Professional Blender by Sears Canada for $149.97 in either red or black. It also makes a wonderful holiday gift for a foodie-loving friend or family member.
What features do you look for in a blender?
Roasted Garlic & Tomato Soup
Cook Time:
1 hour
20 minutes
Total Time:
1 hour
30 minutes
Creamy and a little spicy, too! A yummy spin on a classic comfort food favorite. Add a little oven-roasted garlic to your favorite homemade soup for an extra kick.
Ingredients
1 garlic bulb with the top sliced off
2 large tomatoes, cut in half
1 tbsp extra virgin olive oil
1 onion, chopped
2 cups chicken broth
2 tsp ground coriander
1/4 tsp cayenne pepper
1 tsp paprika
1/2 tsp dried thyme
salt and pepper, to taste
grated Parmesan, for garnish, if desired
Instructions
Preheat oven to 400F. Place garlic and tomatoes in a casserole dish. Roast for 45 minutes until garlic is golden and tomatoes are softened. Let cool about 15 minutes and then squeeze garlic into a bowl. Remove skin from tomatoes and add to bowl with the garlic. Set aside.
Heat olive in a medium sized pot over medium heat. Add onions and saute for 5 minutes or until softened.
Add in 2 cups chicken broth and bring to a boil. Add in garlic, tomatoes, coriander, paprika, thyme and cayenne pepper and turn heat down to low. Simmer for 30 minutes.
Pour hot soup into your KenmorePro Professional Blender and puree for about 30 seconds on low speed. Pour into bowls. Top with Parmesan cheese and season with salt and pepper, if desired.
Recommended Products
As an Amazon Associate and member of other affiliate programs, I earn from qualifying purchases.
Nutrition Information:
Yield:

3
Serving Size:

1
Amount Per Serving:
Calories:

101
Total Fat:

6g
Saturated Fat:

1g
Trans Fat:

0g
Unsaturated Fat:

4g
Cholesterol:

5mg
Sodium:

753mg
Carbohydrates:

11g
Fiber:

3g
Sugar:

5g
Protein:

3g
Disclosure: This post is sponsored by Sears Canada. All opinions on this blog are my own.