Cinnamon Roll Monkey Bread
So you bought some Pillsbury Cinnamon Rolls, now what? You could always follow the directions on the can and whip up a batch. But, if you want something different and just as easy, you'll want to make this recipe for Cinnamon Roll Monkey Bread.
All you need is a can of refrigerated cinnamon roll dough and two ingredients to make the glaze. That's it. Put the cut up cinnamon roll dough into your fluted tube pan and magic will happen in your oven.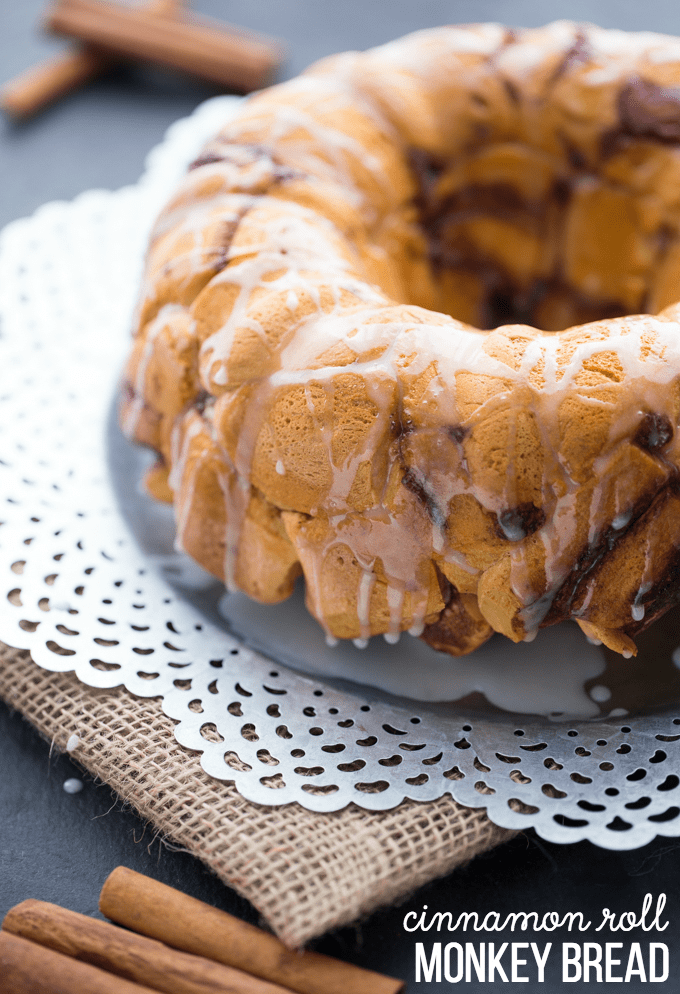 Yield: 8
Cinnamon Roll Monkey Bread
You'll love this easy dessert hack! Instead of making cinnamon rolls, give this scrumptious monkey bread recipe a try.
Ingredients:
Cooking spray
2 cans Pillsbury Grands Cinnamon Rolls
1 cup powdered sugar
2 tbsp milk
Directions:
Preheat oven to 325F. Spray a fluted tube pan with cooking spray.
Open can of cinnamon rolls and separate along perforations. Cut each cinnamon roll into quarters and place in pan.
Bake for 45 to 50 minutes or until dough is cooked and golden brown. Cool for 10 minutes in the pan before flipping over onto a plate.
Glaze
Stir together milk and powdered sugar in a small bowl. Adjust consistency by adding more milk/powdered sugar. Drizzle glaze over the top of monkey bread and serve warm.
In less than an hour, you'll have a golden brown, deliciously fragrant monkey bread ready to serve to your family. Well, almost ready. Don't forget to make the glaze to drizzle on top.


I adore the smell of cinnamon baked goods. If you want your home to smell fabulous, make this recipe. I kept wanting to peek inside the oven to see if it was ready. I was anxious for a taste! It did not disappoint.
Check out my video to watch this dessert come to life.
This recipe is SO easy to make!

Posted by Simply Stacie on Tuesday, March 1, 2016
I have a few more yummy cinnamon desserts for you to try like these Mini Rum Butter Cinnamon Rolls, Cinnamon Raisin Breakfast Casserole, Slow Cooker Cinnamon Raisin Bread Pudding, Cheesecake Stuffed Cinnamon Rolls and Biscoff Cinnamon Roll Cheesecake. I also have a round up of 20 mouthwatering cinnamon desserts from my bloggy friends.
Never miss a recipe again! Subscribe to my newsletter to receive my newest posts and get a copy of my free e-cookbook, Top 10 Most Popular Recipes of All-Time.
Are you a fan of cinnamon desserts?