Chicken, Wild Rice & Mushroom Soup
Hi everyone, it's Nicky, calling in from Kitchen Sanctuary with a seriously comforting supper.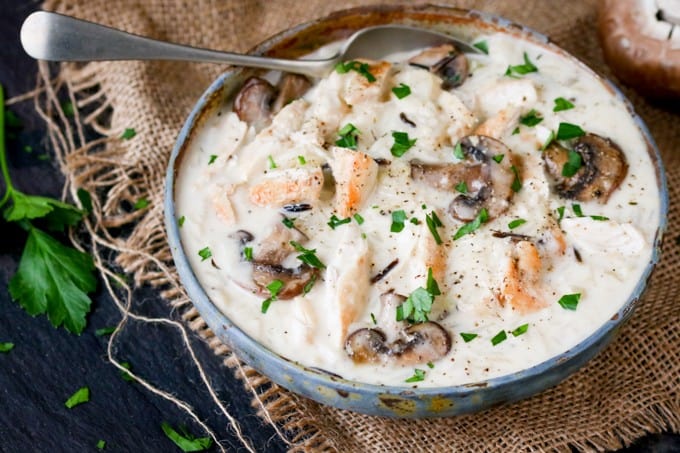 Chicken, Wild Rice & Mushroom Soup
A large bowl of this creamy chicken, rice and mushroom soup and all your worries will disappear. At least until you've finished the bowl anyway 🙂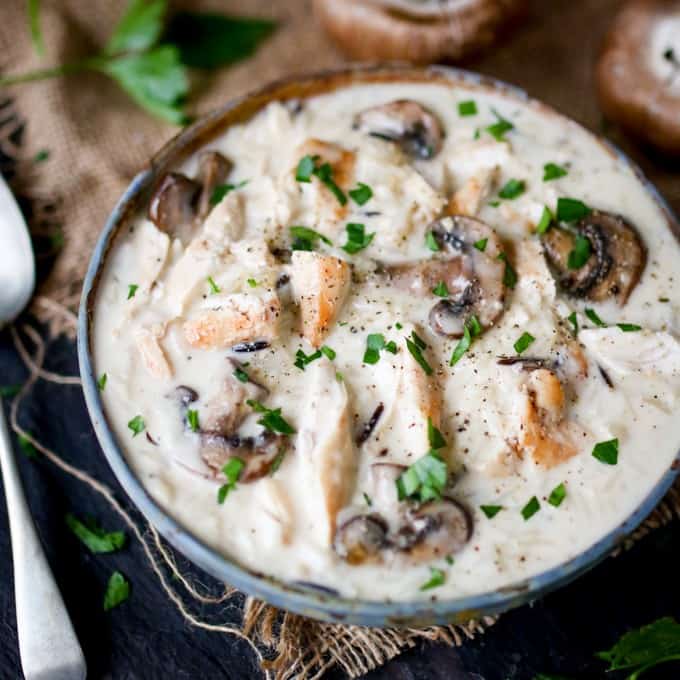 This is a hearty soup!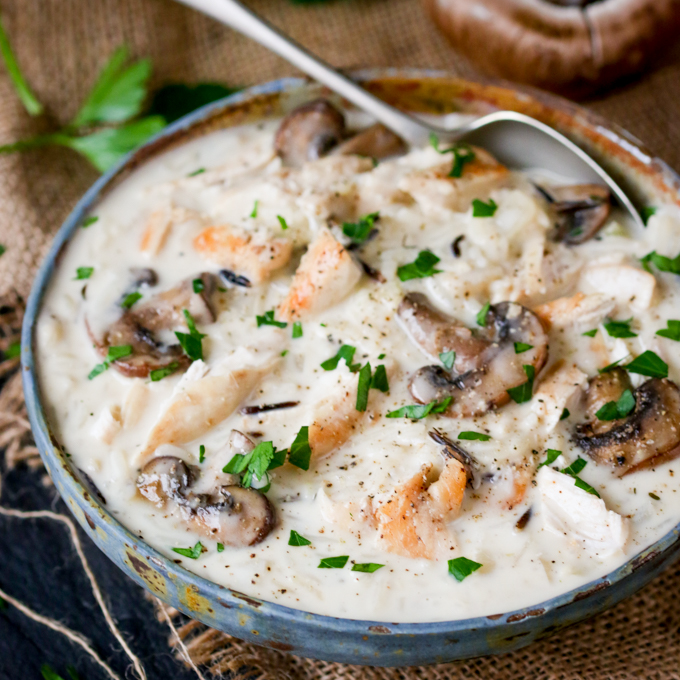 The addition of the rice bulks it up to an almost risotto-like meal (without the constant stirring though). The wild rice adds a subtle nutty flavor that tastes amazing with the mushroom and gruyere.
If you wanted to go veggie, just throw in a few more mushrooms and leave out the chicken entirely. You could also throw in a few green veggies during the last few minutes of cooking to add to your five-a-day. A few of my favorite additions include spinach, frozen peas or asparagus.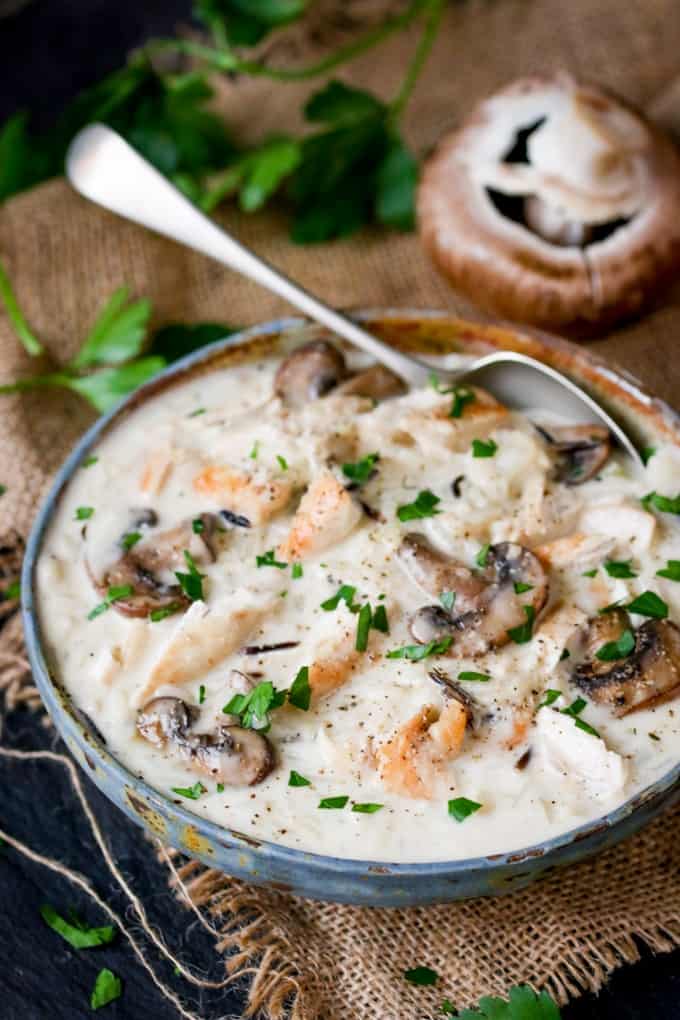 If you're a meat lover – like my husband – you could also sprinkle on some fried pancetta at the end – so bad, yet so good!
Would you like a bowl to enjoy?

Yield: 4 to 6
Chicken, Wild Rice & Mushroom Soup
Hearty, comforting soup that will fill your belly and warm your soul! A crowd-pleasing favorite.
Ingredients:
1 tbsp olive oil
3 medium sized mushrooms, sliced
2 tbsp butter
1 onion, peeled and finely chopped
1 stick of celery, sliced
2 tbsp all-purpose flour
1/3 cup milk
1 cup basmati and wild rice blend (or long grain and wild rice blend)
½ cup white wine
4 cups hot chicken or vegetable stock (water plus a couple of stock cubes is fine)
1 tsp dried thyme
¼ tsp salt
¼ tsp black pepper
Juice of half a lemon
1/3 cup heavy cream
½ packed cup shredded gruyere cheese
2 cups leftover cooked, shredded chicken
2 tbsp fresh parsley, chopped
Directions:
Heat the oil in a large sauce, and fry the mushrooms on a medium heat until browned. Remove from the pan.
Melt the butter in the same pan, and fry the onions and celery for 4-5 minutes until softened. Add the flour to the pan, and stir together using a whisk, until the flour is incorporated with the vegetables and butter. Turn the heat up to high, and pour in the milk in a slow stream, whilst stirring with the whisk, until the milk is completely mixed in.
Add the rice and white wine, and stir. Then add in the stock and dried thyme and stir again. Bring to gentle bubble and simmer for 20 minutes – stirring 2 or 3 times during cooking. Test the rice – it should be cooked at this point (give it a couple more minutes if it needs it).
Add in the salt, pepper, lemon juice, cream, cheese, cooked chicken and the mushrooms. Stir together and test for seasoning. If you prefer your soup a little thinner, you can stir in a splash of milk.
Heat until the chicken is warmed through, then serve topped with fresh parsley.