Bacon Wrapped Chicken
Bacon Wrapped Chicken isn't as easy as you'd think it might be. At least for me, it wasn't. The first time I made it, I undercooked the chicken and overcooked the bacon. I used ginormous chicken breasts so I figured that was the main reason.
The second time around, I used the wrong bacon. I thought by using the more expensive brand name bacon, I'd have myself a mouthwatering meal. This bacon is one that doesn't fall apart when you take a strip off the package and is nice and thick. However, it would not stay wrapped around my chicken! I ended up having chicken breasts and bacon cooking separately on the pan in the oven. Definitely not bacon wrapped chicken!
I've finally figured it out. The key is to use thin chicken breasts and the cheap bacon that falls apart when you take a strip off. I was surprised about the bacon, but whatever works right?
Bacon Wrapped Chicken
You can buy the chicken breasts already thinly sliced or do it yourself at home. Because they are thinner, they will be ready at the same time your bacon is fully cooked. No more burnt bacon or raw chicken!
The bargain priced bacon is awful to work when I make bacon and eggs, but is a winner for bacon wrapped chicken. It stays tightly wrapped around the chicken breasts even with all the turning and basting. I didn't have to fix any of these chicken breasts.
And another perk of this particular recipe is that you can make it any time of year. No barbecue is required. I'm not one to barbecue year-round (though I know lots that do!) so this method is really easy and convenient for me to make. Plus, my family loves it. It's one of the most requested meals in my home.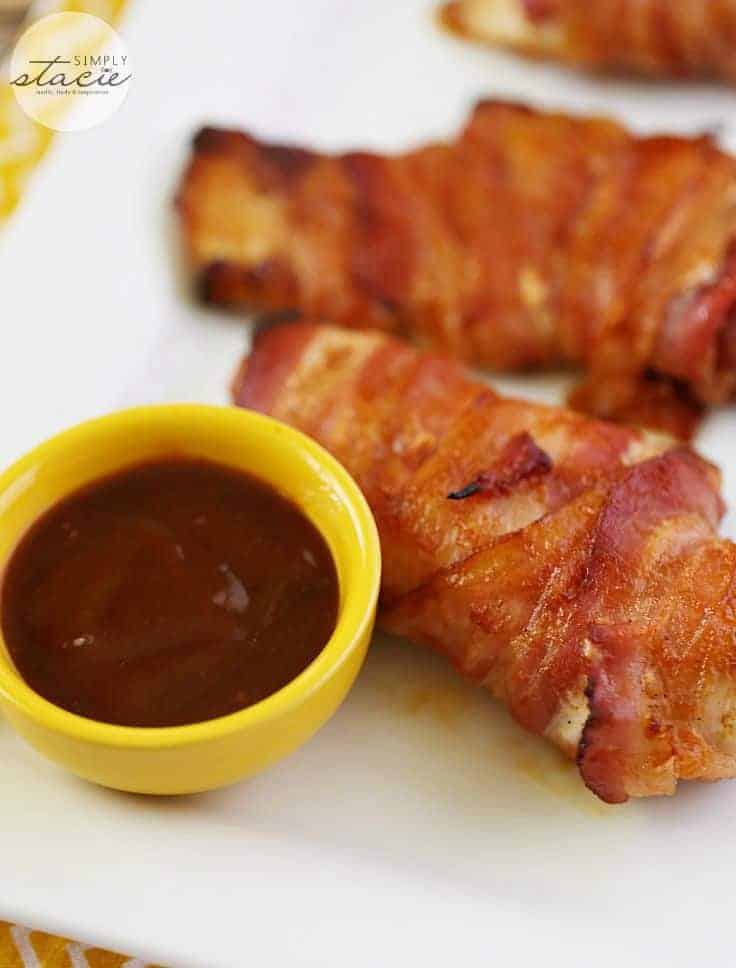 You might also like these Bacon Wrapped Water Chestnuts.
Do you have any bacon wrapped chicken tips? I'd love to hear how you make them.
Yield: 5
Bacon Wrapped Chicken
Enjoy delicious bacon wrapped chicken year round with this easy recipe. Plus, learn my two tips to making the perfect bacon wrapped chicken!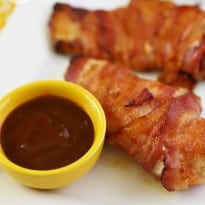 Ingredients:
5 thin boneless skinless chicken breasts
1 package bacon
1/2 tsp paprika
1/4 cup barbecue sauce
Directions:
Preheat oven to broil. Line a baking sheet with aluminum foil and set aside.
Season chicken breasts on both sides with paprika.
Wrap a bacon strip around chicken breast starting at the top and working your way down. Add a new bacon strip if you need to, until the chicken is fully wrapped in bacon. Then do the rest of the chicken breasts in the same way.
Broil for 4 minutes. Remove from oven and turn over. Broil another 4 minutes. Remove from oven and turn over. Then brush each chicken breast with barbecue sauce and return to oven. Broil another 4 minutes and remove from oven. Turn the breasts over and brush with barbecue sauce again. Keep repeating this in four minute increments until chicken and bacon are fully cooked. Serve hot.