Bacon Wrapped Chicken is an incredible savory weeknight dinner that will be the treat. Here you have a chicken tenderloin that is wrapped in bacon and baked in the oven. This chicken recipe will win over your family with a first taste.
Bacon Wrapped Chicken isn't as easy as you'd think it might be. At least for me, it wasn't. The first time I made it, I undercooked the chicken and overcooked the bacon. I used ginormous chicken breasts so I figured that was the main reason.
Bacon Wrapped Chicken
The second time around, I used the wrong bacon. I thought by using the more expensive brand name bacon, I'd have myself a mouthwatering meal. This bacon is one that doesn't fall apart when you take a strip off the package and is nice and thick. However, it would not stay wrapped around my chicken! I ended up having chicken breasts and bacon cooking separately on the pan in the oven. Definitely not bacon wrapped chicken!
The Secret to Perfect Bacon Wrapped Chicken
I've finally figured it out. The key is to use thin chicken breasts and the cheap bacon that falls apart when you take a strip off. I was surprised about the bacon, but whatever works right?
Can You Use Thick Chicken for this Recipe
Thin is best. You can buy the chicken breasts already thinly sliced or do it yourself at home. Because they are thinner, they will be ready at the same time your bacon is fully cooked. No more burnt bacon or raw chicken!
You can cut up the thicker chicken breast and even pound it out a bit to flatten between plastic wrap. This is a great way to utilize the chicken you might already have in your home.
And another perk of this particular recipe is that you can make it any time of year. No barbecue is required. I'm not one to barbecue year-round (though I know lots that do!) so this method is really easy and convenient for me to make. Plus, my family loves it. It's one of the most requested meals in my home.
You might also like these Stuffed Bacon Rolls or Bacon Wrapped Water Chestnuts.
How to Make Bacon Wrapped Chicken
Start by preheating the oven and then lining a baking sheet with aluminum foil. This will save you a ton of time when you go to clean up the dinner. Start by seasoning both sides of your chicken, and then begin wrapping the bacon around the chicken.
I find working from the top to the bottom is best. Wrap the chicken until fully wrapped, and then set on a baking sheet. Broil for 4 minutes, and then turn the chicken over and repeat the cooking time. Then you will brush your chicken with barbeque sauce and follow the cooking instructions below.
Cook until the chicken and bacon are cooked through, then serve with your favorite side dishes.
What to Pair with Bacon Wrapped Chicken
Looking for that perfect side dish to pair next to the chicken. Here are some of our favorite recipes we love to pair together. But, just know you can do any recipe you would like, this chicken is very versatile.
Creamy Carrots | Here is a great carrot recipe that has a creamy sauce smothered all over the carrots. A nice colorful side dish as well to pair next to chicken.
Smothered Potatoes | Potatoes are a favorite of mine next to the chicken. This recipe right here is loaded with mushrooms, cheese, green peppers and more.
Cucumber Salad | This cucumber salad is crisp, tangy and so refreshing. I love pairing this next to any barbeque flavored meat, it is a perfect pairing.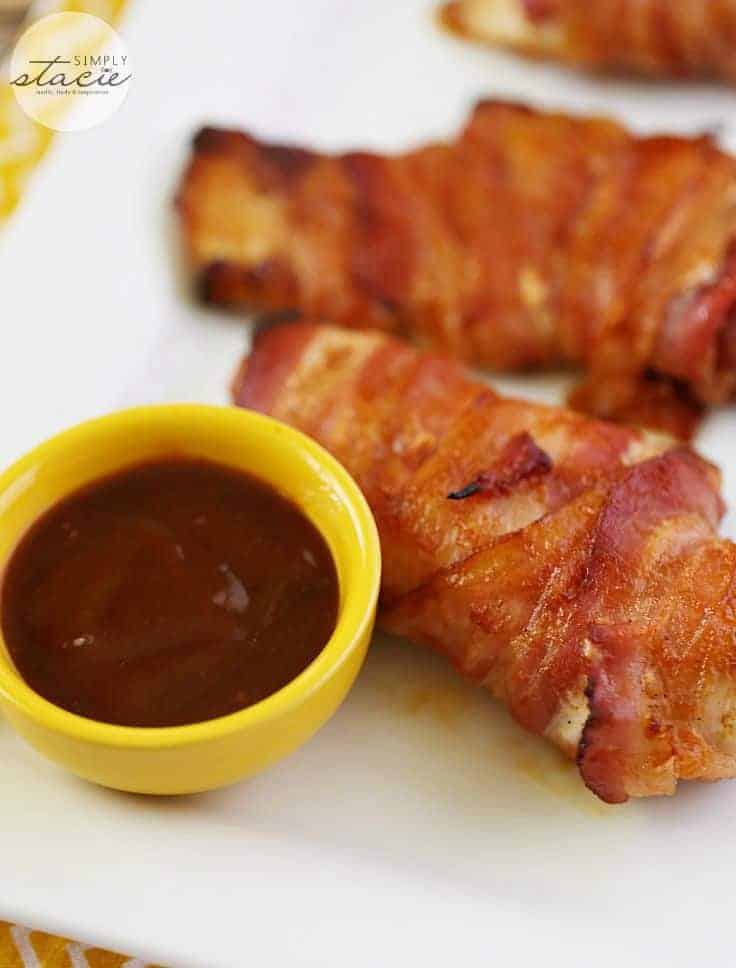 How to Know When Chicken is Done
You can use a meat thermometer and ensure your chicken hits the 165-degree mark. You can also look to ensure that the chicken juice is clear and the bacon looks fully cooked as well. You never want to eat raw chicken, it can make you very sick.
How Long Will Leftover Bacon Wrapped Chicken Last
You can keep this chicken in the refrigerator for up to three days. After that, you will want to toss out any leftovers you may have.
Best Way to Reheat Bacon Wrapped Chicken
The quickest way to reheat it in the microwave. But, if you want you can heat in the oven. I do suggest placing in a covered dish so it doesn't dry out the chicken as it heats through. You could even add a little water in to help offer a steam effect and add moisture to the covered chicken.
You'll also love these Bacon Wrapped Appetizers.
Do you have any bacon wrapped chicken tips? I'd love to hear how you make them.
Ingredients
5

thin boneless skinless chicken breasts

1

package

bacon

½

tsp

paprika

¼

cup

barbecue sauce
Instructions
Preheat oven to broil. Line a baking sheet with aluminum foil and set aside.

Season chicken breasts on both sides with paprika.

Wrap a bacon strip around chicken breast starting at the top and working your way down. Add a new bacon strip if you need to, until the chicken is fully wrapped in bacon. Then do the rest of the chicken breasts in the same way.

Broil for 4 minutes. Remove from oven and turn over. Broil another 4 minutes. Remove from oven and turn over. Then brush each chicken breast with barbecue sauce and return to oven. Broil another 4 minutes and remove from oven. Turn the breasts over and brush with barbecue sauce again. Keep repeating this in four minute increments until chicken and bacon are fully cooked. Serve hot.
Kitchen Tools
Nutrition
Serving:
1
g
|
Calories:
234
kcal
|
Carbohydrates:
6
g
|
Protein:
38
g
|
Fat:
5
g
|
Saturated Fat:
2
g
|
Polyunsaturated Fat:
3
g
|
Cholesterol:
104
mg
|
Sodium:
273
mg
|
Sugar:
5
g
The information shown is an estimate provided by an online nutrition calculator. It should not be considered a substitute for a professional nutritionist's advice.
Love Recipes? Join our Free Facebook Group!
Join Mom's Best Recipes to find more delicious family recipes.
Save
Saved!