Serve up this One-Pan Maple Dijon Chicken for dinner tonight. Tender chicken, baked with butternut squash, purple potatoes and broccoli cooked on one pan. This meal is healthy, delicious and so easy!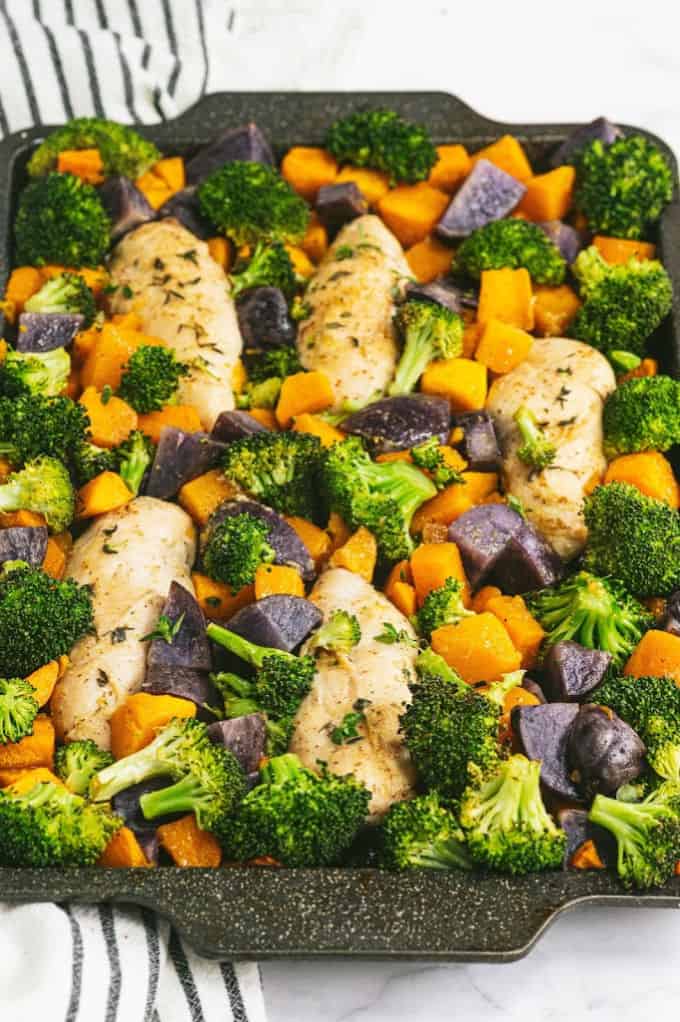 If you have some boneless chicken, pull it out and let me help you create a new meal to consider trying for dinner or even lunch tonight.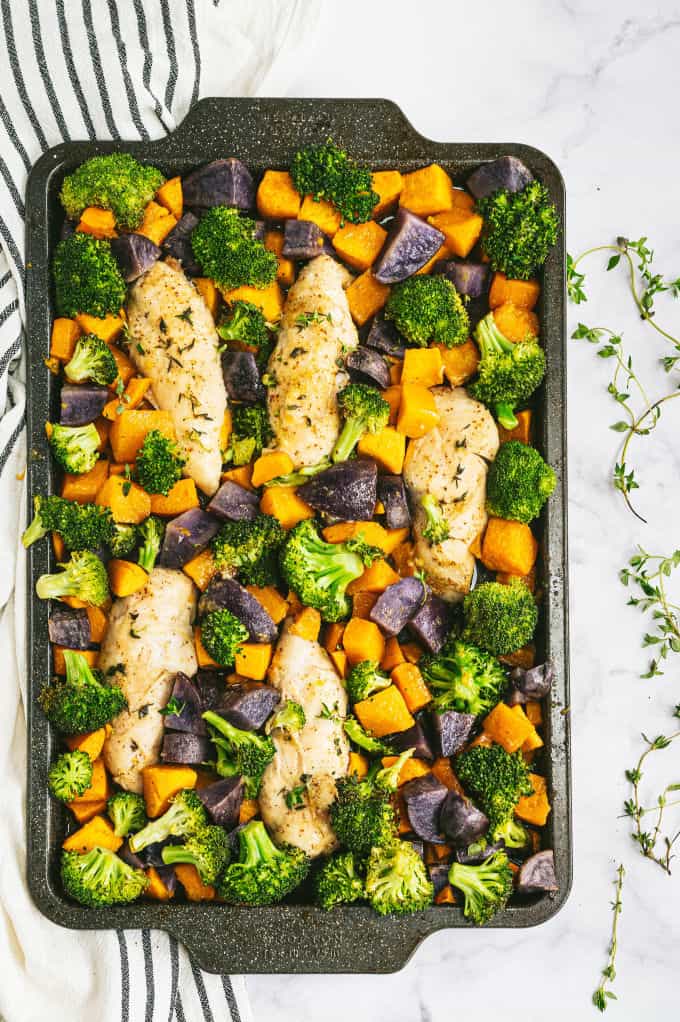 One-Pan Maple Dijon Chicken
Hey there, Heather with Food Lovin' Family visiting today with a ONE PAN dinner for your busy weeknight. That's right, one pan, easy cleanup and lots of flavor.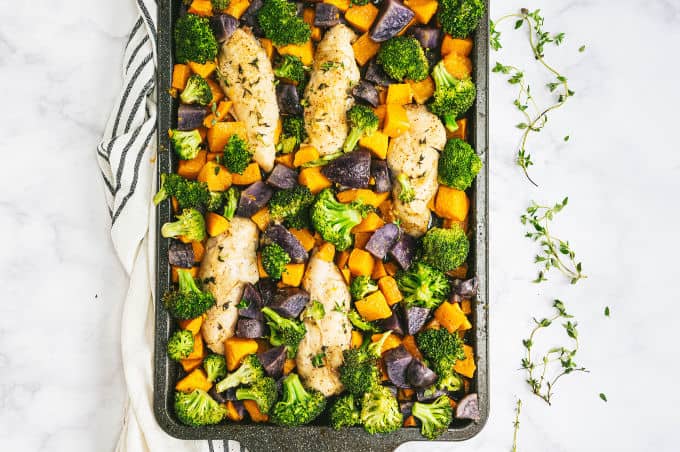 Maple Dijon Chicken
If you are like me, sometimes you just don't want to spend all night cleaning dishes. Oh wait, that is me every night! The other great thing about this meal is that is requires only a few ingredients, most of them you might already have on hand. So with one pan to clean and few ingredients, you really can't go wrong with this maple Dijon chicken one pan meal.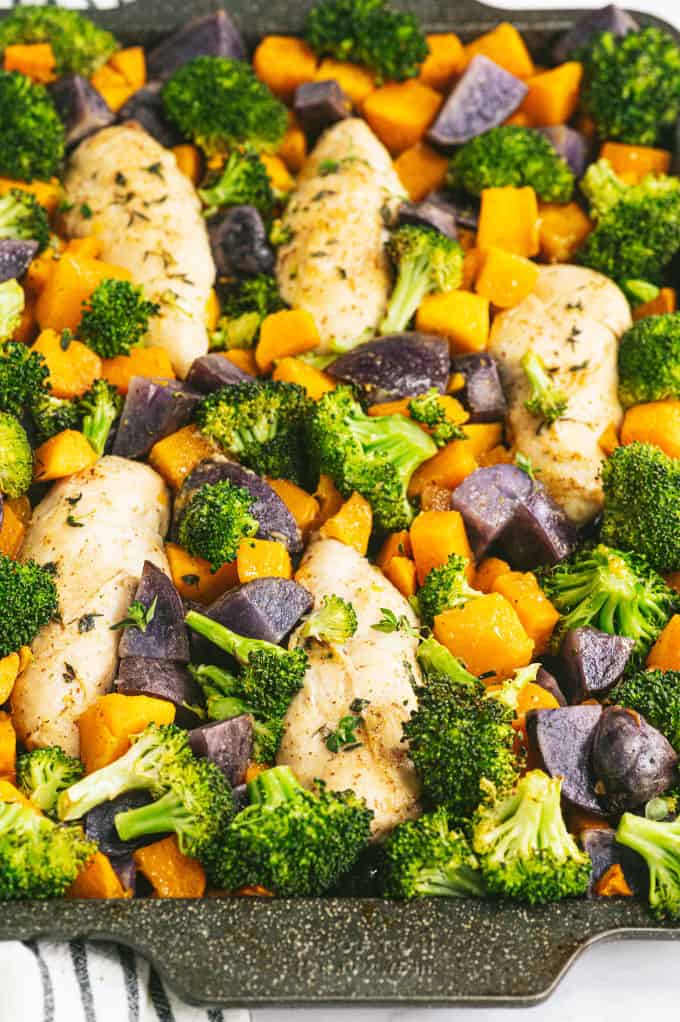 How to Make Maple Dijon Chicken
To start, cover a large sheet pan with aluminum foil, this makes for even easier cleanup. You can also spray the pan with nonstick cooking spray if you prefer not to use foil. For this recipe I decided to use chicken tenders but chicken breasts also work will with this dish. (Cooking time may vary on depending on size of chicken.) Next up, place chicken on the prepared pan.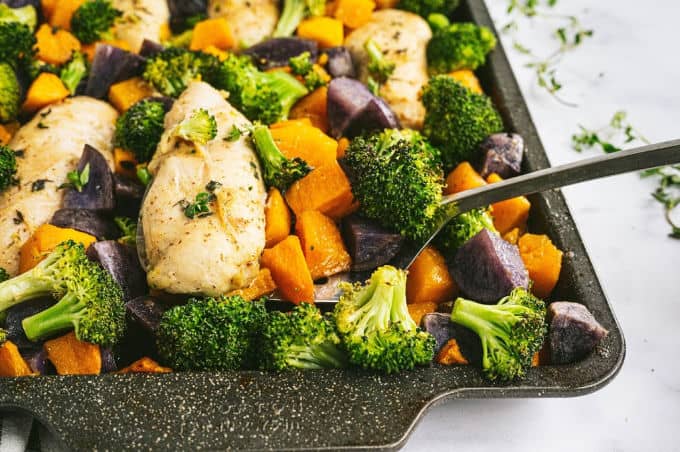 In a small bowl whisk together maple syrup, olive oil, and Dijon mustard. Brush the mixture on chicken and then season the chicken with thyme, salt and pepper. Add the squash and potatoes to the pan and coat them with a little extra olive oil then season with salt and pepper. Bake for 15 minutes and then add the broccoli into the mix. Bake about 10-15 more minutes and then remove from oven.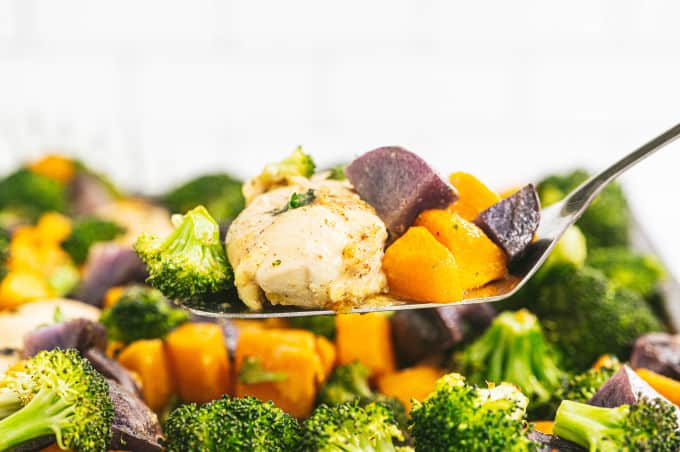 Can I Change Up Vegetables in the Recipe
Of course, you are more than welcome to swap it out with any hardier vegetables. Brussels Sprouts, cauliflower, regular potatoes, and other veggies are a great swap.
All you will do with any vegetables you do is wash and prep as you normally would. If they are not that hardy you can wait to toss them on closer to the end of cook time to ensure they don't get too soft as they cook.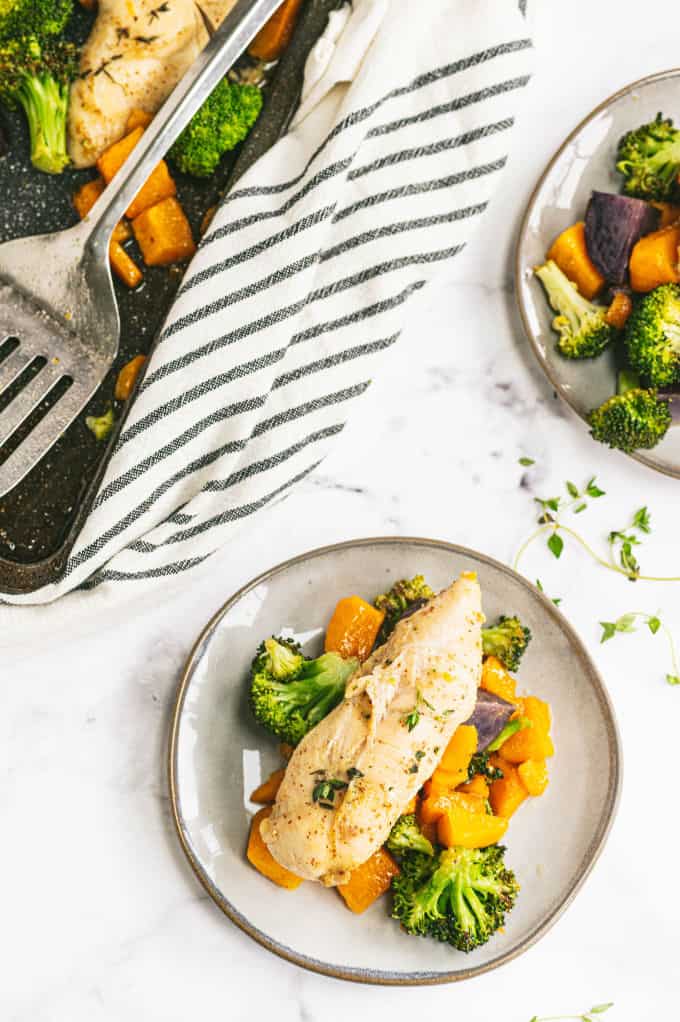 Can I Use Drumsticks Instead
Sure, you will be able to swap out your chicken if you would like. Now, if you use a bone-in chicken you will have to adjust cook time. It will take longer for your chicken to fully cook.
The internal temperature needs to reach 165 degrees. I recommend using a thermometer to ensure your chicken is fully cooked. Make sure to not touch a bone and stick in the thickest part on the chicken to get an accurate reading.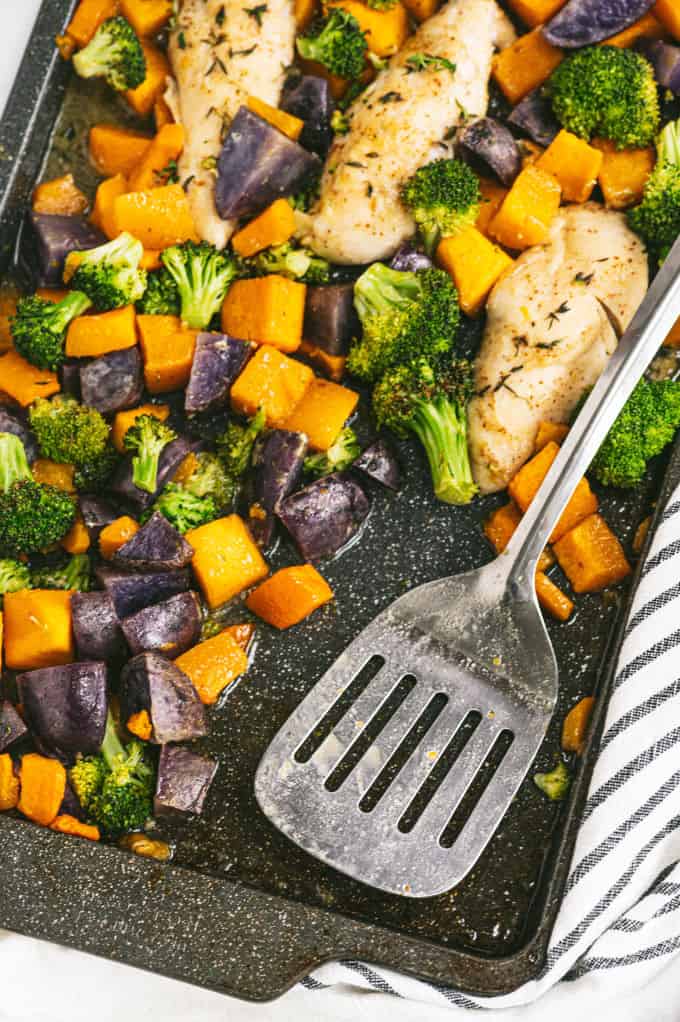 Maple Syrup
When you are making this recipe you want to make sure that you use real maple syrup. If you buy something that isn't pure you will find it affects the end result and will lack a lot in the flavor you want.
You can buy real maple syrup at your grocery store or order online. For example, Mrs. Buttersworth is not true maple syrup. So, if you use that you will find the flavor will be off.
This post contains affiliate links.
I recommend Maple Lifestyle for a high quality maple syrup!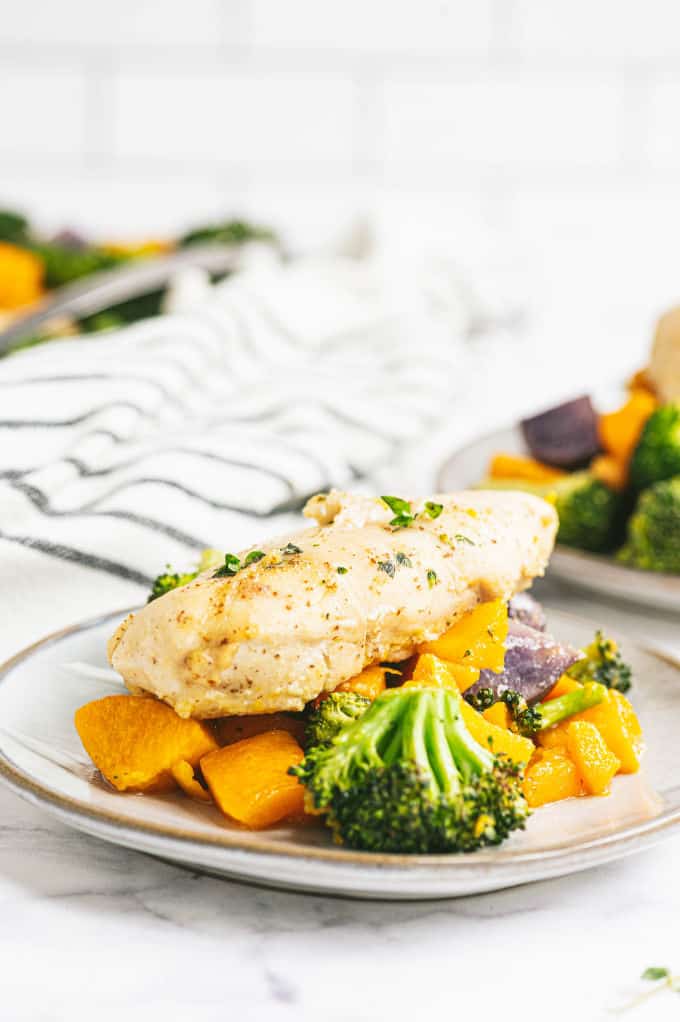 More Chicken Dinner Ideas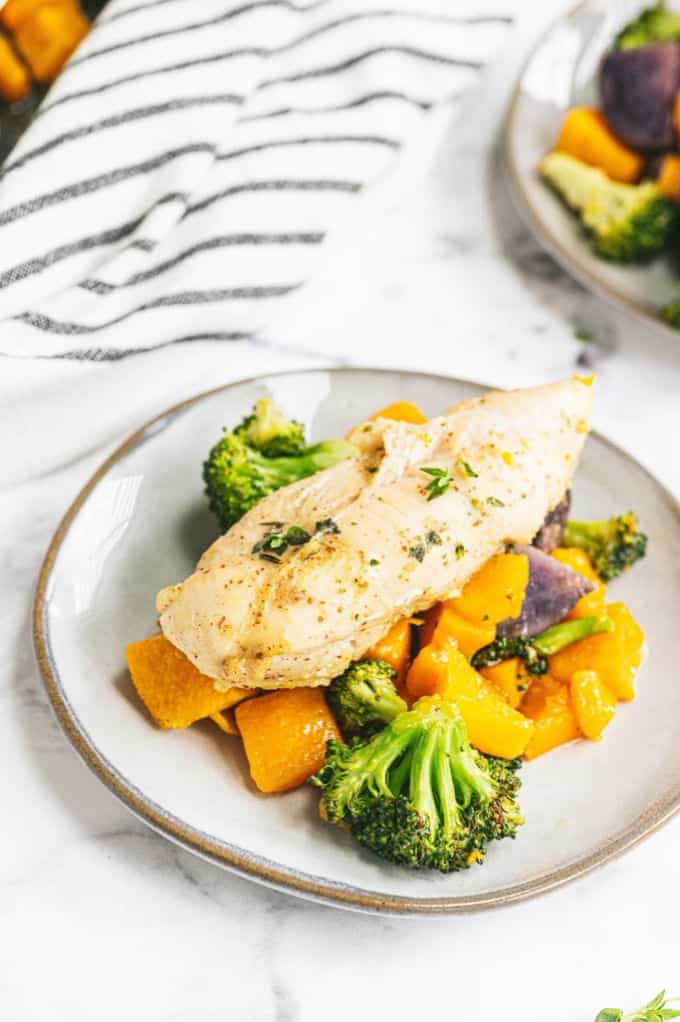 Tips for Making Sheet Pan Dinners
One of the biggest things is to make sure you leave space between chicken and veggies. That way the food can cook. If you overlap your ingredients you will run into parts of your food overcooked while other areas are undercooked.
Another thing is you can always stir and flip the chicken partway through cooking for a more even cook.
Make sure to use a thermometer to ensure your meat is fully cooked. Then serve up fresh and enjoy a hearty and healthy dinner idea.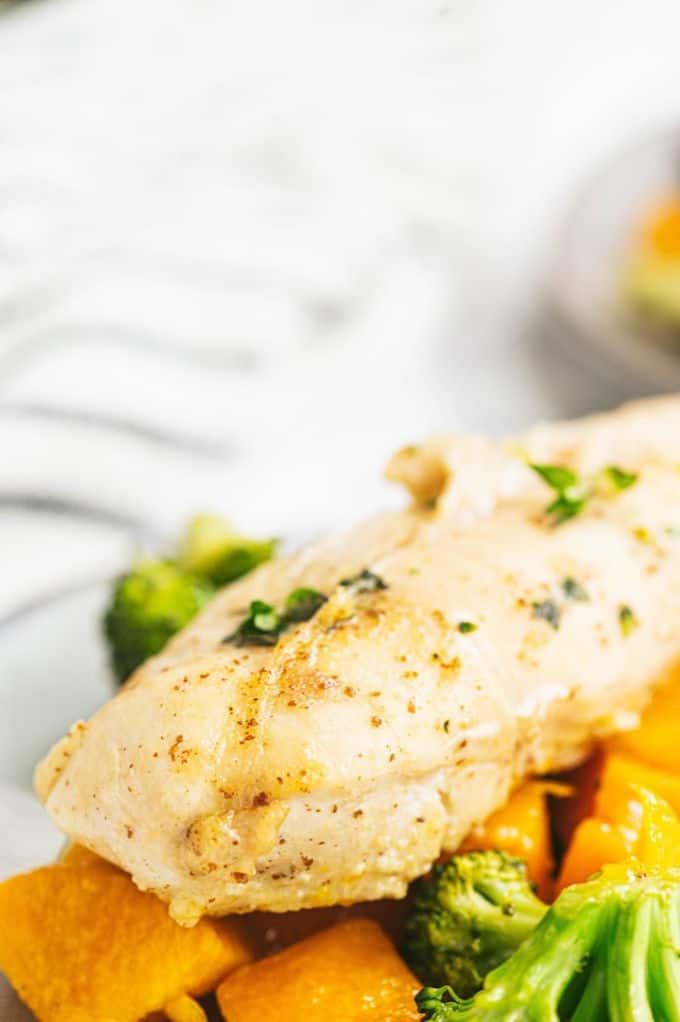 How Long Can You Store Leftover Chicken
Chicken will store for up to three days in the fridge. You can use this recipe to meal prep for a few days for quick lunches. If you allow it to store for longer in the fridge you need to use your best judgement.
The vegetables will soften as it is stored in the fridge. But it reheats pretty well. You can toss in the microwave or even reheat in the oven covered with aluminum foil to prevent drying out.
One pan dinners make for a great weeknight meal! You and your family are sure to love this one pan maple Dijon chicken with butternut squash, purple potatoes and broccoli. Enjoy!
Try my Broccoli Salad.
Do you like one-pan recipes?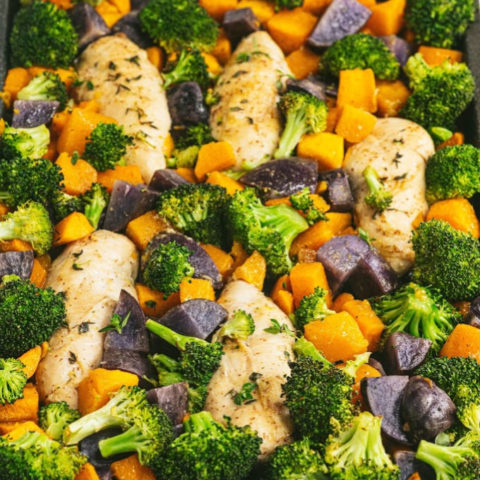 One-Pan Maple Dijon Chicken
This one-pan meal is perfect for those busy weeknights. You'll love the tender chicken baked with butternut squash, purple potatoes and broccoli roasted to perfection.
Ingredients
1 1/2 lb boneless, skinless chicken tenders or breasts
1 butternut squash- peeled, seeded and cut in 1-inch cubes.
16 oz purple potatoes, quartered
12 oz broccoli florets
1 teaspoon fresh thyme or dried thyme
1/4 cup pure maple syrup
1 tablespoon Dijon Mustard
3 tablespoons olive oil, divided
1/2 teaspoon salt
1/2 teaspoon ground black pepper
Instructions
Preheat oven to 400 degrees F.
In a small bowl, whisk together maple syrup, Dijon Mustard and 2 tablespoons olive oil.
Place potatoes and butternut squash in a single layer onto prepared baking sheet.
Pour remaining 1 tablespoon olive oil on vegetables and season with salt and pepper.
Add chicken in a single layer and brush each chicken with syrup mixture.
Season chicken with salt, pepper and thyme.
Place pan in oven and roast until chicken cooked through, internal temperature of 165 degrees F. About 25-30 minutes depending on size of chicken.
Add in broccoli during last 15 minutes. Serve immediately.
Recommended Products
As an Amazon Associate and member of other affiliate programs, I earn from qualifying purchases.
Nutrition Information:
Yield:

4
Serving Size:

1
Amount Per Serving:
Calories:

653
Total Fat:

25g
Saturated Fat:

5g
Trans Fat:

0g
Unsaturated Fat:

17g
Cholesterol:

156mg
Sodium:

637mg
Carbohydrates:

51g
Fiber:

7g
Sugar:

16g
Protein:

57g