Cherry Cheesecake with Oreo Crust
Hi all! Nicky here, calling in from Kitchen Sanctuary with a recipe for a delightfully wicked cheesecake.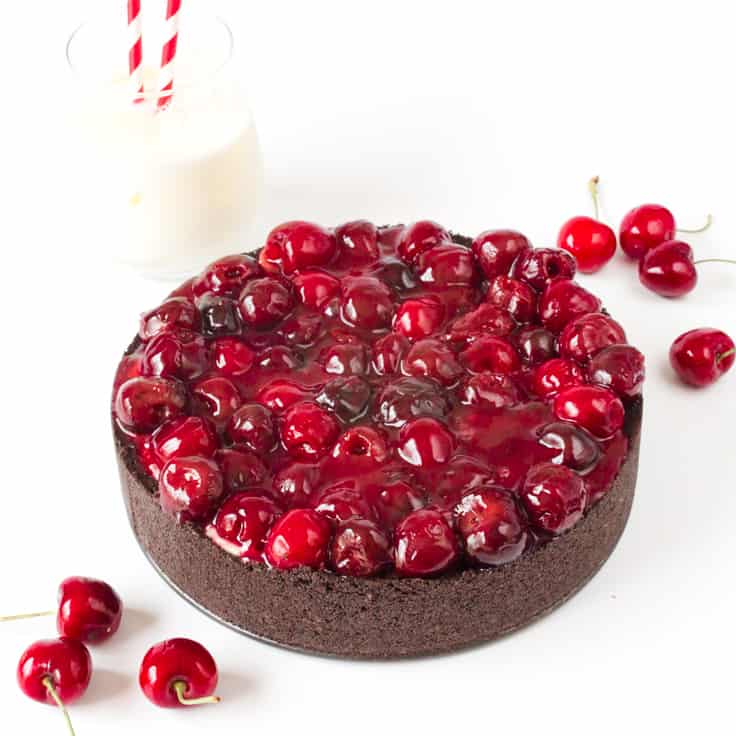 Cherry Cheesecake with Oreo Crust
I hope you like Oreos (who doesn't like Oreos!) as this recipe contains, erm, quite a few.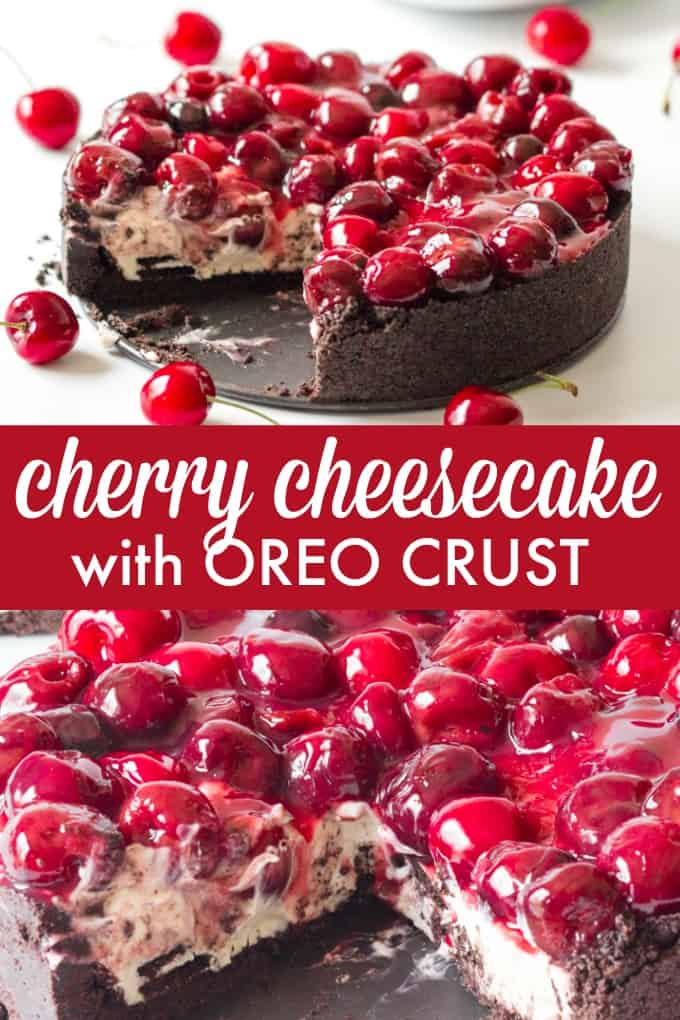 Ignoring the two (ok 5 or so…) that end up in my mouth whilst I'm making this, we're talking two whole packs in the base of the cheesecake, and then pretty much another pack crumbled into the no-bake cheesecake filling. So it may be worth saving this recipe for a day when you need an indulgent treat.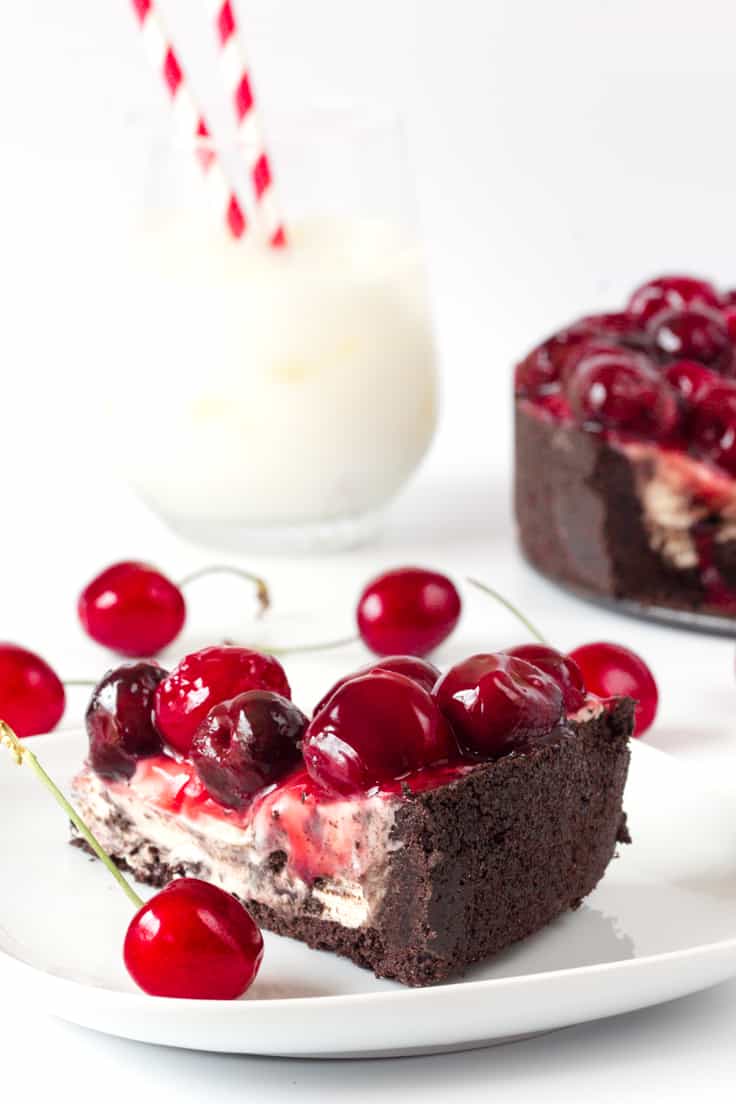 You won't be disappointed though. In fact you may not want any other cheesecake again in your whole life!!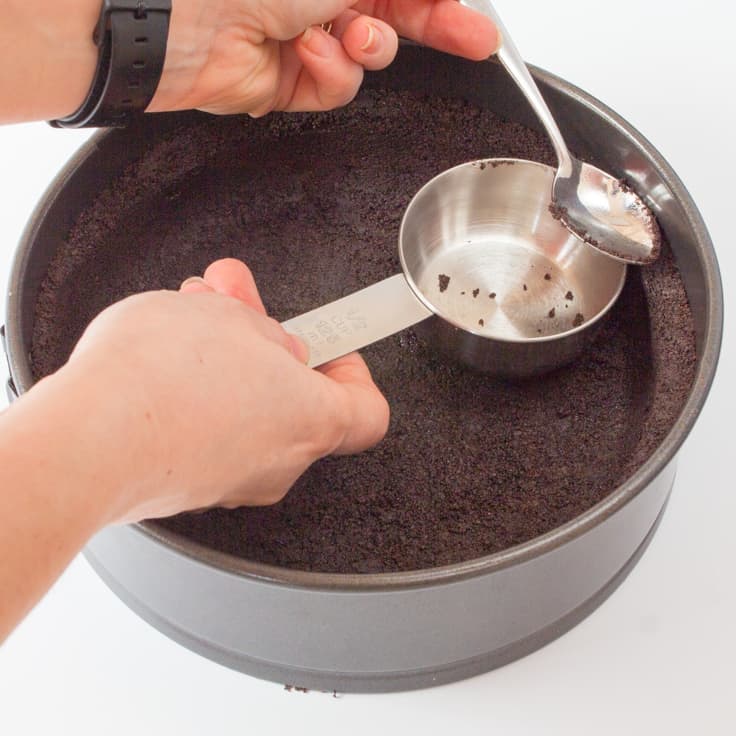 I've finally got the technique right for getting the perfect crust. A measuring cup, a spoon, and a little bit of patience, and you'll have a lovely, thick and even crust to hold all of that creamy filling.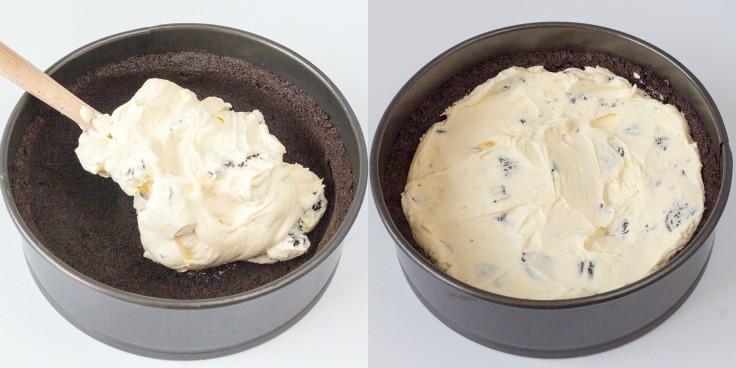 The topping can be made from fresh, frozen or even tinned cherries. I like to use a mixture of tinned and fresh, as this results in cherries of different shades, that I think looks quite nice.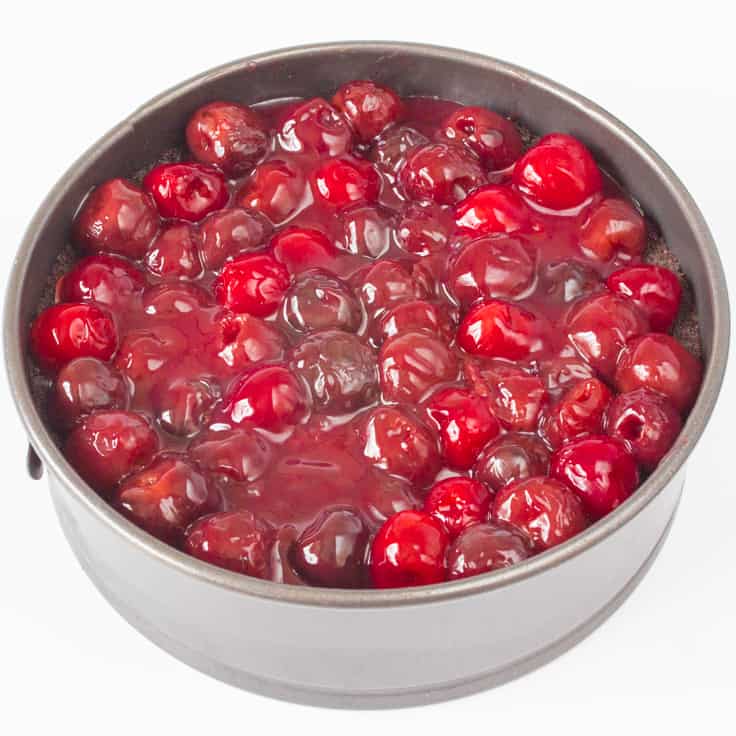 The addition of a little kirsch or cherry brandy really takes the flavour to the next level, but if you'd rather leave it out, you can just add a little bit of cherry jelly mixed with water, or even a drop of cherry or almond extract.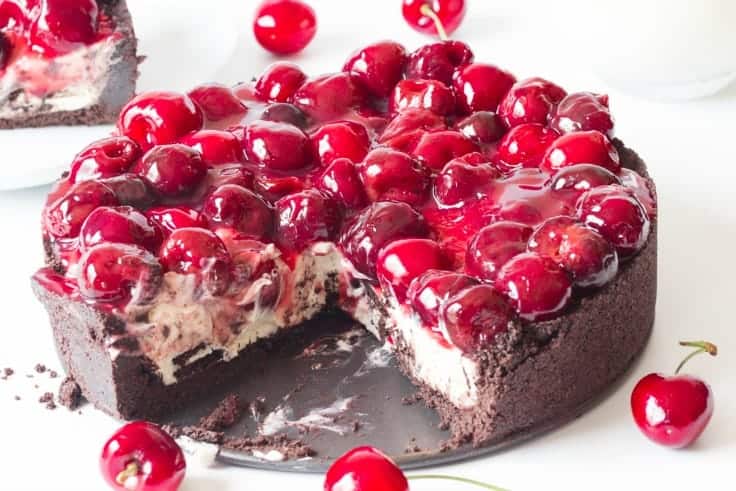 So grab a fork and maybe a bib, as this cheesecake is creamy, sticky and a little bit messy. If you're anything like me though, you wouldn't want it any other way.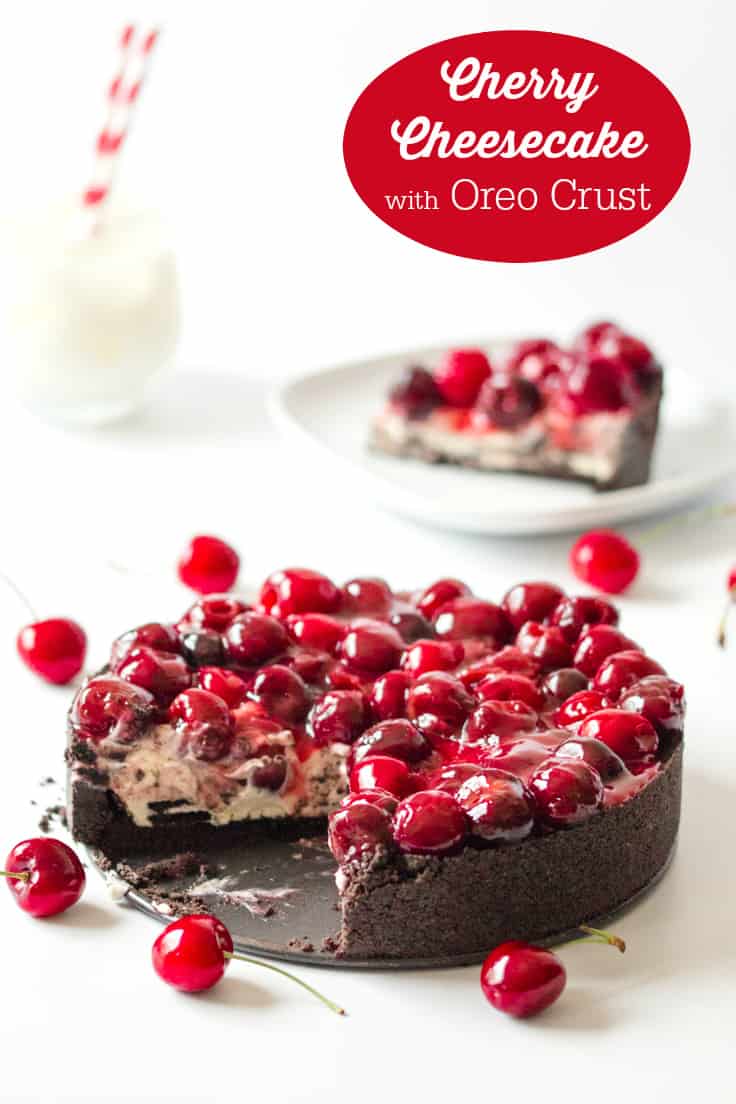 Would you like a slice?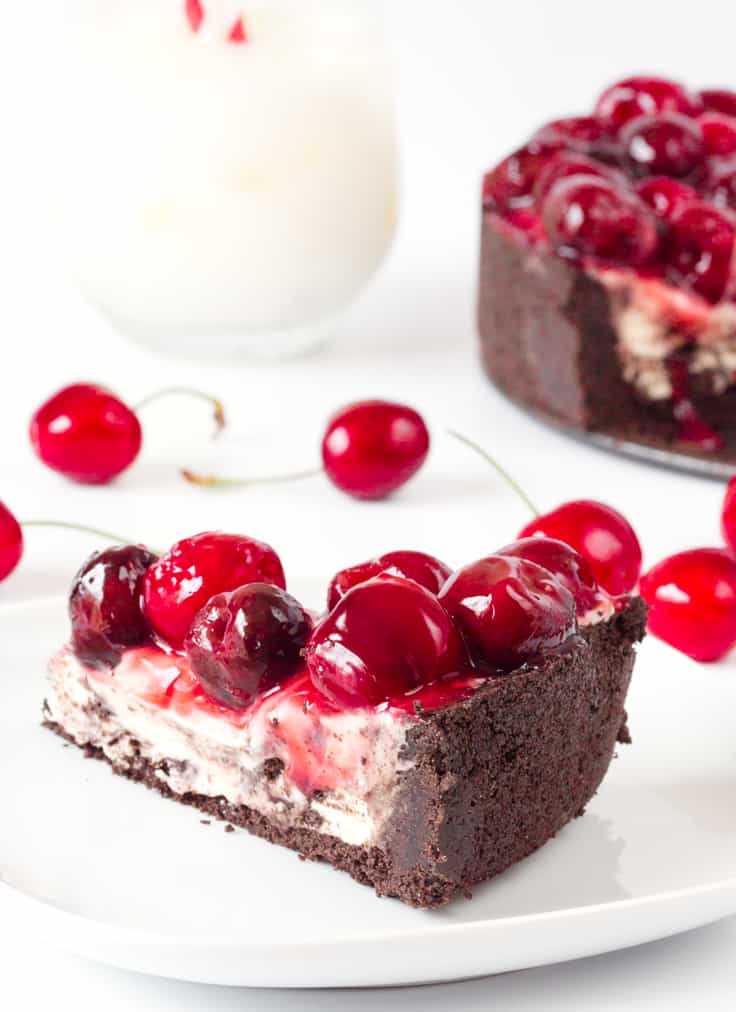 Yield: 6
Cherry Cheesecake with Oreo Crust
Indulgent Cherry Cheesecake with Oreo Crust recipe made from scratch. To top it off, it's a sinfully good no-bake recipe!
Ingredients:
Oreo Base
30 Oreo cookies, broken into rough pieces
7 tbsp unsalted butter, melted
Filling
2 x 8oz packs full-fat cream cheese
1 cup confectioner's sugar (powdered sugar)
1 tsp vanilla
¾ cup heavy cream
12 Oreo cookies, roughly broken up
Cherry topping
3 cups of whole, pitted cherries. These can be frozen, fresh or canned cherries that have been drained (discard the liquid as it's too weak to add a good flavour to the cheesecake) – or even a mixture. I used half canned cherries and half fresh.
1/2 cup golden caster sugar (brown sugar)
2 tbsp fresh lemon juice
1 tbsp kirsch or cherry brandy (optional)
1/2 tsp vanilla extract
2 tbsp cornstarch mixed with 3 tbsp water
Directions:
First make the base. Place the Oreos in a food processer and pulse until you have coarse crumbs. Stir in the melted butter and then transfer to a 9-inch baking tin with removable base. Use a measuring cup to firmly and evenly squash the crumbs into the base and up the sides of the tin. Use a teaspoon to level the top of the sides. Place in the fridge to chill whilst you make the filling.
Place the cream cheese, confectioner's sugar and vanilla extract in a large mixing bowl and whisk until smooth.
In a separate bowl, whisk the cream to soft peaks. Fold the cream cheese mix into the whipped cream and then carefully fold in the Oreos. Spoon this mixture into the biscuit base and smooth with the back of a spoon. Place in the fridge to chill for an hour whilst you make and cool the cherry topping.
Place the cherries in a pan with the sugar, lemon juice, kirsch/cherry brandy and vanilla extract. Heat on low with the lid on for 3-5 minutes until the sugar has dissolved and the liquid is bubbling lightly. Pour in the cornstarch mixture whilst stirring. The sauce should thicken quite quickly. Turn off the heat and leave to cool (you can pour onto a plate to cool faster).
Once the cherries are cool, pour them over the cream cheese topping and place back in the fridge until completely chilled – about an hour. Then serve!