Bruschetta Chicken Pasta Salad
This weekend we had a BBQ feast over at my parents house. I made steak kebabs and brought some hot dogs for the kids. I also whipped up a batch of Bruschetta Chicken Pasta Salad because nothing says summer quite like pasta salad.
Bruschetta Chicken Pasta Salad
Bridget had a friend with her and this little girl was so sweet and polite. She told me it was the yummiest pasta salad she's ever tried. How nice is that? I like this girl!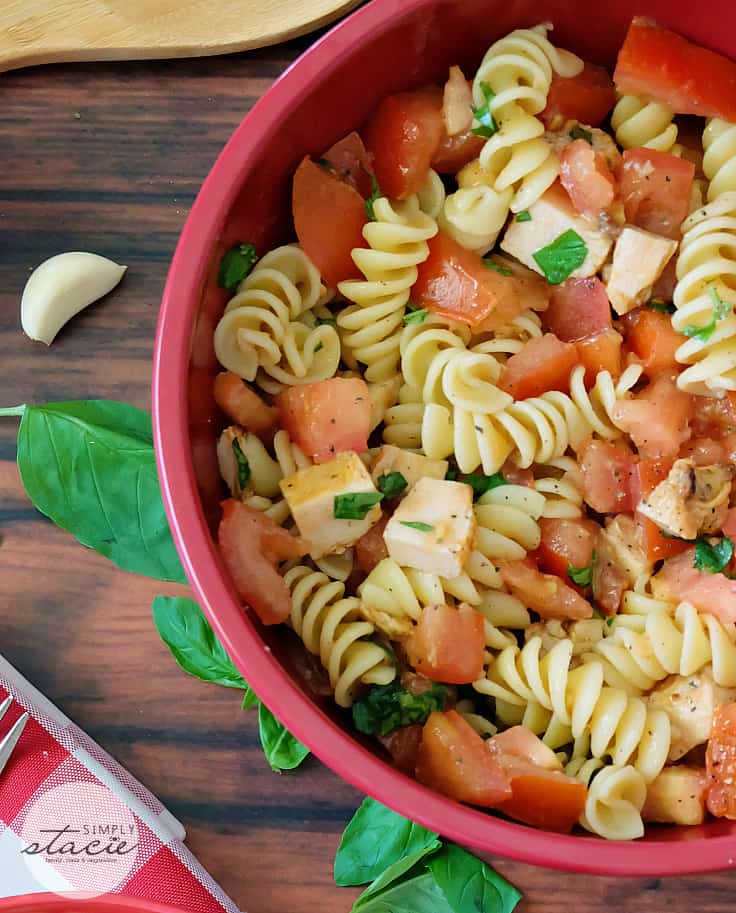 I used six tomatoes on the vine. They were on sale at Food Basics this past week so I grabbed a bunch. Roma tomatoes also would have worked in this recipe. I also used four cloves of garlic because I adore the flavour of fresh garlic. Cut it down to two cloves if garlic isn't really your thing.
Every bite is a burst of fresh flavour. If you like bruschetta, chances are you'll also enjoy this pasta salad. Store it in the fridge till you are ready to serve. It tastes even better the next day after all the ingredients have had a chance to mingle together.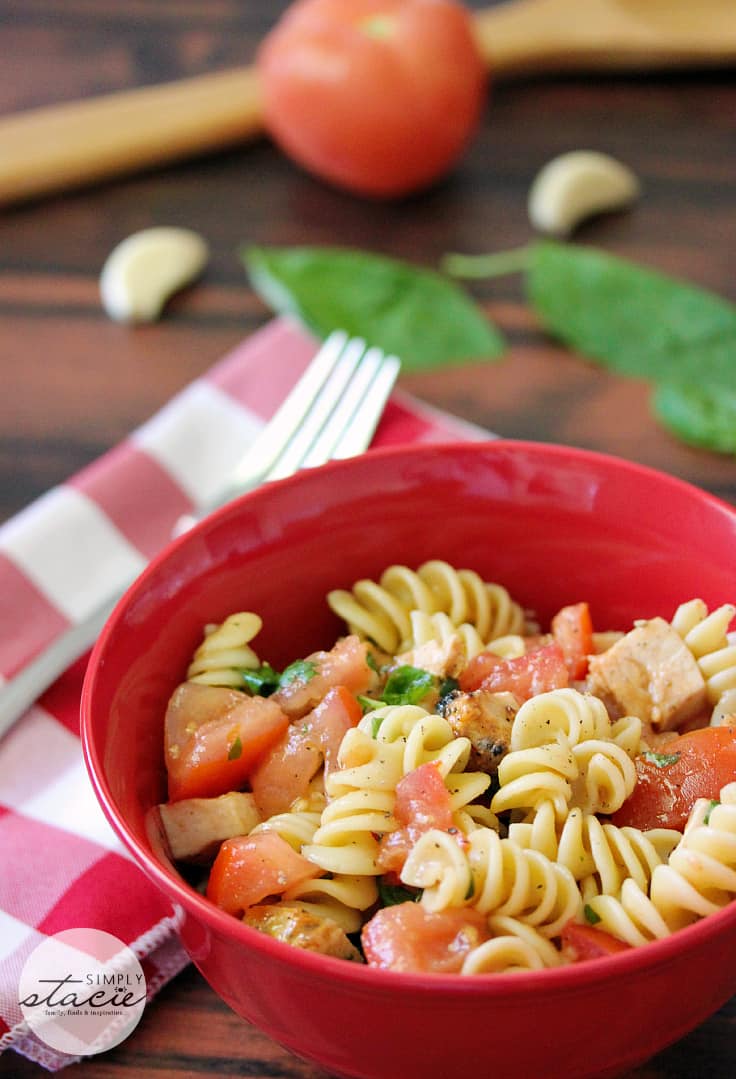 Check out my other pasta salad recipes – Roasted Pepper Pasta Salad, Greek Pasta Salad, Chili Pasta Salad, Chicken Fajita Pasta Salad and Easy Bacon Pea Pasta Salad. Also, check out my Pasta Salad board on Pinterest.
What is your favourite kind of pasta salad?
Yield: 6
Bruschetta Chicken Pasta Salad
Bursting with fresh summer flavour, this Bruschetta Chicken Pasta Salad is a hit at a family BBQ! It tastes even better the next day.
Ingredients:
4 cups cooked pasta
6 tomatoes, chopped
4 cloves garlic, minced
2 tbsp fresh basil, chopped
2 chicken breasts, cooked and chopped
1/4 cup extra virgin olive oil
2 tbsp balsamic vinegar
salt & pepper, to taste
Directions:
Toss tomatoes, garlic, basil, and chicken in a large bowl.
In a small bowl, whisk together olive oil and balsamic vinegar. Pour into large bowl.
Add cooked pasta to large bowl and toss to combine. Season with salt and pepper.
Refrigerate until ready to serve.