Rustic Blueberry Lemon Tart
Want a recipe to impress this Mother's day? Try this Rustic Blueberry Lemon Tart. It's absolutely divine!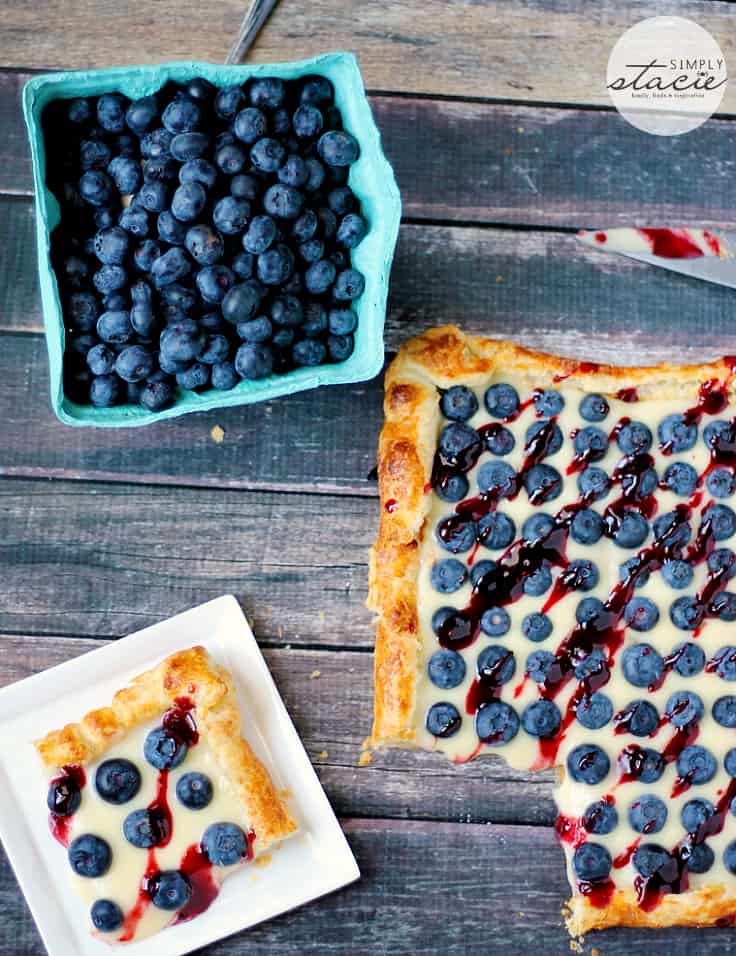 With a flaky crust, creamy lemon filling and topped with fresh blueberries and preserves, just thinking about this luscious dessert makes me drool!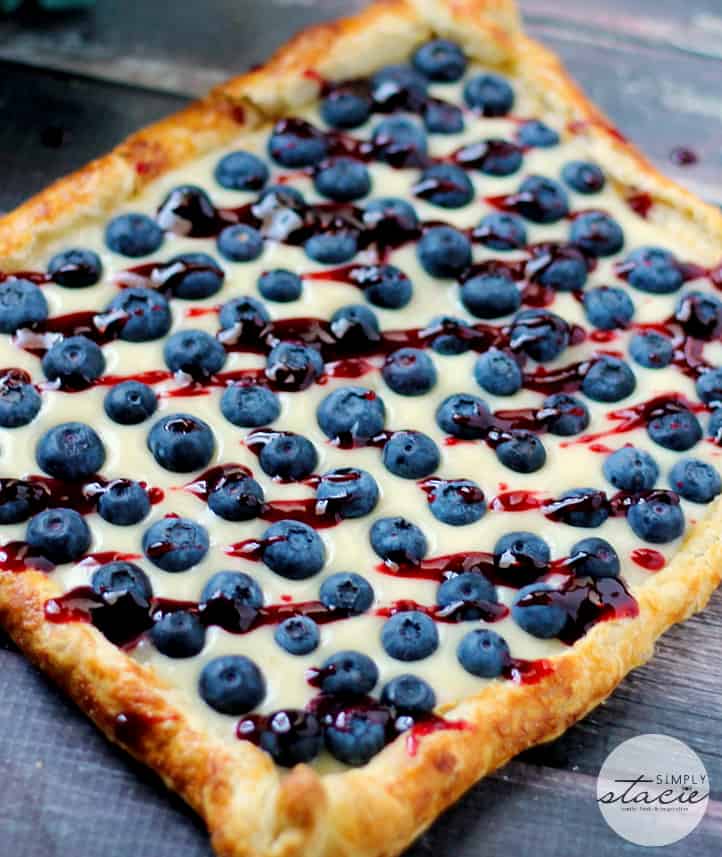 Fresh blueberries are plentiful in the summer and we often go pick our own at the local blueberry farm. I'm always on the lookout for ways to use up our day's work!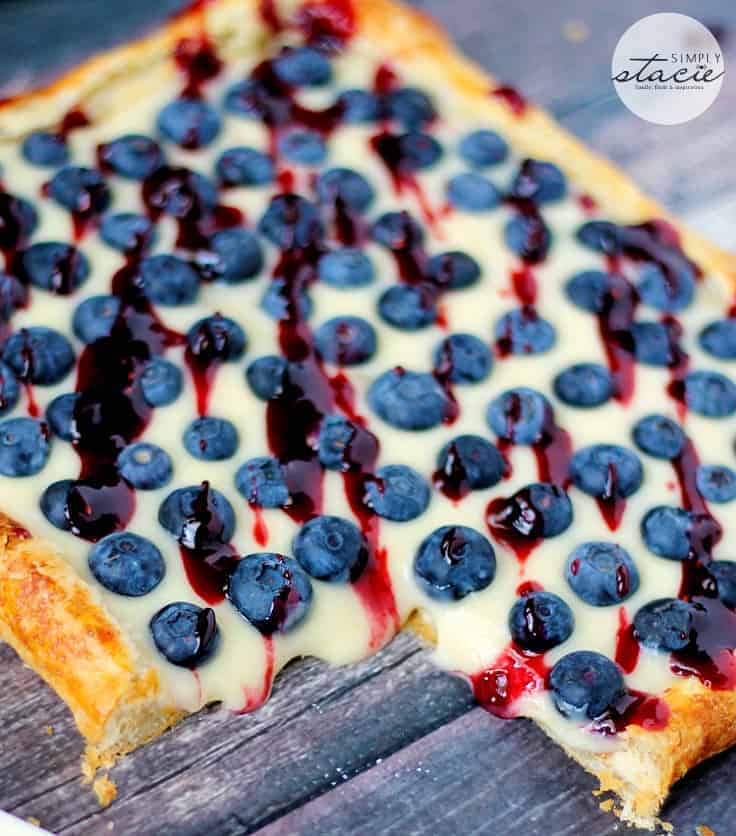 This recipe is a keeper for blueberry lovers.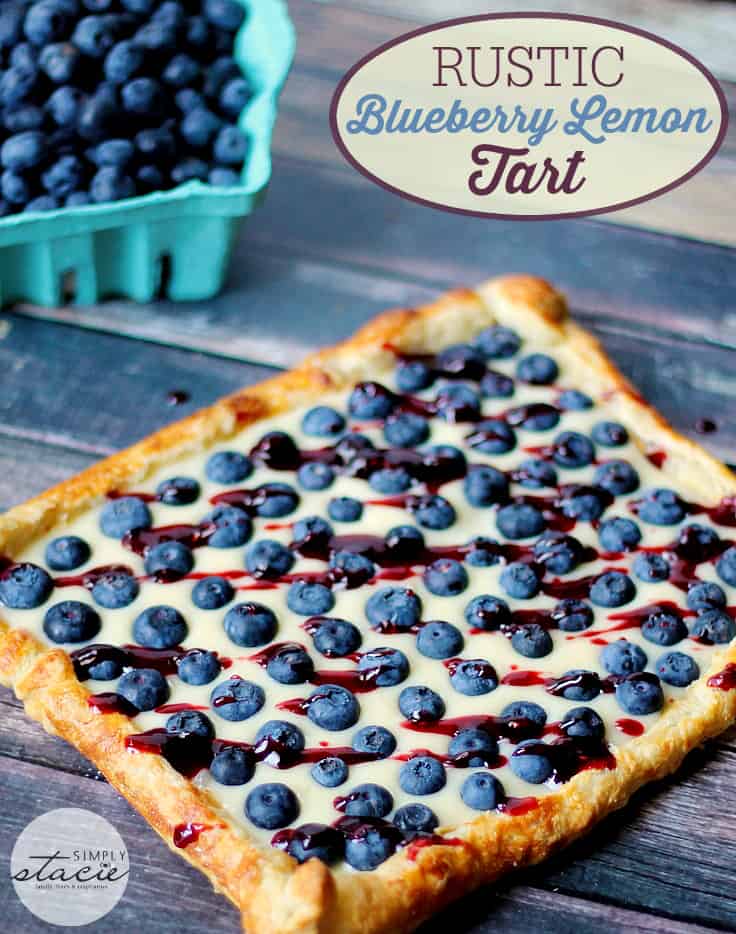 Soooooo good! Do you have any special blueberry recipes?
You might also like this Blueberry Tea Cake.

Yield: 6
Rustic Blueberry Lemon Tart
Divine recipe for Rustic Blueberry Lemon Tart made with fresh blueberries, puff pastry and lemon curd!
Ingredients:
1 sheet puff pastry dough, defrosted but still cold
1 egg, beaten
1 cup lemon curd
4 oz cream cheese, room temperature
1⁄4 cup sugar
2 tbsp heavy cream
1 cup blueberries
1⁄4 cup mixed berry preserves
Directions:
Heat oven to 425 F.
On a floured baking sheet, place puff pastry dough and roll out a bit. Roll over each of the 4 sides, twice, to create a side on the puff pastry. Using a fork, poke holes throughout the bottom of the pastry sheet. Using beaten egg, brush lightly over the entire pastry sheet. Place into oven and bake for 15-18 minutes. Remove and set aside (if pastry puffs up, use a spatula to press down), and allow to cool at least 30 minutes.
While baking puff pastry, in a medium bowl, combine cream cheese and 1⁄4 cup sugar. Mix with a fork or electric mixer until combined and no lumps. Add heavy cream; mix until combined. Add lemon curd, mix until combined. Set aside.
On your cooled pastry, pour cream cheese mixture and spread evenly on bottom. Evenly spread blueberries on top of cream cheese mixture.
In a small bowl, heat 1⁄4 cup preserves for 30 seconds in the microwave; mix. Heat another 30 seconds, mix again. Using a spoon, drizzle the preserves over the top of the blueberry tart.
Cut with a sharp knife or pizza cutter, serve immediately.
This can be served slightly warmed, or chilled. If you chill in the fridge for about an hour before serving, the curd mixture will be more 'set' whereas if you serve without chilling, it will be more gooey. Both ways are delicious.