Chocolate Peanut Butter Cupcakes
You know what's even better than cupcakes? A cupcake with a hidden surprise inside! These Chocolate Peanut Butter Cupcakes look like your standard chocolate cupcakes. Rich milk chocolate topped with a peanut butter chocolate frosting. However, as unassuming as they appear, they hold a secret. Nestled inside the chocolate is a spoonful of creamy smooth peanut butter. This is one surprise I don't mind at all finding in my dessert.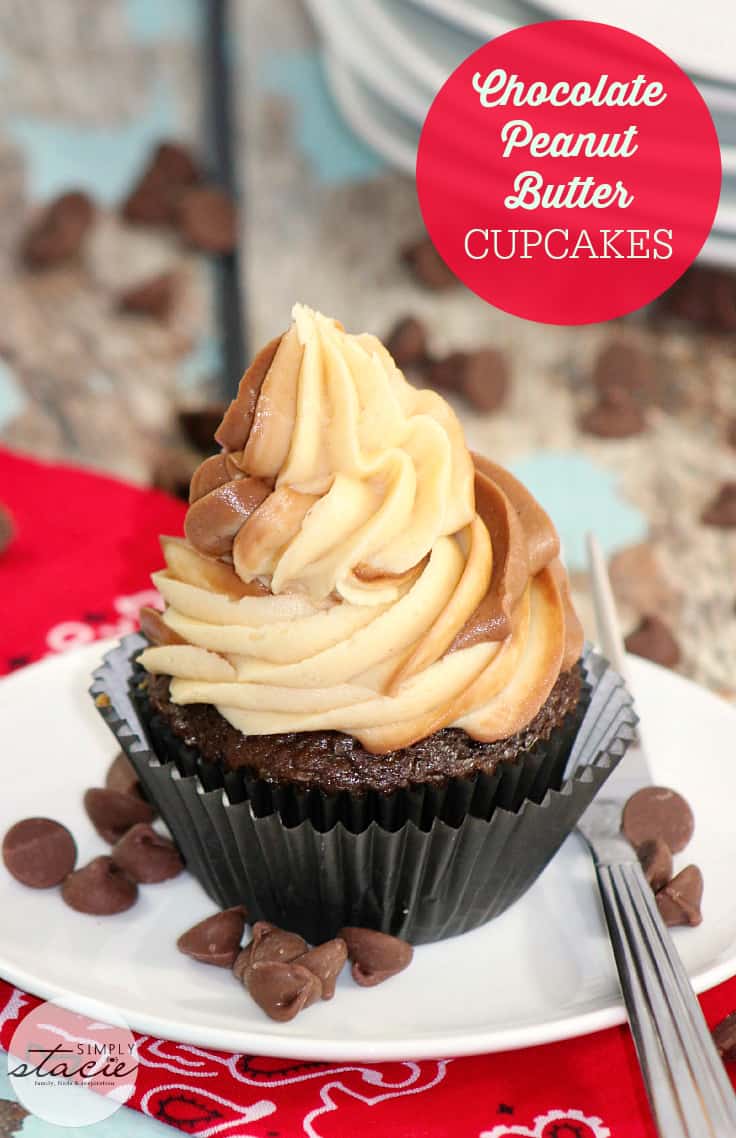 Chocolate Peanut Butter Cupcakes
Whether you're making cupcakes to celebrate a special occasion or just because, these luscious chocolate peanut butter cupcakes will satisfy your sweet tooth. Sometimes I'm just in the mood to bake and cupcakes are often what I make. They are so easy and hard to mess up. Plus, I'm thinking about portion control and tell myself I'll only have just one.
It's treats like these that test my will power. I'm watching my waist line, but will indulge with a small treat once in awhile. Who can resist the chocolate and peanut butter combination? Not I.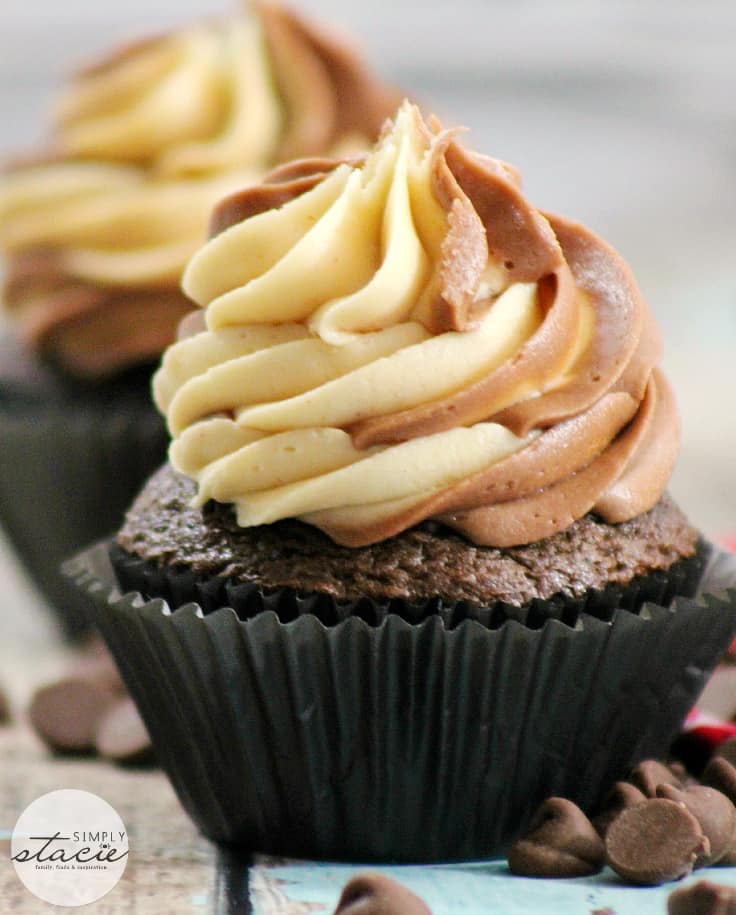 Would you eat the frosting first or would you take a bite to get a little of everything in there?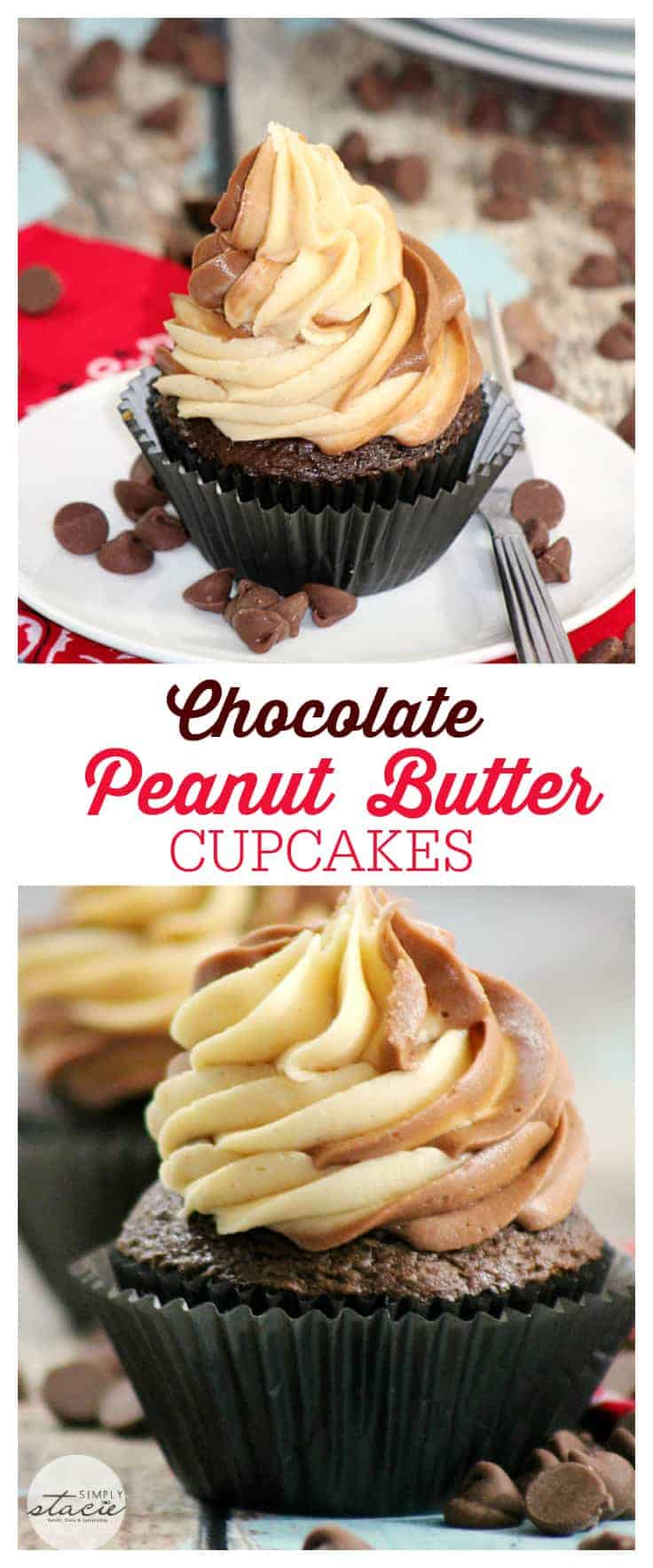 Yield: 18
Chocolate Peanut Butter Cupcakes
Luscious recipe for Chocolate Peanut Butter Cupcakes piled high with frosting!
Ingredients:
Cupcakes
2 2/3 cups flour
1 1/2 cups cocoa
1/2 tsp baking soda
4 tsp baking powder
1/4 tsp salt
3 cups sugar
2 tsp vanilla
1 1/2 tbsp margarine or butter, softened
4 eggs
2 cups whole milk
1 cup peanut butter
Frosting
1 cup unsalted butter, softened
4 cups icing sugar (powdered sugar)
4 tbsp heavy whipping cream
1/2 cup cocoa powder
4 tbsp peanut butter
Directions:
To make the cupcakes
Preheat oven to 350 degrees. Line cupcake tin with cupcake liners. Set aside.
In a large bowl, cream together sugar with butter until light and creamy. Add in eggs, one at a time, mixing after adding each egg. Add vanilla.
In another bowl, sift flour, cocoa, baking soda, baking powder and salt.
In small batches, add dry mixture to wet mixture, alternating with milk. Make sure to start and end with the flour mixture. Beat until well combined.
Scoop batter into the prepared cupcake tin, about 3/4 full.
Bake for 20 to 25 minutes, or until a toothpick comes clean from the middle of a cupcake.
Cool for 10 to 15 minutes. Scoop out center of each cupcake with a spoon or cupcake scooper.
Spoon in peanut butter until it reaches the top of the cupcake.
To make the frosting
In a large bowl, cream the butter with an electric mixer. Add in the powdered sugar. Slowly add the whipping cream and continue to mix until the frosting can hold a stiff peak (may take several minutes). If it's not holding a stiff peak after several minutes, add in more powdered sugar, if need be.
Evenly divide the frosting into two bowls, In the first bowl add the cocoa powder and mix well. In the second bowl, add the peanut butter and mix well.
Scoop the chocolate frosting into a pastry bag with a large frosting tip. Mash the frosting with the back of a spoon while its in the pastry bag. Turn the pastry bag.
Scoop the peanut butter frosting into the same pastry bag. Mash the peanut butter frosting with the back of a spoon in the pantry bag.
Twist the open end of the pastry bag until the frosting begins to come out. Frost the cupcakes.