Valentine's Day Fudge
I have love-hate relationship with fudge. I love it because it is so darn addicting and perfectly decadent. I hate making it though! I'm not fond of using a candy thermometer. The first time I made fudge was with my cousin, Allison. We were young teens at the time and didn't bother to use a candy thermometer. I mean really how hard could it be? That was the thought running through our young minds.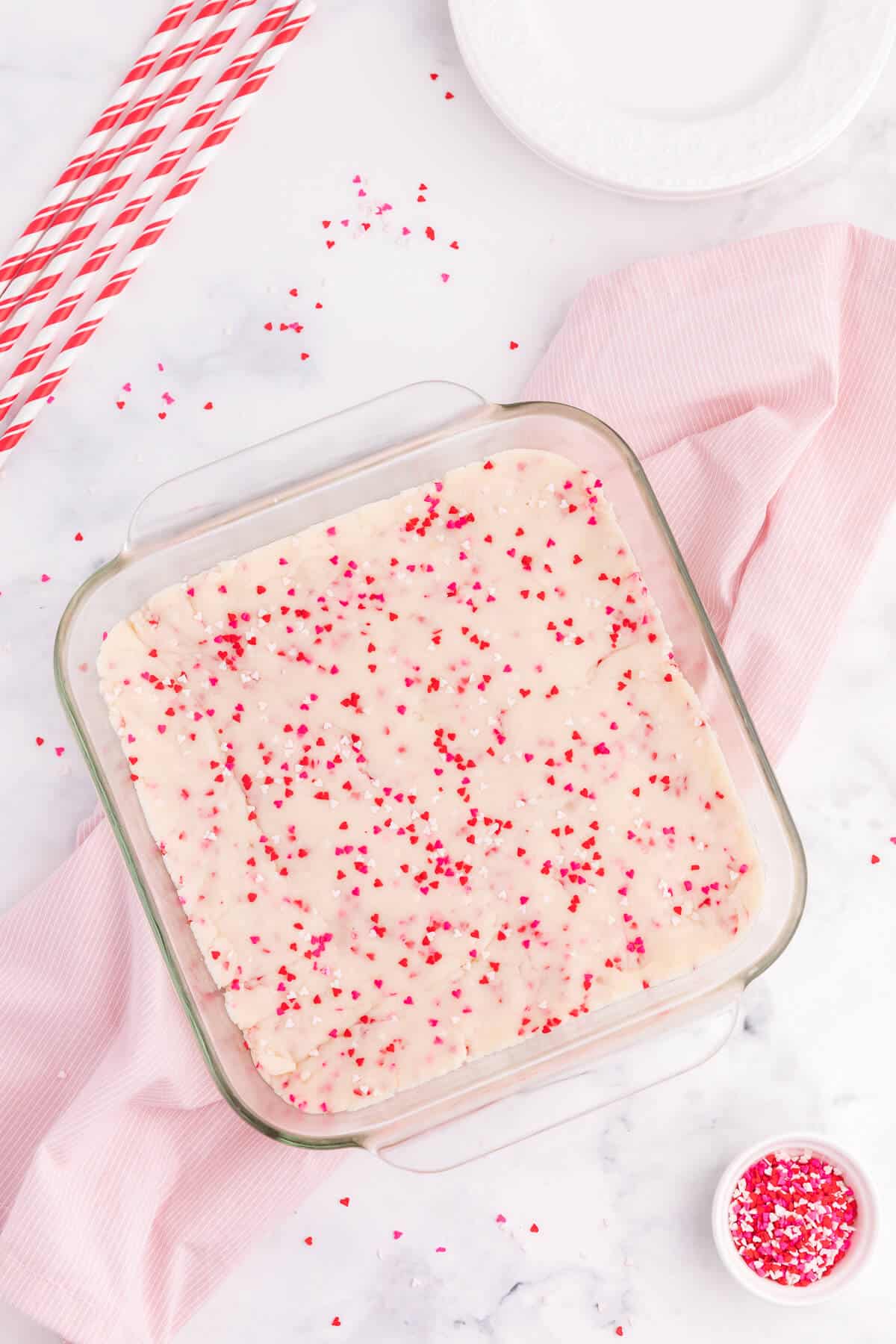 I wouldn't even call what we made fudge. It was a nasty black hot mess. We ruined my Auntie Lori's pot in the process. She was not impressed. I tried a bite of it and it was like eating a piece of charcoal. Absolutely sick!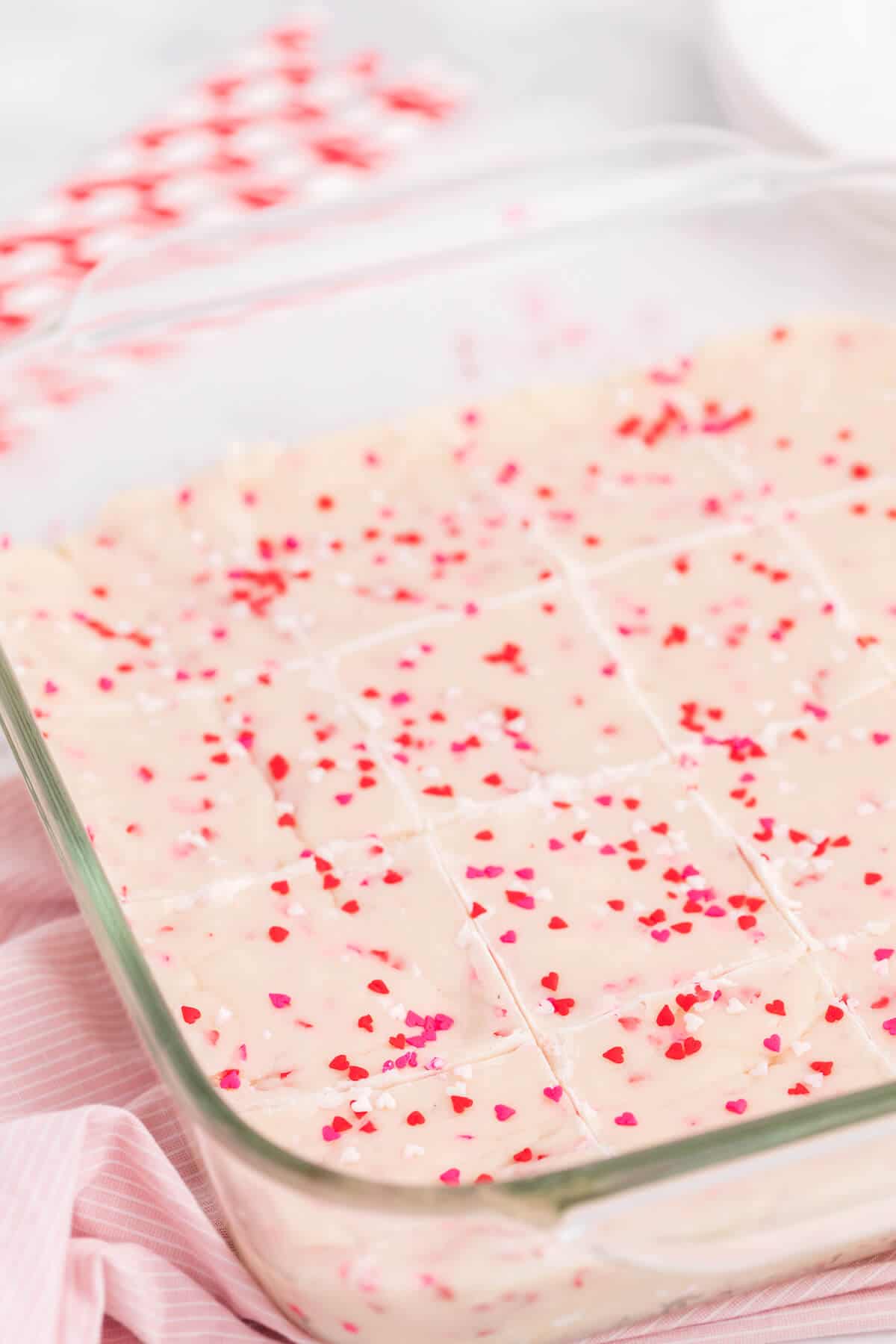 It took me a few years before I ever attempted a fudge recipe again, but this time I used a candy thermometer. Thankfully, I didn't ruin any pots and it was edible.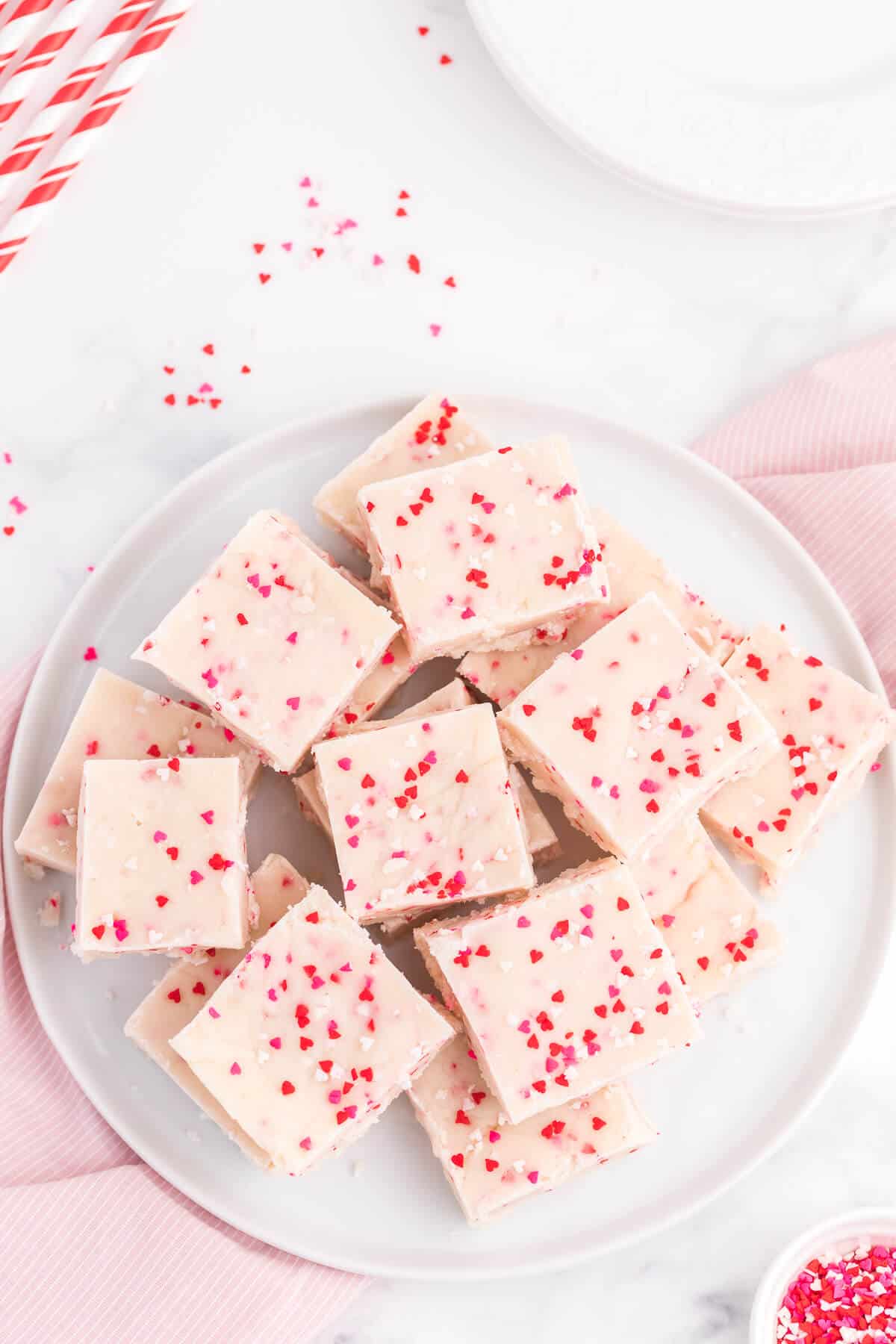 When I discovered that you could make fudge without a candy thermometer, I said sign me up! I gotta try this stuff. This recipe uses cake mix and requires no stove top stirring and taking the temperature. It is SO easy. I made this batch of Valentine's day fudge in under 5 minutes and then it has to set and cool for 2 hours in the fridge.
I used a white cake mix and Wilton Valentine's day sprinkles to make it Valentine's day themed.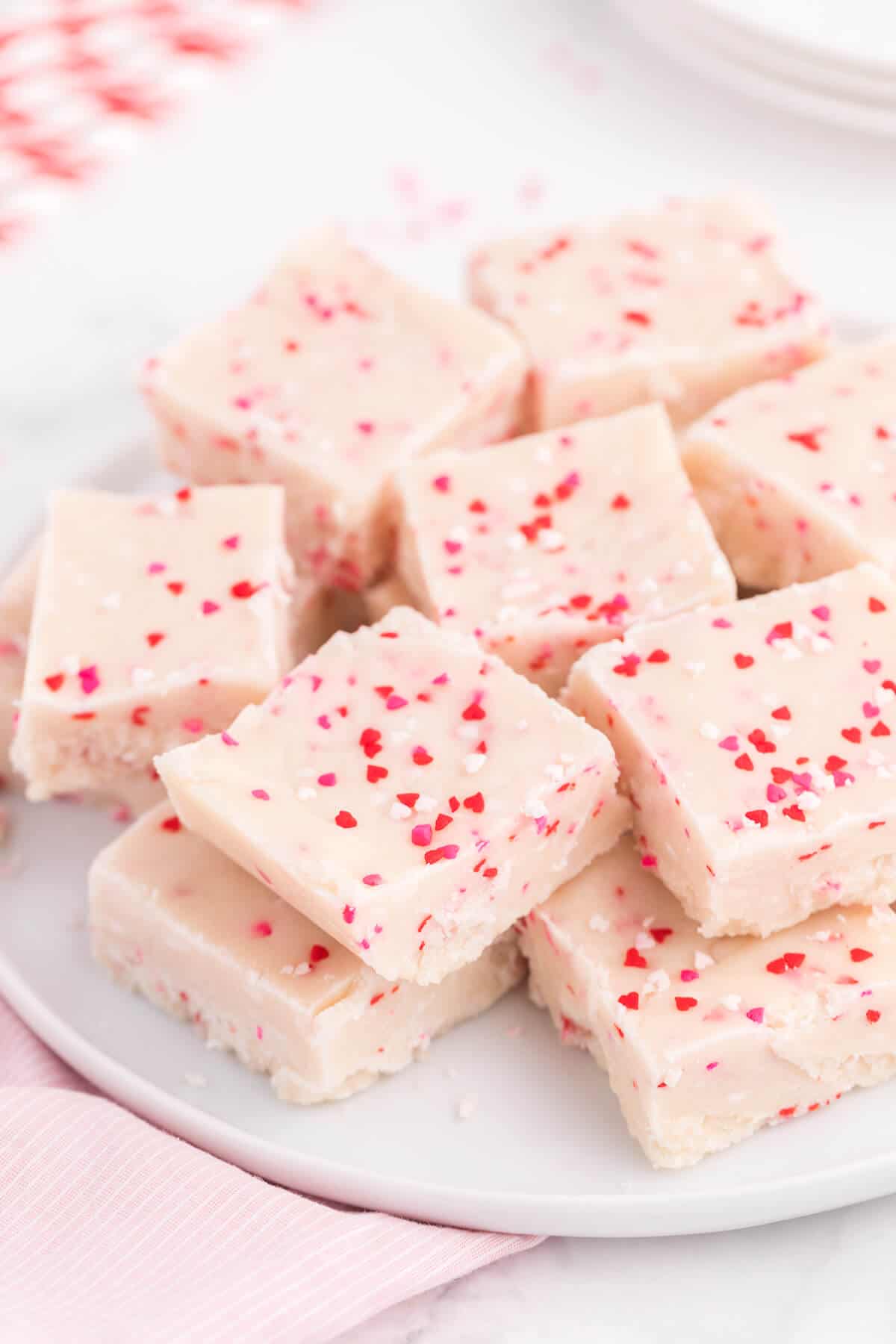 I always butcher the first piece out of the pan. After it's out, though, it's smooth sailing! Creamy, smooth and rich – one piece will satisfy your sweet tooth!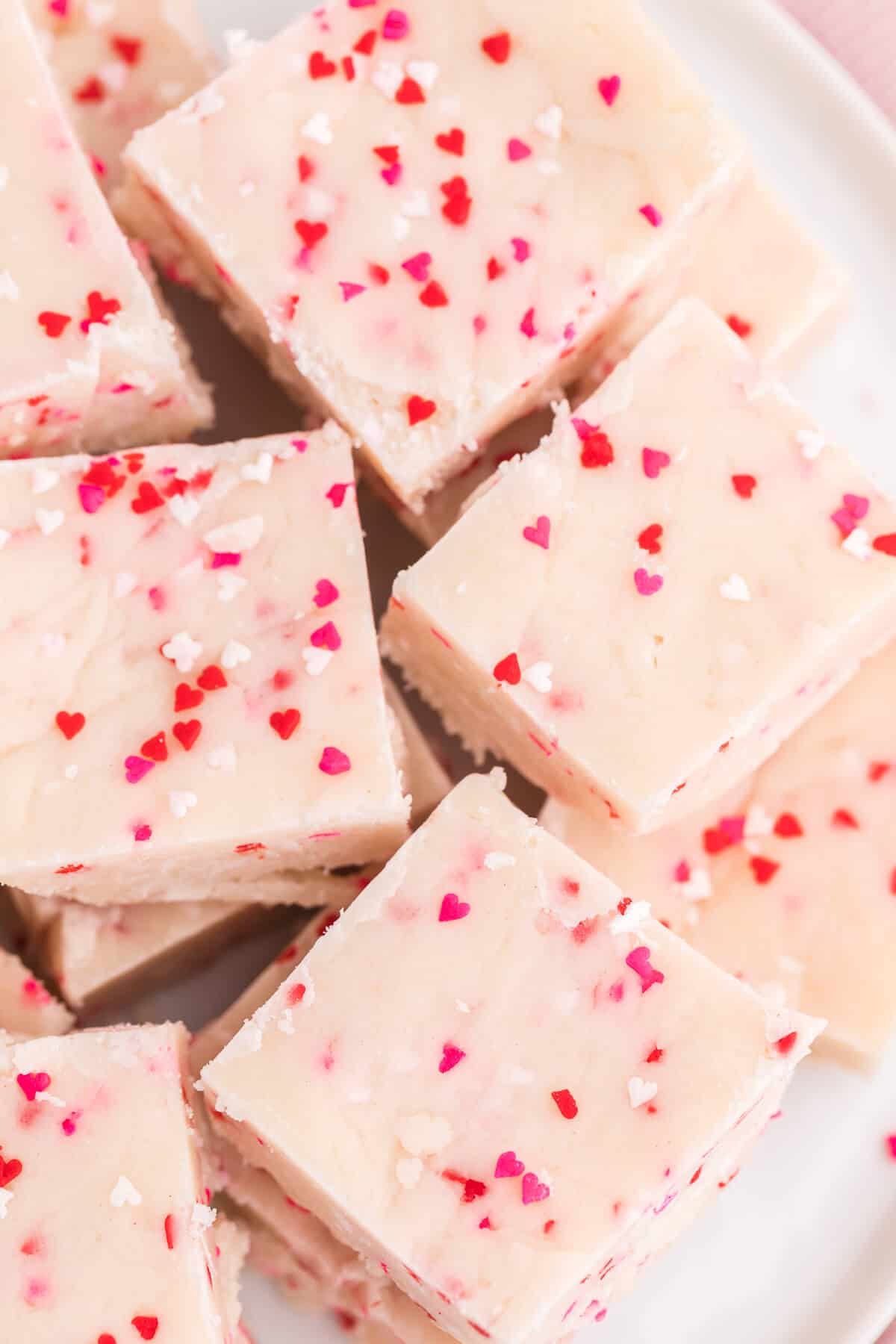 Can you tell I'm on a cake mix hack binge? I'm using up those boxes in my pantry! Check out my other cake mix recipes: French Vanilla Cream Bars, Caramel Apple Dump Cake and White Chocolate Oatmeal Cookies.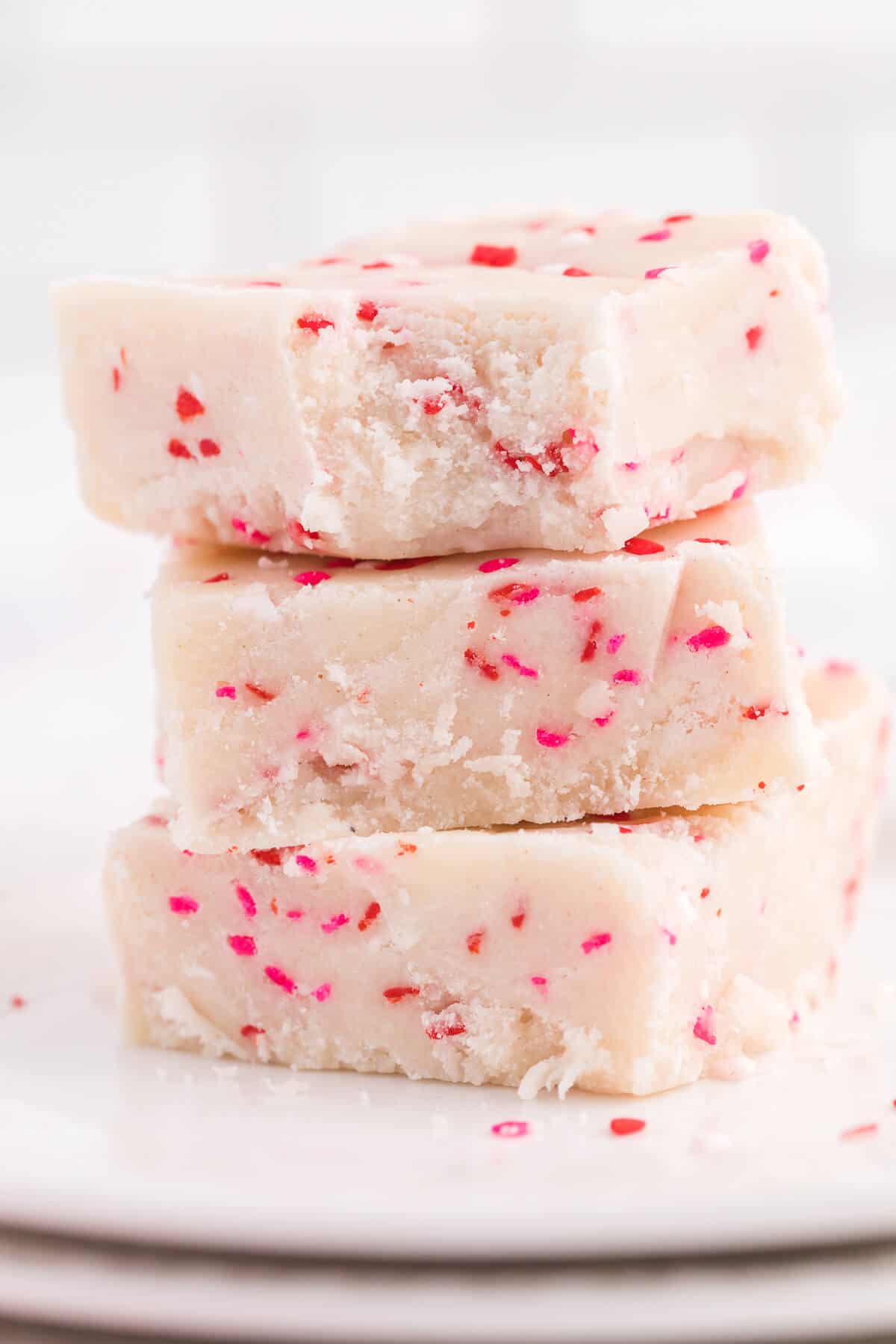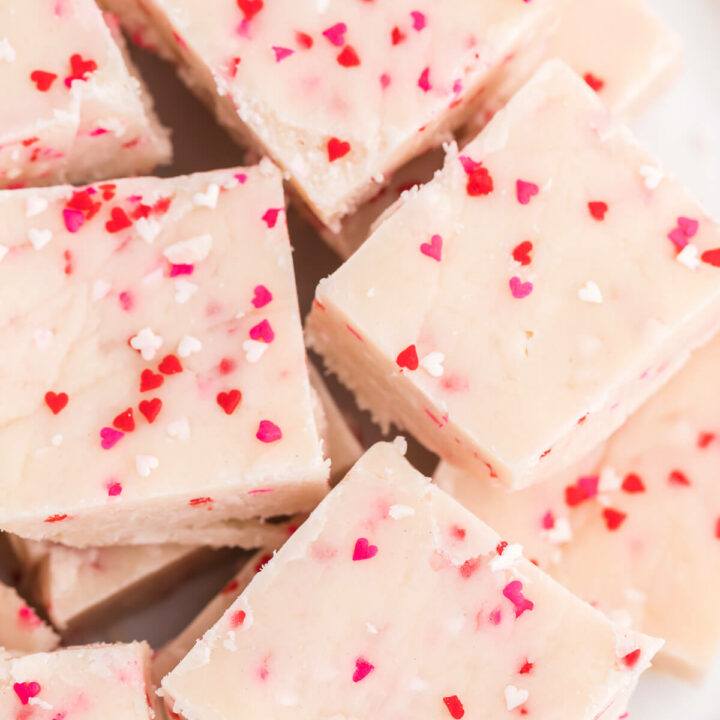 Valentine's Day Fudge
Yield: 24
Prep Time: 2 hours
Cook Time: 2 minutes
Total Time: 2 hours 2 minutes
This vanilla "fudge" is made with a secret ingredient – a boxed white cake mix! This versatile sweet treat can be "changed up" by using different flavours of cake mix! It's guaranteed to satisfy your sweet tooth.
Ingredients
2 cups white cake mix
2 cups powdered sugar
1/2 cup butter, cut into four pieces
1/4 cup milk
1/4 cup Wilton Valentine's sprinkles
Instructions
Add cake mix and powdered sugar to a microwaveable bowl. Mix together.
Add in butter and milk. Do not mix. Microwave for 2 minutes on high.
Remove from microwave immediately and stir together to combine. Stir in Valentine's sprinkles.
Immediately spread the batter in an 8×8 greased baking pan. Add a few sprinkles to the top and press down with the palm of your hand or a spoon to set in place.
Refrigerate for 2 hours or until set. Cut into squares and enjoy!
Recommended Products
As an Amazon Associate and member of other affiliate programs, I earn from qualifying purchases.
Nutrition Information:
Yield: 24
Serving Size: 1
Amount Per Serving:
Calories: 148
Total Fat: 7g
Saturated Fat: 3g
Trans Fat: 0g
Unsaturated Fat: 3g
Cholesterol: 11mg
Sodium: 94mg
Carbohydrates: 21g
Fiber: 0g
Sugar: 17g
Protein: 1g