Muffin Tin Mashed Potatoes
Mashed potatoes were a staple on our dinner table growing up. My mom used to make her mashed potatoes whipped with milk and butter and made sure there were no chunks left. I was a picky kid and wouldn't eat them if I discovered they were chunky! Also, my grandmother believed it wasn't a meal unless it was served with a helping of mashed potatoes. Anytime there was meat on the plate, you'd always find mashed potatoes right there. I got a little sick of eating them back then and only started to serve them more regularly many years later.
I like to keep things interesting and try new mashed potato recipes. I had written down a recipe a long time ago for Muffin Tin Mashed Potatoes, but had never gotten around to make them. I was missing out! They are yummy and a new, tasty take on classic mashed potatoes. Also, if you have mashed potato leftovers and aren't sure what to do with them, this is your recipe to try!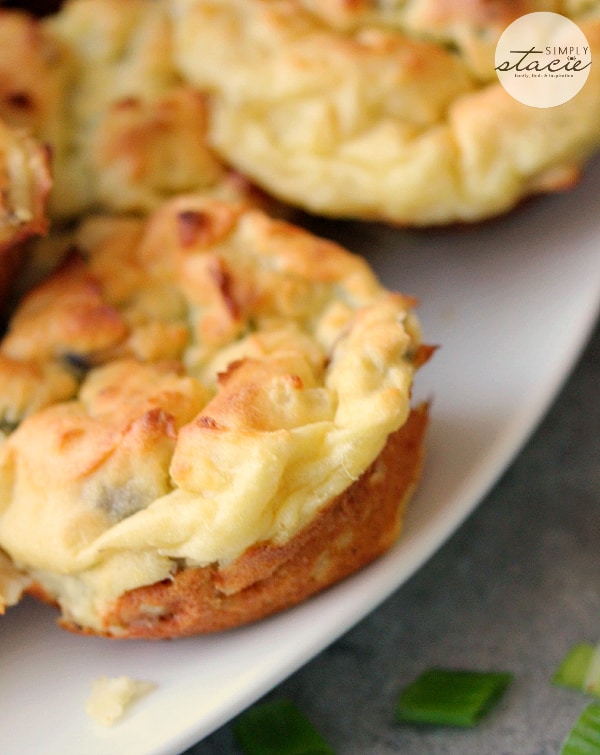 I love them hot and fresh out of the oven. I cut mine open and put a dollop of butter and let melt inside. Soooo good! This is comfort food, folks.
You can mix it up a little and add in whatever veggies you have on hand. I'm thinking this would be a good recipe to make after Thanksgiving to use up the leftover potatoes and veggies.
Have you tried Muffin Tin Mashed Potatoes?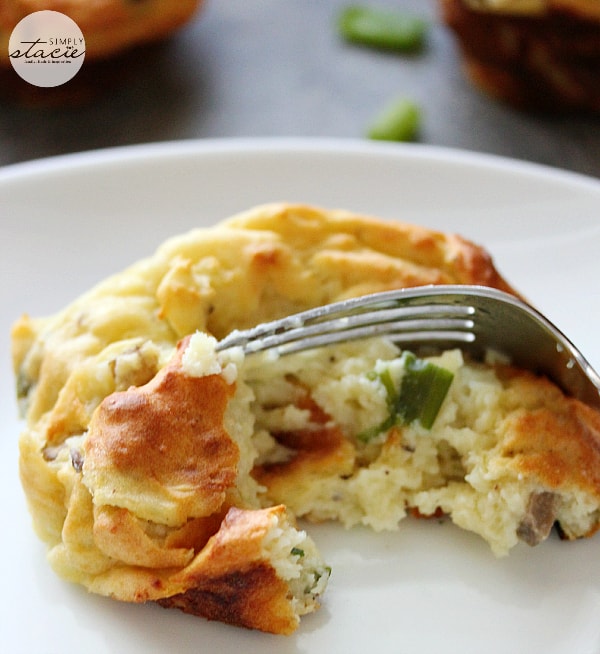 Muffin Tin Mashed Potatoes
Yield: 12
Prep Time: 10 minutes
Cook Time: 1 hour 5 minutes
Total Time: 1 hour 15 minutes
Simple and tasty way to use up leftover mashed potatoes!
Ingredients
10 potatoes, peeled and chopped
4 tbsp. butter
4 green onions, sliced
1 cup milk
4 eggs, beaten
1 tsp. salt
2 cups mushrooms, chopped
2 cloves garlic, minced
3/4 cup flour
4 tsp baking powder
1/4 tsp pepper
Instructions
Boil potatoes until tender. Drain the water and mash. Add in 2 tbsp butter and milk and beat until fluffy. Set aside.
Meanwhile, add 2 tbsp butter to a pan and saute mushrooms, onions and garlic until tender, about 5 to 7 minutes.
Add cooked veggie mixture to potato mixture. Add in flour, eggs, baking powder, salt and pepper and stir to combine.
Add the mixture to 12 greased muffin cups. Bake at 375F for 35 to 40 minutes or until golden brown. Let stand 5 minutes before removing from the muffin pan.
Recommended Products
As an Amazon Associate and member of other affiliate programs, I earn from qualifying purchases.
Nutrition Information:
Yield: 12
Serving Size: 1
Amount Per Serving:
Calories: 241
Total Fat: 6g
Saturated Fat: 3g
Trans Fat: 0g
Unsaturated Fat: 2g
Cholesterol: 74mg
Sodium: 437mg
Carbohydrates: 40g
Fiber: 4g
Sugar: 3g
Protein: 8g