Berry Jam Smoothie
You may or may not have noticed that I've been sharing a new recipe every Friday. That's because a group of friends have teamed up to make a new recipe each week for whatever the theme of the week is. It's really just an informal thing, but I'm having lots of fun with it.
This week the theme was "drinks". We like to keep our themes pretty general so there's more room to be creative and you'll end up seeing a diverse group of recipes. With Valentine's day coming up next week I wanted to make something that would be suitable to make for your sweetheart. I came up with this Berry Jam Smoothie recipe.  It's sweet, creamy and a little decadent. It's also very filling! I only had a small glass of it and I was full. Even John liked it and asked for seconds. Good thing I have extra ingredients in the fridge to make more.
You can lower the sugar content by using plain yogurt or jam with no added sugar.

For more yummy drink ideas, check out this recipe for Homemade Ginger Tea, Easy Chocolate Chai Tea, Creamy Banana Milkshake, White Hot Chocolate,  Red Velvet Cake Milkshake, Fuzzy Navel Mocktail, Shirley Temple and Healthy Homemade Hot Chocolate.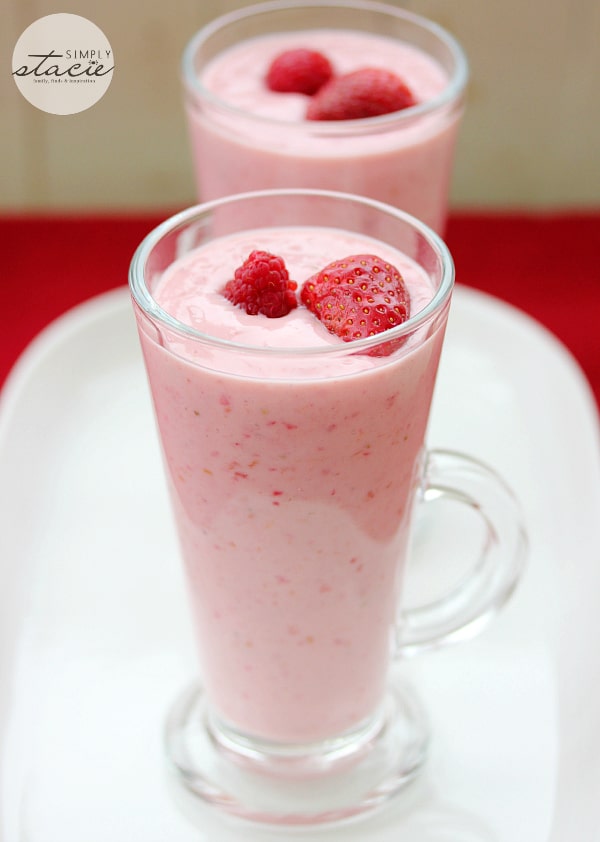 Yield: 1
Berry Jam Smoothie
Sweet, creamy and a little decadent!
Ingredients:
2 cups vanilla yogurt
½ cup strawberries, stems removed
¼ cup raspberries
2 to 3 tsp jam of your choice (I used cherry jam)
½ cup milk
Directions:
Combine all ingredients in a blender and blend until smooth. I have a Smoothie setting on my blender and I mixed mine for about a minute. Add more milk to adjust the thickness to your preference. Makes about 1 to 2 servings depending how big of a glass you use!