Bacon Wrapped Appetizers
This week is all about holiday appetizers! For the next five days, I'll be sharing a recipe a day for my favourite party foods. Three other bloggers are also doing the same thing so by the end of the week, you'll have 20 new appetizer recipes to try.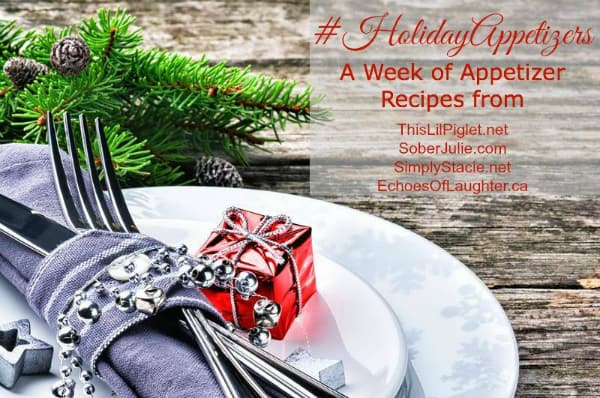 Today's recipe is all about the bacon because bacon goes with everything right? My mom always made bacon wrapped water chestnuts marinated in soy sauce for our holiday get-togethers. I remember helping her make them. They are still a family favourite of ours along with a few other easy fillings. Pretty much anything tastes good when it's in bacon.
I made bacon wrapped water chestnuts, of course, along with bacon wrapped olives, pineapple and smoked oysters! This recipe you could prep the day before and keep it in the fridge and then pop it in the oven when you're ready to serve.
This is a great party appetizer that's always a hit. The different fillings offer variety to appeal to many tastes. I happen to love all four fillings, but John hates the olives. Ever notice that people either love or hate olives? Anyways, variety is good! This recipe will make a lot of appetizers so if you aren't having a big party, then just make fewer of the each one.
To find more appetizer recipes, head over to my friends' blogs!
Yield: 80-90
Bacon Wrapped Appetizers
Bite sized deliciousness!
Ingredients:
2 packages of bacon, cut into thirds
toothpicks
Water Chestnut Filling:
1 can water chestnuts, whole and drained
1/3 cup soy sauce
1 tbsp sugar
Smoked Oyster Filling:
1 can smoked oysters, drained
Pineapple Filling:
1 can pineapple chunks, drained
1/4 cup French salad dressing
Olive Filling:
24 stuffed pimento green olives, whole
Directions:
For the olives and smoked oysters, wrap a bacon slice around each individual ingredient and secure with a toothpick. Set aside in a shallow baking pan.
For the water chestnuts, wrap a bacon slice around each water chestnut and secure with a toothpick. In a separate bowl, mix together soy sauce and sugar and pour over top of wrapped water chestnuts. Marinate for 30 minutes. Place on a shallow baking pan.
For the pineapple, marinate pineapple chunks in French dressing for about 30 minutes. Then after it has marinated, wrap each chunk of pineapple in a bacon slice and secure with a toothpick. Place on a shallow baking pan.
When you're ready to make them, preheat the oven to 375°F. Bake for about 25 to 30 minutes or until bacon is crisp. Serve hot. Makes about 80-90 appetizers.