Spring Herb Tartlets are the perfect appetizer to serve up at your next party or family gathering. A goat cheese tartlet with a drizzle of honey on top. Topped with fresh herbs for a flavor factor that is incredible.
I once tried to grow an herb garden. I bought one of those kits and followed the directions. I was doing ok for a couple weeks, but then when I went to move the herbs to bigger pots, they slowly died. I often think about trying it again, but just haven't found the time to research more into it. I've been buying my fresh herbs at the grocery store and every time I do, I feel a twinge of guilt that I really should try to grow my own again.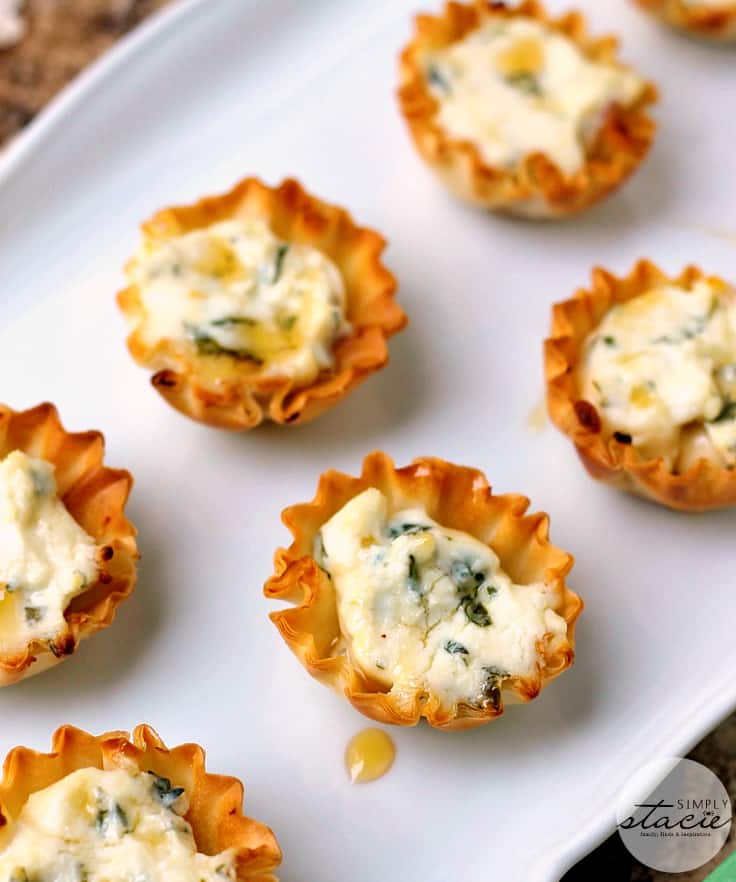 Spring Herb Tartlets with Honey and Goat Cheese
I love the flavour of fresh herbs and how they transform a recipe into something truly extraordinary. Like this recipe for Spring Herb Tartlets with Honey and Goat Cheese. Imagine a creamy, smooth filling with a fresh burst of herb-y flavor and a touch of sweetness all nestled inside a buttery phyllo pastry cup. They are bite-sized and will be gobbled up quickly!
Can I Double This Tartlet Recipe
If you are having a get-together and need to bring a dish to impress, make this recipe! They go fast so you may want to double or triple the recipe if you have to feed a crowd.
Heck even if you don't have anything special going on, you can still whip a batch of these to enjoy.
I know, I can't resist a taste! I have to hold myself back from overindulging, but a bite or two never hurts!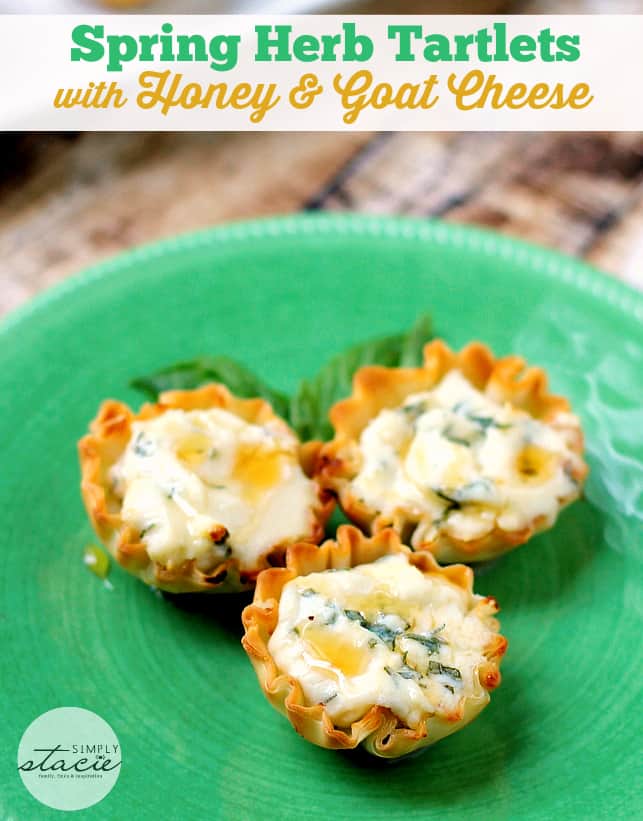 Where Do You Find Phyllo Dough
You can find it in your freezer section at the grocery store, or sometimes in the refrigerator section. You can buy little cups so all you do is fill and bake. It makes this appetizer so simple to make.
Is there a Difference Between Goat Cheese and Feta Cheese
Feta and goat cheese are totally different, but many think they are the same. Feta can be made with sheep's milk, and that is where there is confusion. Goat cheese is fully made from milk that comes from a goat.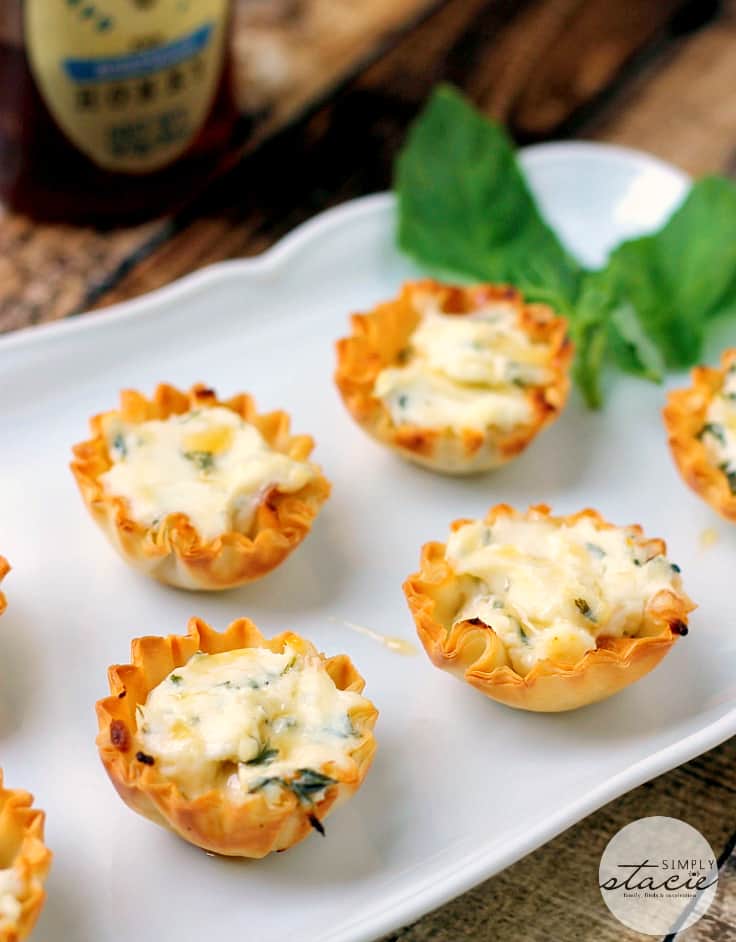 How Does Goat Cheese Taste
Goat cheese tends to be described as an earthy cheese that offers a tart or tang to it. You either like goat cheese or you don't. If you had to you could swap it with mozzarella or even feta cheese if you are not a fan of goat cheese.
What Can I Use Instead of Goat Cheese
Cream cheese, mozzarella, mascarpone, or even feta can all work in this recipe. But, with the change of the cheese, you will get a whole new level of flavor to the recipe.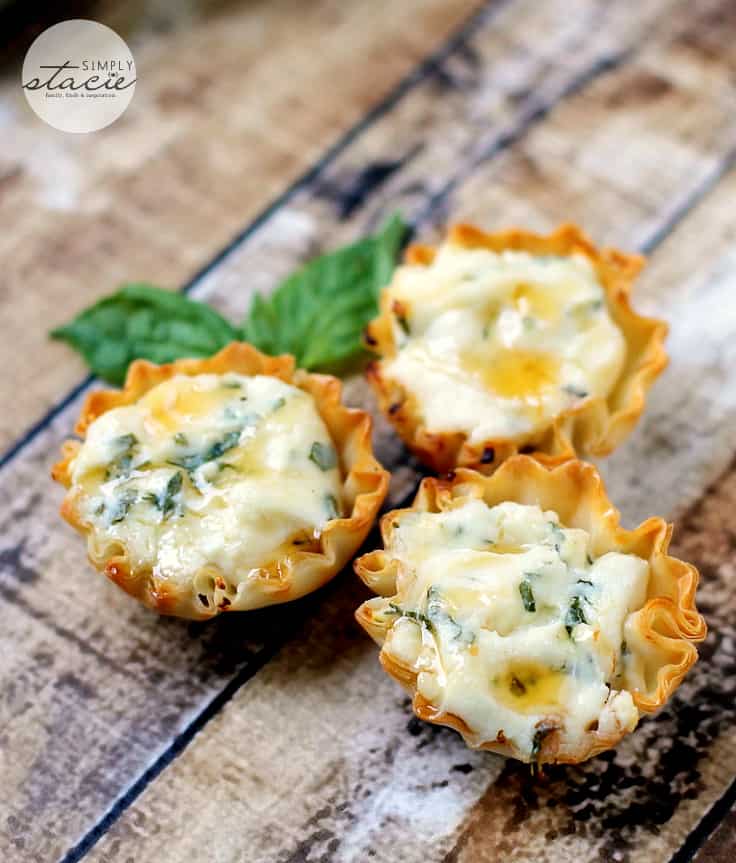 What Herbs Do You Use for This Goat Cheese Tart
I wanted to use a variety of herbs. I reached for thyme, rosemary, and basil. I felt like the combination of these herbs really worked well together and paired nicely with the tart and the cheese. Then the drizzle of honey on top really completed the recipe.
How to Make Spring Herb Tartlets
Start by preheating your oven. Then in a bowl, you want to add your softened cream cheese, goat cheese, and mix it up. Once a creamy texture adds in salt and herbs. Add in honey and mix until combined. Then on a baking dish layout your phyllo shells. Then spoon the mixture into each cup, and press it down slightly.
Then place in the oven and cook for around 10 minutes or until the shells become golden brown. Then drizzle honey over the top and serve right away.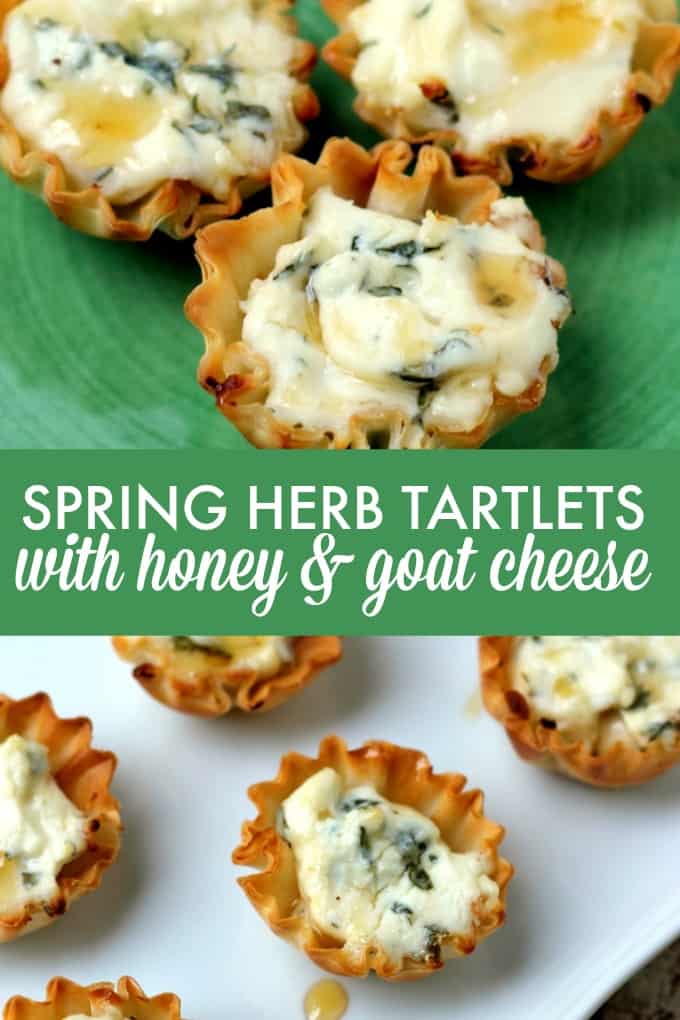 Can You Store Leftover Tarts
Of course. Just let them cool down and then transfer to a covered dish. Store in the fridge for up to 2 days. Then eat chilled or warm them up in the oven to give it that freshly cooked texture and flavor.
Check out these other appetizers
Buffalo Chicken Dip | Creamy, cheesy, and a nice kick in flavor. This buffalo chicken dip is fantastic to serve up to guests and family members.
Mac and Cheese Cups | Cheesy, crunchy, and delightful. A savory option that will be a bite-size treat. If you love macaroni and cheese you will want these cups in your life.
Cauliflower Bites | These bites are so incredible, they don't even taste like they are a vegetable. Tender, crunchy, and one tasty appetizer.
Give this tartlet recipe a try today. Let me know what you think about this recipe.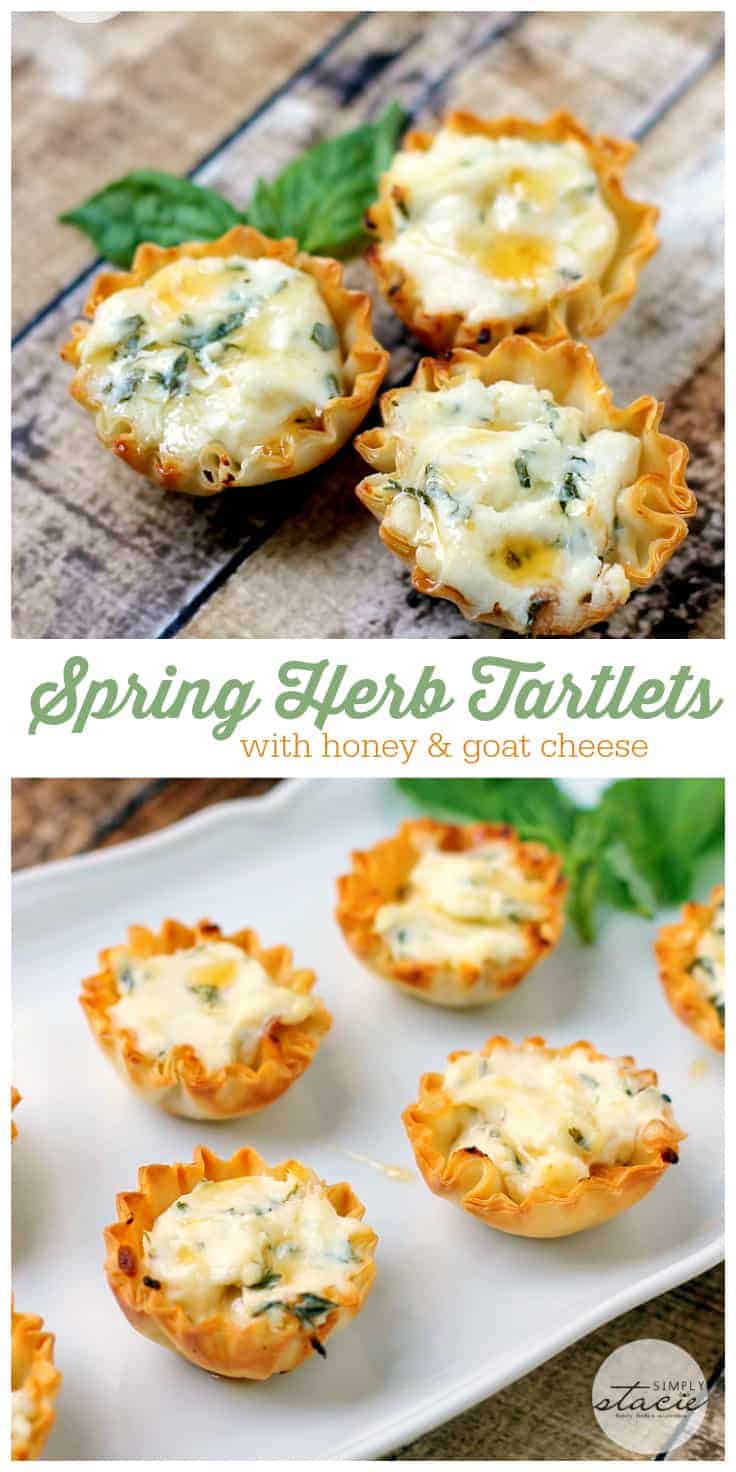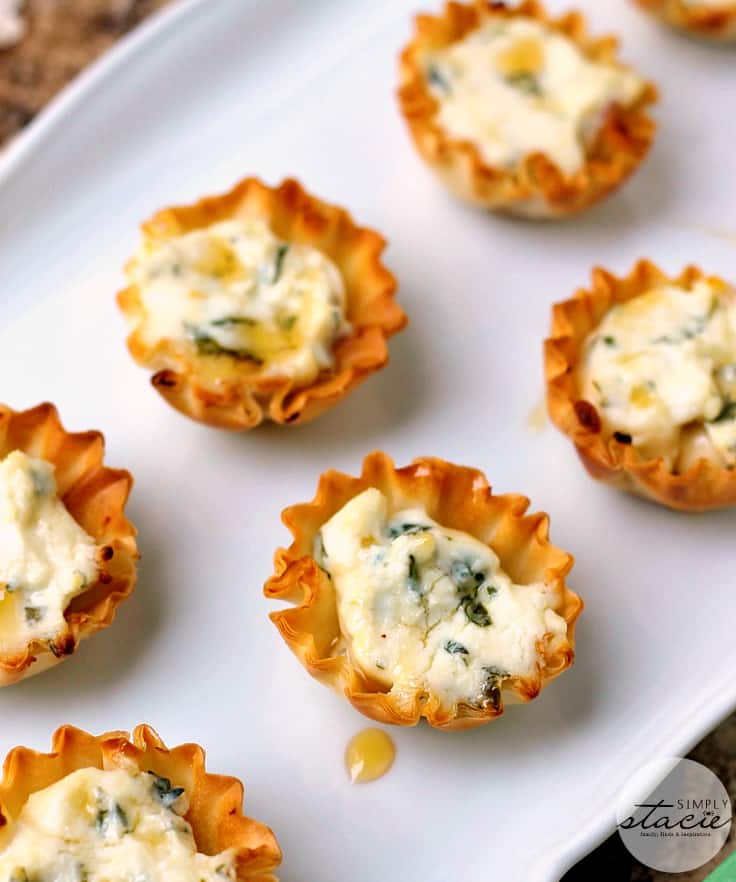 Spring Herb Tartlets with Honey and Goat Cheese
A goat cheese tartlet with a drizzle of honey topped with fresh herbs for an incredible flavor!
Ingredients
4 oz. log of goat cheese, room temperature
2 oz. cream cheese, room temperature or softened
6 sprigs thyme, leaves removed and chopped
1 sprig rosemary, leaves removed and chopped
4-5 basil leaves, finely chopped
1 tsp honey, plus additional for drizzling
15 phyllo shells (found in the freezer/dessert section)
pinch of salt
Instructions
Preheat oven to 350 F.
In a medium bowl, add cream cheese and goat cheese; using a fork, mash to combine. Add thyme, rosemary, basil, salt; mix to combine. Add honey, mix to combine.
On a baking sheet, arrange phyllo shells. Add about 1 tsp of cheese mixture to each shell, pressing down lightly to fill all space.
Place into oven on middle rack, bake for 10 minutes or until tops of shells are beginning to brown.
Lightly drizzle honey over the tops and serve immediately.
Notes
Any shells you have left over can be reheated for a few minutes in the oven.
Recommended Products
As an Amazon Associate and member of other affiliate programs, I earn from qualifying purchases.
Nutrition Information:
Yield:

15
Serving Size:

1
Amount Per Serving:
Calories:

115
Total Fat:

9g
Saturated Fat:

6g
Trans Fat:

0g
Unsaturated Fat:

3g
Cholesterol:

23mg
Sodium:

147mg
Carbohydrates:

6g
Fiber:

0g
Sugar:

1g
Protein:

2g