Rich and fudgy brownies with a nougat center and topped with a dark chocolate ganache. This Snickers Brownie recipe is for every single chocoholic out there! A gluten-free Snickers Brownie that will satisfy any sweet tooth!
I have finally gone and done it, you guys! The BEST Snicker Brownies out there, I made these up and by evening the whole family had dove right in and not even a crumb was left behind. Let me say if you are a fan of brownies, these are a brownie that is on steroids, so your gonna love it even more.
Sometimes you just want different, and that is why I created this recipe. More than a simple brownie, but still offers the brownie flavors with added dimensions of flavors! Plus kid approved, even for picky eaters.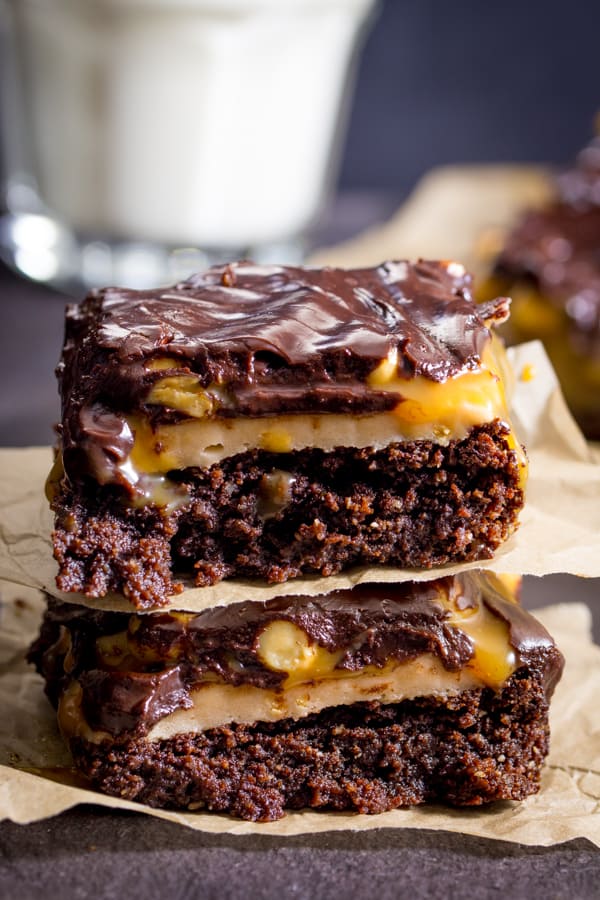 Fun Facts about Snickers Brownies
A gluten-free brownie!
Get the flavors of a Snickers candy bar paired with a brownie base.
The peanut butter nougat has just 3 simple ingredients!
Easy to make, and divine to devour.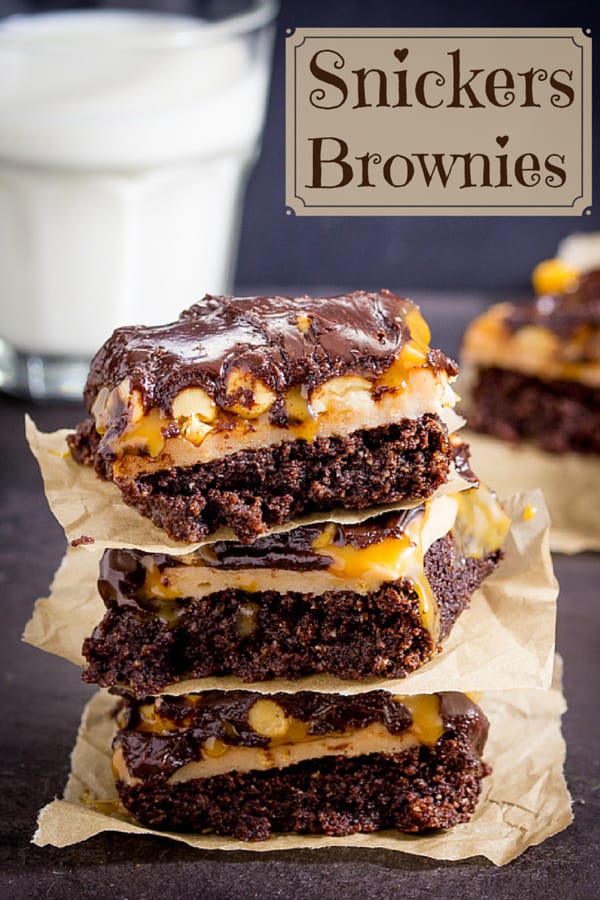 Gluten Free Snickers Brownies
This post contains affiliate links.
I love experimenting in the kitchen and using a variety of different product to test out recipes. For this recipe I reached for an almond meal instead of flour. I find that the almond meal allows these brownies to stay nice and moist, where flour can easily leave them a tad dry.
Plus by using almond meal, you get that gluten-free aspect, so if you are on a gluten-free diet, you can add these stunning and gooey brownies to your meal plan.
Chocolate Desserts You Will Love

Layered Snicker Brownies
Brownie Layer
For the brownie layer like I mentioned before I use almond meal mixed with dark chocolate that is broken into pieces. I find this gives a really fudgy texture that many looks for when making a homemade brownie. Whisk it all up and pour in your pan and bake away until it is cooked through.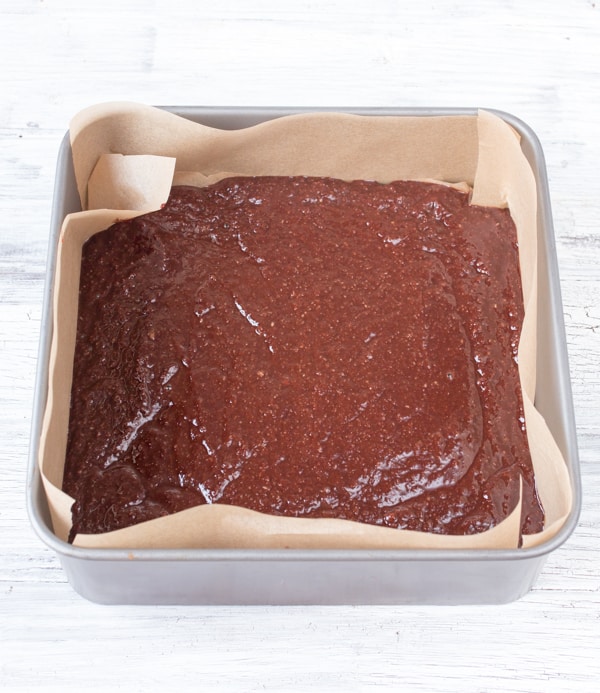 Nougat Layer
For the nougat layer, I used 3 simple ingredients. If you have ever had a Peanut Butter Snickers, you will understand why I added peanut butter into the nougat. It is magical you guys, just trust me on this! You need to work fast on applying the nougat to the cooked brownies, as it sets up pretty fast and becomes hard to work with.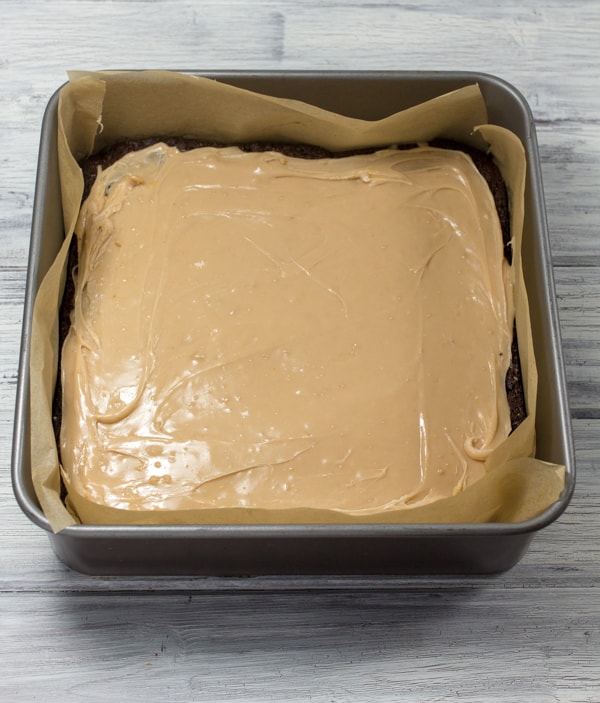 Caramel and Peanut Layer
Here is the real Snickers layer that can't be overlooked. That silky caramel paired with peanuts. This is what truly finishes off these brownies, but do note I go a step further below! Cause why be ordinary when you can be extraordinary in your recipes!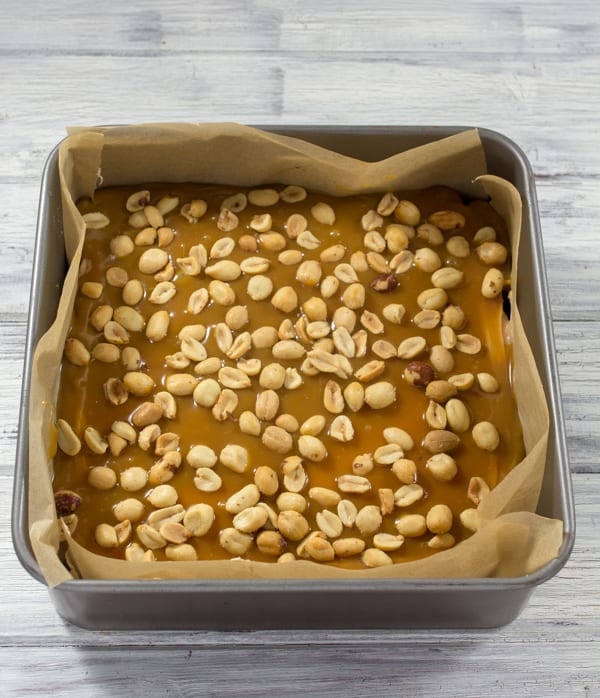 Chocolate Ganache Layer
Then we top off these fudgy Snickers Brownies with a homemade chocolate ganache. The ganache adds a layer of dependency to the brownies that really brings these beauties to a close on flavors.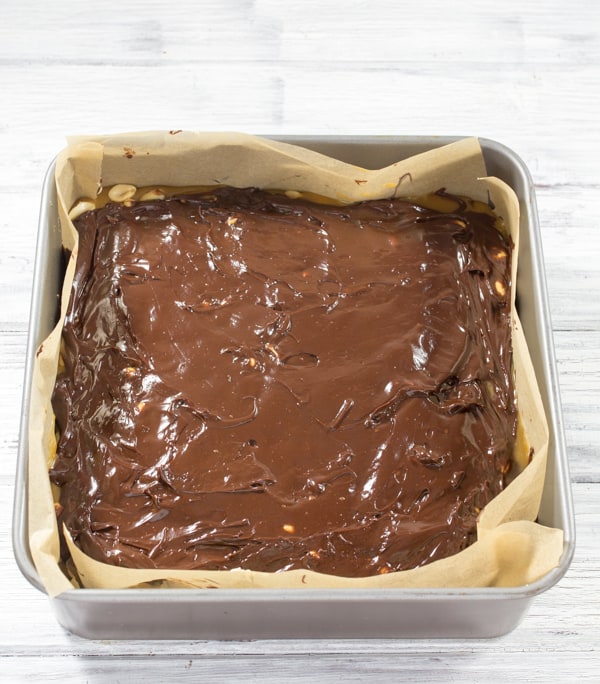 Can You Freeze Snickers Brownies
You can freeze Snickers Brownies! Just allow the Snickers Brownies to cool completely before freezing. I recommend slicing up the brownies and then putting in an airtight container or freezer friendly bag. Then store up to 3 months in the freezer. The ganache on top can become a bit wet once it thaws, but other than that the flavor is still there!
If you choose not to freeze them, they will store up to 3 days in a sealed container at room temperature. You don't have to refrigerate them. If you prefer the chilled texture feel free to store in the fridge in a sealed container as well.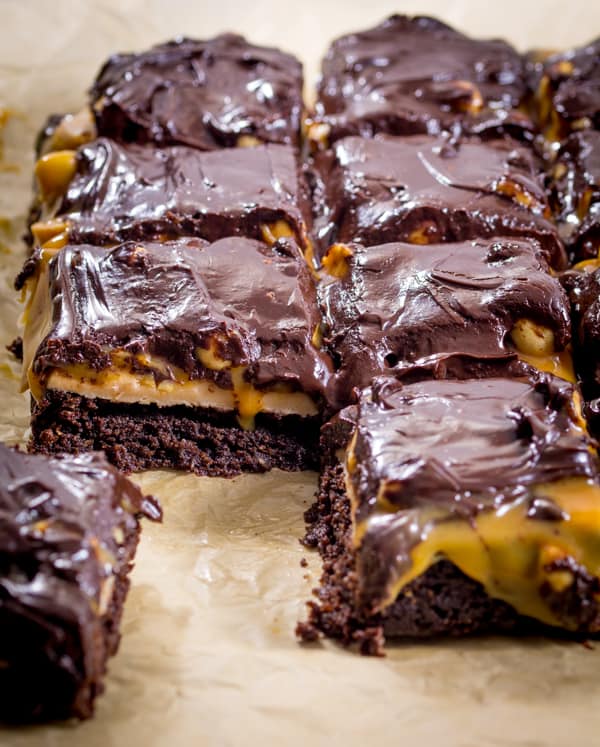 Where to Serve These Snickers Brownies
After school treat
Bake Sale
For Company
After dinner dessert
Midnight Snack
Holiday Gatherings
And more.
Truly there is no wrong time to serve up these brownies. I have made them for years now and let me just say I have had no complaints from anyone along the way. With a little work you can make this layered Snickers Brownies recipe and have a sweet treat to serve up your family or guests.
I hope you all enjoy this decadent dessert if you give it try. It is something different than a classic fudge brownie, and it is sure to be a delight. Let me know what you all think in the comments.
You will also love these Cherry Chocolate Brownies and Disappearing Marshmallow Brownies.
Nicky lives in Cheshire in the UK with her husband and two children. She blogs over at Kitchen Sanctuary where she creates family friendly recipes and mouth-watering photos. Connect with Nicky on Facebook, Instagram, Pinterest and Twitter.

Snickers Brownies
Delicious AND gluten free! This decadent dessert recipe is a chocolate lover's dream with layers of nougat, peanuts, and caramel over a rich, moist brownie.
Ingredients
Brownies
225g/8oz good quality dark chocolate, broken into pieces*
225g/8oz unsalted butter
2 tsp vanilla extract
200g/1 cup golden caster sugar
170g/1 cup ground almonds (almond meal)
3 eggs, lightly whisked
Nougat
200g/7oz marshmallows
3 tbsp peanut butter
115g/1 cup Icing/confectioner's sugar, sieved
Peanut Caramel Layer
1x260g (9oz) jar of salted caramel sauce**
150g/1 cup Peanuts***
Chocolate Ganache
150g/5.5oz good quality dark chocolate, broken into pieces****
150ml/5.5 fl oz double/heavy cream
Instructions
Preheat the oven to 170C//325F and line a 24cmx24cm tin with baking parchment. I find it better to use two long pieces (24cmx50cm-60cm) of parchment and to cross them – so you don't get large creases in the corner of your brownie.
Melt the chocolate and butter in a pan on a low heat. Mix in the vanilla and sugar. Turn off the heat and leave to cool for 5 minutes.
Add the ground almonds and then the whisked eggs to the chocolate pan and stir to combine.
Pour the brownie mixture into the prepared baking tray and bake for 30 minutes. The top should be set and the inside should still be quite soft.
Take out of the oven and leave to cool completely in the tin.
Once the brownie has cooled you can make your nougat. Place the marshmallows, peanut butter and confectioner's sugar in a pan and place on a medium heat. When the marshmallows start to melt, give everything a stir with a silicone spatula. Keep stirring slowly until the marshmallows have completely melted. It will look lumpy at first, but it will come together. You should be left with a relatively smooth, stretchy mixture.
Working quickly (before it sets) pour out the nougat on top of the brownie in large blobs. Smooth over the top of the brownie using a palette knife.
Leave to cool for 10-15 minutes.
Whilst the nougat is cooling, make the ganache.
Place the cream into a small pan and heat on medium until it's almost boiling (you'll see a couple of bubbles rise to the top when it's time to turn it off). Turn off the heat and add in the chocolate. Cover the pan and leave for 5 minutes. After 5 minutes, take off the lid and whisk the chocolate (using a balloon whisk – no need for an electric whisk) and cream. It should turn to a glossy sauce. Leave the sauce to thicken (about 10-15 minutes).
Now pour your salted caramel over the top of the nougat and sprinkle with the peanuts. When the ganache has thickened, give it a final quick whisk and pour it over the peanuts in little blobs. Use your palette knife to spread it over, covering all the peanuts. You'll need to be quite gentle to make sure you don't mix the ganache into the peanut/caramel layer.
Leave to set for 30 minutes at room temperature or in the fridge, and then cut into squares using a sharp knife. It's a good idea to wipe your knife with a tissue or cloth in between each cut to keep the layers looking clean.
Notes
These brownies should keep for 2-3 days in a sealed container at room temperature.
*Check it's gluten free if required.
**Ready-made or you could make your own.
***I used salted, but you can use salted or unsalted.
****Check it's gluten free if required. Note: you can use milk chocolate if you're not keen on dark chocolate.
Recommended Products
As an Amazon Associate and member of other affiliate programs, I earn from qualifying purchases.
Nutrition Information:
Yield:

16
Serving Size:

1
Amount Per Serving:
Calories:

621
Total Fat:

38g
Saturated Fat:

17g
Trans Fat:

0g
Unsaturated Fat:

19g
Cholesterol:

79mg
Sodium:

175mg
Carbohydrates:

65g
Fiber:

4g
Sugar:

54g
Protein:

8g