This Homemade Orange Extract is a great pantry addition and perfect gift made with love. With only two ingredients, the hardest part about this recipe is waiting for it to be done!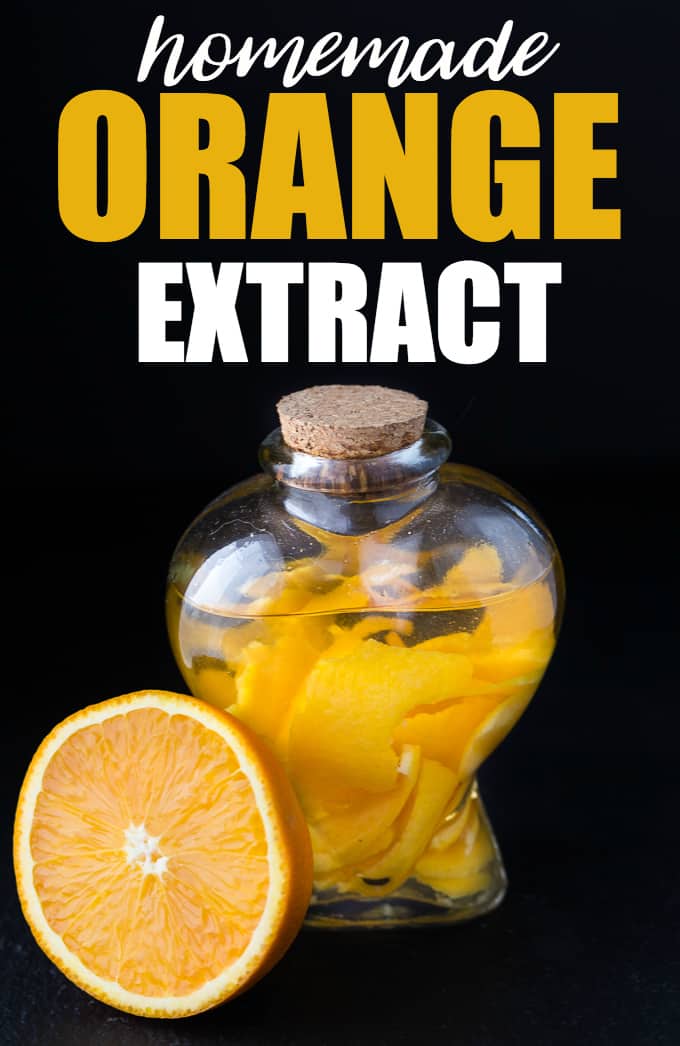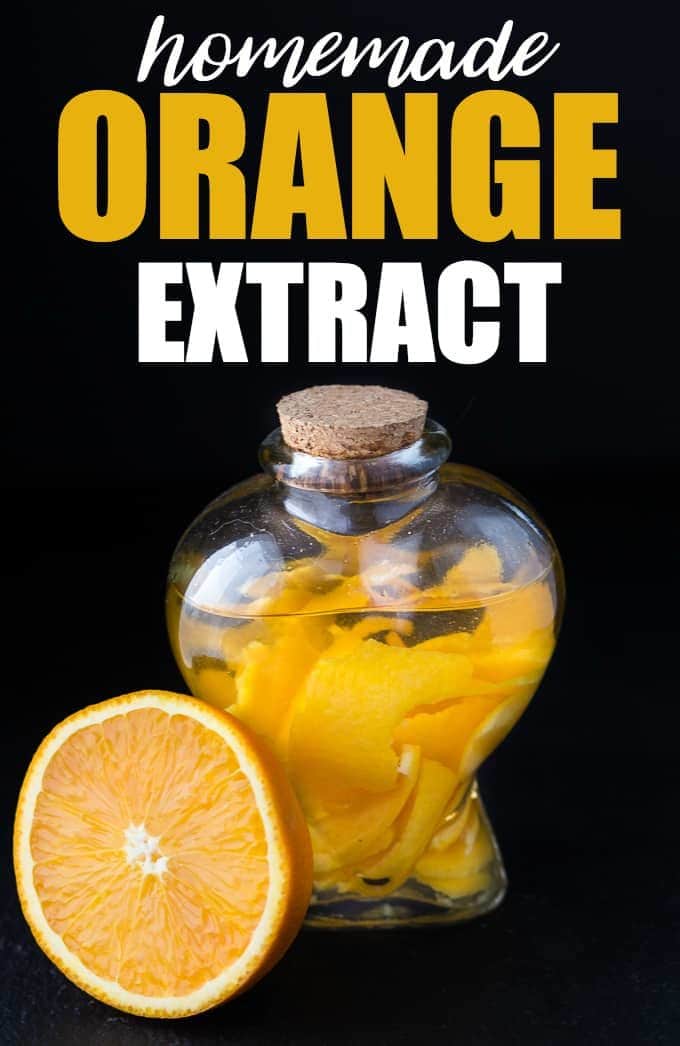 Orange Extract
Love that sweet orange essence but hate having to buy yet another extract? This recipe will help you make your own Homemade Orange Extract with two simple ingredients found in most Canadian and American homes year-round!
This recipe takes about six weeks to finish, but it's a low maintenance, set it and forget it, kind of recipe. The vodka pulls the orange zest out of the peels and into the liquid, sweetening the extract and bringing that juicy, acidic orange taste perfect for baking or cooking.
Need more homemade extracts in your pantry? Try my Homemade Vanilla Extract recipe for that delicious, ubiquitous baking flavor made in your own kitchen!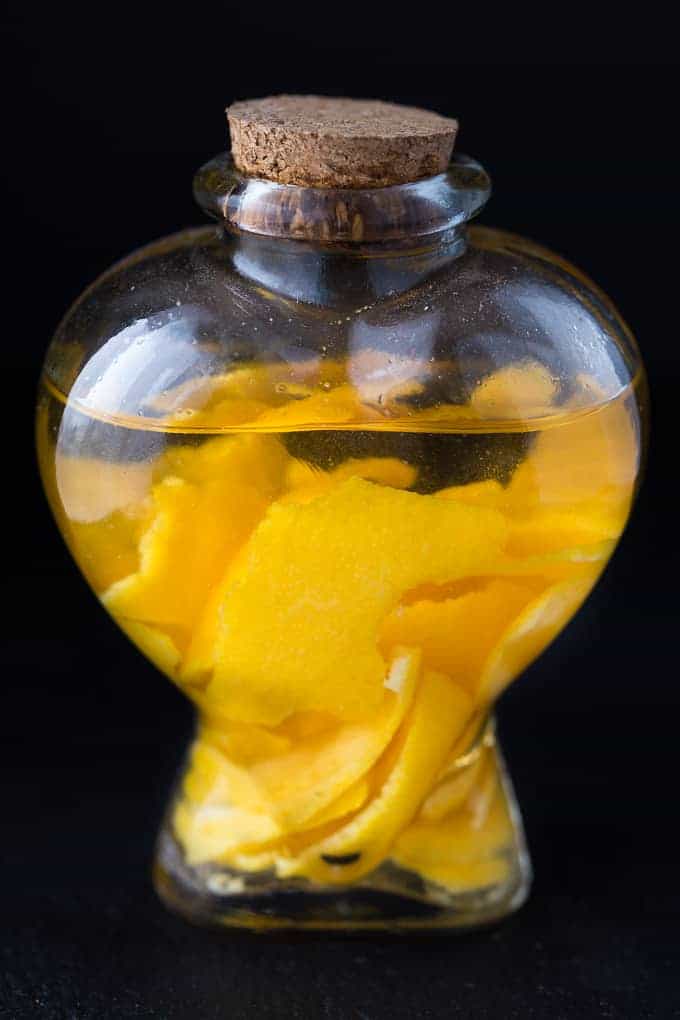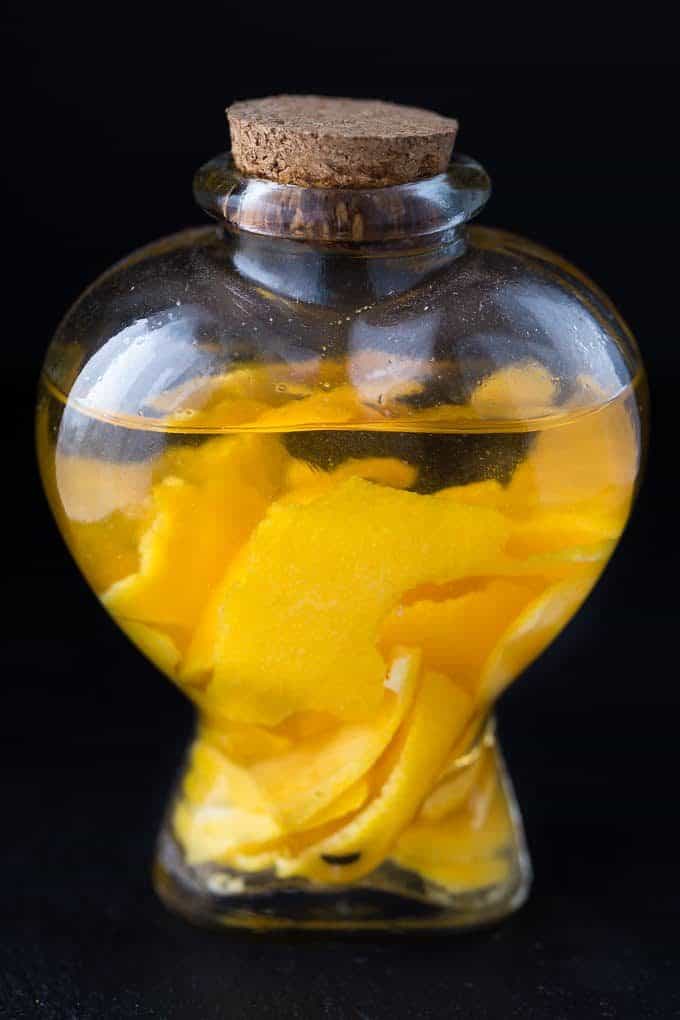 Just two basic ingredients between you and Homemade Orange Extract. That's it!
Ingredients
Orange peels
Vodka — any kind will do here! No need for the top shelf options here, but definitely one you'd want to drink yourself.
The container is just as important as the ingredients here. Make sure you have a secure, airtight seal on your jar or bottle to keep the extract safe and fresh. If sealed correctly, this Homemade Orange Extract can last for months in your pantry!
What I used for my Homemade Orange Extract
This post contains affiliate links.
Mason jars: These mason jars are great for so many things! Perfect for longterm storage, mixing salad dressings, or even for an emergency vase, these jars and lids are great for so much more than canning.
Measuring spoons and cups: Everyone needs a good set of measuring cups and spoons, and these are excellent! The handles make the measuring tools easy to attach and stay together, so no more losing that tiny teaspoon in your drawer!
How to Make Homemade Orange Extract
Save your orange peels from an orange. Cut into small enough strips to fit into your container and be covered with liquid.
Then, add your peels to your jar with the vodka. Cover with airtight lid and shake well.
Store for about six weeks in your pantry before use. Shake weekly while you wait and occasionally throughout its life to keep it evenly distributed throughout the jar.
After six weeks, use as you would vanilla extract or any other kind of extract! A little goes a long way, so use sparingly in your meals, baked goods, and desserts. For most recipes, a teaspoon is plenty.
What to make with Homemade Orange Extract
This delightful treat will last indefinitely if stored properly! Simply keep it in a sealed container, ideally an airtight jar, and out of direct sunlight, and it will last a long time! I keep mine tucked in my spice cabinet, always ready when I need a little orange flavor.
To me, Homemade Orange Extract is begging me to make a chocolate and orange dessert like an updated version of my Disappearing Marshmallow Brownies or Chocolate Zucchini Bread for that classic combination. Any chocolate dessert can complement a little orange extract.
Looking for more savory dinner options to use your new extract on? A pinch of extract in this Orange Mustard Pork Tenderloin recipe or this Slow Cooker Cranberry Orange Chicken will take it from good to great with an extra zing of orange.
Sometimes, you just want a burst of orange, and these Double Orange Muffins are it for me. Add a half teaspoon of orange extract before baking and you'll smell the tropics before the timer dings.
Is there alcohol in Homemade Orange Extract?
Yes, any extract you find, whether store-bought or homemade, is made with alcohol, though possibly a low proof alcohol. There is definitely alcohol in this extract from the vodka, but it's very similar to the amount of alcohol in a bottle of mouthwash. After the extract sits for six weeks or more, the vodka taste subsides and the orange extract flavor takes over.
If cooked or baked, the alcohol will burn off in small or even regular quantities. This extract can also be used in cocktails, but the alcoholic content would be lower than anything added to the cocktail such as rum or whisky. As with all kitchen things, keep out of reach of children, but even if your small child were to drink the whole bottle, they would be fine.
Other amazing homemade recipes to try…
Do you have any fruit extract recipes? I'm always looking for more recipes to try! Follow me on Instagram @simplystacieblog, on Facebook at Simply Stacie, and on Pinterest @SimplyStacie and let me know how you liked this and my other recipes!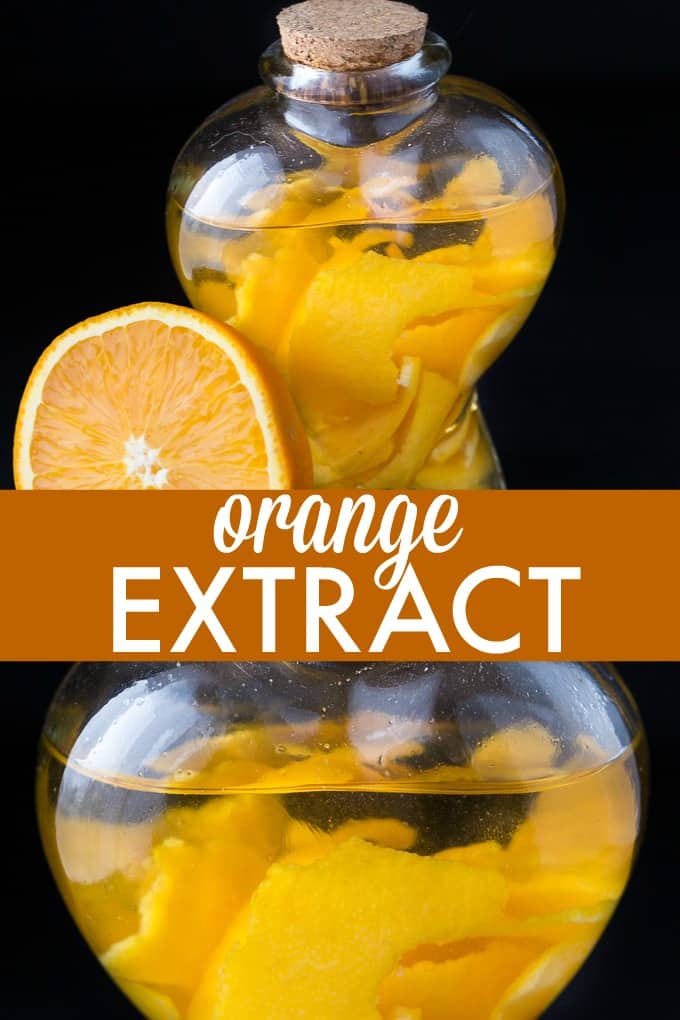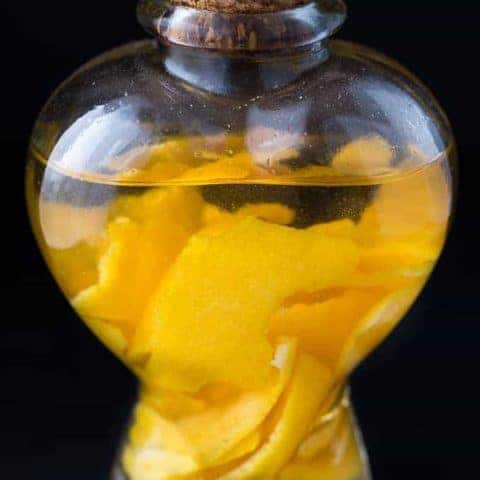 Homemade Orange Extract
Vodka + orange peels is all you'll need for this simple DIY extract!
Instructions
Peel an orange saving peel and using the rest to eat.
Add orange peel to a jar with a lid. Pour vodka inside. Shake.
Store for 6 weeks in your pantry. Shake it about once a week.
Recommended Products
As an Amazon Associate and member of other affiliate programs, I earn from qualifying purchases.
Nutrition Information:
Yield:

48
Serving Size:

1 teaspoon
Amount Per Serving:
Calories:

18
Sodium:

0.1mg
Carbohydrates:

0.5g
Fiber:

0.1g
Sugar:

0.4g