Whip up this Cassic Carrot Cake recipe with a homemade cream cheese frosting! A spiced carrot cake that is layered, for an elegant presentation and a scrumptious tasting. If you are a fan of carrot cake, this carrot cake recipe is a no-fail tried and true recipe I have made for years.
It's also very simple to make. It's basically just making the two cakes and combining them into one at the end along with a layer of sweet icing. It tastes even better the next day!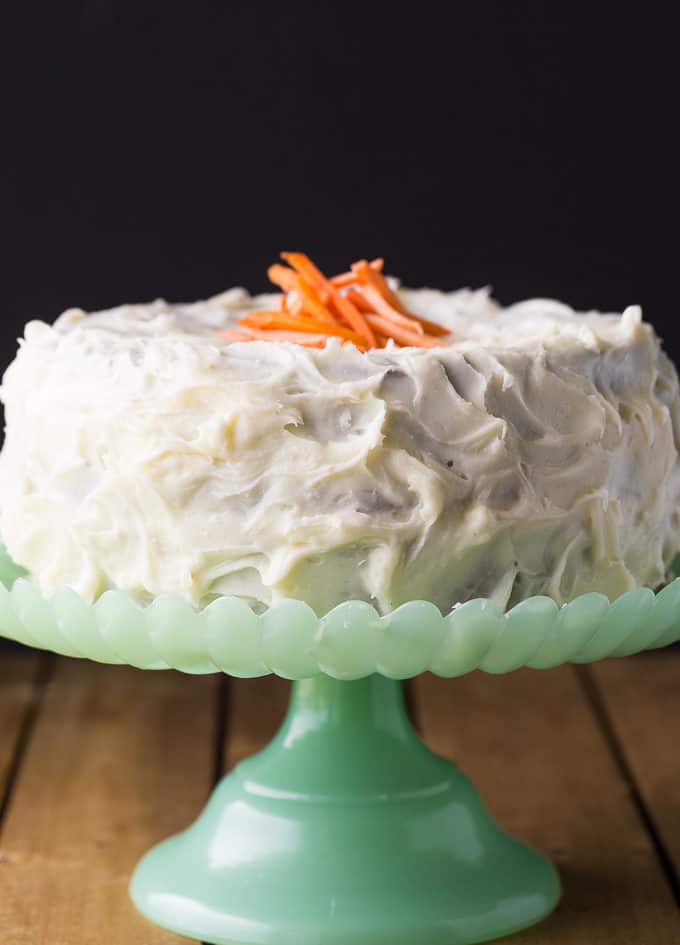 Carrot Cake
Let me walk you through some tips and tricks to set you up. I am a huge fan of carrot cake. I will never turn down a carrot cake.
Craving More Cake Recipes
Fool's Cake | A fool-proof cake that anyone can make, even if you are not the best baker. Moist, light and delicious cake ready to slice and serve.
Mayonnaise Cake | I know it sounds crazy, but this is one of the moistest cakes I have ever made. You don't taste the mayo, it has incredible chocolate flavor.
Oatmeal Cake | Oats is such a hearty and tasty ingredient to keep in your pantry. Make this oatmeal cake as a midnight snack, afternoon dessert, or even breakfast treat.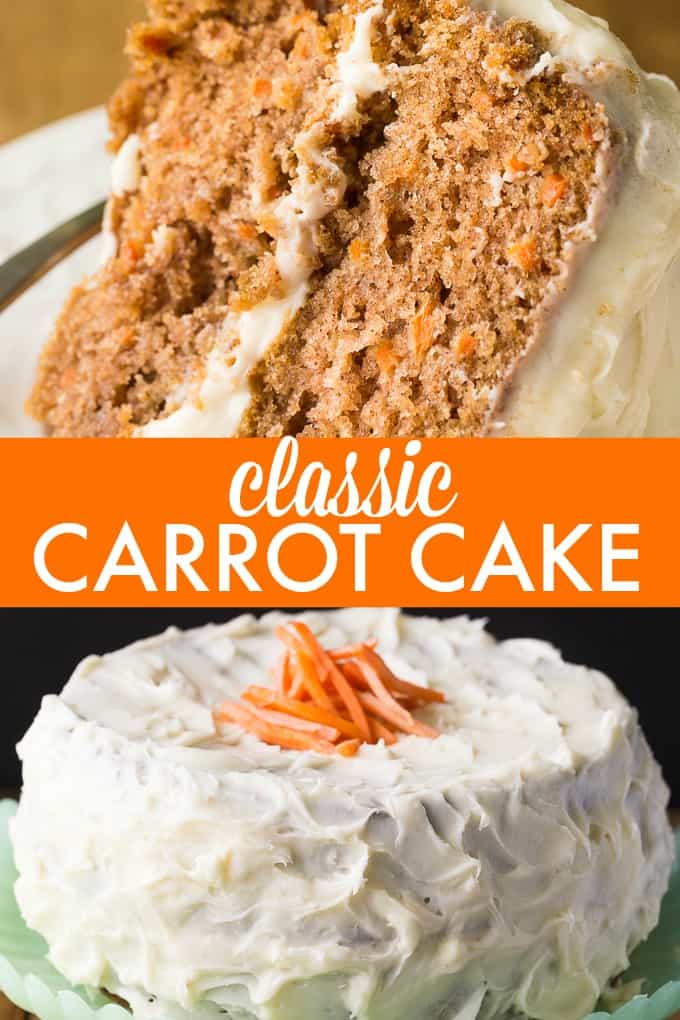 Best Way to Grate Carrots
To be honest, you have a variety of options here. Buy pre-grated carrots, use a box grater, or reach for your food processor. You can also buy attachments for the stand mixer to use to grate your carrots fast. It is all about what tools you have on hand vs, how much you want to spend to grate the carrots.
Carrot Cake Variations
Looking for ways to add more flavor or variation to your cake? Here are incredible ideas to add to your recipe.
Nuts| Nuts are optional where you can stir in 1/2 cup of chopped pecans, walnuts, or even hazelnuts. Then stir into the batter and then bake as directed in recipe card.
Frosting | You can go an extra step and add in 1/2 teaspoon of cinnamon to the frosting to add a hint of spice to match your spiced carrot cake.
Raisins | Raisins are something you see in carrot cake on occasion. You can either leave these out or opt to place around 1/4 cup into your batter to bake.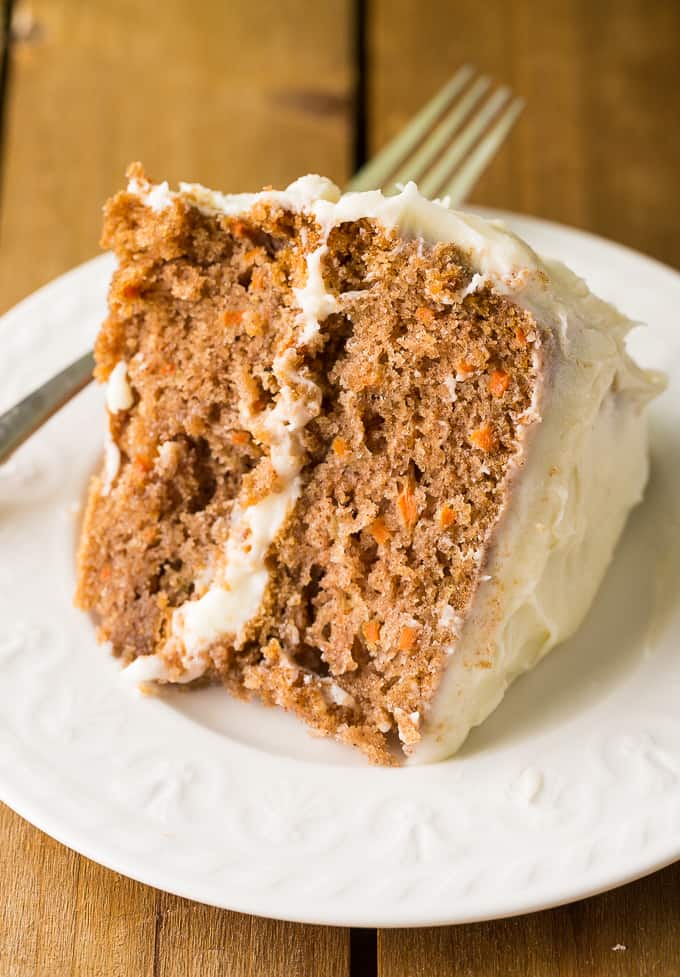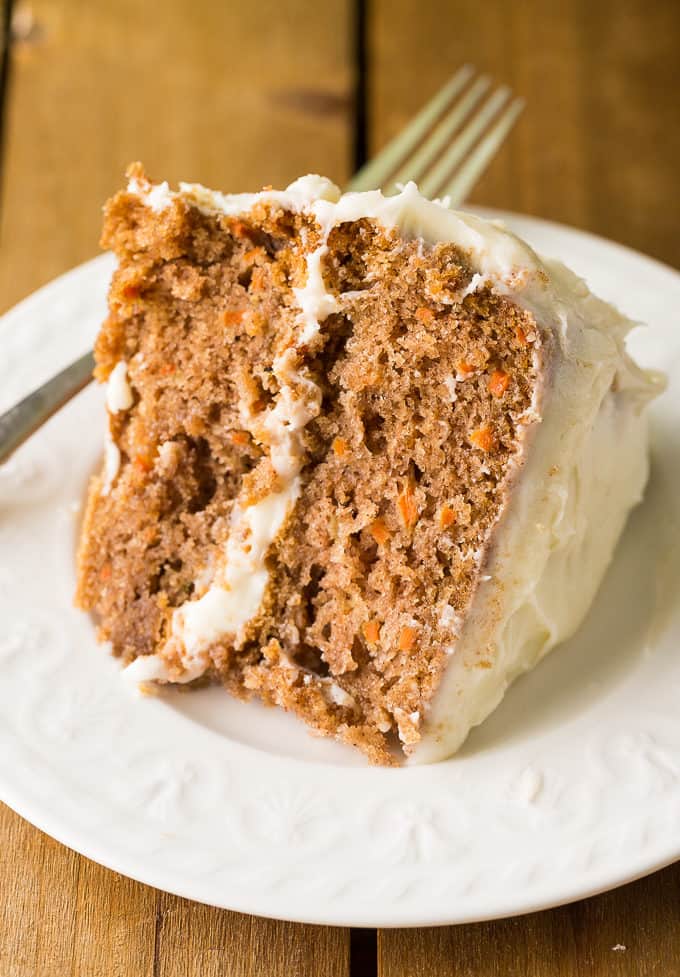 Is it Hard to Make a Layered Cake
No! Don't be intimated to make a layered cake. I was scared at first, but if you take it step by step before you know it you have an assembled cake. The main thing is to frost in between the layers, and slowly smooth on the frosting so it doesn't pull at the cake. It is okay if your frosting skill is not on point. Just do your best and you can always dress it up with crushed nuts, coconut or even sprinkles.
Can I Make this as a 9×13 vs. a Layered Cake
Yes. You can make this cake using a 9×13 cake pan if you prefer. We love the layered cake since you have all the extra frosting in each bite. But, if you prefer 9×13 go for it.
Does Carrot Cake Need to be Refrigerated
Yes. Because of the cream cheese frosting, you will want to store your cake in the fridge. Place in an airtight container and tuck into a shelf of the fridge. The cake will store anywhere from 3-5 days. With each day it can become a bit drier in texture so take note of that.
Can I Make Carrot Cake in Advance
If you want to make your cake in advance, I recommend only doing 24 hours in advance. Anything after that you will run the risk of it drying out. I find that the next day has even more flavor to the cake. So make it and then store in the fridge in an airtight container until you are ready to serve.
Best Way to Know When Carrot Cake is Done
You can stick a toothpick in the center of your cake to see if the toothpick comes out clean. Another way I tell is looking at the edges of the cake, it will begin to slightly pull away from the edges of the pan.
Will Carrot Cake Freeze Well
I have not tried freezing carrot cake, we normally eat it way to fast. But, I would think it would freeze just fine. The key would be to make sure you get it placed in an airtight container that won't get air to it. Then freeze for up to three months. When ready to serve it, just thaw in the fridge or place on the counter and allow it to reach room temperature to eat.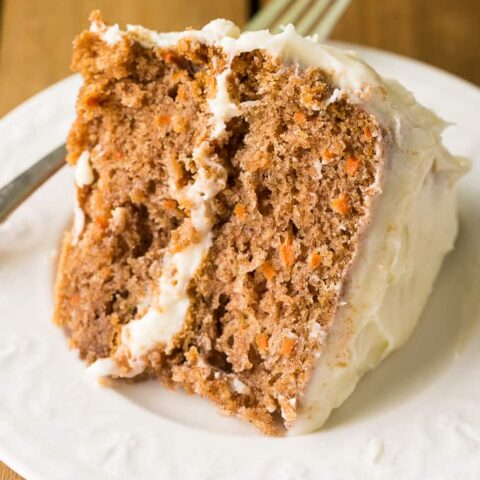 Classic Carrot Cake
What's not love about carrot cake? Warm spices, creamy frosting, the orange flecks of carrot…yum! For those that are fans of nuts and/or raisins, feel free to add some in.
Ingredients
Cake
1 cup canola or vegetable oil
1 cup sugar
3/4 cup packed brown sugar
4 eggs
2 cups flour
2 tsp cinnamon
2 tsp baking soda
2 tsp baking powder
1 tsp salt
3 cups finely grated carrots
Frosting
1/4 cup butter, softened
1 cup cream cheese, softened
4 cups powdered sugar
1 tsp vanilla extract
1 tbsp milk, if necessary
Instructions
Preheat oven to 350°F. Grease two 9″ cake pans
Beat oil and sugars together in a large bowl of an electric mixer, until combined. Add eggs, one at a time, beating well after each addition.
Combine flour, cinnamon, baking soda, baking powder and salt in a separate large bowl. Add flour mixture to egg mixture. Mix just until combined. Fold in carrots. Divide batter evenly into prepared pans.
Bake in preheated oven for 30 to 35 minutes or until a toothpick inserted in centre comes out clean.
Cool in pans on wire cooling rack for 20 minutes. Remove from pans and cool completely on wire cooling rack.
For the icing, cream butter and cream cheese in a large bowl of an electric mixer. Add powdered sugar, 1 cup at a time. Beat well after each addition. Add vanilla. Continue beating until fluffy. Add 1 tbsp milk at a time to thin out (if necessary).
Place one cake on serving dish. Spread with icing. Top with remaining cake. Spread top with remaining icing.
Recommended Products
As an Amazon Associate and member of other affiliate programs, I earn from qualifying purchases.
Nutrition Information:
Yield:

8
Serving Size:

1
Amount Per Serving:
Calories:

940
Total Fat:

46g
Saturated Fat:

12g
Trans Fat:

1g
Unsaturated Fat:

30g
Cholesterol:

138mg
Sodium:

936mg
Carbohydrates:

127g
Fiber:

2g
Sugar:

99g
Protein:

9g