With Thanksgiving looming on the horizon, I've been busy preparing my meal plan. We are expecting a couple out-of-town guests who haven't seen our new place. I want to make sure everything is ready for their stay. It's not only Thanksgiving dinner that I need to think about, but also what to serve for breakfast on Thanksgiving morning! We could go out to eat and spend a fortune, but I know that I can prepare an even better breakfast – and one they will remember!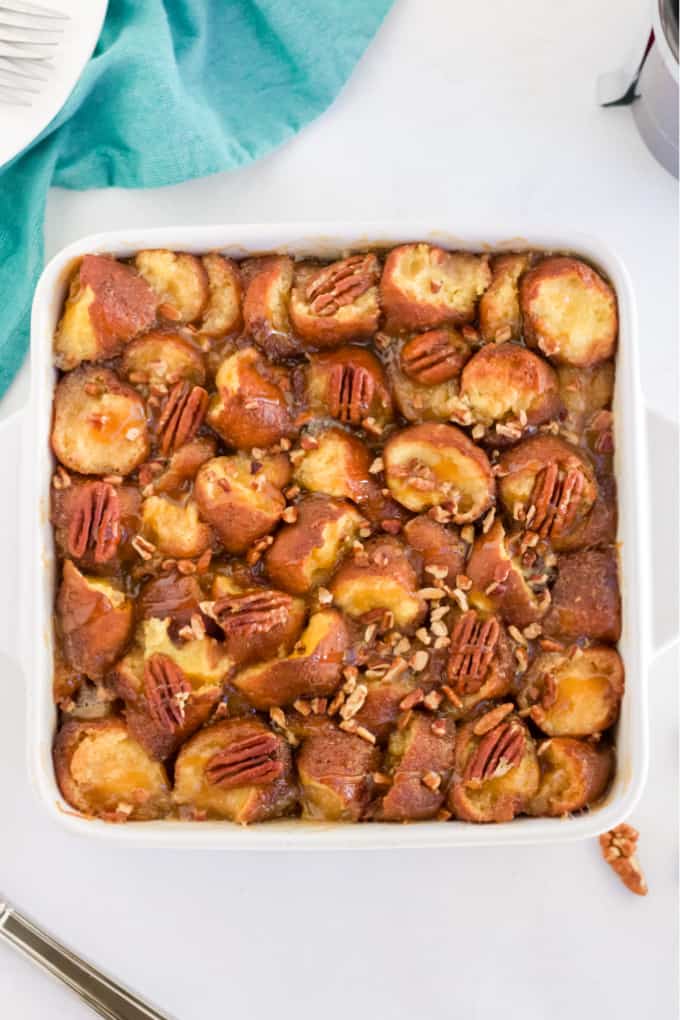 I have the perfect breakfast recipe in mind. It's sweet, indulgent and filling. This is no ordinary breakfast casserole. I'm making my Caramel Pecan Breakfast Casserole with the help of my new 3 quart casserole dish from CW by CorningWare!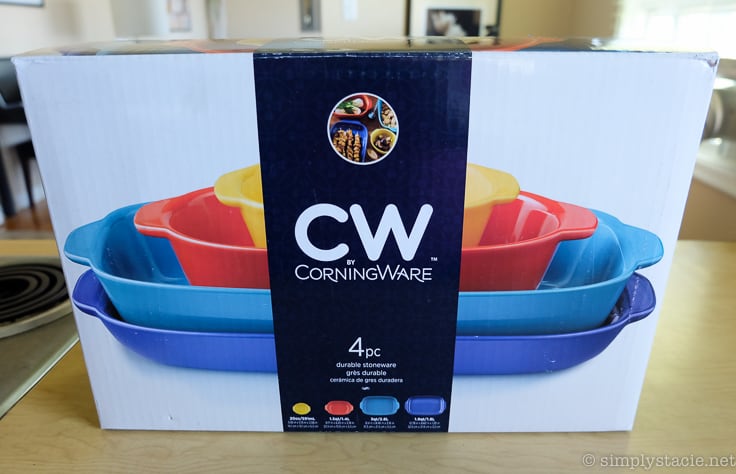 I adore this 4 piece set! It comes in four sizes of durable stoneware casserole dishes in beautiful bright colours. Stack them together for easy storage. They are also oven, microwave and dishwasher safe.
The sizes are as follows:
Yellow (small): 20oz/591mL
Red (medium): 1.5qt/1.4L
Light Blue (big): 3qt/2.8L
Dark Blue (shallow): 1.9qt/1.8L
Caramel Pecan Breakfast Casserole
Since I'm feeding my family and a couple guests, I'm using the big one. It's the perfect size for this breakfast casserole recipe.
The beauty of this recipe is that you can get some of the prep work out of the way the night before. I bought a half dozen donuts at the grocery store and then broke them up into small pieces. Spread them out on the bottom of your greased casserole dish.
Whip up the egg mixture and pour it over the donuts. Then cover and refrigerate it overnight. Half the work is done! However, if you forgot to do these steps the night before, don't worry. The recipe will still turn out fine if you do it the same day.
I make the caramel on the stove top using brown sugar, corn syrup and butter. Pour it over the donuts and then top with pecans. Now, it's ready to bake.
The delicious aroma that fills my home is mouth watering! If it doesn't get everyone up in the morning, I'm not sure what will.
The egg mixture is custard-like nestled into the sweetness of the donuts. The caramel and pecans complements the dish making each bite an explosion of sweetness. You will need to have a sweet tooth to eat this dish. Good thing we all do here! It's ok to indulge every once in a while. Plus, it's a special occasion so why not!
I cannot wait to eat to make this again! It's one of my favourite breakfast casseroles to make.
It also has a beautiful, eye-catching presentation with the pop of blue on the CW by CorningWare dish. After breakfast, I'll put it in the dishwasher and then can use it again (along with the others in the set) to prepare my Thanksgiving dinner!
You'll also like these Pecan Butter Tarts and Banana Bread Breakfast Casserole.
What are your plans for breakfast over the Thanksgiving holiday?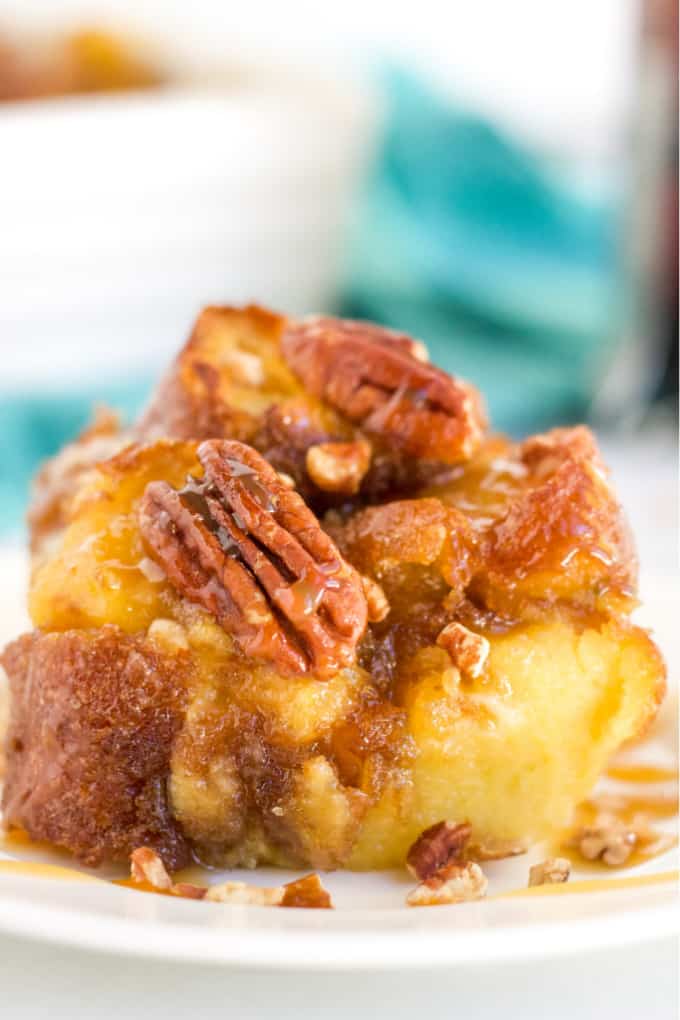 Caramel Pecan Breakfast Casserole
This is the ultimate breakfast casserole – the base is donuts! Combined with a sweet caramel and pecan topping, this easy recipe is a special occasion indulgence.
Ingredients
6 plain donuts, broken up into bite sized pieces
7 eggs
1 1/4 cup milk
1 tsp vanilla extract
1/8 tsp salt
Caramel
1 1/2 cups brown sugar
1/3 cup corn syrup
6 tbsp butter
1/2 tsp salt
1/2 cup heavy cream, divided
1/2 cup pecans, chopped
Instructions
Preheat oven to 350F. Grease a Corningware CW 3-qt. Pool Baker with cooking spray. Arrange donut pieces to cover the bottom of the dish.
In a large bowl, mix together eggs, milk, vanilla and salt. Pour evenly over donuts. Cover and refrigerate overnight.
To prepare the caramel, heat brown sugar, corn syrup, butter and salt in a sauce pan over medium heat. Stir till the butter is melted. Remove from heat once mixture starts to bubble all over.
Add in 1/4 cup heavy cream and stir to combine. Then add the last 1/4 of heavy cream and stir to combine. Let cool a few minutes before pouring over your desired amount on the donut mixture. You can save extra for serving. Sprinkle pecans on top.
Bake for 30 minutes until golden brown. Serve hot.
Recommended Products
As an Amazon Associate and member of other affiliate programs, I earn from qualifying purchases.
Nutrition Information:
Yield:

8
Serving Size:

1
Amount Per Serving:
Calories:

470
Total Fat:

26g
Saturated Fat:

12g
Trans Fat:

1g
Unsaturated Fat:

12g
Cholesterol:

209mg
Sodium:

387mg
Carbohydrates:

53g
Fiber:

1g
Sugar:

47g
Protein:

9g
Disclosure: This post is sponsored by World Kitchen. I was compensated monetarily and with product. All opinions expressed are my own.