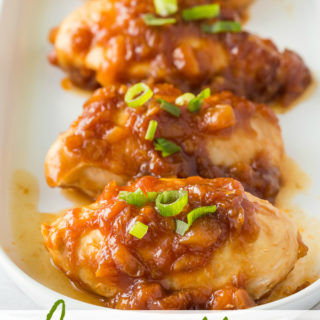 Hawaiian Chicken
Yield: 4
Prep Time: 10 minutes
Bake Time: 45 minutes
Add a little tropical flavour to your weekday dinner! This dish is easy and delicious.
Ingredients
1 – 14oz can crushed pineapple, undrained
1/2 cup ketchup
3 tbsp brown sugar
3 tbsp soya sauce
3 tbsp cornstarch
1/2 tsp salt
4 boneless, skinless chicken breasts
green onions, for garnish (optional)
Instructions
Pre-heat oven to 350F.
Add pineapple, ketchup, brown sugar, soya sauce, cornstarch and salt to a small saucepan. Stir. Heat to boiling and reduce heat to low for 2 minutes, stirring frequently. Remove from heat.
Place chicken breasts in a casserole dish and pour sauce over top. Cover. Bake for 45 minutes or until a meat thermometer says the chicken is done.
Top with sliced green onions. Serve on top of a bed of rice.
Nutrition Information:
Yield: 4
Serving Size: 1 piece
Amount Per Serving:
Calories: 640
Total Fat: 7.2g
Saturated Fat: 1.5g
Trans Fat: 0g
Unsaturated Fat: 3.1g
Cholesterol: 198.6mg
Sodium: 1096.3mg
Carbohydrates: 80.1g
Fiber: 0.4g
Sugar: 33g
Protein: 62.2g