Cranberry Cobbler Dump Cake
I wanted to share this easy dessert recipe prior to American Thanksgiving in case you have any leftover cranberry sauce. If you do, here's a recipe just for you: Cranberry Cobbler Dump Cake.
The term dump cake isn't the most appetizing sounding of all the dessert recipes I've made. I look past that and focus on the ease of making the recipe and most importantly, how it tastes. This festive dessert passes on both counts. It's sweet, crumbly, crunchy and smooth all rolled into one dish. I hope you like texture because this dessert has tons.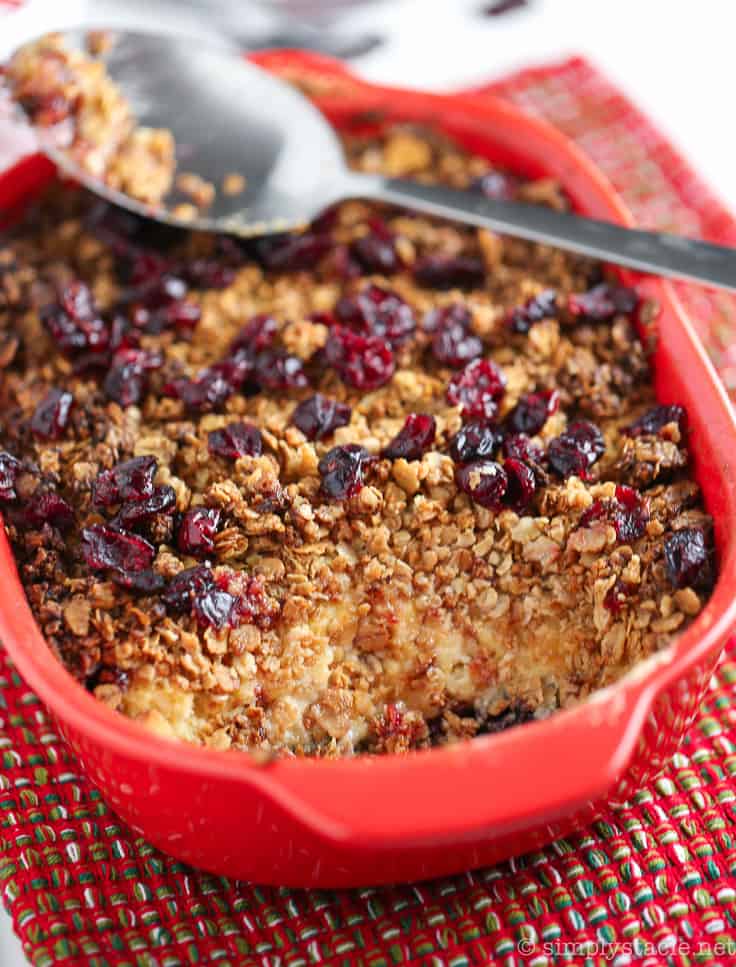 The bottom layer is cranberry sauce. Use your favourite homemade cranberry sauce or buy the premade in a can. I usually get the canned version because its the easiest! Plus, our Thanksgiving dinner already happened at the beginning of October.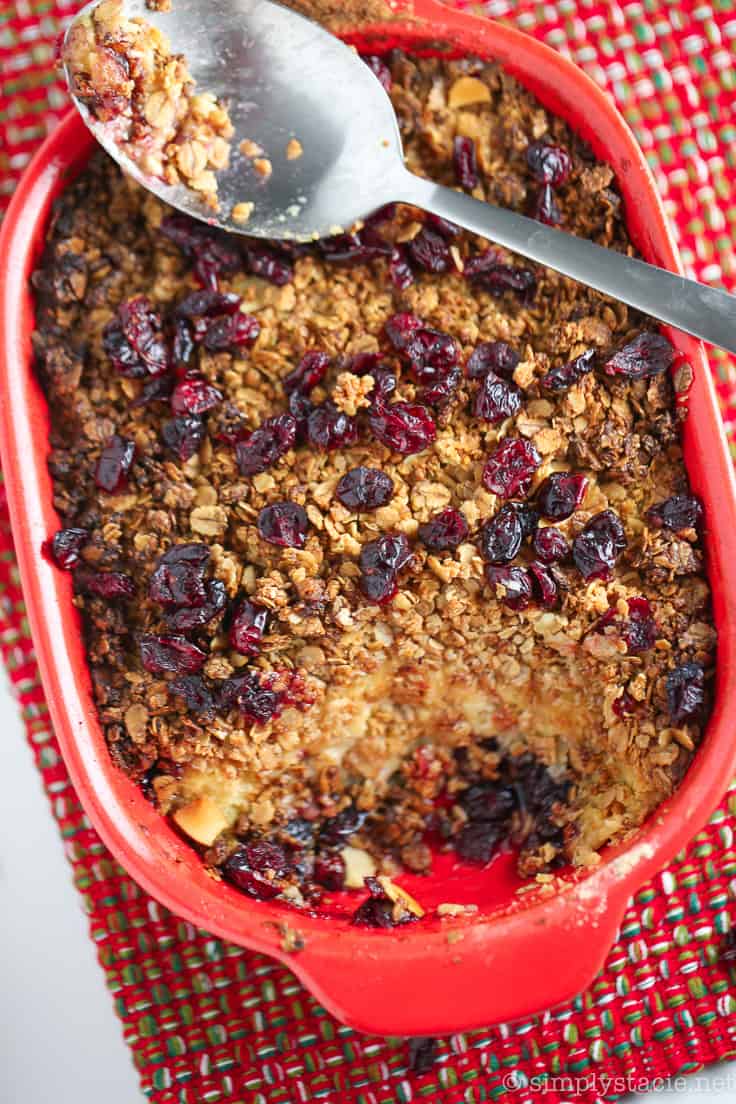 After you've spread the cranberry sauce in your casserole dish, sprinkle in your entire box of cake mix. We aren't following the box directions for this recipe.
The next step is important. Make sure your melted butter covers all the cake mix. If you don't you will have some dry, powdery bits left after baking.
Lastly, sprinkle your granola on top of the melted butter. I don't recommend putting the Craisins on at this point. If you do, you'll end up with little black nuggets that do not resemble cranberries in the slightest! I've tried it both ways and Craisins go on now right before serving, if you like.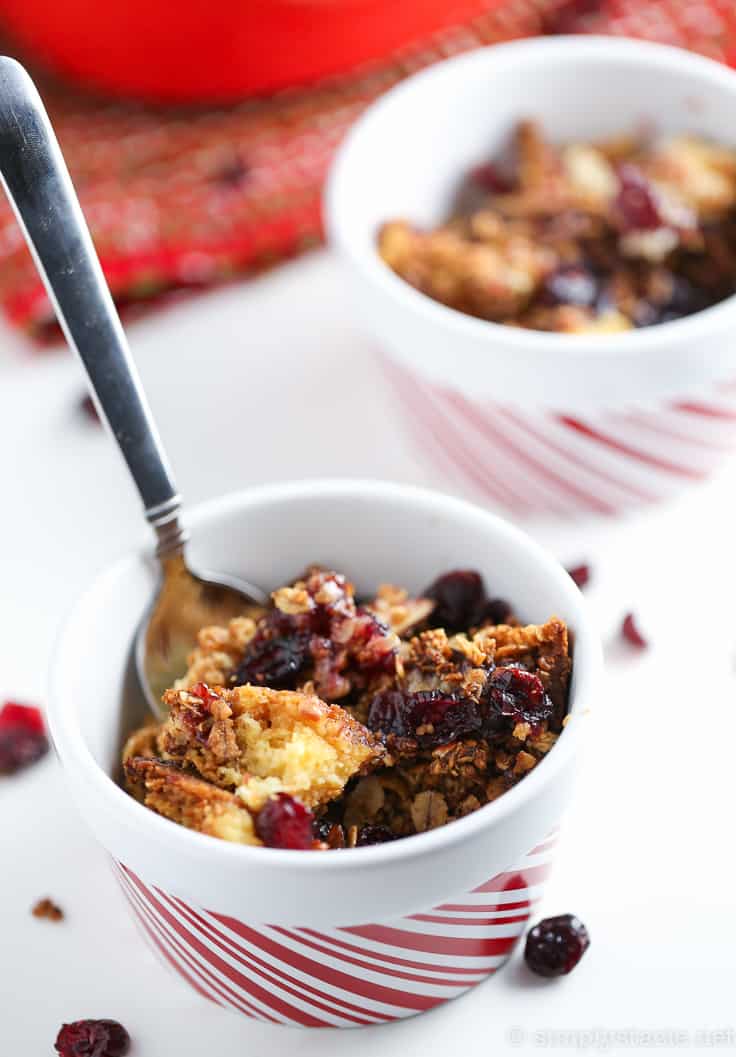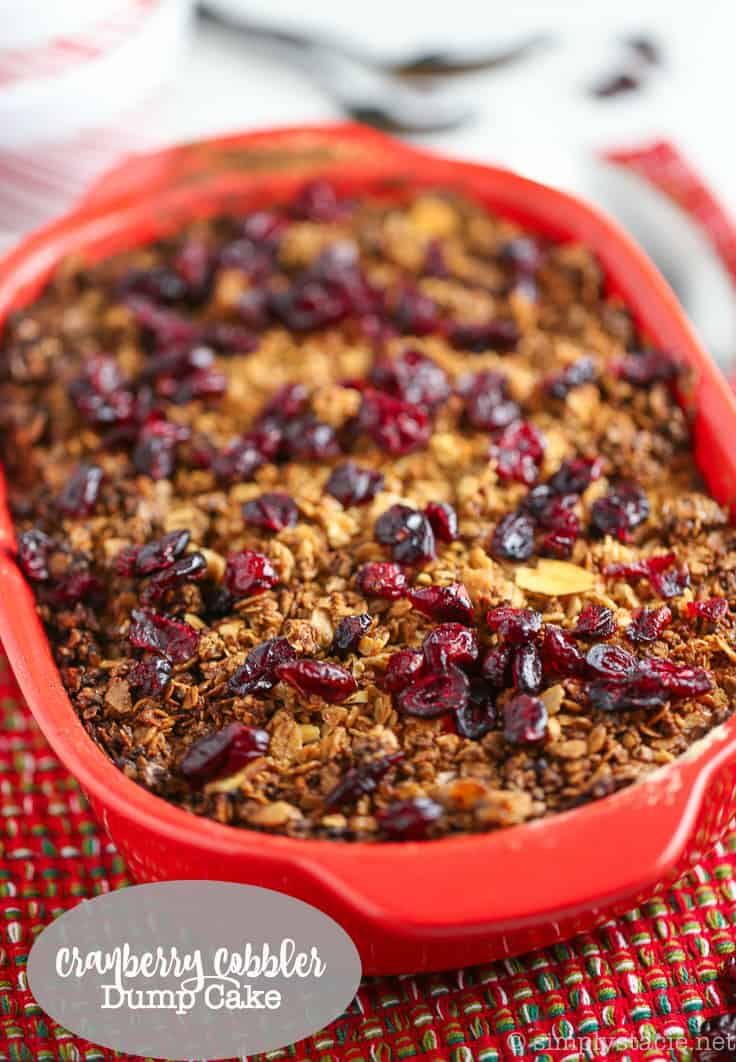 My favourite way to eat it is when it's still warm from the oven. It's buttery and sweet.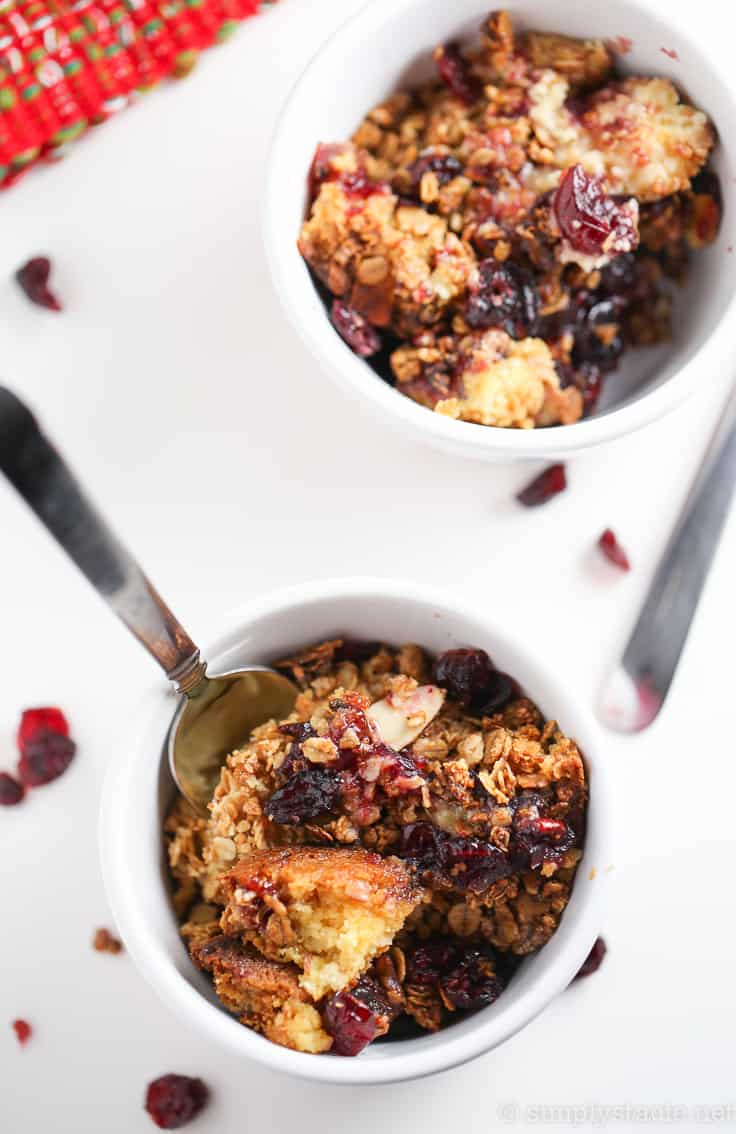 Serve with some vanilla ice cream or whipped cream and you'll be in dessert heaven.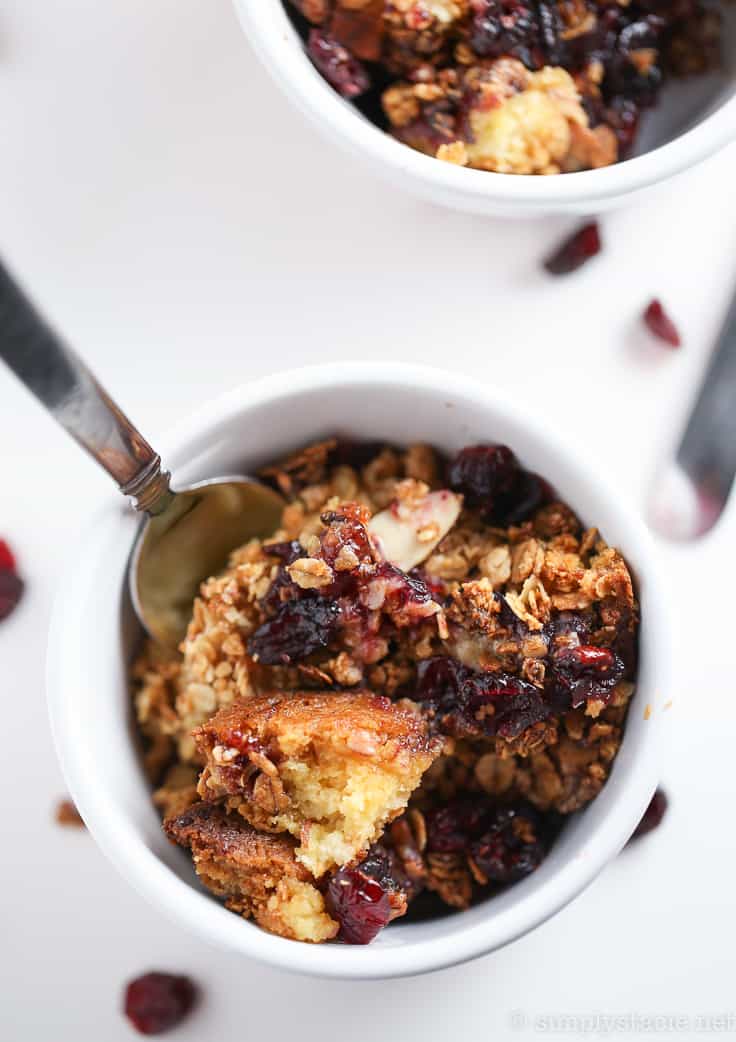 What is your favourite way to use up leftover cranberry sauce?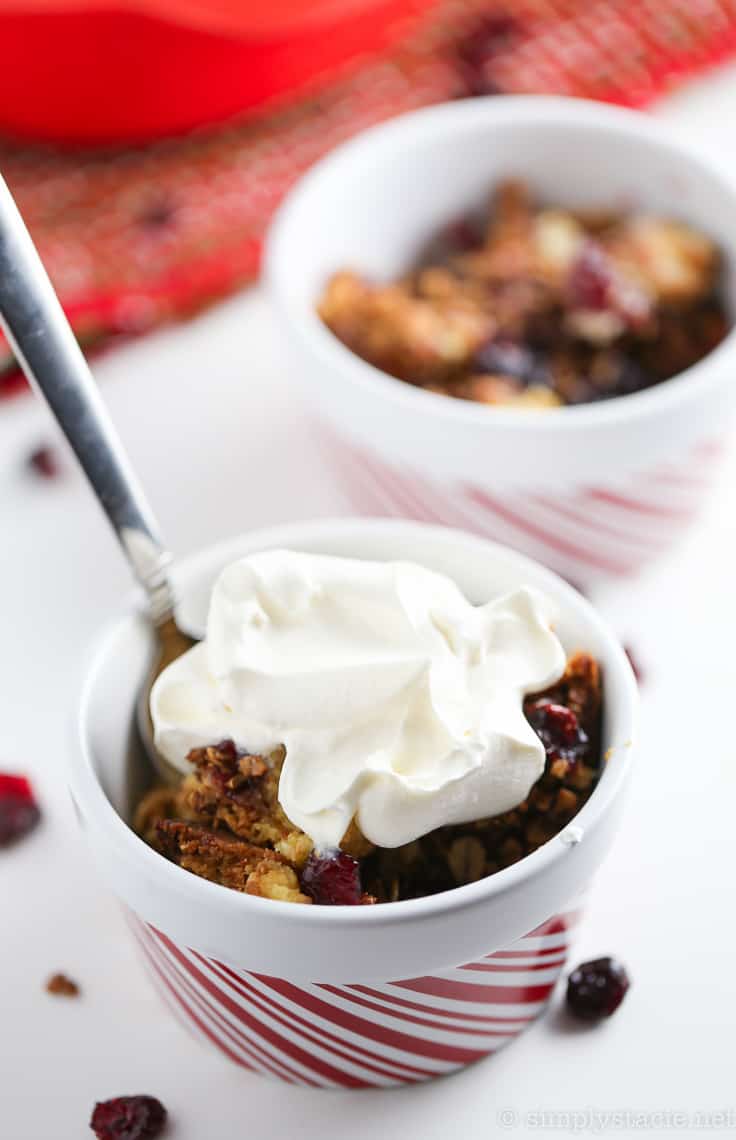 Yield: 6
Cranberry Cobbler Dump Cake
This Cranberry Cobbler Dump Cake recipe is unbelievably delicious and easy! It's also a great way to use up leftover cranberry sauce.
Ingredients:
Cooking spray
1 can whole berry cranberry sauce (348ml)
1 box yellow cake mix
1/2 cup butter, melted
1 cup granola cereal
1/3 cup Craisins (dried cranberries), optional
Directions:
Preheat oven to 350F.
Spray a 1.5 quart casserole dish with cooking spray. If you don't one, use a square baking pan instead (8×8).
Spread cranberry sauce on the bottom of the dish.
Pour cake mix evenly over cranberry sauce.
Pour melted butter evenly over cake mix and make sure to cover it all.
Spread granola on top of butter.
Bake for 50 to 60 minutes or until a toothpick comes out of the centre clean. Cool for 10 minutes before serving. Sprinkle Craisins on top, if you wish.