I think this recipe should have another name. If it were up to me, I'd give a simple one-word name: Amazeballs. Why? Because they were devoured before they had a chance to even cool down! However, the folks at Chicken Farmers of Canada deserve all the credit for this yummy appetizer recipe. Their name for it is probably better than mine because it's much more descriptive. You can tell from the title of this post what they are – Chili Cranberry Fusion Meatballs.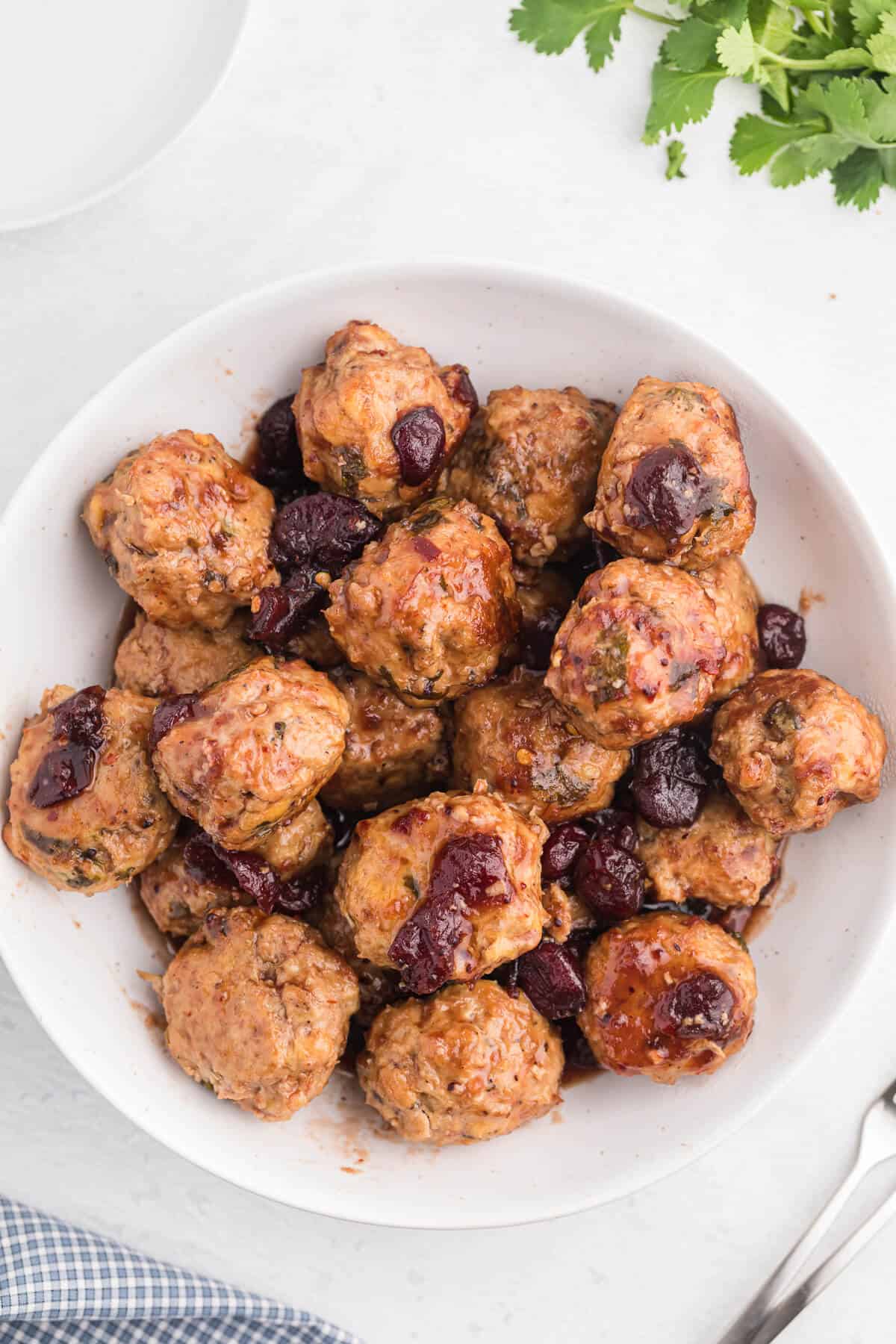 And yes, it's a slow cooker recipe for the most part. There is some prep work though, but it's not hard. You'll be precooking the meatballs in the oven. The slow cooker is what cooks the sauce and spreads the flavours throughout the dish.
I used two pounds of extra lean ground chicken, eggs, garlic, sesame oil, bits of bread, fresh cilantro and Chinese five-spice powder to make the meatballs. I find it a little stress-relieving to get right in there with my hands (clean, of course) and start mixing it up. This is the one time it's ok for me to "play" with food.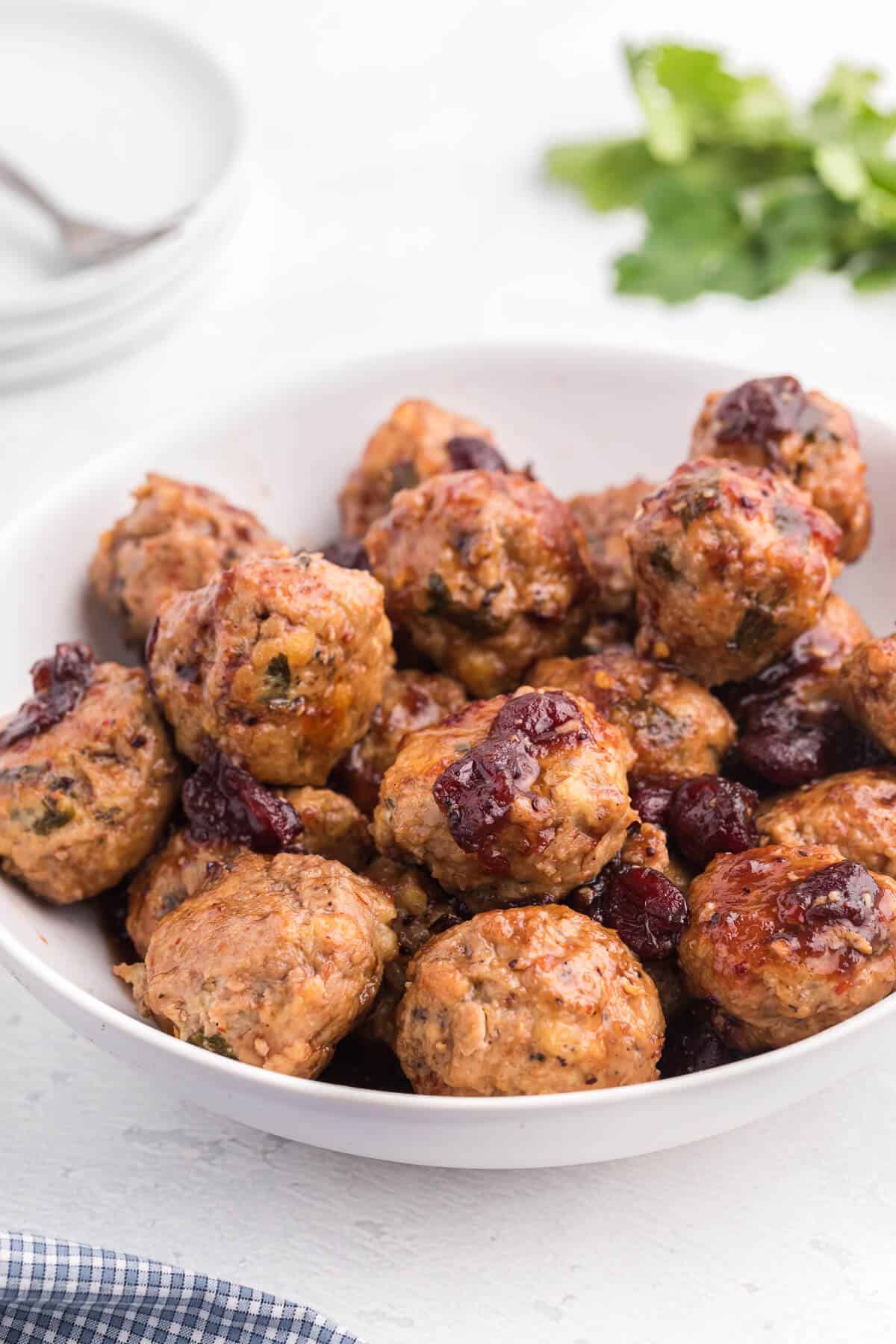 I used the Chicken Farmers of Canada Shopping app to make my shopping list. I found almost everything I needed at the first grocery store except the rice vinegar. Apparently it's a hot grocery item here in Pembroke because the shelf was completely cleared. They had every other type of vinegar but rice. Thankfully, the second grocery store had it in stock and I was good to go. I was hesitant to substitute another type of vinegar because I think rice vinegar has more of the Asian flair needed for this recipe.
The chili cranberry sauce gives these meatballs a beautiful sweet heat. You'll need one can of cranberry sauce, soy sauce, oyster sauce (look in the Asian food section), rice vinegar and chili pepper flakes. You may want to make extra of the sauce for dipping. I found that the recipe had enough though and was not skimpy on the sauce. No one likes a dry meatball!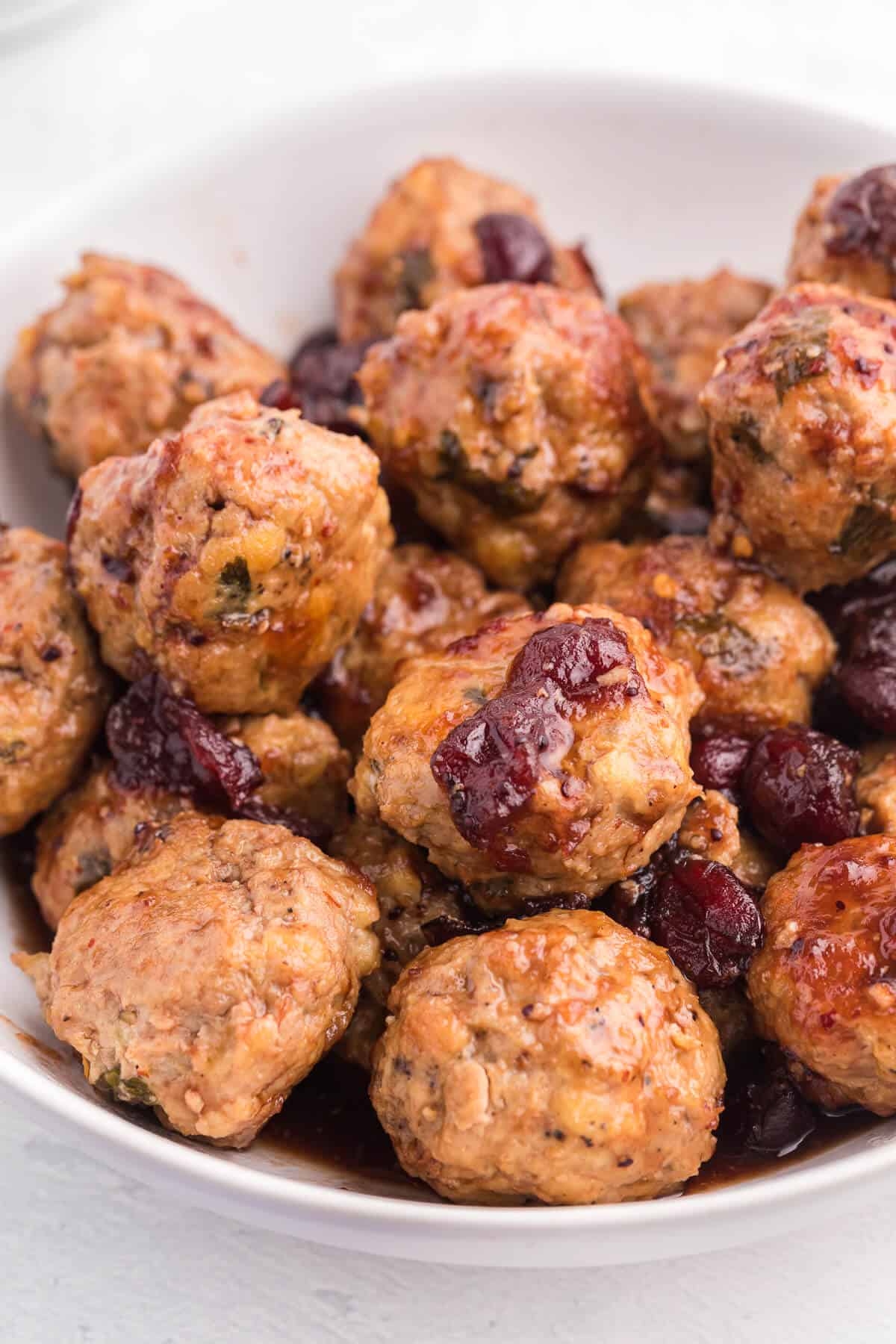 I'm so glad I tested out this recipe because it will be perfect to serve over the holidays. I think it has a dash of festivity with the cranberry sauce. I put wooden toothpicks in mine to make them individual servings and so people won't have to pick them up with their fingers. They are saucy! We don't want to ruin those Christmas sweaters.
My mom came over mid-afternoon today and was asking about these meatballs. I had shared them on Instagram and she wanted to take some home with her for supper. Eep! I felt bad telling her that they were all gone. Like I said, they went fast. I think for a holiday party, I'll double the recipe just to be safe!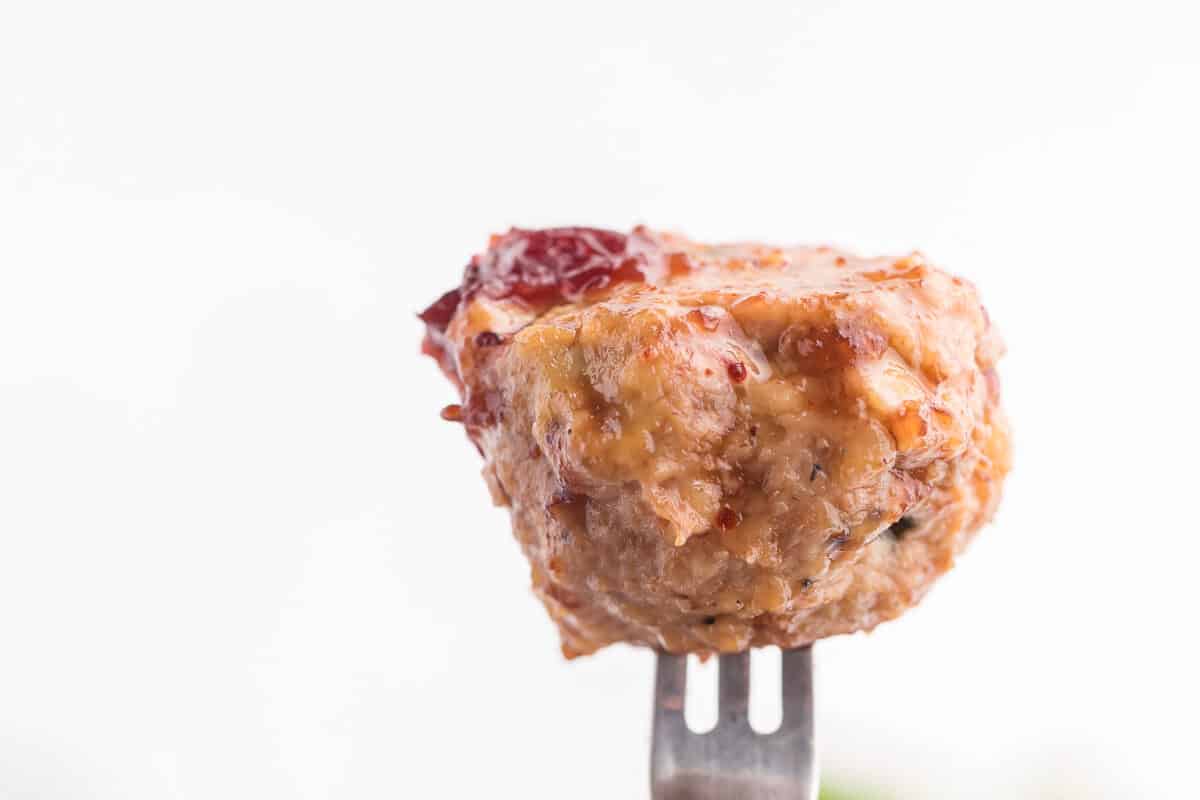 I was snapping these photos and I couldn't resist a bite….
Pin, save, bookmark, print or do whatever you need to do to save this recipe! It's a keeper. Give it a try during the holidays this year!
Connect with the Chicken Farmers of Canada on Facebook, Twitter, Instagram and Pinterest.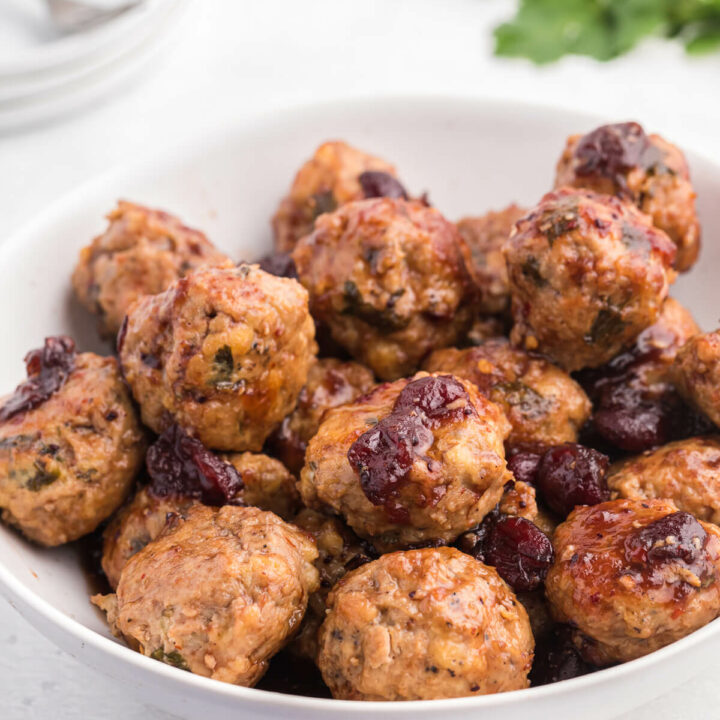 Chili Cranberry Fusion Meatballs
Cook Time:
2 hours
30 minutes
Total Time:
2 hours
45 minutes
A delicious holiday appetizer! The comforting flavors of cranberry and chili combine for these slow cooker chicken meatballs.
Ingredients
2 lb extra lean ground chicken
2 eggs
1/2 cup fresh cilantro, minced
2 slices bread, finely-torn
4 cloves garlic, minced
2 tsp sesame oil
1/2 tsp Chinese five-spice powder
1/2 tsp black pepper
1 can (348ml/14oz) cranberry sauce
2 tbsp soy sauce
2 tbsp oyster sauce
2 tbsp rice vinegar
1 tsp red chili pepper flakes
Instructions
Combine eggs, ground chicken, cilantro, bread, garlic, sesame, Chinese five- spice powder and pepper in a large bowl. Mix well by hand.
Preheat oven to 400F. Spray a baking sheet with cooking spray.
Roll chicken mixture into one inch balls and place on the baking sheet. Bake for 15 minutes and then flip over. Bake an additional 10 to 15 minutes or until inside is no longer pink (meat thermometer temperature of 165F). Transfer meatballs to a slow cooker.
In a medium bowl, stir together cranberry sauce, soy sauce, oyster sauce, rice vinegar and chill pepper flakes. Pour over top of meatballs. Gently stir to coat. Cover.
Cook on high for 1 to 2 hours. Serve immediately or keep warm on low setting for up to two hours.
Recommended Products
As an Amazon Associate and member of other affiliate programs, I earn from qualifying purchases.
Nutrition Information:
Yield:

24
Serving Size:

1
Amount Per Serving:
Calories:

94
Total Fat:

2g
Saturated Fat:

0g
Trans Fat:

0g
Unsaturated Fat:

1g
Cholesterol:

42mg
Sodium:

157mg
Carbohydrates:

6g
Fiber:

0g
Sugar:

4g
Protein:

13g
Disclosure: I am participating in the Chicken Farmers of Canada campaign managed by SJ Consulting. I received compensation in exchange for my participation in this campaign. The opinions on this blog are my own.