Death by Chocolate Cupcakes
A good friend of mine insists chocolate is the best dessert EVER. She will never turn away anything chocolate. Though I enjoy chocolate, it's usually not my first choice when I'm choosing a dessert. I'm more of a caramel gal. However, I know there many, many people out there crazy for chocolate so this recipe is for YOU!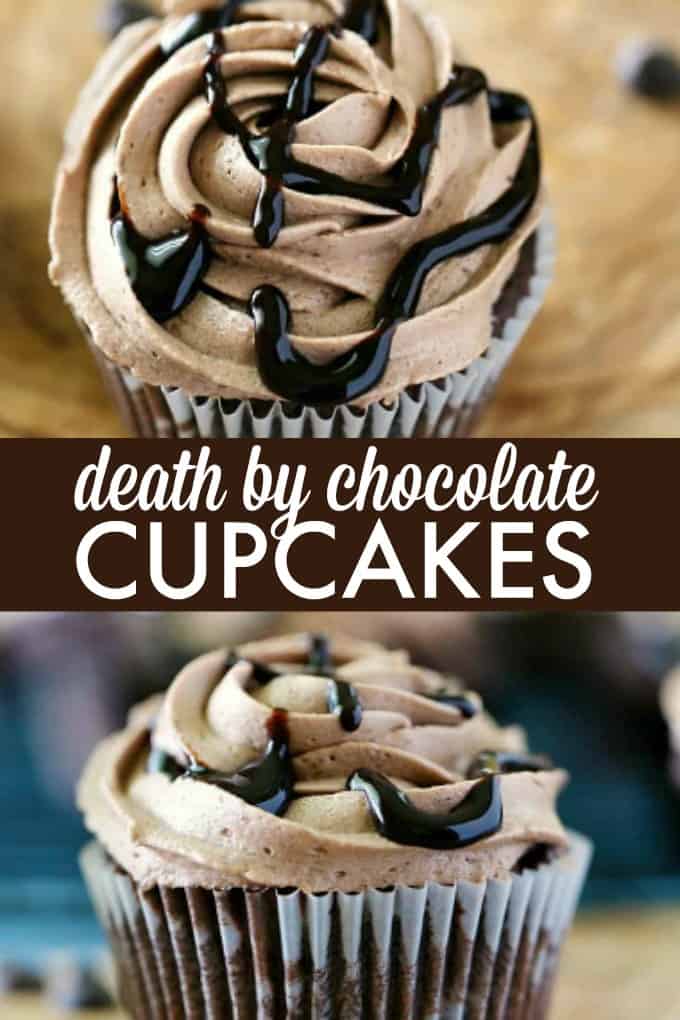 I call these guys Death by Chocolate Cupcakes. They have chocolate added in every step of the recipe. The dry ingredients have cocoa. The wet ingredients use melted chocolate chips. The frosting is made with dark cocoa. Then as an added bonus, chocolate sauce is drizzled over the top. It is VERY chocolatey as my hubby says!
These cupcakes are sweet and rich. One cupcake will likely satisfy your chocolate craving because it has so much of it packed in one small package.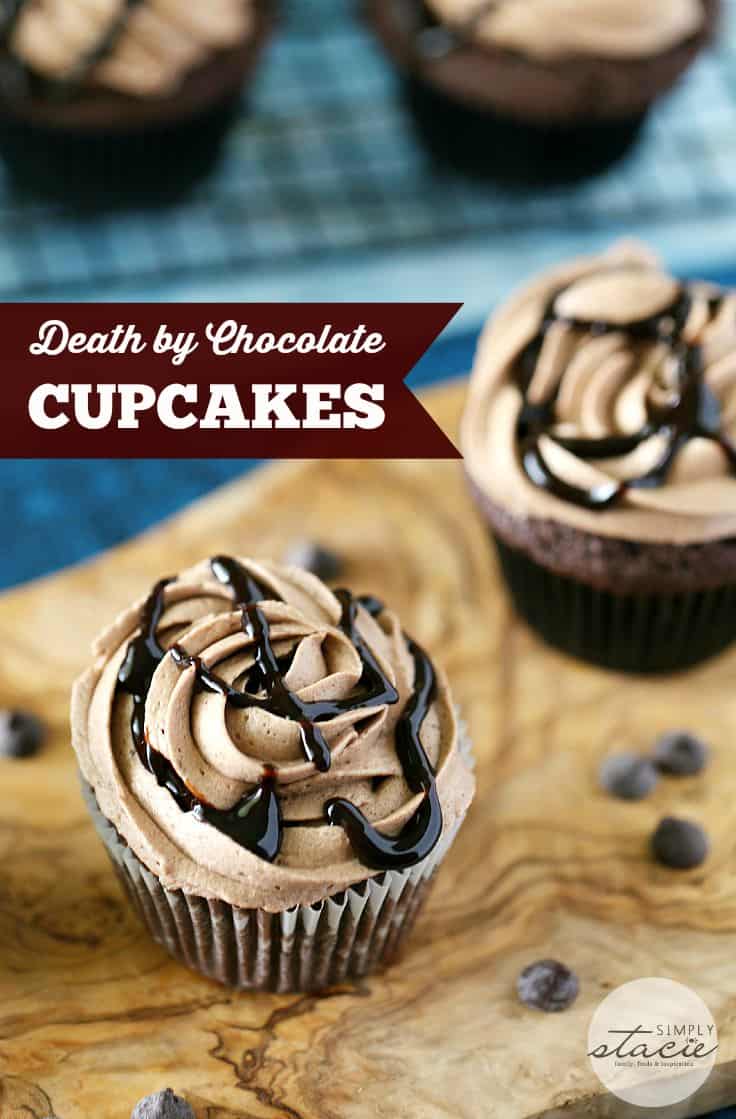 I recently started frosting my cupcakes using Wilton tips. It's made a huge difference in presentation! However, you don't have to use one. The recipe will still work even if you frost with a butter knife! If you're curious, this is the set I have. And this is how I used to frost cupcakes. Yikes. Not the nicest looking for pictures, right?
What is your favourite flavour of cupcake?

Yield: 12
Death by Chocolate Cupcakes
Satisfy your chocolate cravings with this rich and sweet recipe for Death by Chocolate Cupcakes.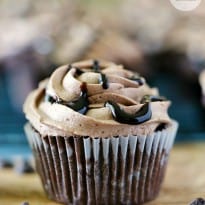 Ingredients:
Cupcakes
1/4 cup butter, softened
1 cup sugar
1 cup semi-sweet chocolate chips
2 eggs
2 egg yolks
1/2 cup vegetable oil
2 tsp vanilla extract
1/3 cup sour cream
1 cup flour
1/2 tsp salt
1/2 tsp baking soda
1/2 cup cocoa powder
Frosting
1/4 cup dark cocoa
2 cups butter, softened
1/4 cup half and half
1 tsp vanilla extract
3 cups icing sugar (powdered sugar)
chocolate sauce for drizzle, if desired
Directions:
Preheat oven to 350F. Add cupcake liners to a muffin pan and set aside.
In a large bowl, mix together flour, salt, baking soda and cocoa powder.
In another bowl, cream butter and sugar with an electric mixer medium speed.
Melt the chocolate chips in the microwave for about 40 seconds. Stir until melted. Pour chocolate into butter/sugar mixture and mix on medium speed.
Add in eggs and egg yolks one at a time while continuing to mix.
Add in oil, vanilla and sour cream and continue to mix on medium.
Add wet ingredients to dry ingredients and stir to combine.
Fill each cupcake liner about 3/4 full.
Bake 20 minutes or until a toothpick comes out of the center of a cupcake clean. Cool in pan for 15 minutes before removing to a baking rack. Cool completely before frosting.
To make the frosting, add butter to a mixing bowl and beat until smooth. Add in half and half and vanilla extract and continue to beat with an electric mixer on medium.
Add in icing sugar and dark cocoa and beat until well blended.
Frost cupcakes and drizzle chocolate sauce over top, if desired.