Slow Cooker Pumpkin Dump Cake
The name is a little weird, but who cares – it's cake! I'm a fan of "dump" cakes because of how easy they are to make. It's usually "dumping" your ingredients and baking. They are messy and delicious! Don't let the name scare you off. You'll be missing out if you do!
Slow Cooker Pumpkin Dump Cake
I've made dump cake in the oven many times. Last year, I shared this Caramel Apple Dump Cake made with cake mix and pie filling. I wanted to try a dump cake in the slow cooker and see what it would be like.
It was even easier than making one in the oven. You are less risk of burning your dump cake in the slow cooker compared to the oven. Yes, I've had a few burnt dump cakes in my past come out of my oven. They literally were dumped in the trash.
I could have used pumpkin pie filling in this recipe, but I only had canned pumpkin on hand. For some reason, pumpkin pie filling is really hard to find in stores around here. Figures though, it's pumpkin season!

You can easily make your own with a few simple ingredients. Use this homemade pumpkin pie spice, brown sugar and pinch of salt and you are golden.
This cake is taunting me to dig my fork in.
Top with vanilla ice cream or whipped cream. It's served hot so it will melt quickly. I think that just adds to its charm!
What are your thoughts on dump cake?
Yield: 6
Slow Cooker Pumpkin Dump Cake
This Slow Cooker Pumpkin Dump Cake recipe is an easy dessert with only a few ingredients! Just dump them into the slow cooker and let it do all the work.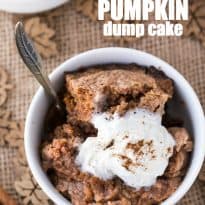 Ingredients:
2 cups pumpkin puree
1 cup brown sugar
1 tbsp pumpkin pie spice
1/2 tsp salt
1 cup butter, softened
1 Spice Cake Mix
Directions:
Spray the inside of your slow cooker with cooking spray (mine is a 6 quart slow cooker).
In a mixing, bowl stir together pumpkin puree, brown sugar, pumpkin pie spice and salt. Spread evenly on the bottom of your slow cooker.
In another bowl, stir together cake mix and butter until crumbly. Spread evenly over pumpkin mixture.
Cook on Low heat for 4 hours. Serve with ice cream or whipped cream, if desired.