Chimichurri Steak Salad
It's bright, healthy and light, but still packs a huge punch in the taste department!
Hi all, Nicky here from Kitchen Sanctuary.  I'm cooking up steak today with an extra-large serving of garlicky chimichurri.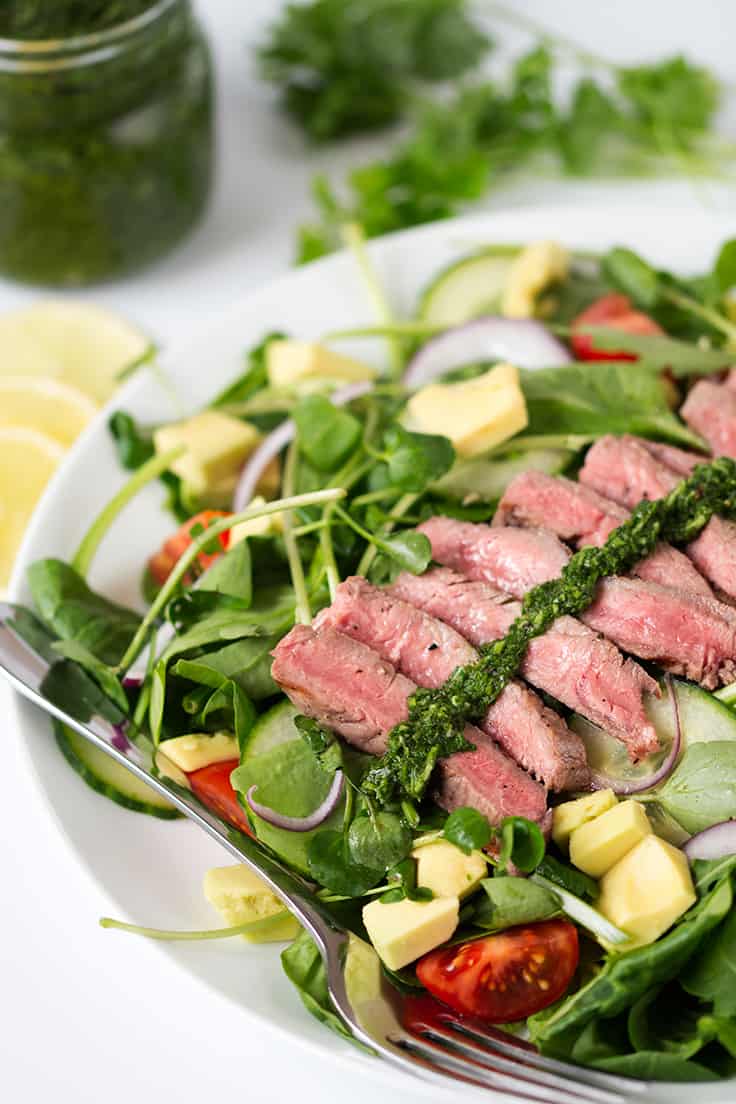 Chimichurri Steak Salad
I only really started making chimichurri at the beginning of this year.  I was attempting to make chicken kiev – that retro favourite with parsley and garlic butter.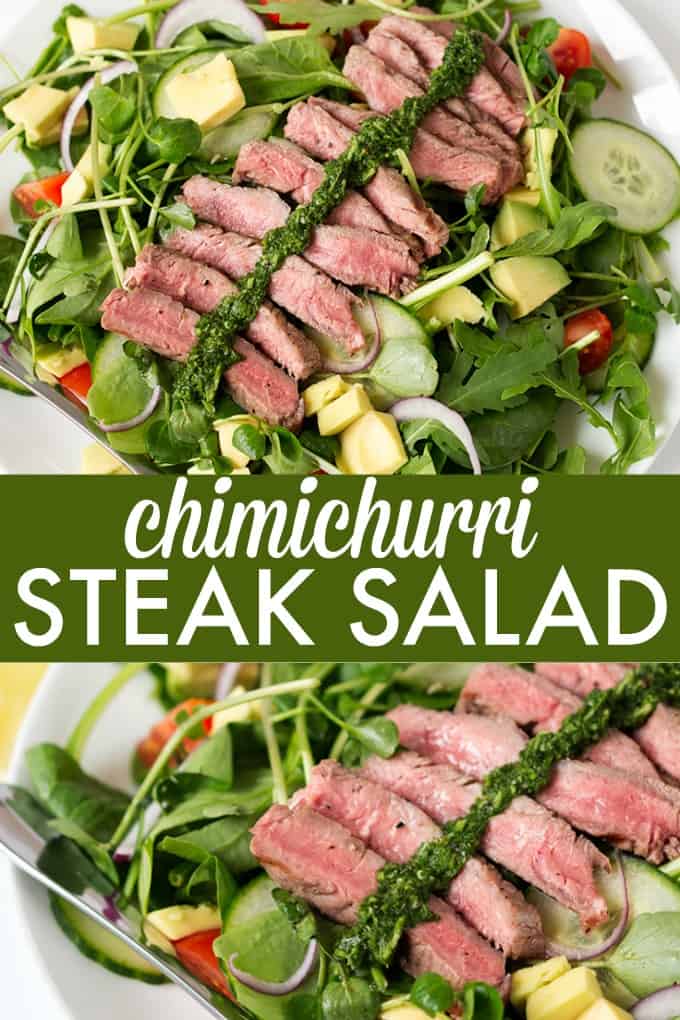 The filling kept spilling out no matter how many clever techniques I tried, so I ended up making crispy chicken tenders with a side of chimichurri.  It tasted so good that I haven't looked back since!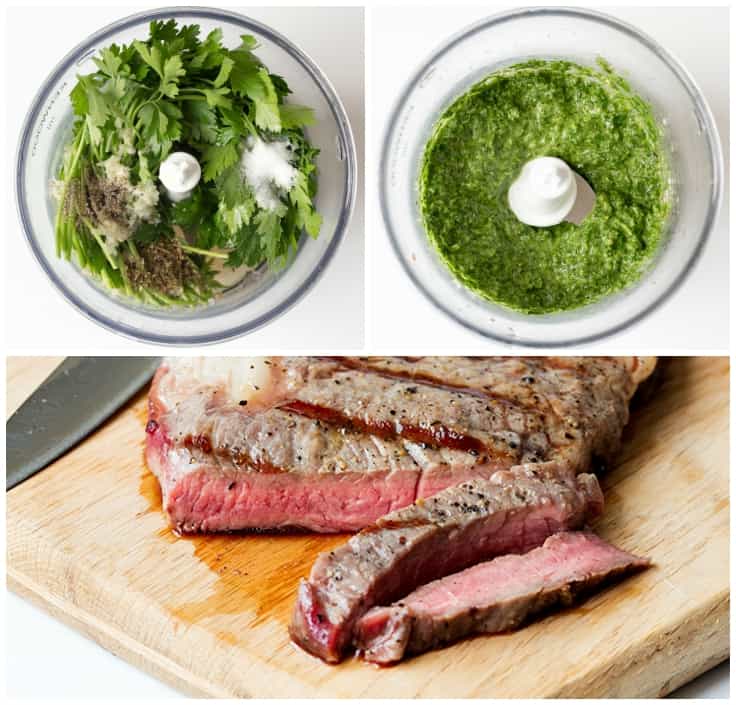 It's so easy to make too.  Just put all the chimichurri ingredients in a mini chopper and pulse.  That's it – done.  You really can't beat it served on top of a juicy pink steak.
It'll keep for a few days in the fridge, but will start to lose it's bright green colour after a day or so (due to the vinegar).  Still tastes great though!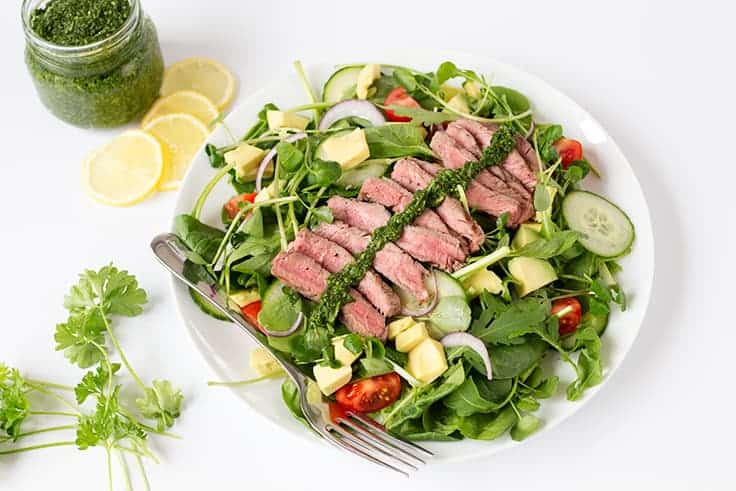 The salad is a simple mix of leaves, cucumber, tomato and creamy avocado.  I also love to add red onion with steak for a bit of crunch.
One of my favourite salads of the season.  Hope you enjoy it too!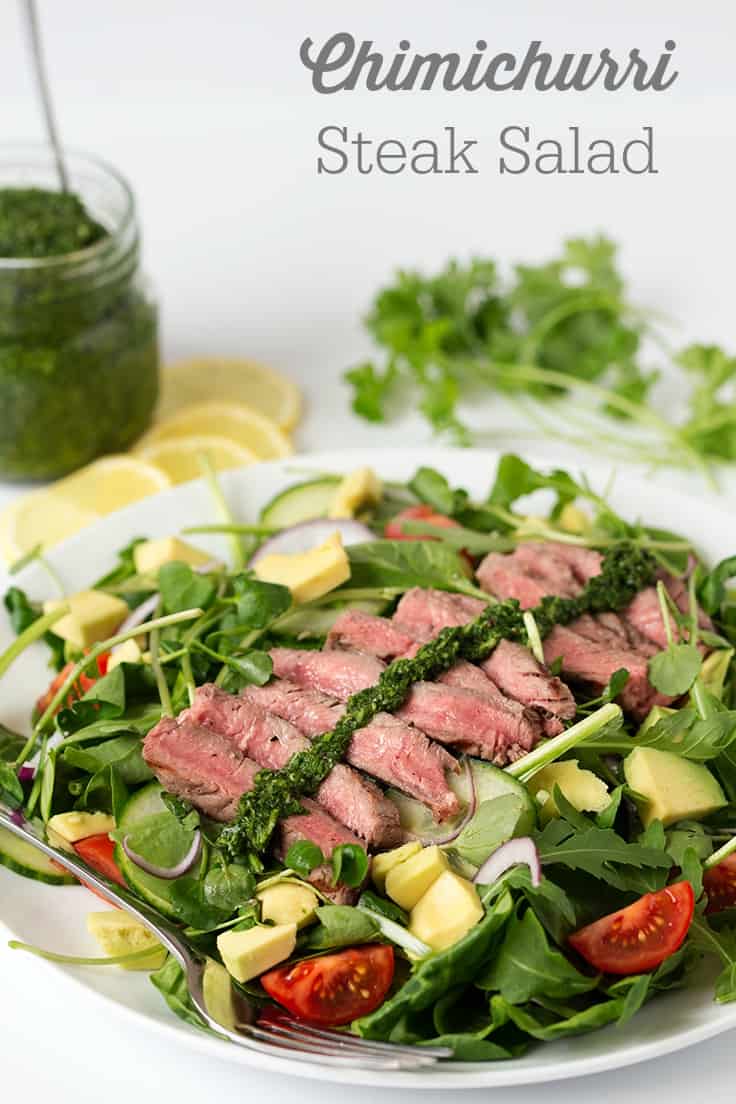 Do you like steak in salad?

Yield: 2
Chimichurri Steak Salad
Simple recipe for Chimichurri Steak Salad that is bright, healthy and light, but still packs a huge punch in the taste department!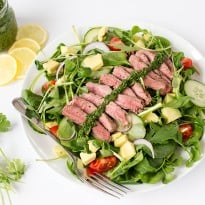 Ingredients:
Steak
1 thin cut sirloin steak (approx 7 oz)
1 1/2 tbsp vegetable oil
¼ tsp salt
¼ tsp black pepper
Chimichurri
6 tbsp olive oil
2 cloves garlic, peeled and roughly chopped
1 large bunch of flat leaf-parsley, roughly torn
¼ tsp salt
¼ tsp pepper
¼ tsp dried oregano
2 tbsp fresh lemon juice
1 tsp red wine vinegar
Salad
Small Bag (approx. 4.5oz) mixed salad leaves – I used mixed spinach, arugula and watercress
8 cherry tomatoes, quartered
1 ripe avocado, peeled and chopped into small chunks
¼ small red onion, peeled and sliced thinly
1/8 small cucumber, sliced
Directions:
Take the steak out of the fridge and let it sit at room temperature for 30 minutes to warm up a little.
Heat a griddle or skillet until smoking hot. Drizzle the oil onto the steak and sprinkle the salt and pepper onto both sides. Use your hands to massage the seasoning and oil in. Place on the hot griddle and cook for 2 minutes on each side (cook for longer if you prefer the centre less pink). Take off the griddle and place on a chopping board. Allow the steak to rest whilst you prepare the rest of the salad.
Place the chimichurri ingredients in a mini chopper or food processor and pulse until blended together (alternatively you can just chop everything finely by hand and mix together). Put to one side.
Split the bag of mixed salad between two large bowls. Top with the cherry tomatoes, avocado chunks, red onion and cucumber.
Slice the steak very thinly and arrange the slices on top of the two salads. Drizzle over the chimichurri and serve.