Chewy Chocolate Nougat Cookies
Hi Everyone, It's Nicky from Kitchen Sanctuary. This time I'm bringing you my new favorite cookie recipe! I can't get enough of these things.
They're soft, chewy and chocolatey and made a million times more delicious with chunks of melted nougat (which equals even more wonderful chewiness!).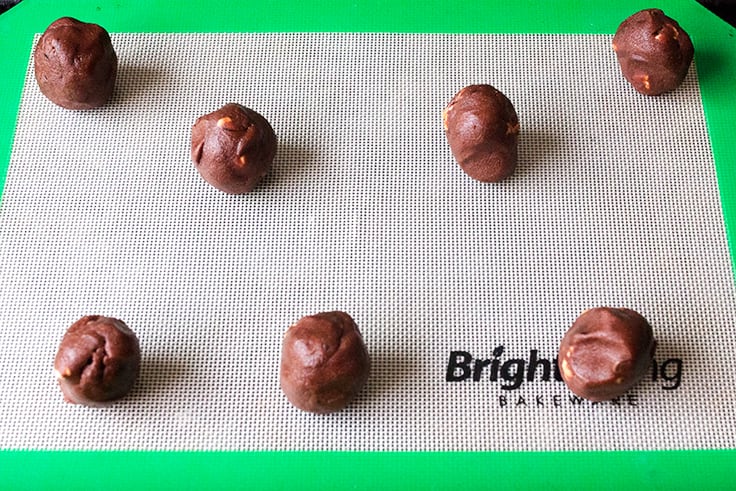 Chewy Chocolate Nougat Cookies
I love a good cookie. I even went so far as to spend a whole day experimenting with different ingredients and techniques for my blog last year. During that time, I found that refrigerating the cookie dough before baking makes a real difference to the depth of flavor.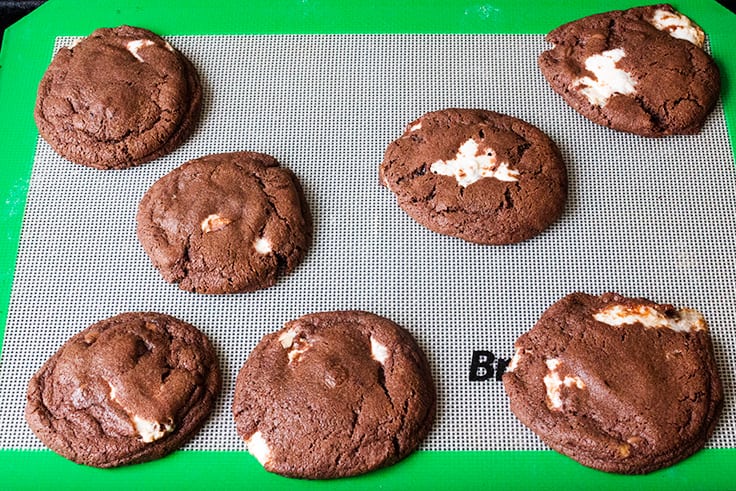 Overnight refrigeration is ideal, but a minimum of two hours – as with the recipe here – will also give great results.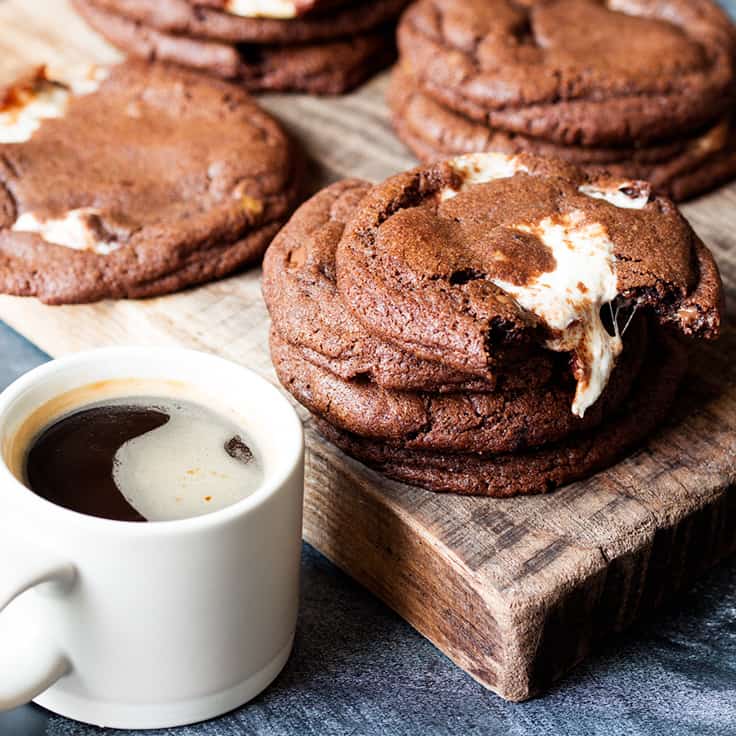 Also, I found that using just light brown sugar (often cookies are made with a mix of white and brown sugar) imparts a fantastic rich flavor to the cookies – which really complements the cocoa and tiny bit of coffee found in this recipe too.
Now, the nougat? Whoa! That adds a whole new dimension. I use a regular soft almond nougat. It doesn't need to be an expensive one (in fact I use the cheap one from the kid's sweets aisle at the supermarket).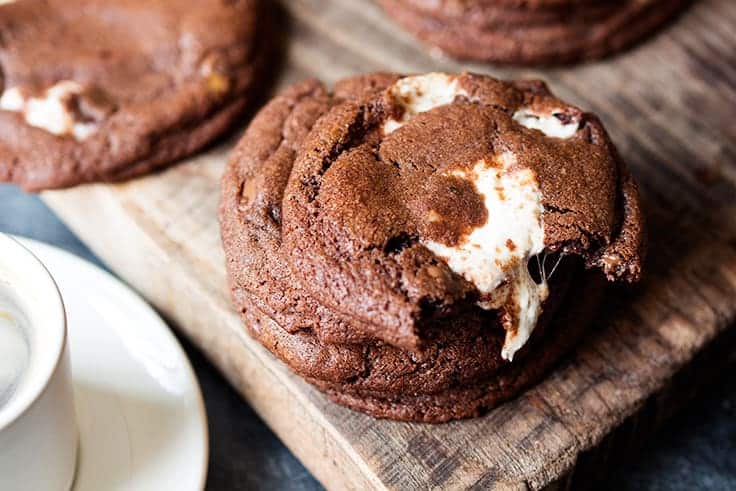 You will probably find that the nougat in some of the cookies will try to make your cookies stick to the bottom of the baking tray. Just make sure the cookies are cool before lifting them off with a metal spatula and they'll be fine. Also, don't store them on top of each other (unless you place baking parchment in between), as those same ones that have some nougat at the bottom will stick to the one beneath it – meaning you have to eat TWO at once. 🙂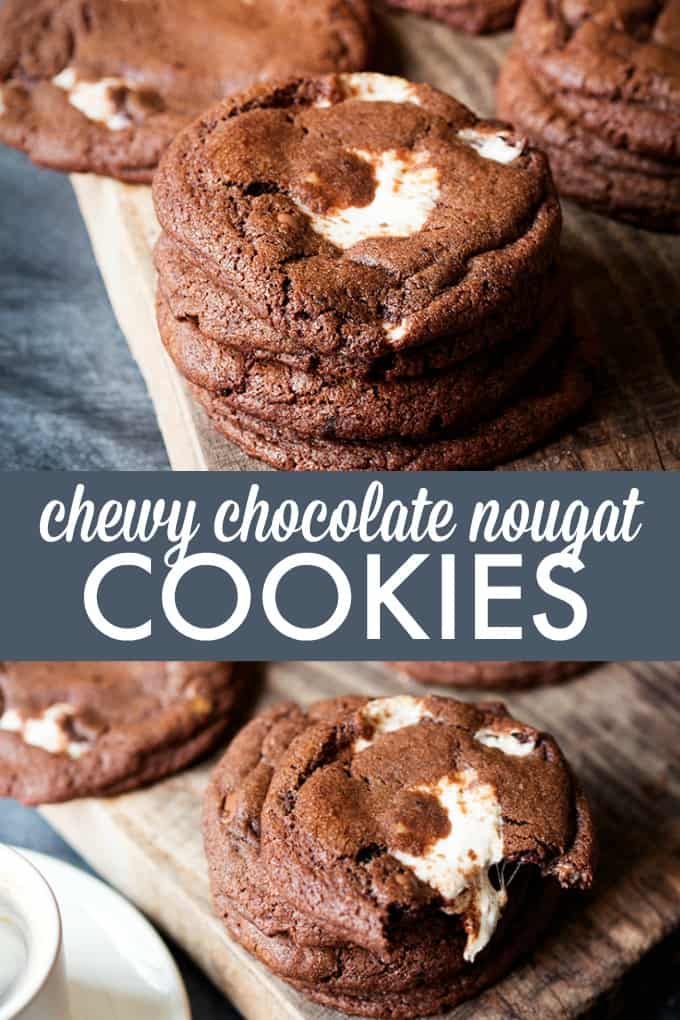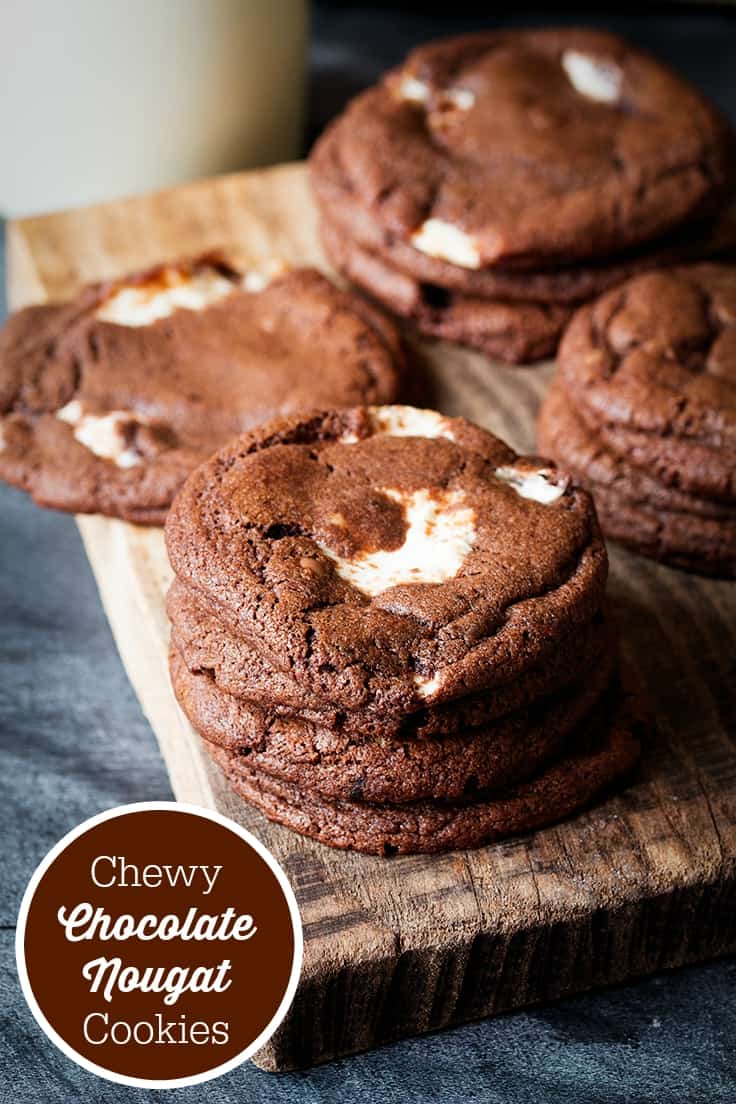 Do you like chocolate cookies?

Yield: 24
Chewy Chocolate Nougat Cookies
Soft, chewy and chocolatey and full of delicious melted nougat!
Ingredients:
2 cups all-purpose flour
6tbsp unsweetened, sifted, cocoa powder
2 and 1/2 tsp instant coffee granules
1 tsp baking soda
1 and 1/2 tsp cornstarch
½ tsp salt
¾ cup unsalted butter very soft but not melted
1 cup + 2 tbsp light brown muscavado sugar (use brown sugar if you can't find muscavado sugar)
1 large egg
1 egg yolk
2 tsp vanilla extract (or vanilla paste)
5oz almond nougat, chopped or roughly torn into small chunks
½ cup good quality chocolate chips
Directions:
In a bowl, mix together the flour, cocoa powder, coffee granules, baking soda, cornstarch and salt. Set aside.
In a large bowl, beat together the butter and sugar until thoroughly combined. Add the egg, egg yolk and vanilla extract and whisk again until combined. Add the flour mixture and mix together using a wooden spoon. Finally pour in your nougat pieces and chocolate chips. Mix everything together so you get an even distribution of nougat and chocolate chips (I find it easier to use my hands for this). Then place some plastic wrap over the bowl and place in the refrigerator for at least 2 hours (and up to 2 days). It's very important to chill the dough, as this allows the flavors to develop and helps to ensure you don't get flat cookies that spread all over your baking tray upon baking.
When you're ready to bake the cookies, pre-heat the oven to 325F. Line 4 large baking trays with baking parchment or silicone baking mats. Take the cookie dough out of the refrigerator and scoop out a heaped tablespoon full (about the size of a table tennis ball). Roll the dough into a ball with your hands, and place on the baking sheet. Repeat until you have used all of the dough – you should get 22-24 cookies. Make sure your dough balls are a good distance apart on the baking sheet as they will spread. I tend to put 6 or 7 cookies on each baking sheet.
Place in the oven and cook for 9-12 minutes, depending on whether you like your cookies soft and chewy or a bit more crisp. Take out of the oven and leave to cool on the baking tray for at least 20 minutes before gently lifting off with a spatula to serve or store. It's easier to use a sharper metal spatula – as the nougat may try to stick to the baking tray on some of the cookies.
Any leftover cookie dough can be rolled into balls, then frozen on a tray before being placed in a sealed bag in the freezer. Cook from frozen in the same way – just add an extra minute to the cooking time.[br]Cookies should store well in a sealed container at room temperature for 2 days. Place baking parchment between layers of cookies to prevent sticking.