Pineapple Upside Down Cupcakes
One of my Facebook friends shared an easy recipe from Inspired Dreamer that looked too good to pass up! I've made Pineapple Upside Down Cake many times in the past, but I've never made it in a cupcake form until now. Plus this recipe uses cake mix which is something I've been doing a lot lately with my small collection of cake mix hack recipes. I figured I'd try it out too and see how it turned out for me.
I was only able to get 18 cupcakes out of this particular recipe vs. the 24 cupcakes from the original. I think they would have been too small had I tried to spread everything out to fit the 24 muffin tins.
They bake upside down just like the cake version. The brown sugar and butter mixture caramelizes over the pineapple slices and cherry creating a sinfully sweet topping. The cake mixture is incredibly moist and pineapple flavoured thanks to the addition of the juice leftover from the can.
I was curious to see how easy they would be to remove from the muffin pan. It was surprisingly easy. I had to loosen a few around the edges with a butter knife, but most of them plopped right out for me still intact.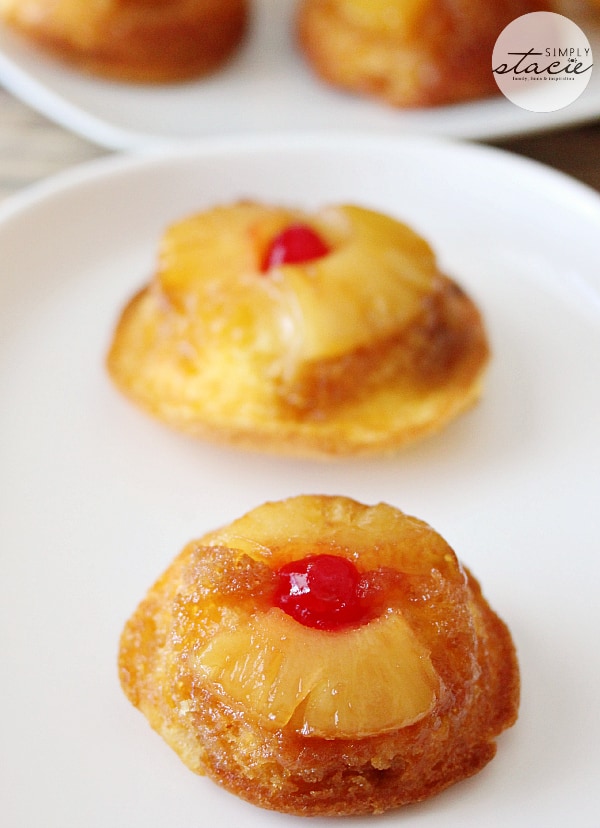 They are a bit retro looking don't you think? They turned out beautifully. Each glorious bite is something meant to be savoured. If you love the traditional pineapple upside down cake, try the muffin version. It's an incredibly easy recipe that my whole family enjoyed!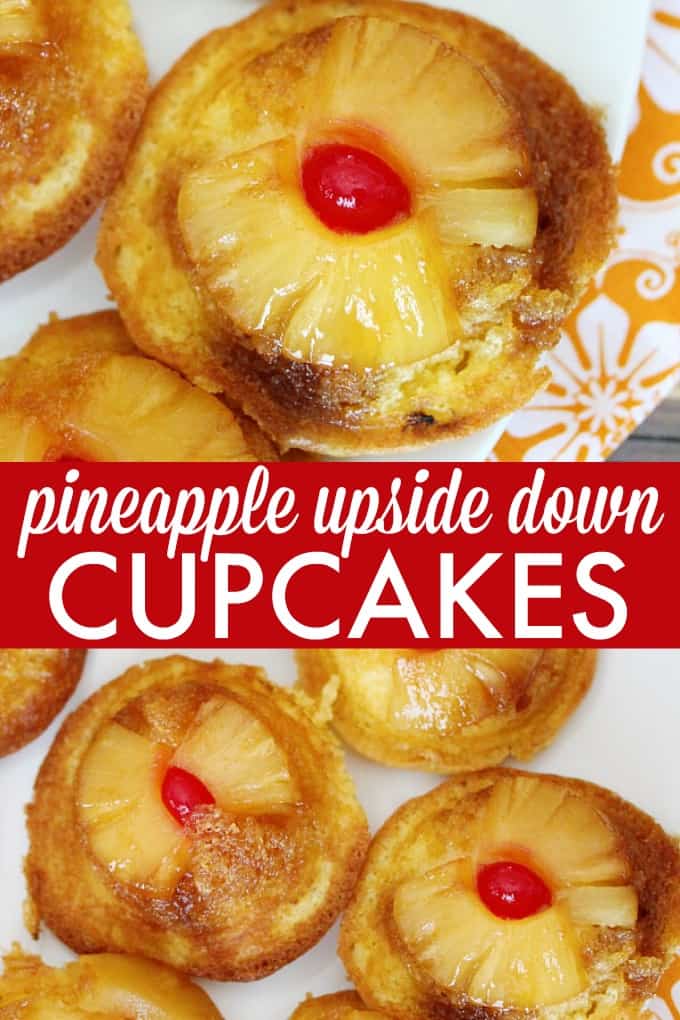 You might also like this Pineapple Pie.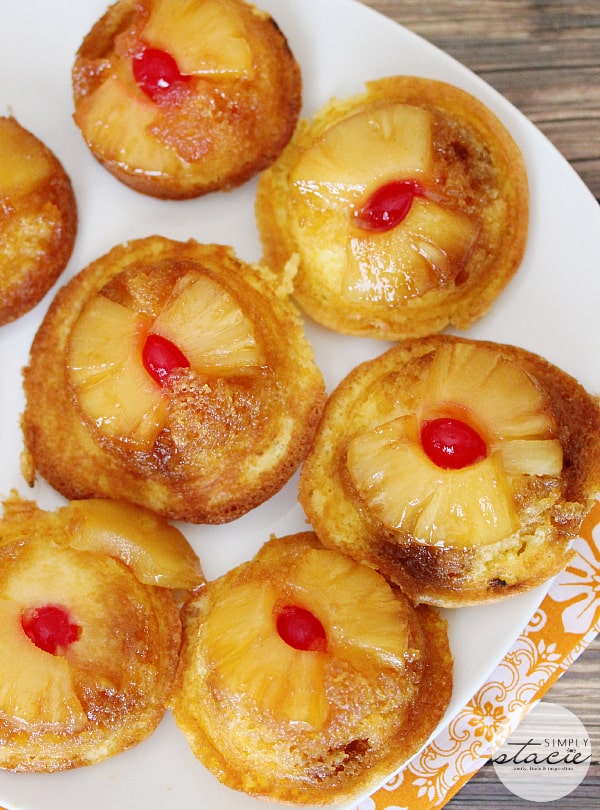 Yield: 18
Pineapple Upside Down Cupcakes
Try this super simple Pineapple Upside Down Cupcakes recipe made with yellow cake mix!
Ingredients:
1 can of pineapple slices, cut each slice into 4 pieces, reserve juice
1 box yellow cake mix
3 eggs
1/2 cup vegetable oil
1/3 cup butter, melted
2/3 cups brown sugar
9 maraschino cherries, halved
Cooking spray
Directions:
Preheat oven to 350F. Spray muffin tins with cooking spray. Set aside.
Add cake mix, vegetable oil, pineapple juice, eggs to a large bowl and beat with an electric mixer on medium speed until smooth.
In another bowl, stir together brown sugar and butter. Add a small spoonful of sugar mixture to each muffin tin. Then add two pineapple slices to each muffin tin followed by a cherry half with the cut side up in the centre of the pineapple slices. Add cake batter to each muffin tin.
Bake for 20 minutes or until a toothpick comes out clean from the middle of the cupcakes. Let cool for a few minutes and then invert on a baking rack.