Death by Chocolate Cookies
Disclosure: I am participating in the Burnbrae Farms campaign managed by SJ Consulting. I received compensation in exchange for my participation in this campaign. The opinions on this blog are my own.
Are you ready for the hustle and bustle of the holidays? I've already started preparing. This week I picked up some supplies to make Christmas crafts and started my Christmas gift list of things to buy. I don't put my tree or start decorating the house till December 1, but that doesn't mean I can't get everything organized. One thing I'm really excited about this year is participating in a cookie/baked goods exchange. I'm back home in Ontario so I can finally join in! I've been looking forward to this all year long.
The wonderful thing about a cookie exchange is that you get to try many new recipes. Some of my very favourite cookie recipes are from exchanges past and are ones I still make to this very day. The premise is you make a bunch of one type of cookie to give to the people participating in the exchange. In return, you get a batch of each of their recipes too. It's a pretty sweet deal – literally!
Around this time last year, I participated in the Burnbrae Farms CookieEggChange and whipped up a batch of my White Chocolate Chunk Cranberry Cookies. I was asked to participate again this year and share another cookie recipe that you could use in a cookie exchange. I decided to make a batch of Death by Chocolate Cookies. The chocoholics on your cookie exchange will thank you when they take a bite of these cookies!
The recipe is super easy which is why I love to make it. There's no need for an electric mixer and you really only need 2 bowls – one to melt the chocolate and one to mix all the ingredients together. The recipe calls for butter, two eggs, white chocolate, semi-sweet chocolate, flour and nuts if you desire.
I melt the chocolate in the microwave and then stir in the butter. It easily melts in the chocolate. Doesn't that look rich and inviting?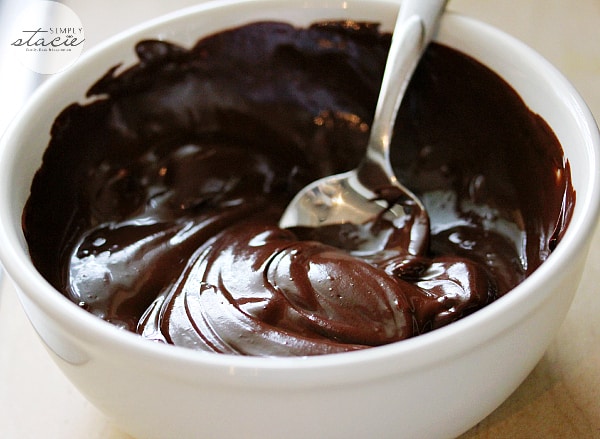 After 12 minutes in the oven, place the cookies on a rack to cool. Each cookie is soft and bursting with chocolately goodness. It doesn't get any better than this!
Be sure to give your friends the recipe so they can make them too.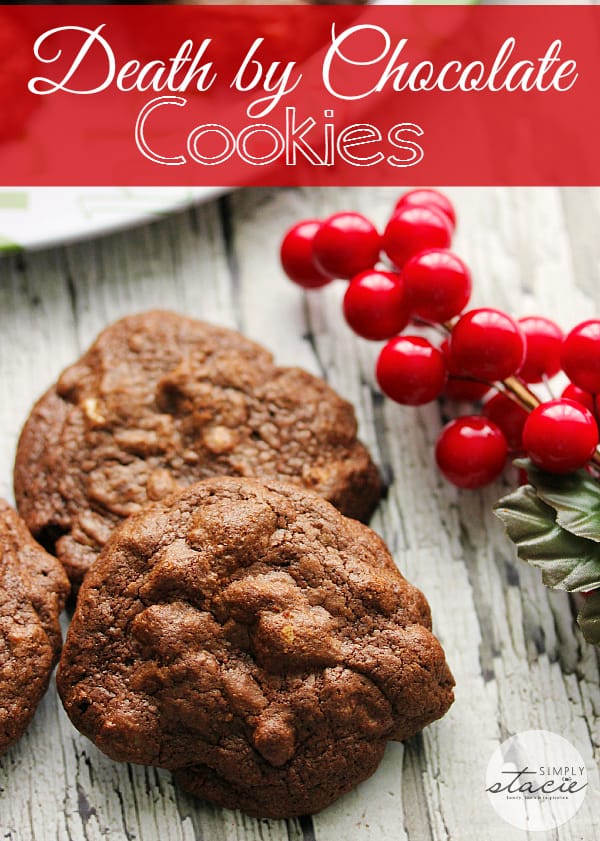 F0r more cookie and holdiay baking recipes, head on over to Burnbrae Farms and take a peek at their recipe collection. I'm thinking about making these Butterscotch Brownies. The look divine. And bonus that I have all the ingredients already!
Connect with Burnbrae Farms on Facebook, Twitter and Pinterest.
Yield: 18 to 24 cookies
Death by Chocolate Cookies
Sinfully rich Death by Chocolate Cookies recipe perfect for a holiday cookie exchange!
Ingredients:
1 package of semi-sweet chocolate squares, cut into quarters
1 package of white chocolate squares, coarsely chopped
1/4 cup butter
3/4 cup brown sugar
2 eggs
1/2 cup flour
1 cup chopped walnuts (optional)
Directions:
Add the semi-sweet chocolate to a microwave safe bowl and cook on medium for 3 minutes to partially melt. Stir until chocolate is completed melted. Add in butter and stir to combine.
In a large bowl, add the chocolate mixture, sugar, eggs, flour and mix together.
Stir in white chocolate and walnuts.
Drop in heaping teaspoons on an ungreased cookie sheet and bake in a 350F oven for 12 minutes.
Transfer cookies to a wire rack to cool completely.