Lasagna Bowl
John's favourite dish is lasagna and he is always asking me to make it. I prepare it every once in a while, but find it's tedious to make. I have a lasagna hack that tastes just as good as the real thing, but is a little easier to whip up. It's basically cooking your favourite short noodles, making the meat sauce and mixing up some cottage cheese, parmesan and fresh garlic for the cheese topping. It is SO GOOD! John said he approves.
For presentation, I put the noodles in the bottom of the bowl, then added the meat sauce leaving a little clearance around the edges and then finally topping with cheese. Mix it altogether before you serve it or let people scoop it from the bowl as is. This is one recipe I keep coming back to time and time again.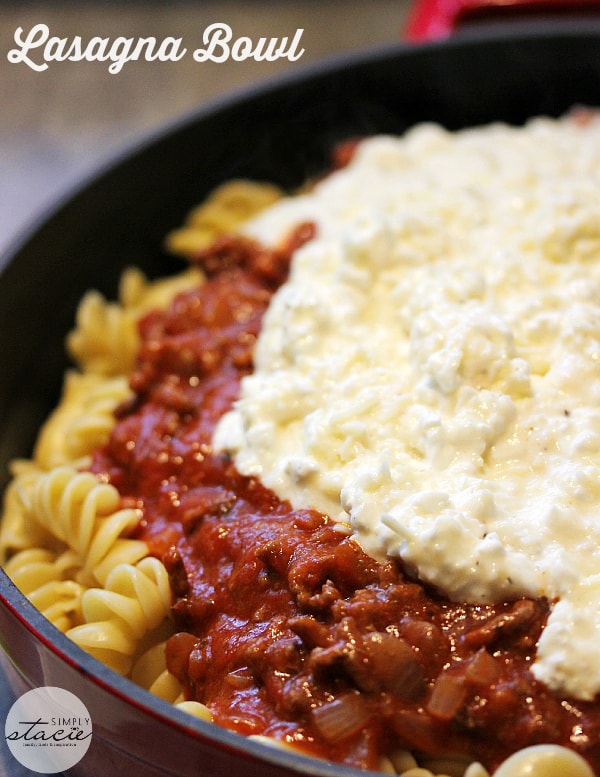 What is your favourite lasagna recipe?
You might also like this Lasagna Stuffed Chicken or Slow Cooker Lasagna.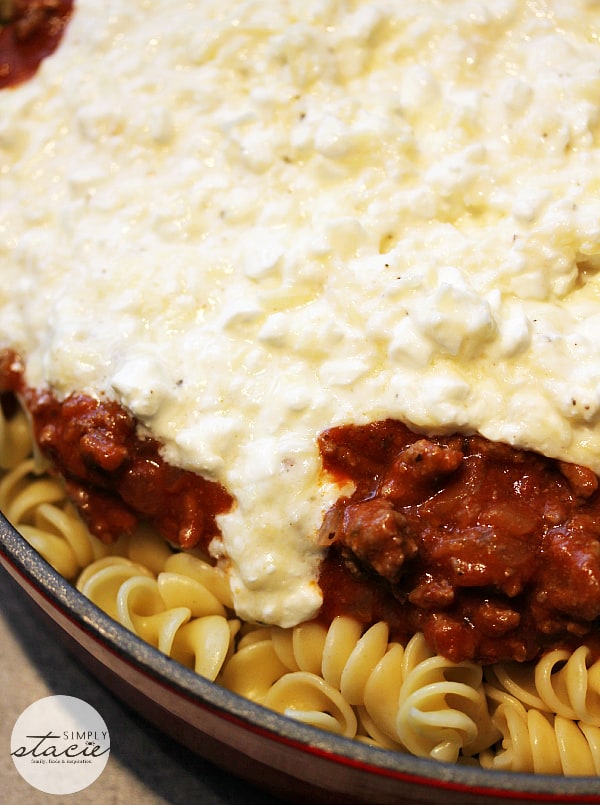 Yield: 6
Lasagna Bowl
A yummy recipe for Lasagna Bowl that is easier to make and tastes just as good, if not better!
Ingredients:
3 cups rotini pasta or your favourite pasta
1 tbsp olive oil
1 onion, chopped
1 lb lean ground beef
1 jar pasta sauce
1 1/2 cups cottage cheese
1/2 cup Parmesan cheese
3 cloves garlic, minced
pepper, to taste
Directions:
Cook pasta according to package directions. Set aside.
Heat olive oil in a pan over medium heat. Add in onions and cook for about 5 to 6 minutes, until softened. Add in ground beef and cook, stirring frequently, until browned. Add in pasta sauce and cook until mixture is heated throughout. Set aside.
In a large bowl, mix together cottage cheese, Parmesan, garlic and pepper. Microwave for about 2 minutes to heat up.
To assemble, place pasta on the bottom of a shallow bowl or pot. Top with meat sauce mixture. Layer the cottage cheese mixture on top. Serve hot.