Slow Cooker Lasagna
After a long day, the last thing I feel like doing is slaving in the kitchen for hours on end. I rely on my slow cooker multiple times during the week. My little helper practically does all the work for me! Some recipes, it's a matter of dumping the ingredients and setting it on low. Others are a wee bit more work. This recipe for slow cooker lasagna is one of those easy recipes. The only "real" work is chopping up some veggies and mixing ingredients in a bowl. You don't even have to boil the noodles! Get the comfort food flavour of lasagna that your family loves without spending hours in the kitchen.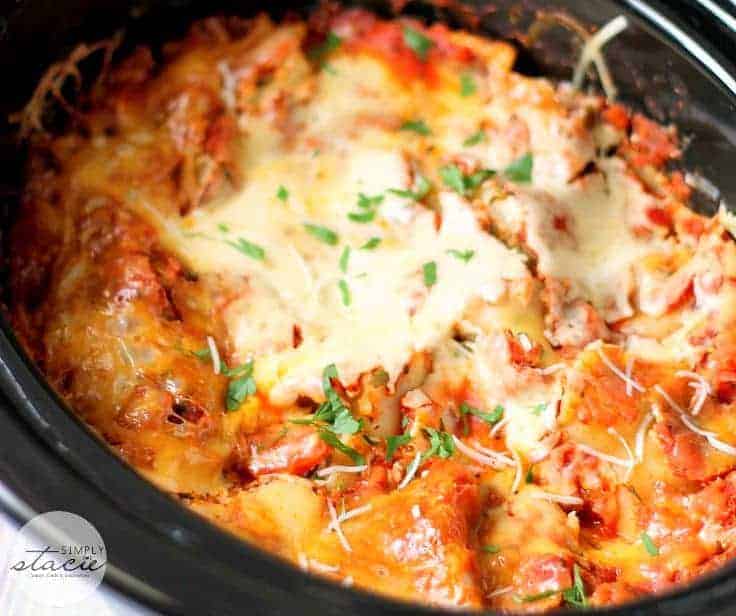 Slow Cooker Lasagna
John adores lasagna and always asks me to make it. I rarely make it the traditional way anymore. It's so time consuming and there are many other ways to get the same lasagna taste without the extra work. This recipe isn't my first lasagna hack. I've shared a Lasagna Bowl and Lasagna Soup previously.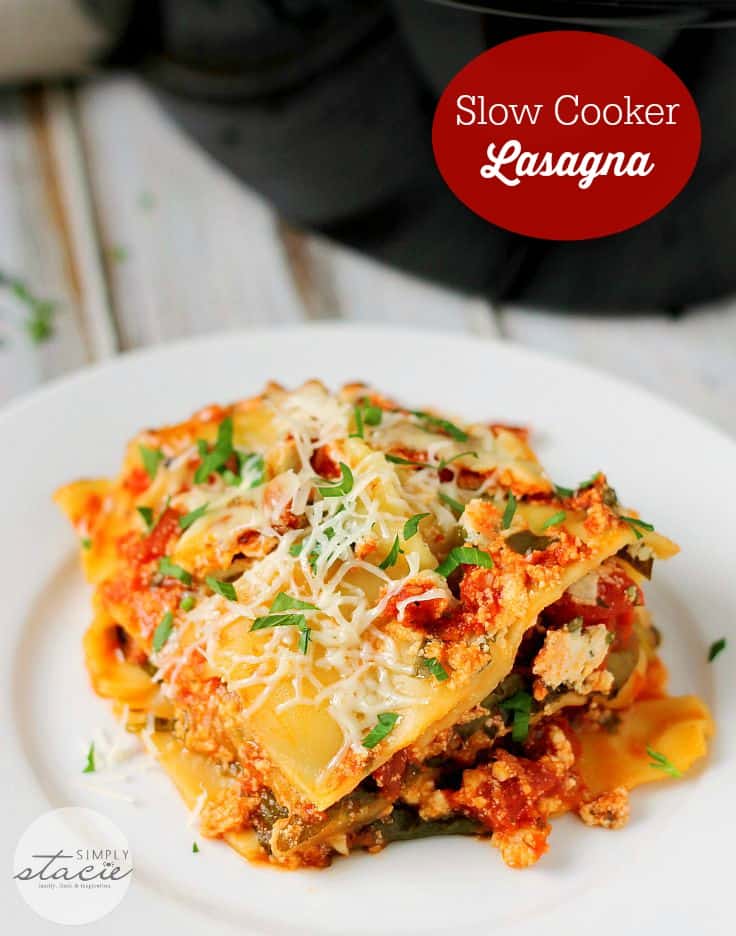 This is a meatless recipe to save on time. However, you could include some ground beef, chicken or turkey if you like. Just cook it in a skillet first before adding it your sauce.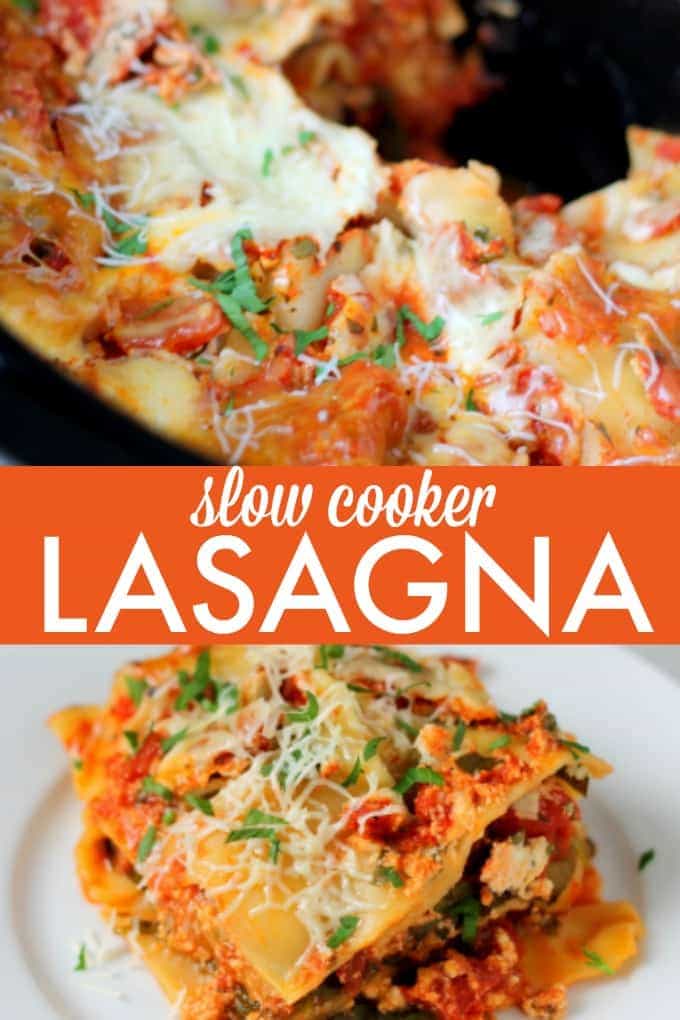 It's slow cooker season so why not try a new recipe. If you enjoy comfort food, you'll most likely love this recipe. And I know you'll love how easy it is to make.
Have you made lasagna in your slow cooker?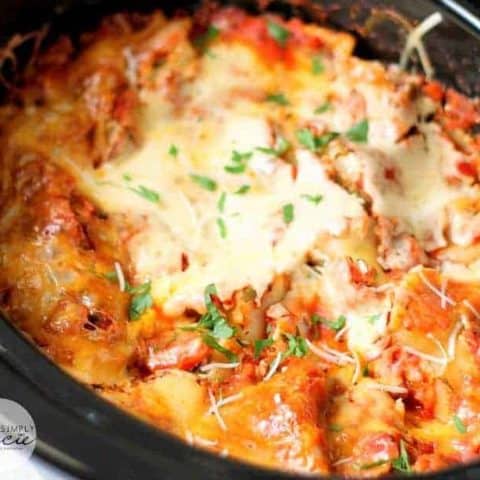 Slow Cooker Lasagna
Yield: 6

Prep Time: 15 minutes

Cook Time: 3 hours 15 minutes

Total Time: 3 hours 30 minutes

Why spend hours slaving in the kitchen to make a lasagna when your slow cooker can do all the work? This Slow Cooker Lasagna is easy to make and delicious!
Ingredients
16 oz partly skim ricotta
3 garlic cloves, minced
¼ tsp dried oregano
½ tsp pepper
¼ tsp red pepper flakes (optional)
½ cup shredded Parmesan cheese
1 box lasagna noodles (DO NOT COOK)*
28 oz diced tomatoes, drained
28 oz pasta sauce
1 handful flat leaf parsley, chopped
3 cups shredded mozzarella cheese
6 oz baby spinach (about 3-4 cups)
Instructions
In a medium bowl add ricotta, peppers, red pepper flakes, oregano, garlic, and Parmesan cheese. Combine well; set aside.
In another medium bowl, combine diced tomatoes, pasta sauce, and parsley; set aside.
In a 6 quart slow cooker, add about 1 cup of tomato mixture to the bottom (enough to just cover the bottom). Add a layer of noodles on top, breaking to fit. Add half the baby spinach. Add 1/3 of the ricotta mixture, loosely spreading it around with spatula. Top with 1 cup of mozzarella cheese then 1/3 of the remaining tomato mixture. Add another layer of noodles, then repeat layering with spinach, ricotta, mozzarella, and tomato mixture. Top with noodle layer, then remaining ricotta, tomatoes, and then mozzarella.
Cover and cook on low for 3 hours, or until the noodles are tender.**
Remove cover and allow to cook for at least 15 minutes. Slice and serve.
Notes
*Be sure to use regular lasagna noodles. NOT the 'no boil' noodles.




**After the 3 hour cook time, it is fine to leave the lasagna 'warming' throughout the day. If your slow cooker has an auto shut off, then you can use that too.




If you would like to add meat to this recipe, just cook ground beef/turkey prior to adding lasagna to slow cooker. Then add meat into layers of lasagna. You might have extra lasagna noodles after assembling – that is fine, just use what you need and save rest for another time.
Recommended Products
As an Amazon Associate and member of other affiliate programs, I earn from qualifying purchases.
Nutrition Information:
Yield: 6 Serving Size: 1 piece
Amount Per Serving:Calories: 614 Total Fat: 14.1g Saturated Fat: 7.8g Trans Fat: 0g Unsaturated Fat: 5.1g Cholesterol: 56.1mg Sodium: 1176.3mg Carbohydrates: 77.8g Fiber: 12.1g Sugar: 12.3g Protein: 40.5g