White Chocolate Cranberry Cheesecake Bars
I remember the first time I ever tried cheesecake. It was 1988 and I was at my aunt's house in Brampton, ON the night before she was to be married to my uncle. I was 10 years old and still a fussy little thing. I was very picky with what I would and wouldn't eat. They had a spread of food laid out in the dining room table for guests to eat. I didn't know what that blueberry dessert was and I was told its blueberry cheesecake. I had a small piece and I was hooked since. Cheesecake is the absolute best dessert there is in my opinion. My love for it has not waned even 25 years later!
This recipe for White Chocolate Cranberry Cheesecake Bars is to die for! It's a smooth, creamy, rich cheesecake filling and a crunchy shortbread cookie crust base. I added white chocolate and dried cranberries into mine, but you could mix it up and try other toppings. Some suggestions include berries, chocolate chips, butterscotch chips or toffee bits.
These bars will not last long. They are addicting! Bring these to a potluck and I bet they'll go quick.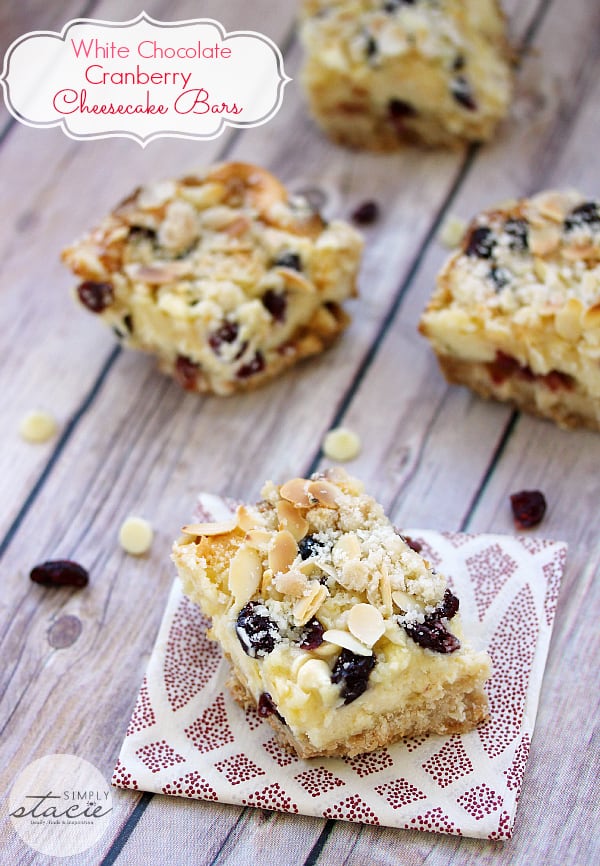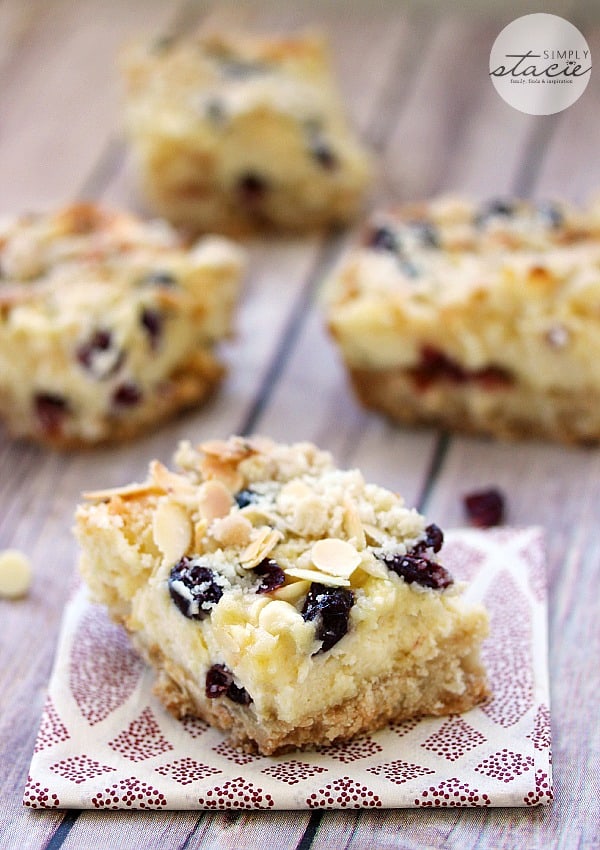 Yield: 15 to 20 bars
White Chocolate Cranberry Cheesecake Bars
Cheesecake + shortbread cookie = WOW! These cheesecake bars combine crunchy shortbread with the decadence of cheesecake and the tang of cranberries. It's a fantastic combination!
Ingredients:
Cookie Base
2 cups flour
½ cup sugar
½ tsp salt
½ cup corn or vegetable oil
Filling
2 8oz. packages of cream cheese, softened
½ cup sugar
¼ cup whipping cream
2 tsp vanilla extract
2 eggs, beaten
1 cup white chocolate chips
½ cup dried cranberries
¼ cup sliced blanched almonds
Directions:
Pre-heat oven to 375º F and grease an 8 or 9 inch square baking pan. In a large mixing bowl, mix together flour, sugar and salt. Add in oil and stir until mixture is crumbly. Reserve 1/3 cup of the mixture for later. Press remaining mixture into a baking pan. Bake for 25 minutes or until the edges of the cookie base turn golden brown.
For the filling, combine cream cheese, sugar, whipping cream and vanilla in a mixing bowl. Beat with a KitchenAid Mixer or an electric handheld mixer on medium speed until smooth. Add in the eggs and beat on low speed until the eggs are fully incorporated in the mixture.
Spread half the white chocolate chips and half the cranberries over the cookie base. Pour cheese mixture over top. Spread the remaining white chocolate chips and cranberries on top of the cheesecake mixture.
Stir almonds with the reserved cookie base mixture and then evenly spread over the top of the cheesecake. Bake for 25 to 30 minutes or until the cheesecake is slightly jiggly in the middle. Remove from oven and cool to room temperature. Then place in the fridge to chill completely before serving.