Cream of Tomato Soup
As the winter drags on and the temperature dips in Vermont, I find myself craving something nice and warm for lunch instead of a salad. I don't want to totally blow my daily calorie allowance by choosing something high in fat and calories though. I'd like to enjoy a hot lunch that is healthy at the same time. This Cream of Tomato Soup fits the bill perfectly.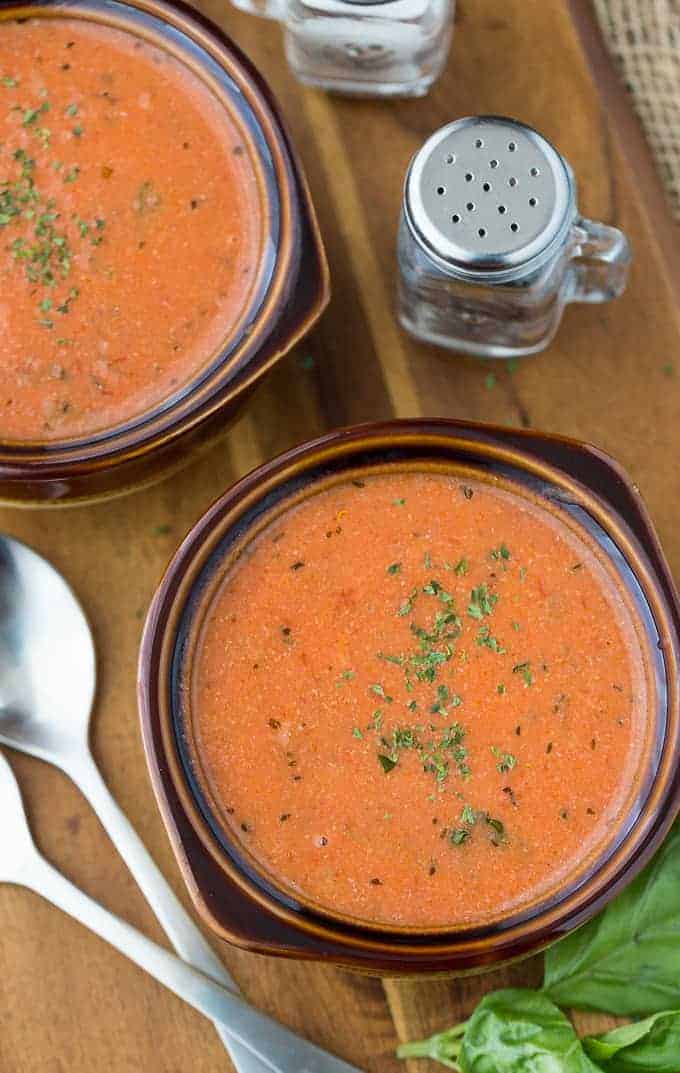 Cream of Tomato Soup
One of my favorite cold weather lunches is a big bowl of cream of tomato soup. You don't need to head to the grocery store to buy a can of soup to enjoy this. It's very simple to make your own homemade cream of tomato soup with only a few basic ingredients.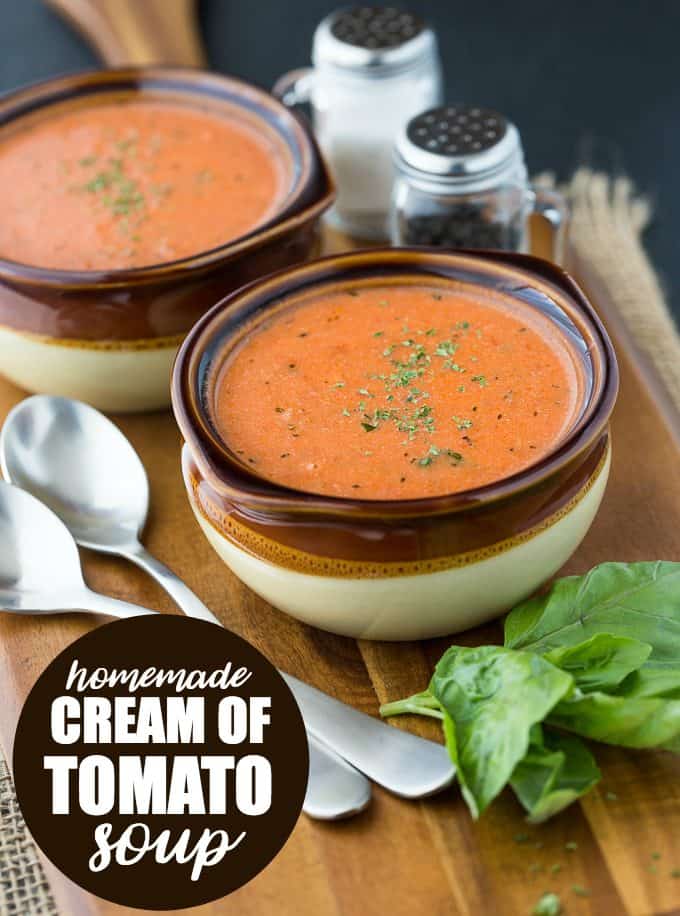 I love serving this Cream of Tomato Soup with a grilled cheese sandwich for lunch. I will dunk my sandwich into my soup. It also pairs nicely with a side tossed salad. It's filling enough on its own, however, if you don't feel like making anything extra to go along with it.
You may be wondering why add baking soda? It's so the acidity of the tomatoes doesn't curdle the milk. No one wants weird unknown chunks floating around in their soup!
I used low fat milk in this recipe, but you could just as easily use 2% milk. Use whatever kind of milk you have in your fridge. Let's keep it simple!
For more yummy soup recipes, check out my Sausage & Cabbage Soup, Hamburger Soup, and Cauliflower Soup with Bacon.
Yield: 4
Homemade Cream of Tomato Soup
Hot and tasty and made with a few simple ingredients!
Ingredients:
2 tbsp olive oil
1/2 onion, chopped finely
1/2 tbsp minced garlic
1 28 – 32 oz can of crushed or pureed tomatoes
1/4 tsp baking soda
1 tbsp dried parsley
salt and pepper to taste
1 tbsp fresh basil
1 tbsp honey
2-3 cups of skim or low fat milk
Directions:
Saute the onion and garlic in the olive oil until it is translucent.
Add the tomatoes, baking soda, parsley and salt and pepper.
Bring to a boil. Simmer for 10 minutes over medium low heat.
Add the honey and basil. Check and add more salt and pepper as needed.
Add in 2 to 3 cups of skim or low fat milk depending on whether you prefer your cream of tomato soup thicker or thinner. Warm & serve.
Ellen is a busy mom of two teenagers who left the corporate world in 2008 to focus on a more eco-friendly life. She lives in rural Vermont where she juggles family, two blogs and a career in social media. You can find her at Confessions of an Overworked Mom and The Socialite's Closet.