Grilled Zucchini Roll-Ups Recipe
Our local Sobeys has recipe cards at the entrance and I picked up a few last week that I wanted to try out. Most of them were summer recipes using fresh veggies and the Grilled Zucchini Roll-Ups were calling my name. They are something I can eat guilt-free on my low carb diet. Our barbecue is out of commission right now so instead I used the George Foreman grill and they turned out perfectly!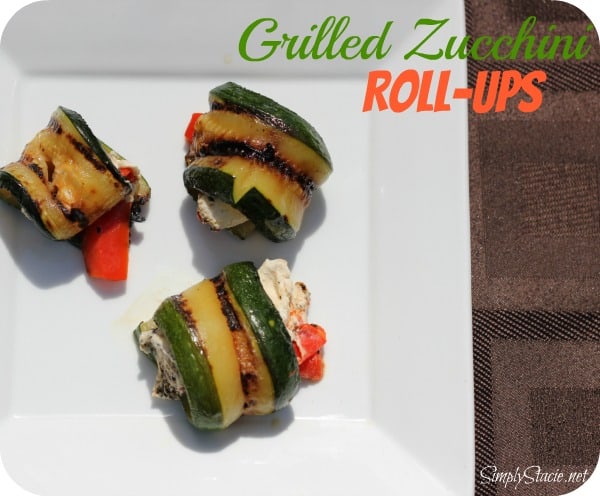 Yield: 15
Grilled Zucchini Roll-Ups
A delicious summer appetizer.
Ingredients:
2 large zucchini, cut lengthwise into strips 1/4 inch think
1 red pepper, seeded & cut into quarters
2 tbsp extra virgin olive oil, divided
1 (4 oz) package of herbed goat cheese (I used Peppercorn goat cheese)
2 tsp. balsamic vinegar
Directions:
Coat grill rack with non stick cooking spray (not required if you are using a George Foreman grill). Preheat grill to medium high heat. Brush both sides of zucchini strips and red pepper with 1 tbsp olive oil.
Place zucchini and red pepper on the grill. Grill 3 to 5 minutes per side or until soft. Remove from grill and slice red pepper into 1/4 inch strips.
Place 1 tsp of goat cheese about 1/2 inch from 1 end of  each zucchini strip. Top each with 1 red pepper slice. Gently roll up the strip and place seam side down on a serving platter. Repeat with remaining ingredients. Drizzle vinegar and remaining olive oil and serve. Makes about 10 to 15 roll-ups.