Caramel Pecan Cheesecake Recipe
Caramel Pecan Cheesecake is sinfully rich, buttery caramel flavor in every bite, and so simple to make. No need for a water bath or complicated steps. A straightforward recipe that is so easy to make. The hardest part is waiting for it to set up in the fridge before you can slice into a little piece of heaven.
Let me be honest, I love me some homemade cheesecake, but if the recipe is complicated, I move on rather fast. Cheesecake can be a chore to make, but I have mastered a recipe that is as easy as it gets. Plus the presentation value is outstanding so great for serving guests, bringing to potlucks, or a midnight treat for you and your family.
Easy Caramel Pecan Cheesecake
If you have a party coming up, looking for a dessert for Easter, or want to treat yourself, give this recipe a try. Just a few essential ingredients needed for one indulgent dessert.
Even More Fabulous Cheesecake Recipes
Do You Need A Water Bath For Caramel Pecan Cheesecake
No, you don't! I wanted to make a cheesecake that was quick and easy prep, and simple to bake. While water baths are great for cheesecake, this recipe does not require one.
Can I Make Homemade Crust For Caramel Pecan Cheesecake
If you love making homemade graham cracker pie crust, go for it. I just bought a store bought one for how easy it is in terms of prep. But, feel free to make your own.
Another option to try is a Nilla wafer crust. You just replace the graham crackers with Nilla wafers. It is SO good.
How Long Do You Cook Your Caramel Pecan Cheesecake
I baked my cheesecake for 40 minutes at 350 degrees. Depending on your oven and altitude you might need to adjust your cook time until the center of the cheesecake is cooked through.
How to Make Caramel Pecan Cheesecake
Start by prepping your cheesecake filling. You will cream your cream cheese, vanilla, and sugar in a bowl. Once it is creamy, add in your eggs. Once you have it finished, set aside. I do recommend working with room temperature cream cheese. This will allow you to mix it to a smooth and velvety texture; if you work with cold cream cheese, it will be lumpy.
Then in a pan mix your milk and caramels together until nice and melted. Stir often so that it doesn't burn.
Add in your pecan pieces to the caramel and pour it over the graham cracker crust.
Then grab your cream cheese mixture, and pour it over the caramel mixture.
Bake for 40 minute,s and allow to cool completely. Once it cooled slightly from the oven, I wrap it up and place in the fridge for at least 3 hours or even overnight.
Why is my Cheesecake Lumpy
Sometimes you will get a lumpy cheesecake, that isn't smooth. A lot of times it is because you didn't use a softened cream cheese. It is really important that your cream cheese is soft and room temperature so it can cream together with other ingredients for that silky smooth batter.
I have done this in the past where I jumped the gun, and it turned into almost a cottage cheese texture for the result. The other thing I recommend is using a blender, whether it be a hand blender or a stand mixer. This will whip and smooth out your batter.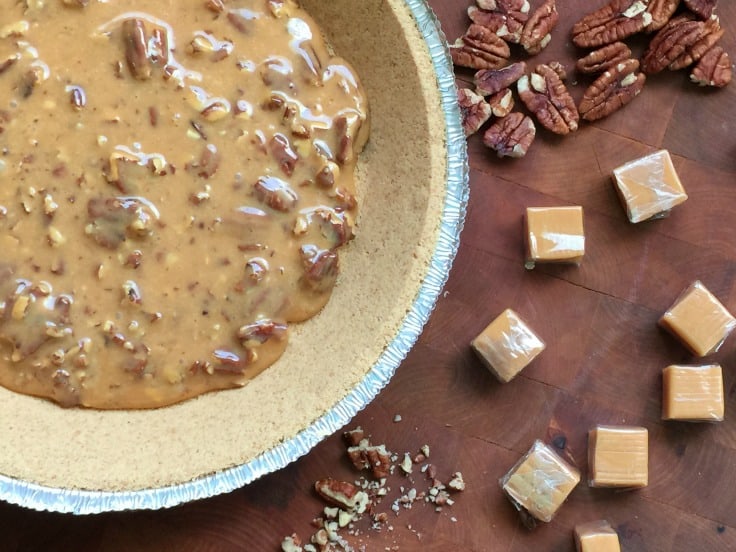 How Long Should Cheesecake Cool Before Going in Fridge
You want to pull your cheesecake from the oven and place on a cooling rack. Allow your cheesecake to thoroughly cool before you transfer it into the fridge. So make sure it is sufficiently cooled off, which could be an hour or more time. Then wrap and place in the refrigerator to set up for at least 3 hours up to overnight.
How Long Will Cheesecake Stay Good In Fridge
You can keep your cheesecake in the fridge for up to 3-4 days. Anything over you will want to toss it out. Cheesecake does freeze nice, so if you don't think you will eat it all, just toss it in the freezer for up to 1 month. Just make sure to seal it up with aluminum foil or airtight container.
Caramel Pecan Cheesecake Recipe
Yield: 6
Prep Time: 20 minutes
Cook Time: 40 minutes
Total Time: 1 hour
Each bite is a piece of cheesecake heaven! With a caramel layer followed by a cheesecake filling and topped with pecans, this dessert is off the charts!
Ingredients
2 packages of cream cheese, softened
1/2 cup sugar
1/2 tsp. vanilla
2 eggs
20 caramels
2 tbsp. milk
1/2 cup chopped pecans
1 ready to use graham cracker pie crust
Instructions
Mix cream cheese, sugar and vanilla with a hand mixer until blended. Add in eggs and mix until blended.
Melt caramels with milk in a saucepan over low heat until smooth. Stir in pecans.
Pour caramel mixture over crust. Pour cream cheese mixture over the caramel mixture.
Bake at 350 F for 40 minutes. Cool in the fridge for 3 hours or overnight before serving.
Recommended Products
As an Amazon Associate and member of other affiliate programs, I earn from qualifying purchases.
Nutrition Information:
Yield: 6
Serving Size: 1
Amount Per Serving:
Calories: 535
Total Fat: 28g
Saturated Fat: 9g
Trans Fat: 0g
Unsaturated Fat: 17g
Cholesterol: 93mg
Sodium: 342mg
Carbohydrates: 65g
Fiber: 1g
Sugar: 46g
Protein: 8g