Caramel Pecan Cheesecake Recipe
This recipe for Caramel Pecan Cheesecake is so sinfully rich that one piece is more than enough. It's easy to make and one of my favourites to make when I'm needing a cheesecake fix.
The ingredients required are cream cheese, pecans, caramels, graham cracker pie shell, eggs, sugar, milk and vanilla.
The first step is to make the cheese filling by adding two packages of cream cheese, vanilla and sugar to a large bowl and using a hand mixer to blend it together. When its mixed, add in the two eggs and repeat the process until the eggs are mixed in.
For the caramel filling, melt 20 individual caramels with a little milk in a small saucepan over low heat.
Add in the pecan pieces to the melted caramel mixture and then spread over the graham cracker pie crust.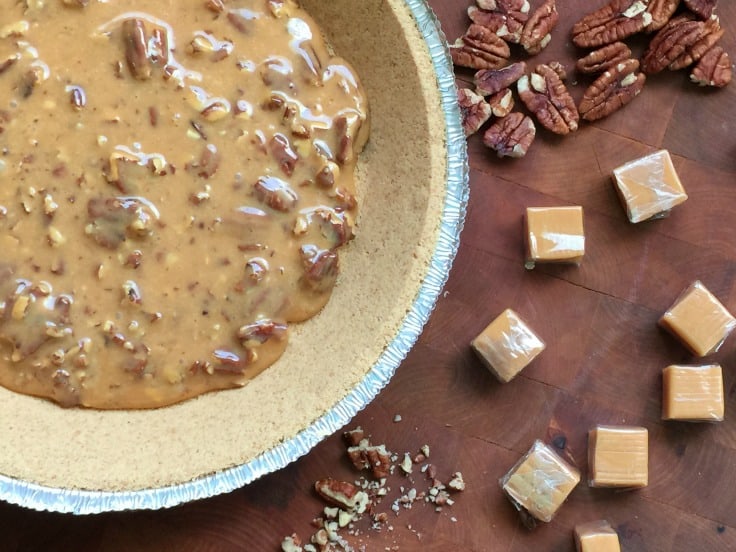 Add the cream cheese mixture on top of the caramel mixture.
Bake in a 350 F oven for 40 minutes. Cool completely before serving. It takes about 3 hours to cool or put it in the fridge overnight to enjoy the next day.
Recipe adapted from Favorite Brand Name Bake Sale Cookbook
.
Yield: 6
Caramel Pecan Cheesecake
Each bite is a piece of cheesecake heaven! With a caramel layer followed by a cheesecake filling and topped with pecans, this dessert is off the charts!
Ingredients:
2 packages of cream cheese, softened
1/2 cup sugar
1/2 tsp. vanilla
2 eggs
20 caramels
2 tbsp. milk
1/2 cup chopped pecans
1 ready to use graham cracker pie crust
Directions:
Mix cream cheese, sugar and vanilla with a hand mixer until blended. Add in eggs and mix until blended.
Melt caramels with milk in a saucepan over low heat until smooth. Stir in pecans.
Pour caramel mixture over crust. Pour cream cheese mixture over the caramel mixture.
Bake at 350 F for 40 minutes. Cool in the fridge for 3 hours or overnight before serving.