I was looking high and low for vanilla beans. I searched all the grocery stores in my town and came up empty. I figured I'd have to order them online and thought what a pain! I had one last place in my area to try and finally had some luck. Bulk Barn has vanilla beans! I had to ask about them though because they weren't located in the aisles. There was a little box at one of the cash registered filled with vials of vanilla beans. The cashiers must have thought I was nuts because I shrieked when she said where they were. I bought a bunch and went back a few days later with more. Who knew vanilla beans could be that exciting?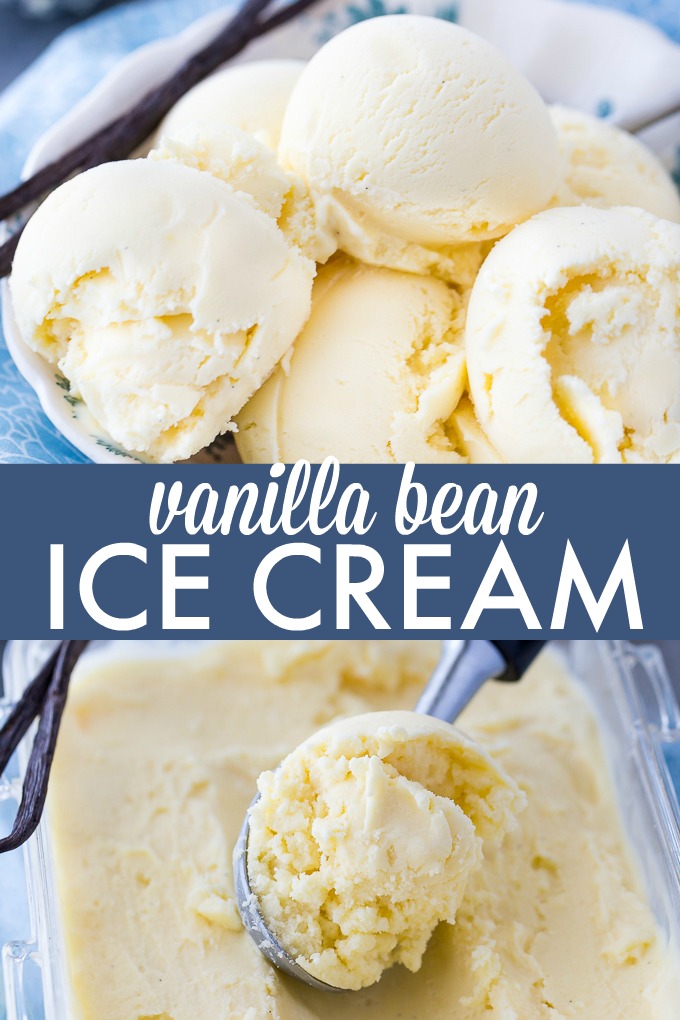 There was a reason why I was so excited to find them. I wanted to make Vanilla Bean Ice Cream. With my newly purchased vanilla beans, I went home that day and quickly whipped up this batch of deliciousness.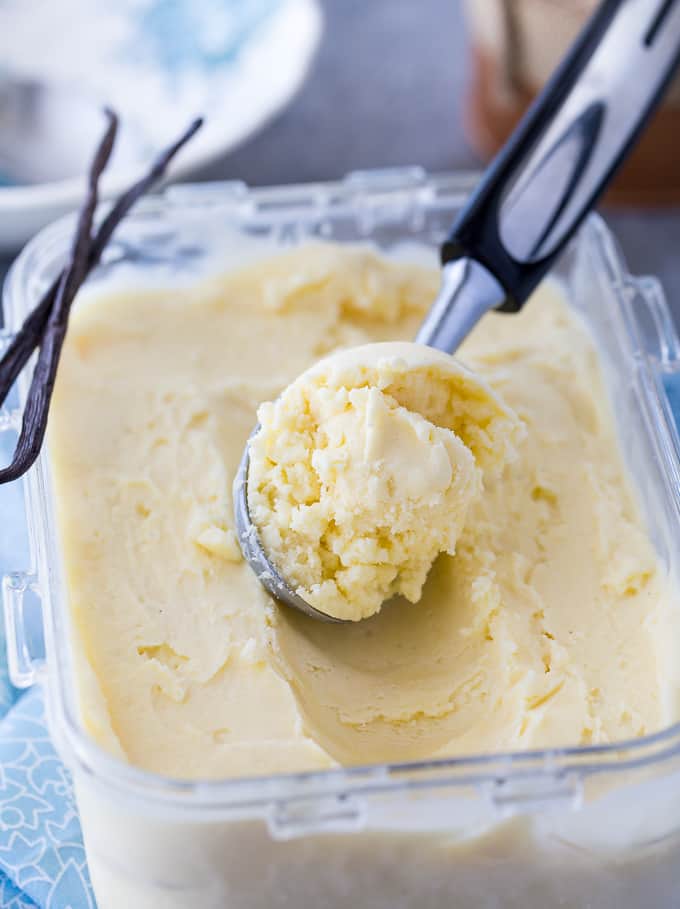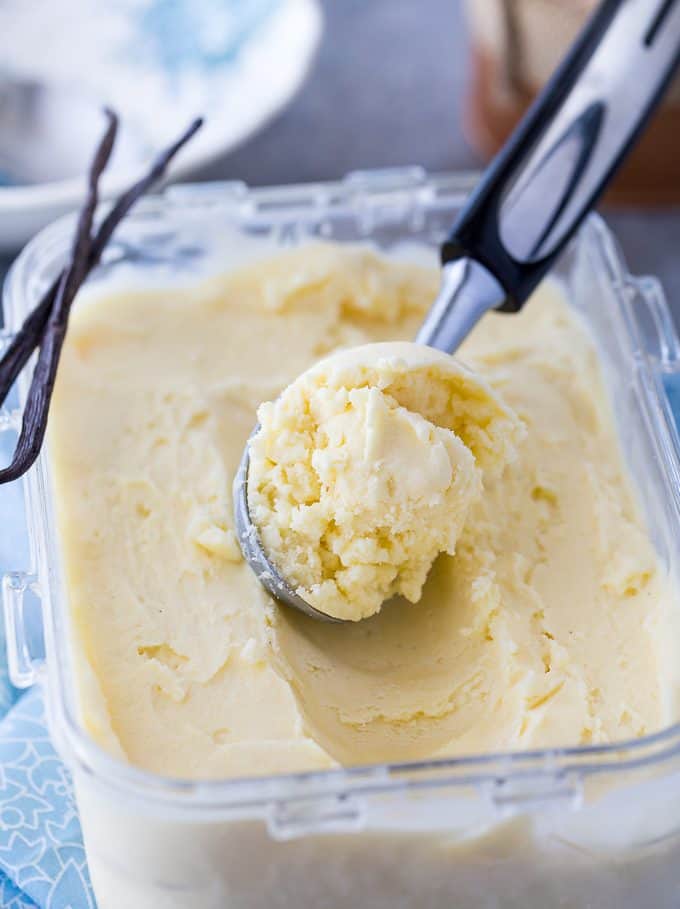 Vanilla Bean Ice Cream
This ice cream is a little more work than regular Homemade Vanilla Ice Cream, but trust me, it's worth it. It is so creamy and pure. One bite and I knew that my hunt for those elusive vanilla beans was worth it.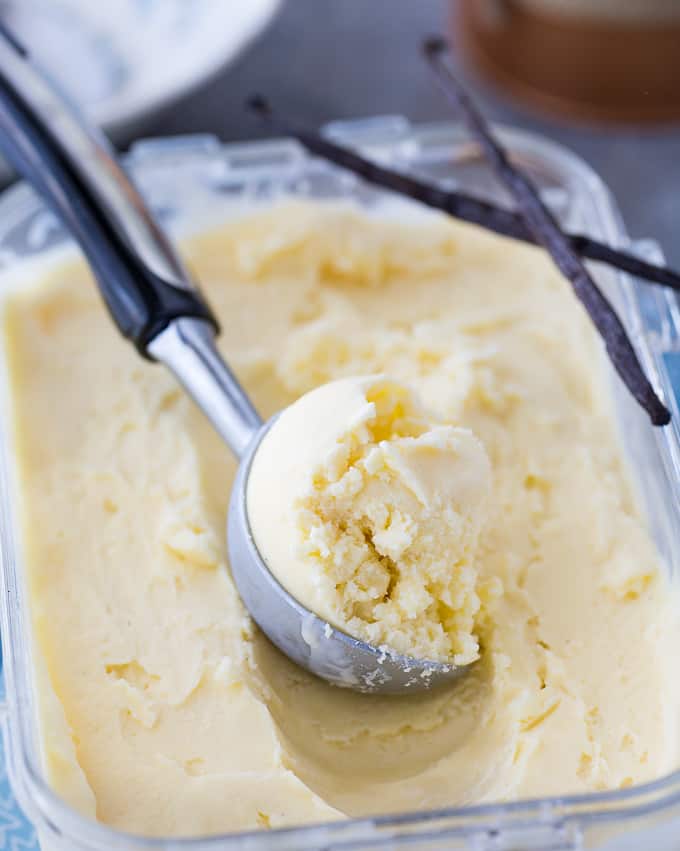 You need to cook the vanilla custard on the stove, but be careful not to scramble the eggs. There's a fine line between a custard and a pot of vanilla scrambled eggs. Keep an eye on it and don't let your pot go too high or for too long.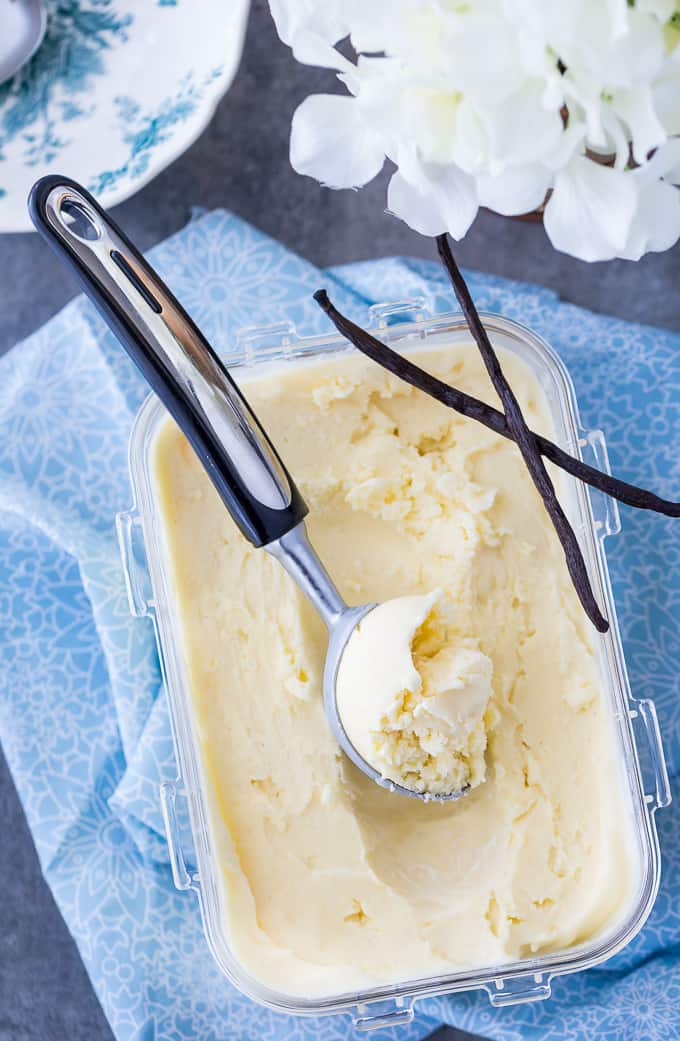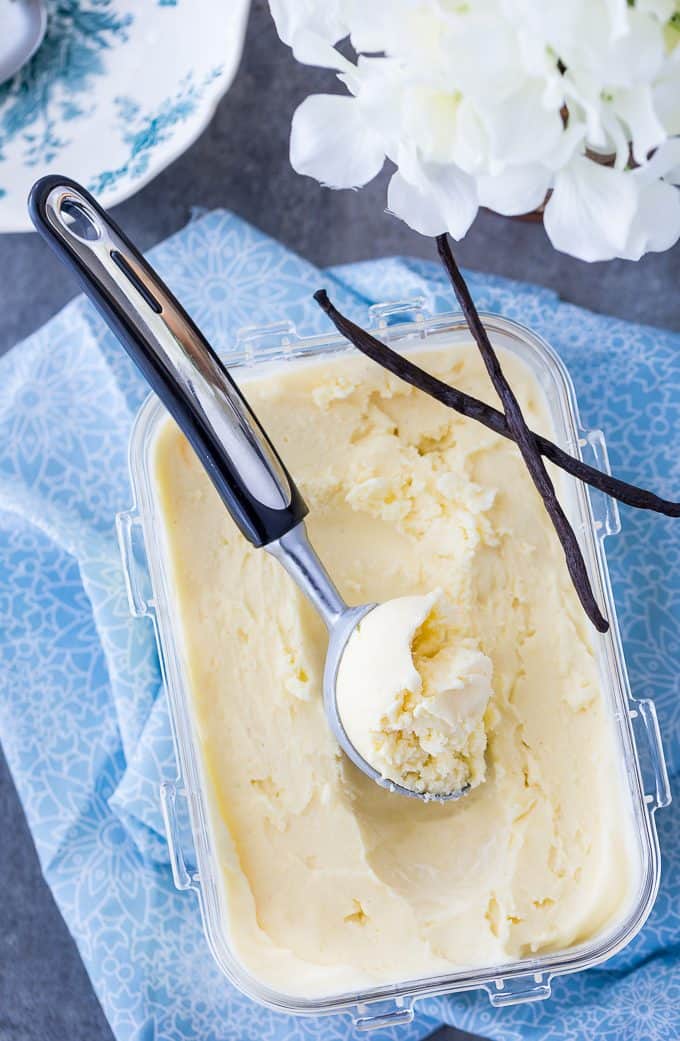 The colour is more like a French Vanilla Ice Cream with it's yellowish tinge. I think it gets it from the eggs; there are 7 eggs in this recipe. Don't worry, they aren't raw eggs!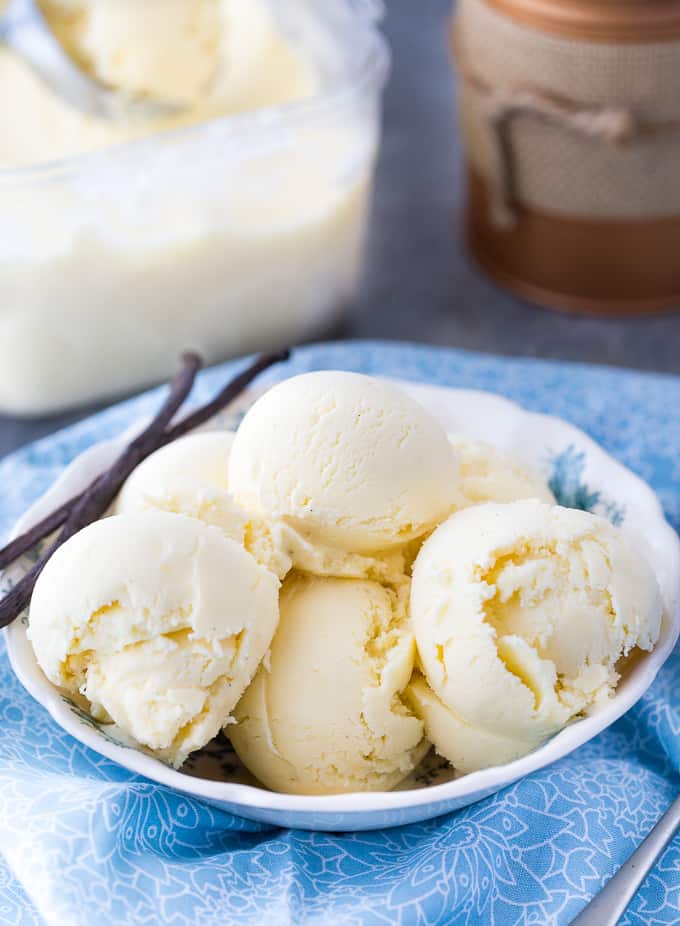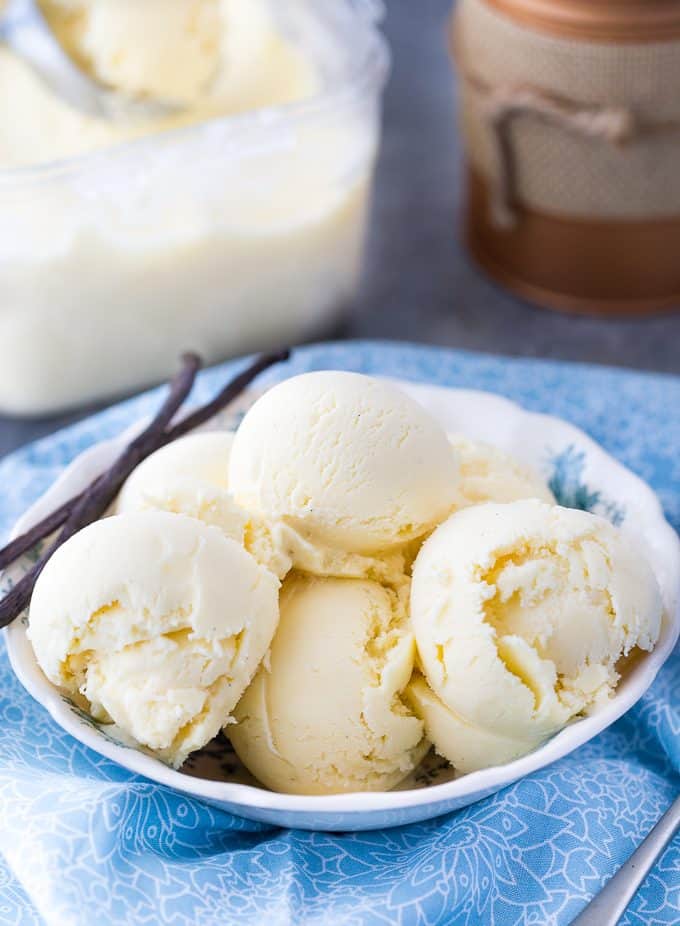 If you can't find vanilla beans in your area, Amazon has them. Hopefully, they'll be more plentiful where you live. I live in a rural area so the struggle to find ingredients is real.
This batch makes about six good sized servings. It didn't last long at my place once my kids and hubby found it in the freezer.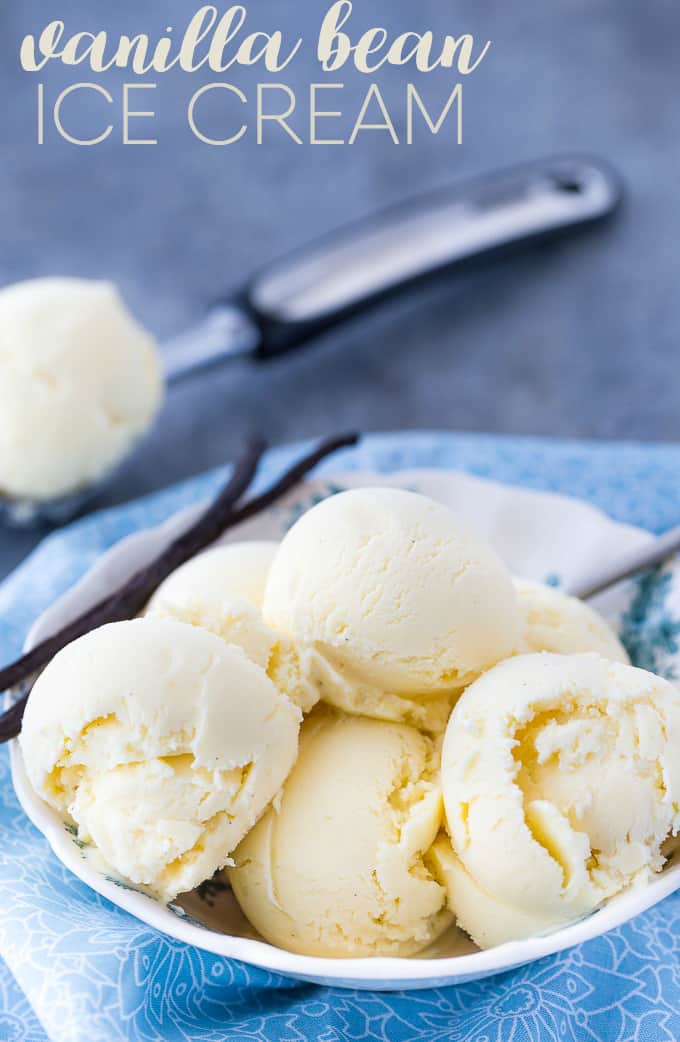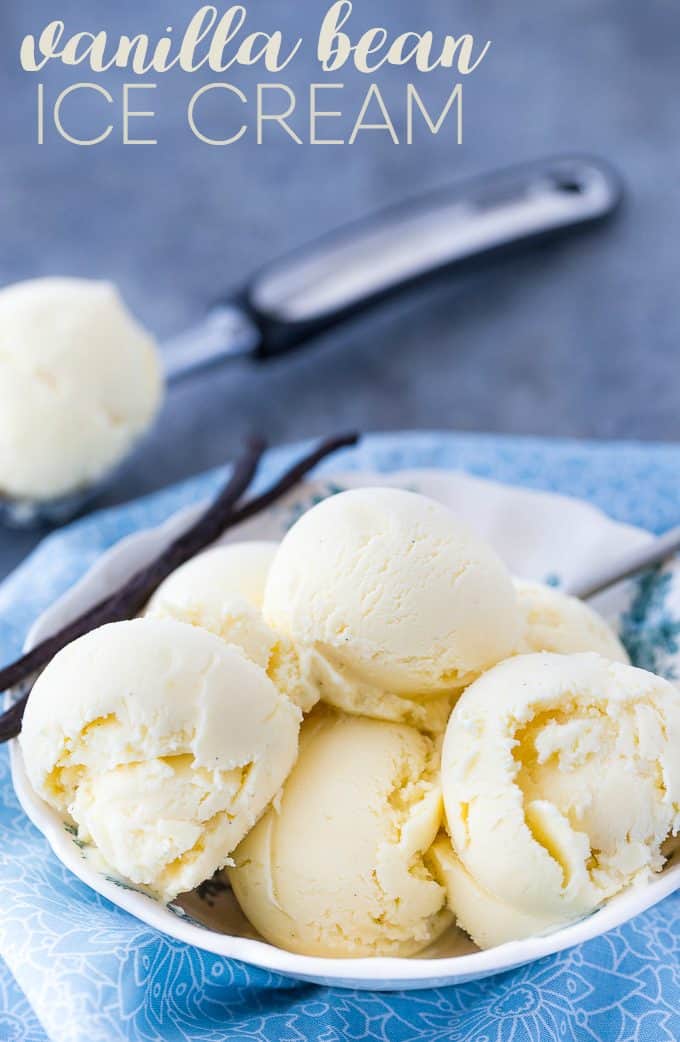 Do you use vanilla beans in recipes?


You'll also love this Chocolate Cake Ice Cream, Pineapple Ice Cream, Ice Cream Pie, Maple Walnut Ice Cream, Blueberry Pie Ice Cream, Caramel Crunch Ice Cream Sundae and Jelly Donut Ice Cream Bowl.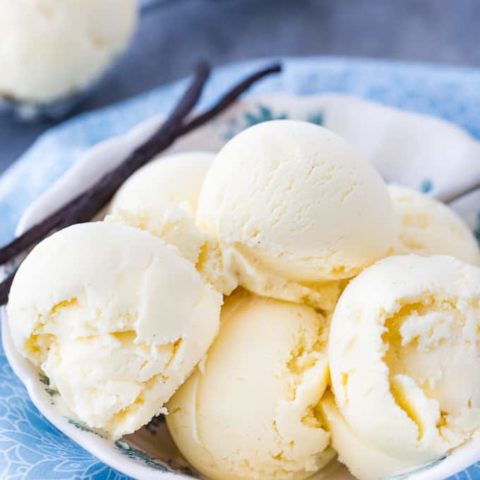 Vanilla Bean Ice Cream
Prep Time:
2 hours
30 minutes
I scream for vanilla beans! Get that authentic sweet flavor with this ice cream recipe.
Ingredients
2 1/3 cups whole milk
2 1/3 cups table cream (heavy cream)
1 whole vanilla bean
3 eggs
4 egg yolks
1 1/8 cup sugar
2 tsp vanilla extract
Instructions
Add milk and cream to a saucepan. Split the vanilla bean in half lengthwise. Scrape out the seeds into the saucepan and place the vanilla bean in the saucepan.
Bring saucepan to a boil over medium heat. Reduce heat to low and simmer for 30 minutes, stirring occasionally.
Add eggs, egg yolks and sugar to a mixing bowl. Mix on medium speed for 2 to 3 minutes, until it thickens and becomes a pale yellow colour.
Remove the vanilla bean from the saucepan. Measure 1 cup of the liquid and slowly pour into the mixing bowl on low speed to combine.
Pour egg mixture into the saucepan and stir. Cook over medium-low heat, stirring constantly, until the mixture thickens. Pour into a bowl and cover with plastic wrap. Push the plastic wrap down so it's flush against the mixture. Chill completely in the fridge.
Pour the chilled mixture into an ice cream maker for 30 minutes. Transfer to a freezer safe container and freeze for at least 2 hours before serving.
Recommended Products
As an Amazon Associate and member of other affiliate programs, I earn from qualifying purchases.
Nutrition Information:
Yield:

6
Serving Size:

1
Amount Per Serving:
Calories:

593
Total Fat:

42g
Saturated Fat:

25g
Trans Fat:

1g
Unsaturated Fat:

14g
Cholesterol:

330mg
Sodium:

107mg
Carbohydrates:

45g
Fiber:

0g
Sugar:

45g
Protein:

11g