Reese's Peanut Butter Cupcakes are a dream for the peanut butter and chocolate lovers out there. Light and rich chocolate cupcakes topped with a sweet peanut butter glaze and topped with a Reese's Peanut Butter cup piece. This is a cupcake you will want to make for any occasion.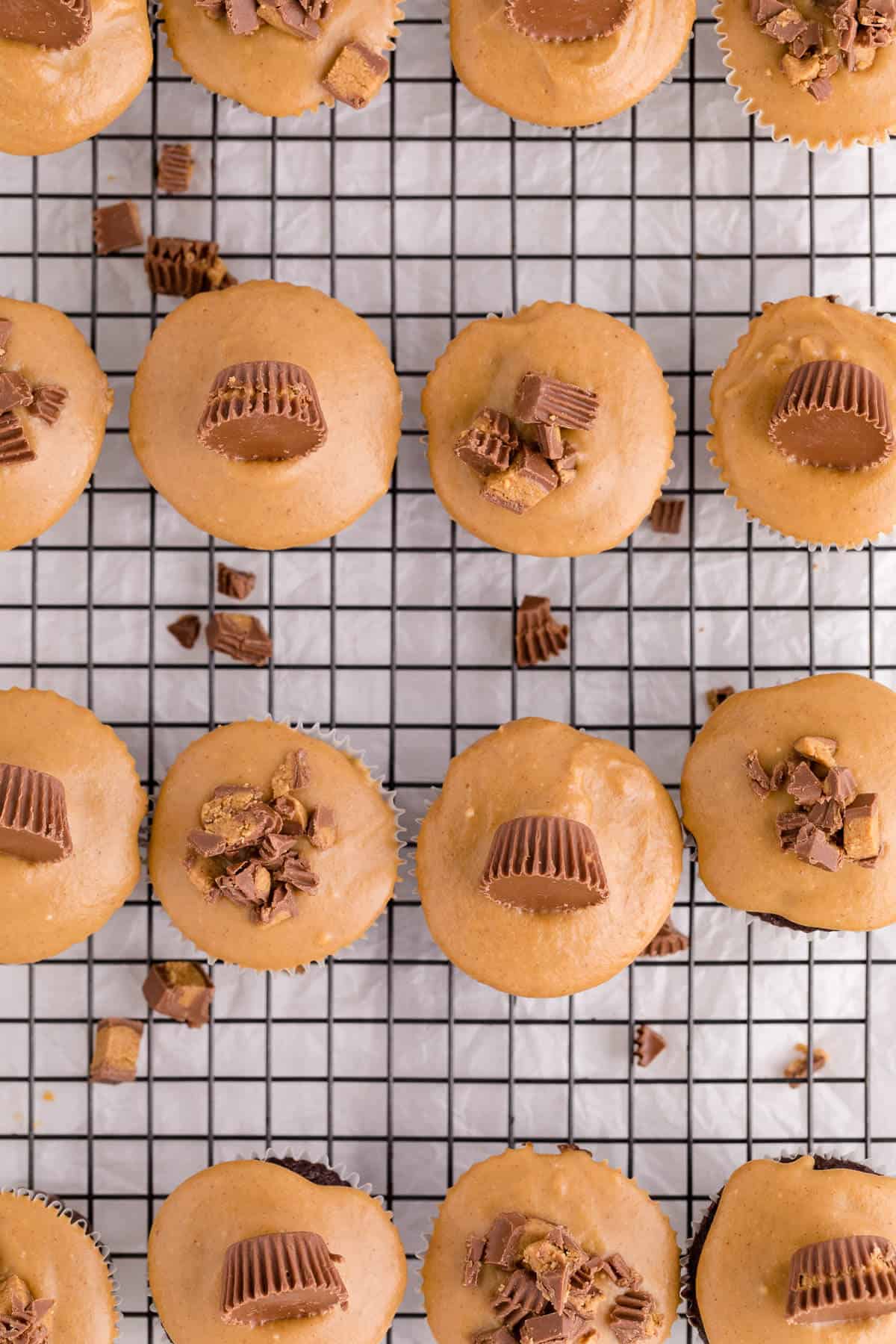 Peanut butter and chocolate is a combination I will never grow tired of. Though I love chocolate, I love it so much more when you add a little peanut butter.
Reese's Peanut Butter Cupcakes
These cupcakes are so deliciously sweet and rich. If you have a sweet tooth, it will definitely satisfy it. They are also so easy to make. I used cake mix but if you have a chocolate recipe from scratch that you like, you can use that instead.
Want more chocolate and peanut butter recipes? Check out my ultimate list!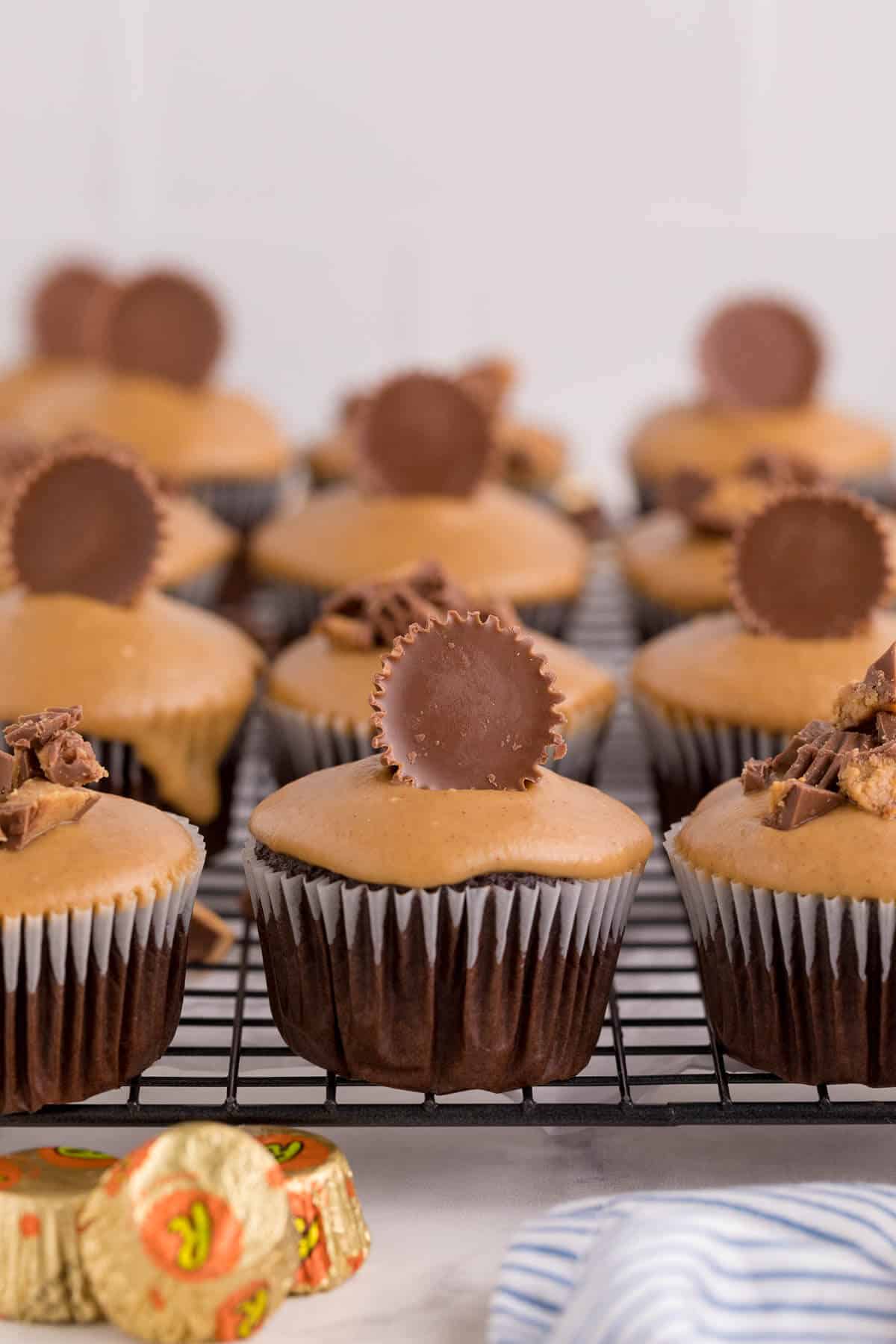 Boxed Cake Mix Reese's Peanut Butter Cupcakes
I reached for a Devil's Food boxed cake mix to make the prep of these cupcakes super easy. I added in chopped Reese's Peanut Butter Cups to added the chocolate and peanut butter flavor throughout the cupcakes. If by chance you prefer homemade cake mix, go ahead and make your favorite chocolate batter and use that to replace the box!
How To Make Reese's Cupcakes
Start by following the directions on the back of your cake mix. Add in all the ingredients it calls for. Once your batter is creamy, fold in your chopped Reese's Peanut Butter Cups.
Then pour into a muffin tip cup that has a liner and back until the cupcakes are cooked through. Then transfer to cooling rack and allow to fully cool.
Then to make the glaze you will add your peanut butter chips and cream in a bowl and heat it up for a minute. Stir and repeat warming in the microwave till the chips are melted and creamy. Then toss in your butter and stir and warm until melted.
Lastly, you will add in your icing sugar and stir till creamy. Then spread the glaze onto the top of the cupcakes and place a mini Reese's on top.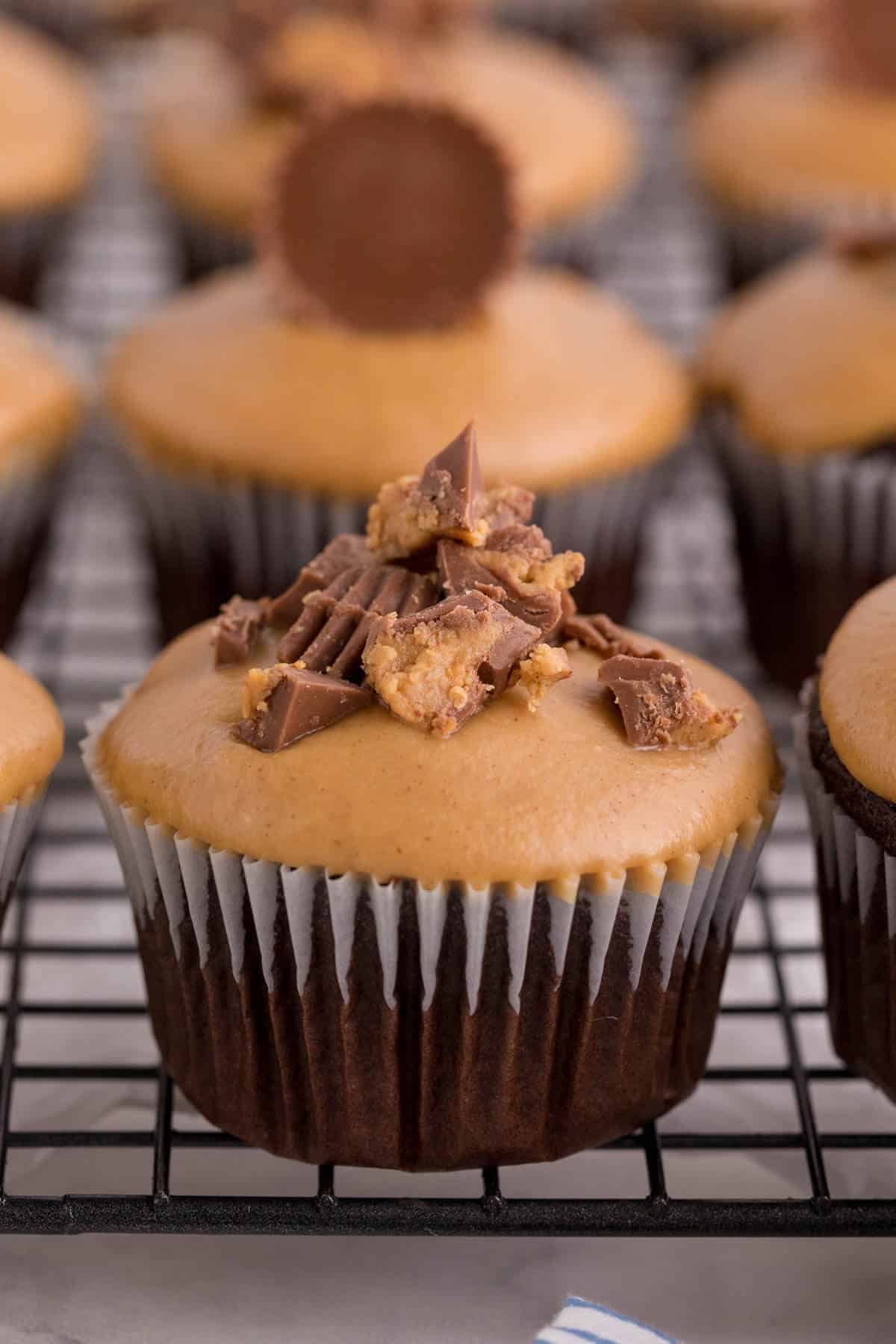 Will the Peanut Butter Glaze Harden on Cupcakes
Yes. As the glaze cools it will harden. The butter used in the mix is what helps it to solidify. You could also use Crisco oil in replace of butter if you would prefer.
How to Store Peanut Butter Cupcakes
These will store on the counter or if you prefer to place them in the fridge. They will last 3-5 days before they really begin to dry out. We normally have them eaten well before they even have a chance to dry out!
Can You Freeze Peanut Butter Reese's Cupcakes
Sure. Feel free to place them in an appropriate freezer-friendly container and place in the freezer anywhere from 1-3 months. Then thaw on the counter before serving or place in the fridge overnight to thaw. These make for a great grab and go dessert when you are craving something a little sweet.
I always love having a few of these in the freezer as well for unexpected guests that show up and I need a quick snack to offer up.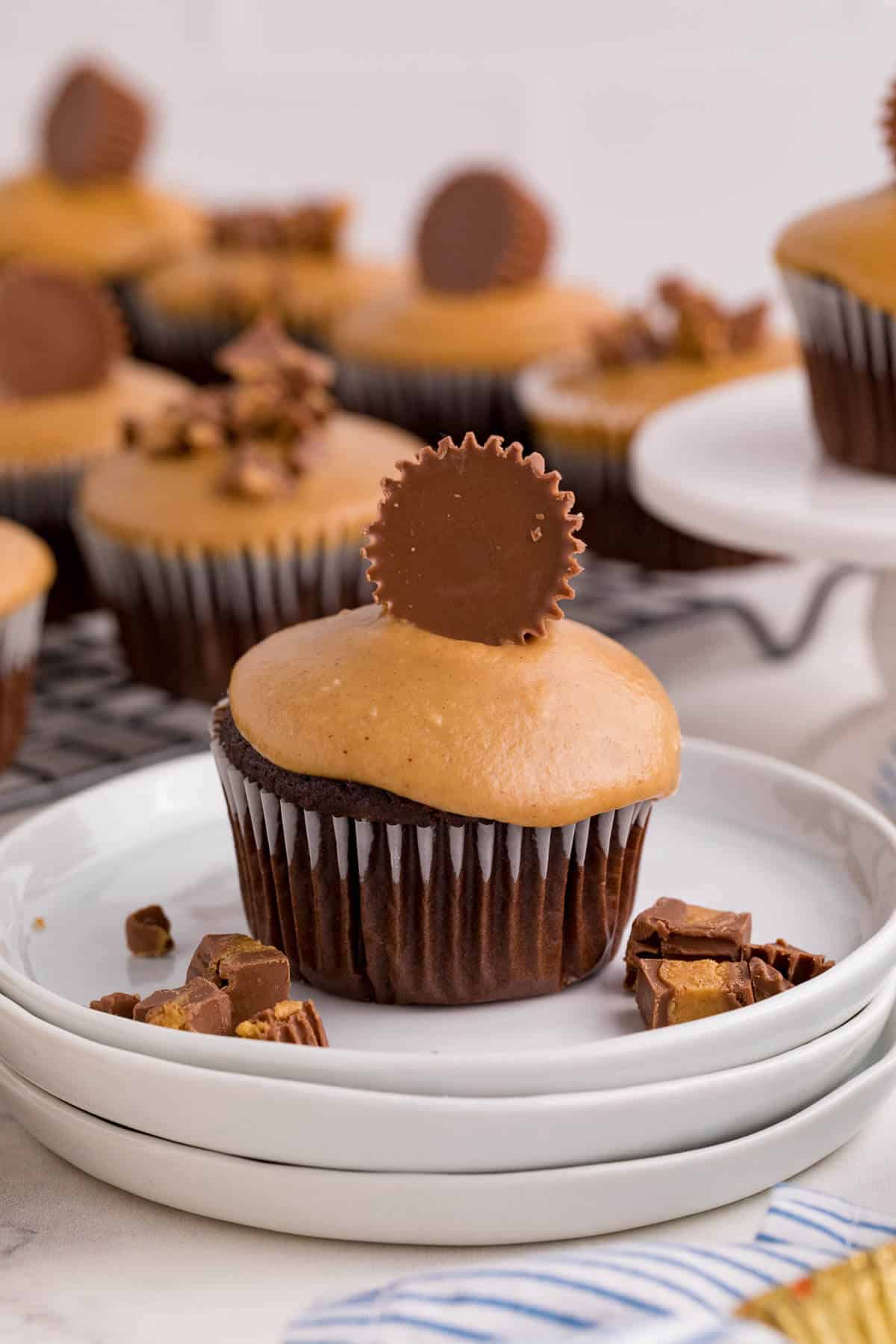 Here are More Tasty Cupcake Recipes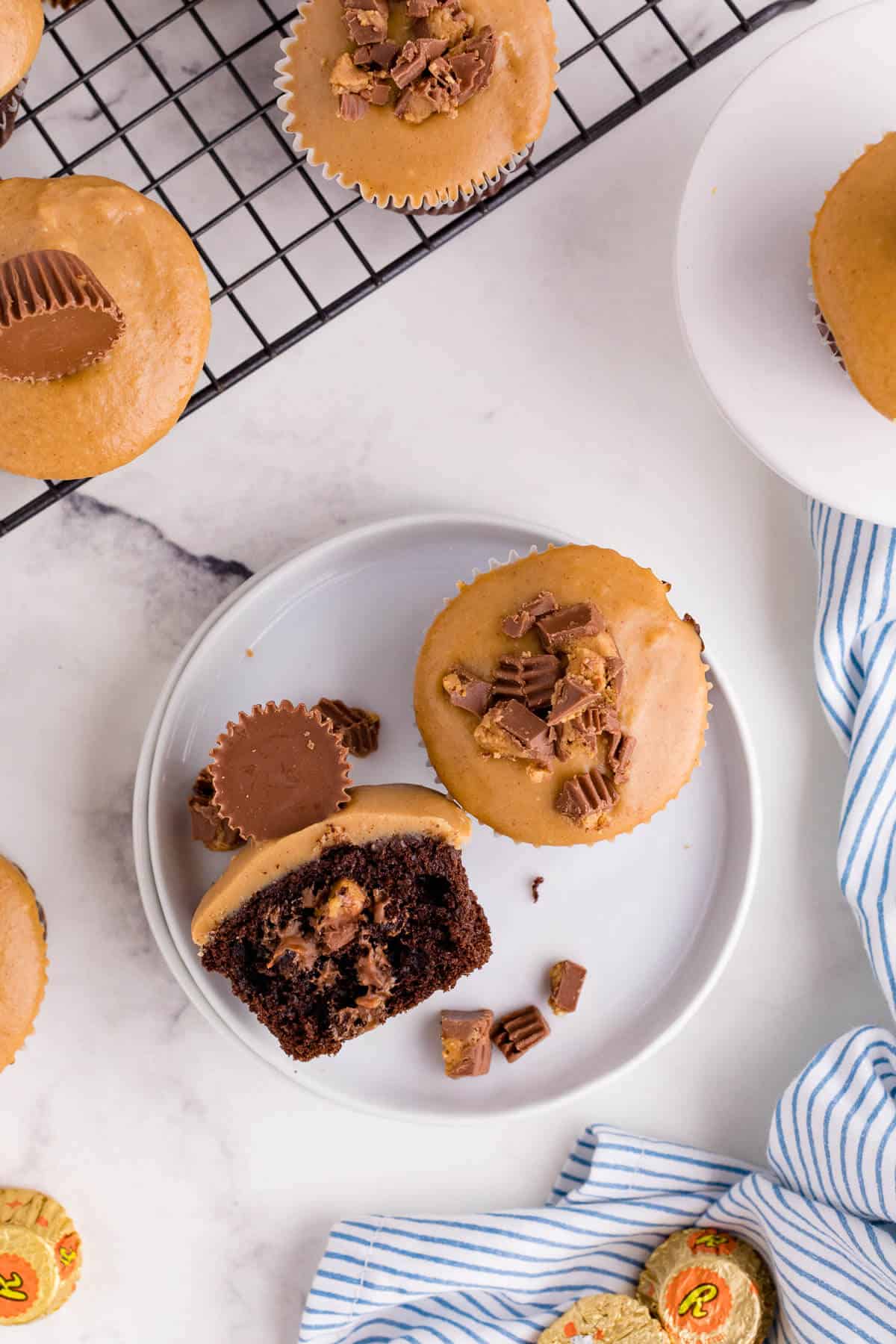 When to Serve Reese's Cupcakes
I truly don't feel there is a wrong time to serve up one of these cupcakes. Birthday parties, baby showers, holiday events, bake sales, you name it these cupcakes are a great addition.
No piping skills required for frosting which is always a plus in my books. Easy to prep, bake and decorate to serve your family, friends, and guests. Don't wait and give this peanut butter cupcake recipe a try today.
Have you ever made Reese's Peanut Butter Cupcakes before?

Reese's Peanut Butter Cupcakes
Deliciously sweet and sinfully rich! Chocolate cupcakes stuffed with Reese's Peanut Butter Cup morsels topped with a smooth, creamy peanut butter glaze.
Ingredients
Cupcakes
1 package of Devil's Food Chocolate Cake Mix
1 cup Reese's Peanut Cup Miniatures, roughly chopped (Or regular sized Reese's Peanut Butter Cups if you can't find Miniatures)
Glaze
1 package of Reese's Peanut Butter Chips
4 tablespoons whipping cream
3 tablespoons salted butter
1/2 cup powdered sugar
Reese's Minis for garnish
Instructions
Prepare cake mix according to the package directions.
Mix in chopped Reese's Peanut Butter Cups.
Pour into muffin tins and bake for the recommended time (and temperature) as on the cake mix box.
Allow to cool completely before coating with the peanut butter glaze.
To prepare glaze:
Combine peanut butter chips and cream in a deep bowl. Microwave on medium for 1 minute. Stir.
Add butter and microwave on medium for 30 seconds. Stir.
Add in powdered sugar and stir till smooth.
Spread glaze over cupcakes and top with one Reese's Mini. Cool to allow glaze to solidify.
Recommended Products
As an Amazon Associate and member of other affiliate programs, I earn from qualifying purchases.
Nutrition Information:
Yield:

12
Serving Size:

1
Amount Per Serving:
Calories:

373
Total Fat:

17g
Saturated Fat:

7g
Trans Fat:

0g
Unsaturated Fat:

8g
Cholesterol:

15mg
Sodium:

448mg
Carbohydrates:

54g
Fiber:

2g
Sugar:

35g
Protein:

5g