Pumpkin Cream Cheese Wontons are the ultimate dessert. To make these pumpkin wontons even more incredible they are drizzled with a maple glaze. Talk about one incredible pumpkin dessert.
I love desserts made with wontons! I think it goes back to my childhood with McDonald's apple pies. Remember they were like apple pie egg rolls? So so yummy! They changed their apple pies so I've had to get my dessert wonton fix elsewhere. This recipe for Pumpkin Cream Cheese Wontons with Maple Glaze is out of this world.
Imagine crispy wontons with a hidden sweet, creamy pumpkin-y surprise inside. Top with a drizzle of maple glaze and close your eyes and inhale. At least that is what I like to do when I eat a dessert like this one.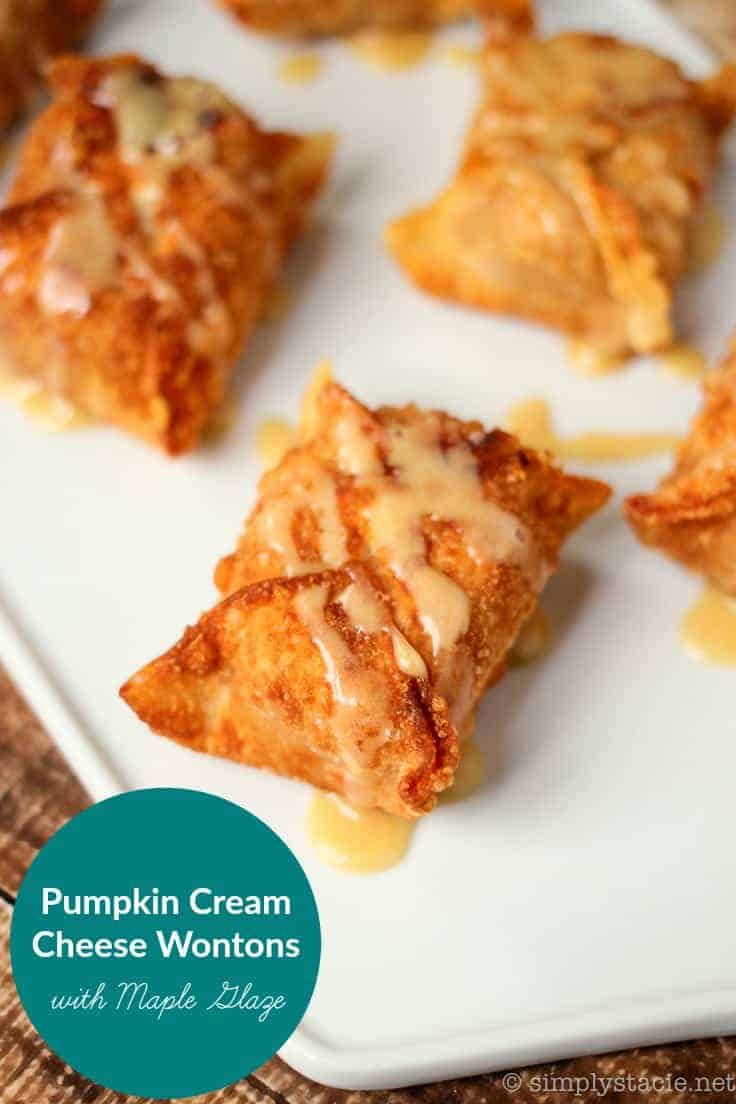 Pumpkin Cream Cheese Wontons with Maple Glaze
Good thing this recipe makes 24 pieces because I guarantee you'll want to eat more than one! If you are a fan of all things pumpkin whip these up for your snacking dessert for the evening.
Check out these other pumpkin recipes
Pumpkin Spice Latte | Skip the coffee shop and make your favorite pumpkin-inspired coffee in the comfort of your own home. I share how easy it is to make a homemade latte with a nice pumpkin flavor.
Keto Pumpkin Cheesecake | If you are looking for a keto-approved pumpkin recipe try out my cheesecake. Velvety smooth, flavorful and low carb.
Pumpkin Bread Pudding | Give my pumpkin bread pudding a try, it is a custardy pudding with a nice hint of pumpkin in every single bite.
Do You Have to Drizzle with Maple Glaze
No, you don't have to use the maple glaze if you don't want. You could eat them plain or even opt to dust with powdered sugar. I find the maple glaze completes these wontons, but feel free to pass if you are not a fan of maple.
This post contains affiliate links.
For a good quality maple syrup, try Maple Lifestyle.
How Long Do Pumpkin Wontons Take to Cook
You will only cook these wontons for a couple of minutes. You will want to watch to ensure they get golden on each side. Then once you feel they are done remove from the oil. I placed my wontons on a paper towel to help get rid of the excess oil that is on the wontons.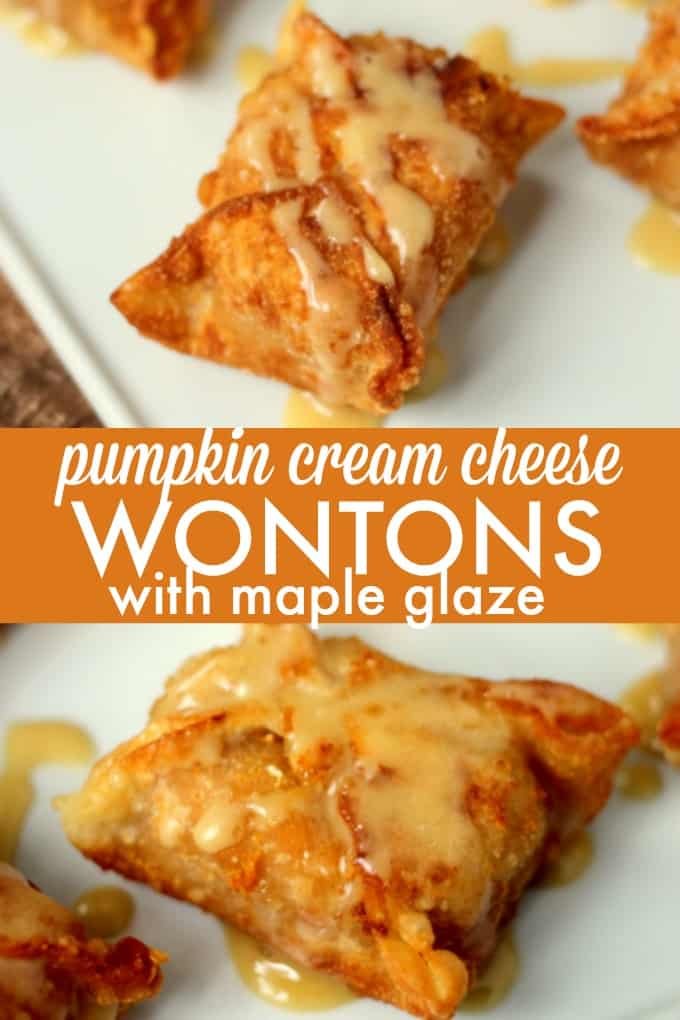 How to Make Pumpkin Cream Cheese Wontons
Start by working on the filling for your wontons. Use a stand mixer or hand mixer and create a super creamy texture. Then you will want to layout your wonton wrappers with water next to it.
Add the pumpkin mixture to the center of the wonton, and use your finger to wipe water across the edges. Then secure the wonton and then fry in your oil. Once they are done place on a paper towel to soak up the oil. Create your glaze and drizzle with the maple glaze. Serve warm!
Can I Use Pumpkin Spice in my Pumpkin Mixture
Yes, if you want to use pumpkin pie spice to replace each spice in this recipe go ahead. It will taste the same but you will only use one seasoning versus a handful. I love a good pumpkin spice dessert and these wontons are unique and stand out for sure.
Do Pumpkin Wontons Store Well
Unfortunately with any fried recipe, they are best when served fresh and warm. You will find the texture softens as it cools down. You can save the leftovers but the texture will be different when you go to eat them. You can eat the leftover wontons cold if you would like or opt to warm them up first. I recommend waiting to pour the maple sauce over the top until right before you eat. As it can sog up the wontons if it sits on them soaking in.
Ways to Serve Up Pumpkin Wontons
Serve as a plain dessert
Add a dollop of whipped cream on top
Dust with powdered sugar
Top with some nuts and whipped cream
Pair with a scoop of vanilla ice cream or even caramel-flavored
You can serve this however you would like. There is no wrong way to devour this incredible wonton dessert.
Do I Need a Fryer to Make Pumpkin Wontons
No, you do not have to have a fryer to make these wontons. You can take a sturdy pot and add oil and warm it up on your stove. It will work just like a fryer and allow you to fry up your won tons to golden perfection. I use this route all the time and it works like a charm! So don't feel you can't make it if you don't own a deep fryer!
What is your favourite wonton dessert?

Pumpkin Cream Cheese Wontons with Maple Glaze
Amazing Asian-inspired dessert! Wontons packed with fall flavor and glazed in maple goodness are perfect for your next party.
Print
Facebook
Pin
Share by Email
Rate
Ingredients
24

wonton wrappers

½

cup

pumpkin puree

1

package

cream cheese

8oz/250g package, softened

1

tsp

vanilla extract

½

cup

sugar

½

tsp

cinnamon

¼

tsp

nutmeg

⅛

tsp

salt

1

cup

vegetable oil

¼

cup

powdered sugar

1

tbsp

maple syrup

1

tbsp

milk
Instructions
In the bowl of a stand mixer (or electric mixer), add cream cheese, vanilla, and sugar; mix until completely smooth and combined. Add pumpkin puree, cinnamon, nutmeg, and salt; mix to combine completely.

Arrange a workstation with a small bowl of water, your wonton wrappers, and pumpkin filling. Working one at a time, add about 1 tbsp of pumpkin filling to the centre of your wonton, then using your finger, wipe water across all sides of the wonton. Bring one corner up to the other in the centre, and press together to seal. Then bring up the other 2 corners, and run your finger along to seal all edges. Set aside and repeat for all wontons.

In a large stockpot, add about cup of oil (should be about 1-2 inches deep). Heat over medium high heat, and when you see ripples the oil is ready. Carefully drop the wontons bottom side down into the oil and cook for about 1-2 minutes on the first side. When they start browning, use a spatula and flip over. Cook another 1-2 minutes or until crispy. Remove from oil and set on a paper towel lined plate. Repeat until all wontons are fried.

In a small bowl, add powdered sugar, maple syrup, and milk; mix together with a fork until smooth. Add more milk to loosen glaze if desired. Drizzle glaze over the tops of the wontons.
Kitchen Tools
Nutrition
Serving:
1
g
|
Calories:
162
kcal
|
Carbohydrates:
12
g
|
Protein:
1
g
|
Fat:
12
g
|
Saturated Fat:
3
g
|
Polyunsaturated Fat:
9
g
|
Cholesterol:
10
mg
|
Sodium:
88
mg
|
Sugar:
6
g
The information shown is an estimate provided by an online nutrition calculator. It should not be considered a substitute for a professional nutritionist's advice.
Love Recipes? Join our Free Facebook Group!
Join Mom's Best Recipes to find more delicious family recipes.
Save
Saved!