These Pecan Butter Tart Buns are a cross between a few different desserts. We've mixed the luscious, rich and sweet filling of the Pecan Butter Tarts with the tender dough from Chelsea Buns and sweetness and wonderful texture from the Monkey Bread. It's all the best parts of some of my favorite desserts!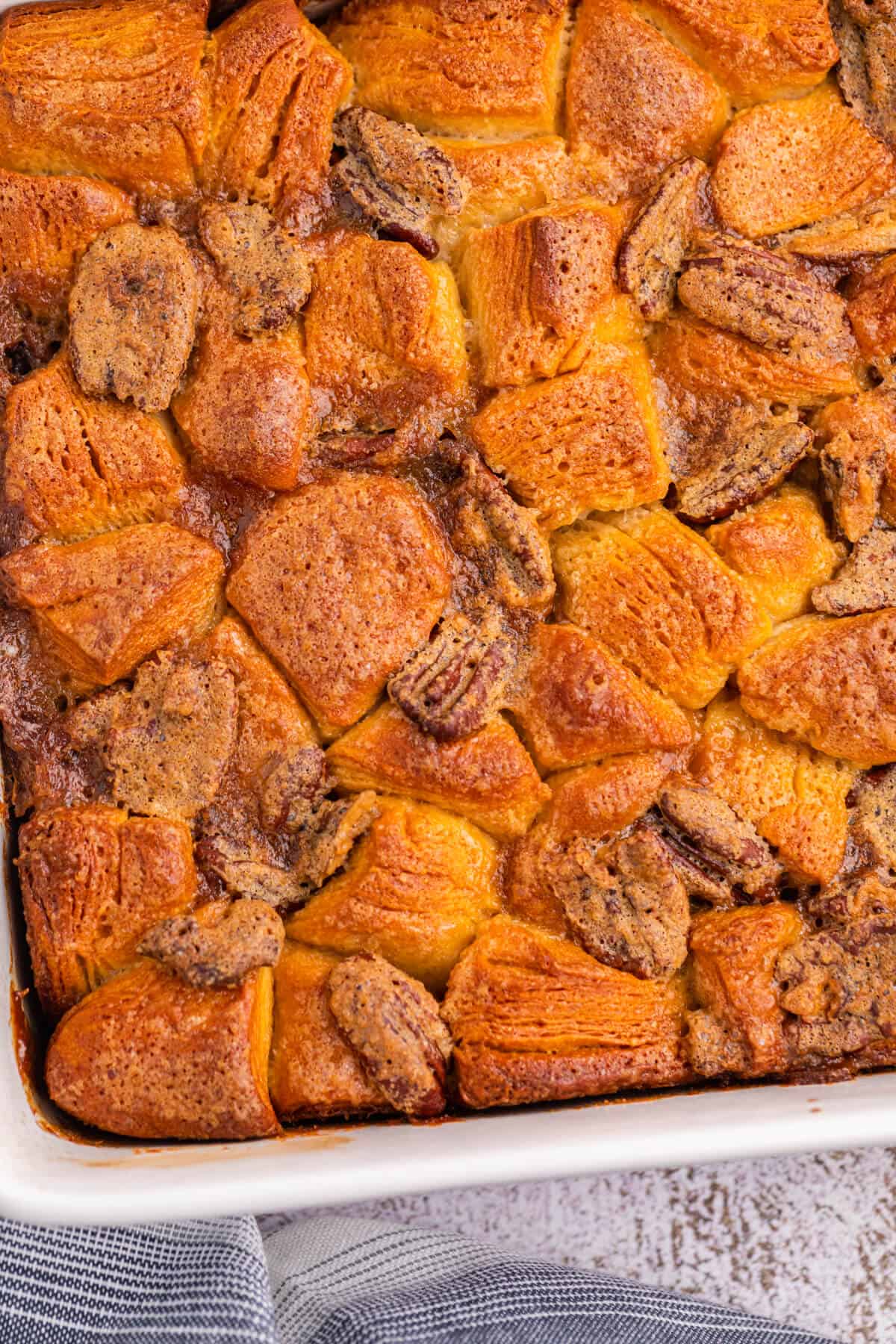 Sometimes when I can't decide what to make, I'll combine things, like this ultimate dessert collaboration. It all started with me reminiscing the Pecan Butter Tarts my sister made, but me also wanting some sweet buns or Monkey bread, so this fantastic dessert combo was born.
Sometimes, the best desserts come out of indecision and experimenting in the kitchen!
Why You'll Love This Easy Recipe
Perfect combination of a few favorite desserts
Not overwhelmingly sweet, but just sweet enough
Ready in only 30 minutes
Shortcut dessert using refrigerated biscuit dough
You only need a handful of ingredients to whip up this tasty treat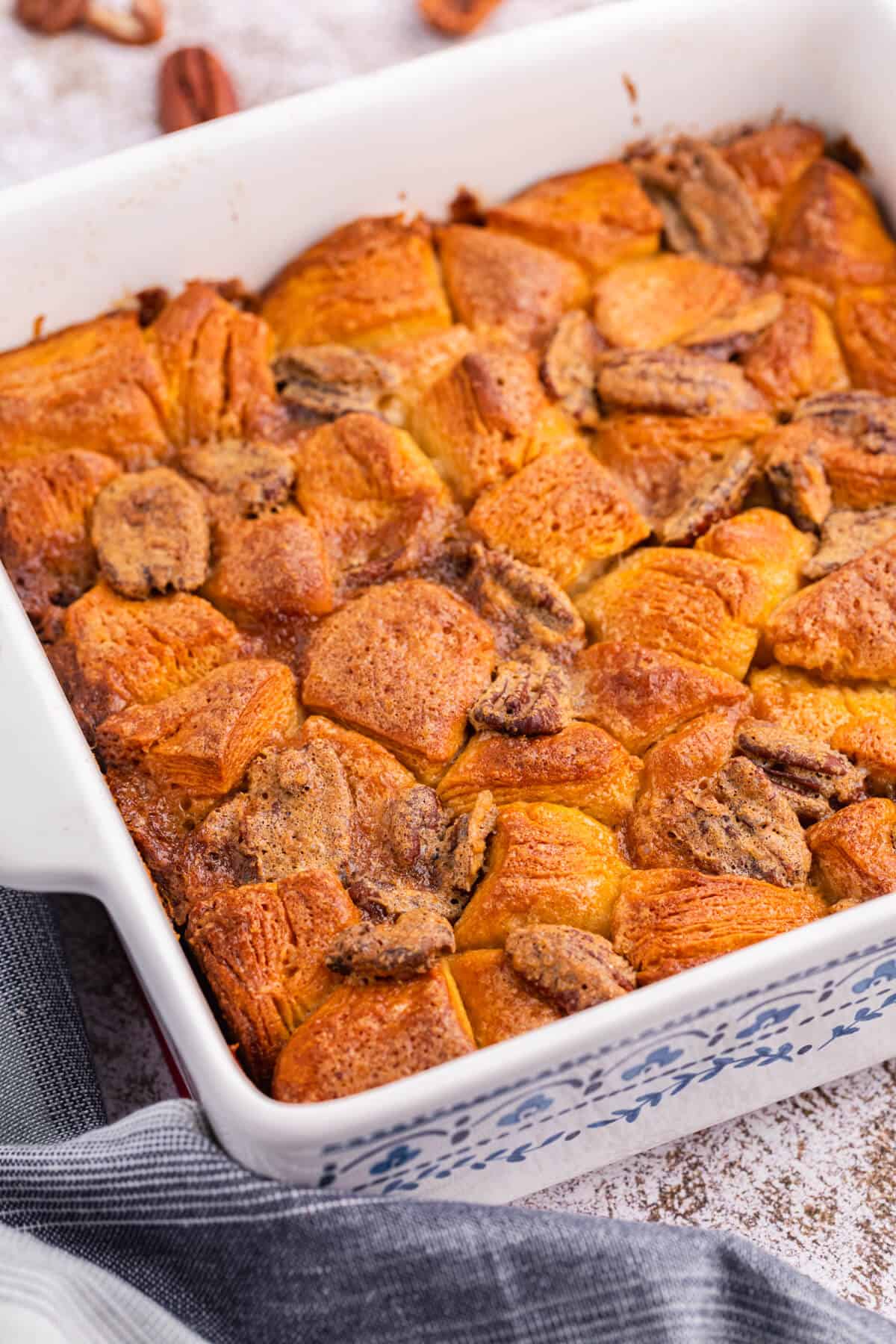 Ingredients Needed
Refrigerated Biscuits (Flaky Rolls)
Salted Butter
Brown Sugar
Eggs
Pecan Halves
How to Make Pecan Butter Tart Buns
Step One: Preheat the oven to 375F. Grease an 8×8 baking dish with cooking spray.
Step Two: Cut flaky rolls into quarters. Place the cut up rolls evenly on the bottom of the casserole dish.
Step Three: In a medium sized mixing bowl, mix together butter, brown sugar, and egg. Stir in pecan halves. Pour over the rolls.
Step Four: Bake for 30 minutes or until golden brown.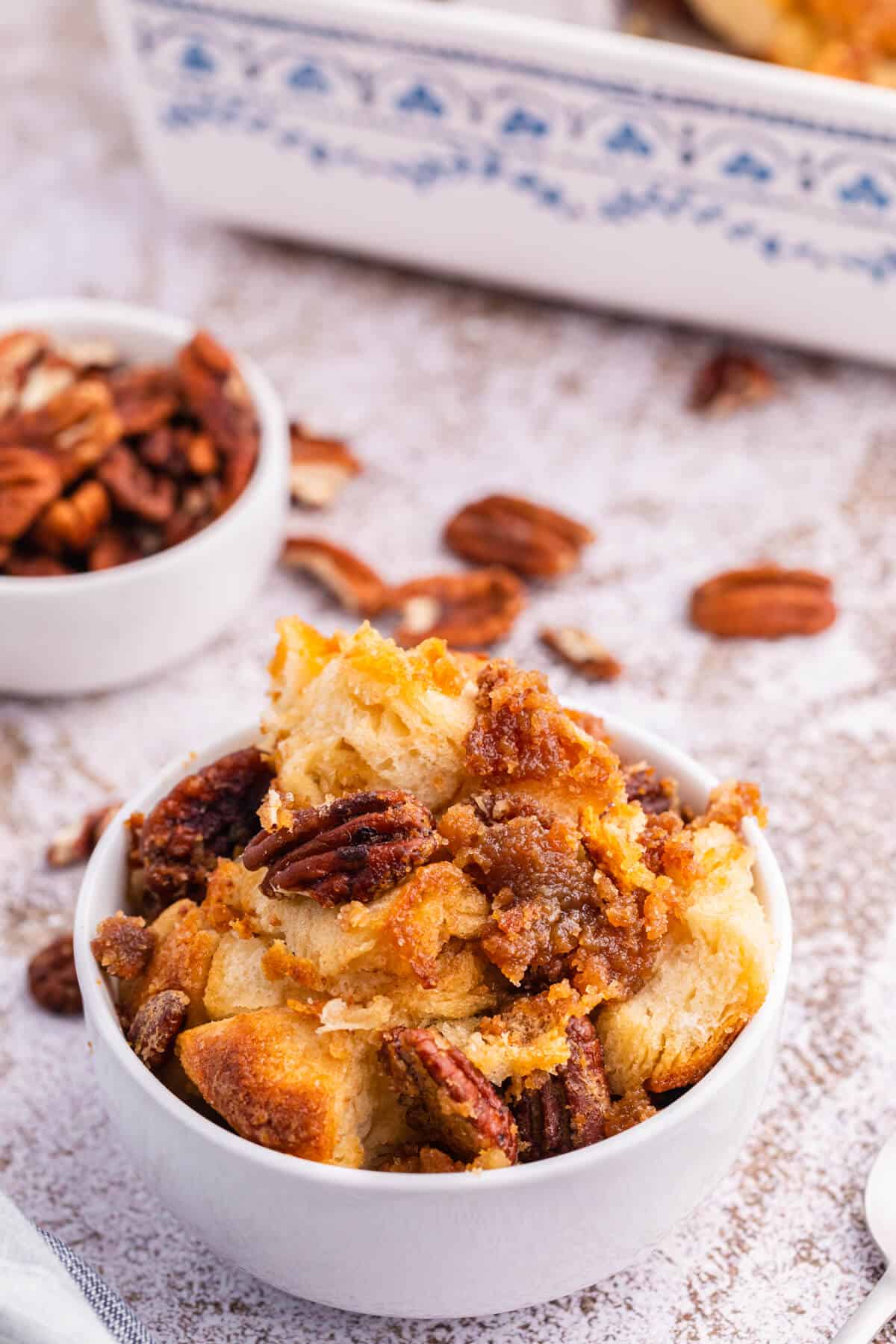 Equipment Needed
This post contains affiliate links.
What to Serve with Sticky Pecan Butter Tart Buns
These desserts would definitely compliment the buns very nicely and would look quite nice sitting next to your homemade butter tart buns on your dessert table.
Helpful Tips and Tricks
Instead of greasing your baking dish, you can line it with parchment paper if you're out of non-stick spray.
If you don't have an 8×8-inch pan, you can use another smaller baking pan or even a smaller bundt pan. If you change the pan size or configuration, you may need to alter the baking time so the biscuit dough still has enough time to bake all the way through.
If you only have unsalted butter to use, add a dash of salt to the mixture to help enhance all the flavors.
You can use kitchen scissors or a pizza cutter to cut your refrigerated biscuit dough into quarter pieces. They'll both work well and efficiently.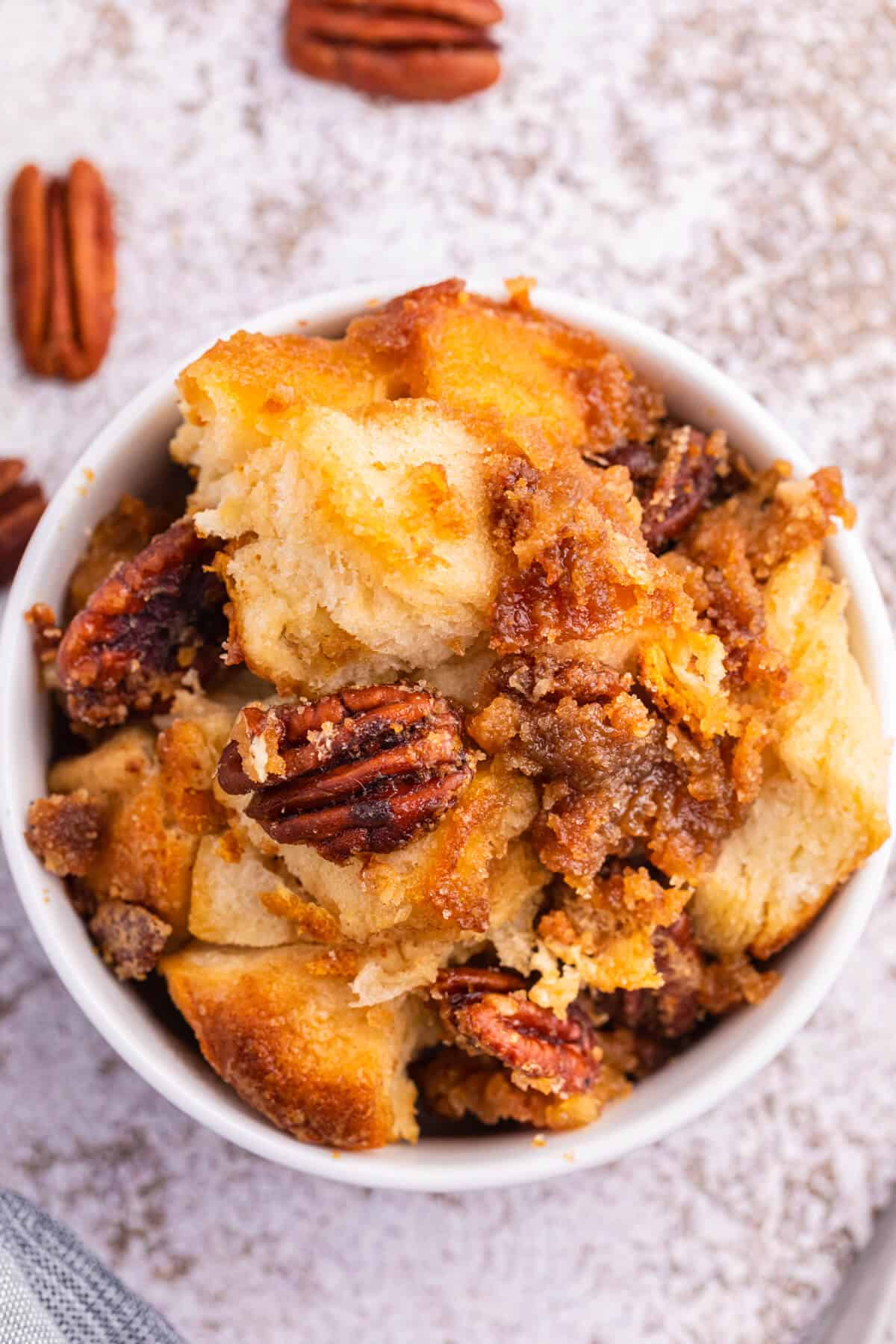 Recipe Variations and Substitutions
I used Pillsbury Flaky Rolls because that's what we had and what was available at my grocery store, but you can use whatever refrigerated biscuit dough you have in your area.
If you want a little more sweetness, drizzle some maple syrup and sprinkle on some cinnamon before you bake this dish.
Instead of refrigerated biscuit dough, try refrigerated cinnamon roll dough- talk about a delicious.
Want to add some spices? Feel free to add a dash or two of cinnamon, nutmeg, or pumpkin spice to bring some fall flavors to this Pecan Butter Tart Bun recipe.
Leftover Storage
These tasty tart buns should either be covered with plastic wrap in the baking dish, or transferred to an airtight container and stored. I suggest storing leftovers on the countertop for up to 4-5 days at room temperature.
I do not suggest refrigerating leftovers as the refrigerator can make the biscuit pieces dry out and make them hard. Even reheating them doesn't always bring them back to the desirable consistency after they've been refrigerated, so keep that in mind when you go to store any leftovers that you may have.
If you must refrigerate them, they'll only last a day or two.
Can I Freeze?
Sure. Feel free to transfer leftovers to a freezer safe container and place them in the freezer for up to 3 months.
Remove them from the freezer and let thaw overnight in the refrigerator before reheating in the oven until nice and hot and serving right away.
Can I make these ahead of time?
Sure! You can make this dessert ahead of time. You can either prep everything and wait to bake it until you're ready for it, or you can finish the whole recipe and have it baked and wait for you to reheat it.
I highly suggest reheating this so it's nice and hot all the way through before digging in. There's something so delicious about this dessert when it's piping hot.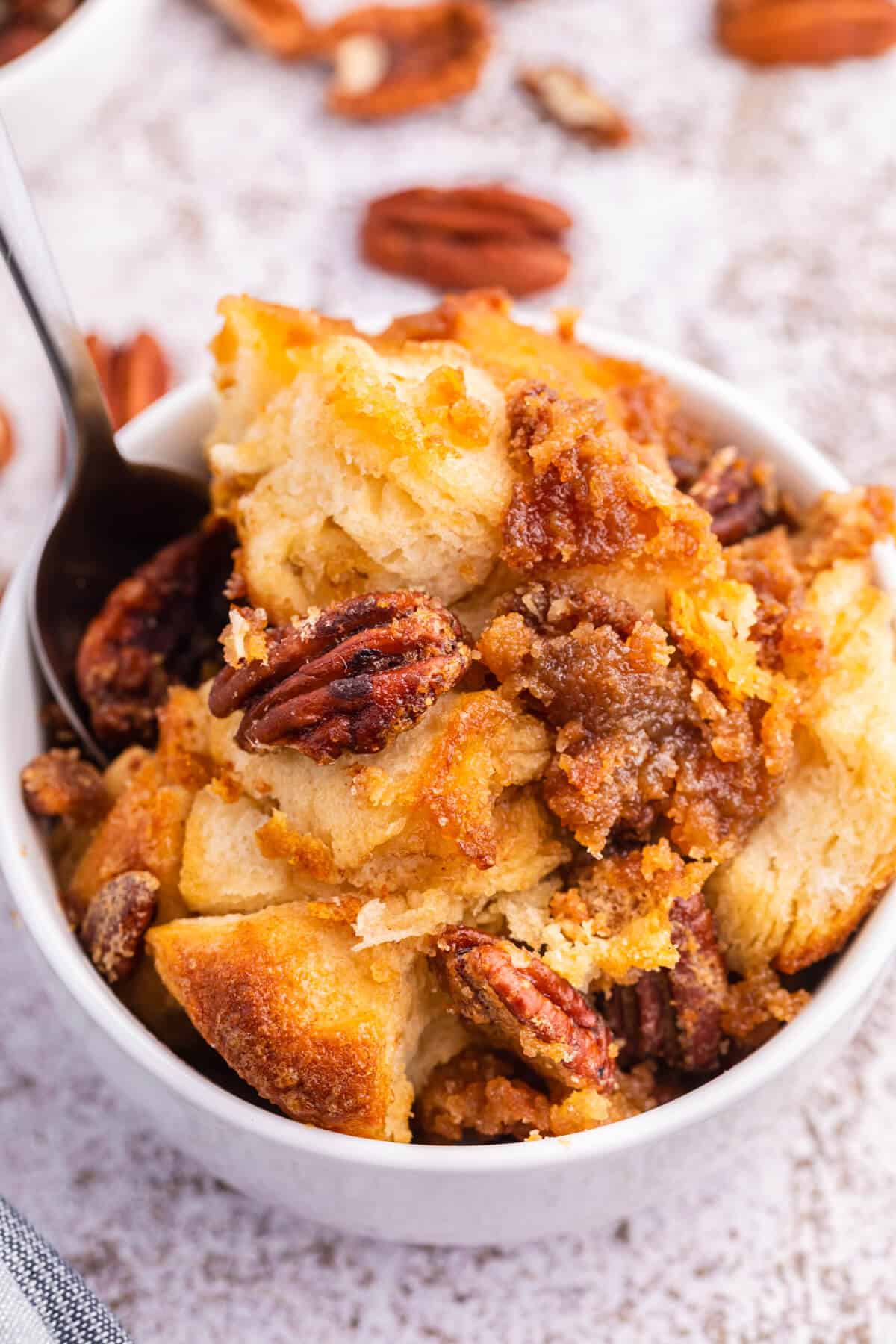 What are Butter Tarts?
If you're from the U.S., you might not be as familiar with the Butter Tart desserts. But there's a good chance you've seen them around and haven't realized what they were!
Butter Tarts are a classic Canadian dessert dating back to the early 1900's. They're loved by many Canadians who have shared this dessert with the rest of the world and now you can find this dessert all over the place, especially during the holidays.
It was one of the inspirations for this tasty ultimate indulgent dessert.
Do I have to use pecans?
No, in fact, if you don't like pecans, you can swap them out for other nuts, or omit them entirely.
Instead of pecans, you can use other nut options like walnuts, almonds, or even peanuts. They'll all bring great texture options to your dessert and will offer that crunch that you're looking for.
You could also add in other things like raisins or chocolate chips to this sweet treat dessert.
More Easy Dessert Recipes
Looking for a few more delicious treats to whip up? If you loved this Pecan Butter Tart Bun recipe, then you will absolutely adore these yummy treats:
Follow me on Instagram @simplystacieblog, Facebook at Simply Stacie, TikTok @simplystacierecipes or Pinterest at @simplystacie and let me know how you liked this recipe and my other recipes.
If you make the recipe, rate it on the recipe card below and tag me on Instagram and use #simplystacie. I like sharing the photos on my Instagram stories!
Pecan Butter Tart Buns
A cross between Pecan Butter Tarts, Chelsea Buns and Monkey Bread. These three desserts are combined together to create an indulgent delight!
Ingredients
1 package of Pillsbury Refrigerated Flaky Rolls
3 tablespoons salted butter, melted
1 cup brown sugar
1 egg
1/2 cup pecan halves
Instructions
Preheat oven to 375F. Grease an 8x8 baking dish with cooking spray.
Cut flaky rolls into quarters. Place evenly on the bottom of the casserole dish.
In a medium sized bowl, mix together butter, brown sugar, and egg. Stir in pecan halves. Pour over the rolls.
Bake for 30 minutes or until golden brown.
Recommended Products
As an Amazon Associate and member of other affiliate programs, I earn from qualifying purchases.
Nutrition Information:
Yield:

6
Serving Size:

1
Amount Per Serving:
Calories:

251
Total Fat:

13g
Saturated Fat:

5g
Trans Fat:

0g
Unsaturated Fat:

8g
Cholesterol:

46mg
Sodium:

90mg
Carbohydrates:

33g
Fiber:

1g
Sugar:

30g
Protein:

2g