These Pecan Butter Tarts are a cross between a few different desserts. The first one is Pecan Butter Tarts, obviously, but only the rich, sweet filling. The other two are Chelsea Buns and Monkey Bread. I wasn't sure what to call it, but ended up settling on Pecan Butter Tart Buns. So here it is. And it's pretty darn good!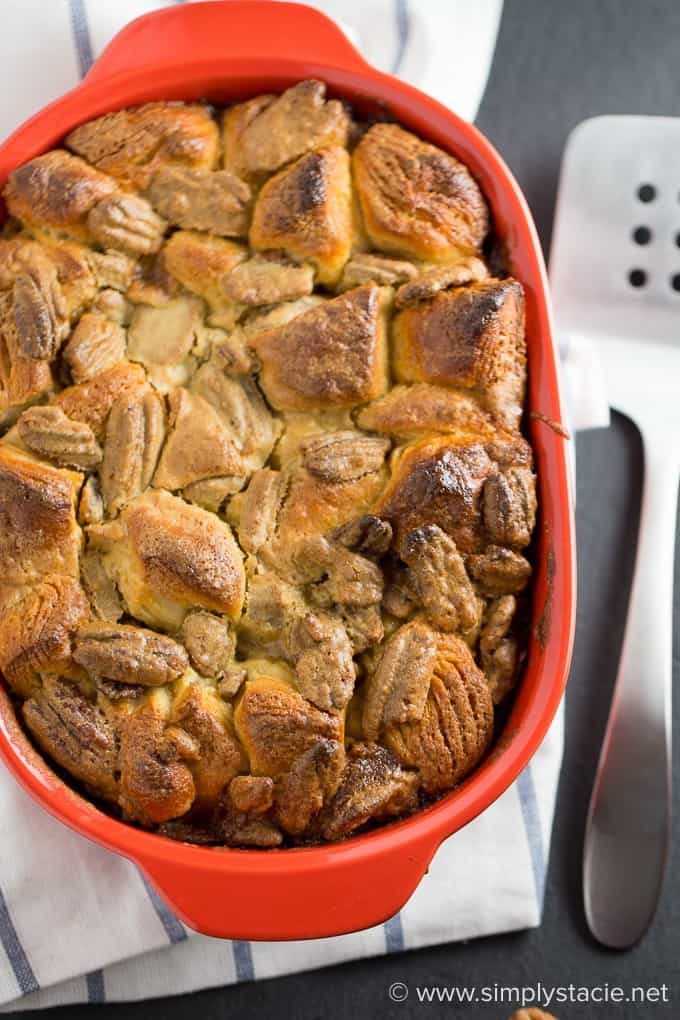 Over Christmas, my sister made the most delicious batch of butter tarts ever. I'm still thinking about each gooey bite months later. They were perfect. I've already made Butter Tarts and shared them here before. Mental note – ask Laura for the recipe. Anyways, I wanted an easy dessert that incorporated the flavour that Canadians love so much.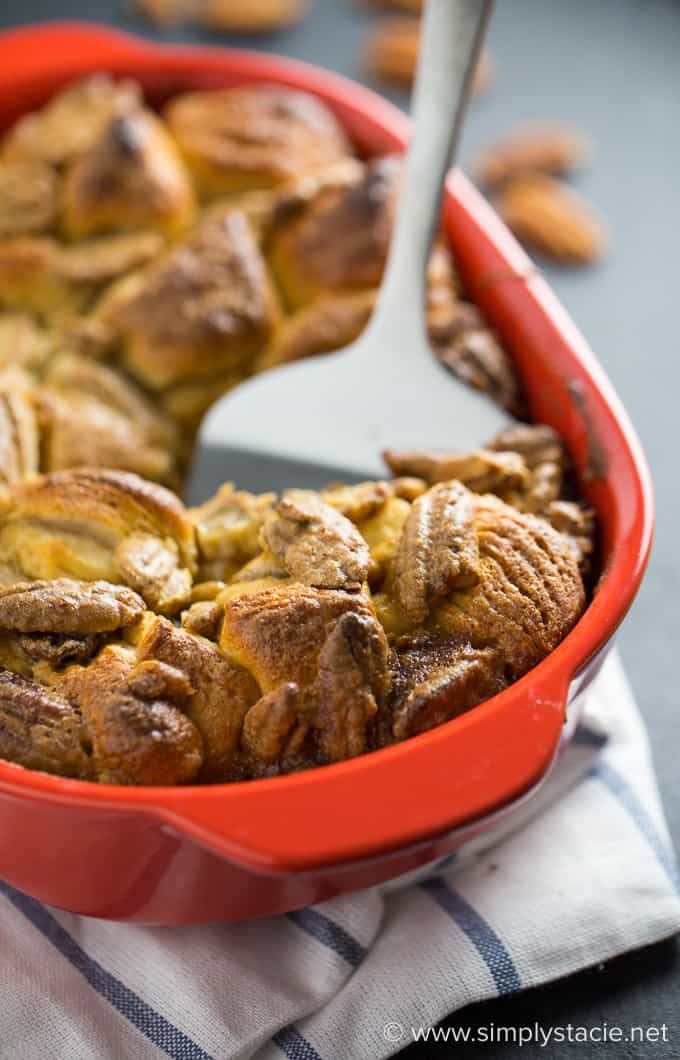 I used the Butter Tart filling added some pecans and a can of Pillsbury Refrigerated Flaky Rolls. Boom. 30 minutes later – dessert is served. It's such an easy recipe that you'll make it once and remember it for the next time.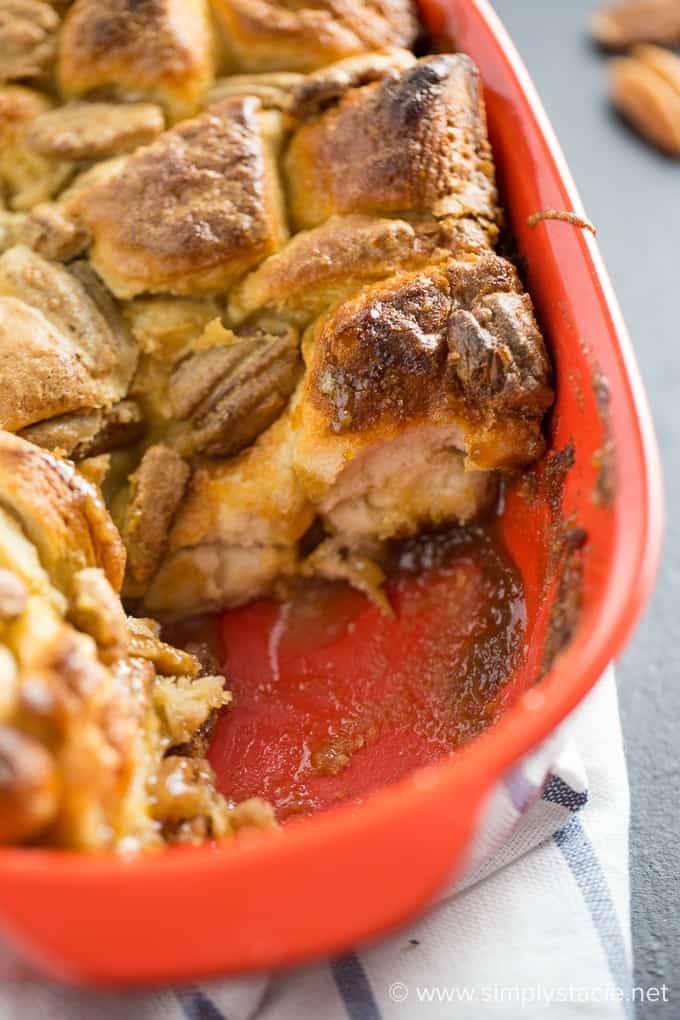 It looks even better scooped into a bowl. How's this for decadence??? Maybe add a scoop of vanilla ice cream on top!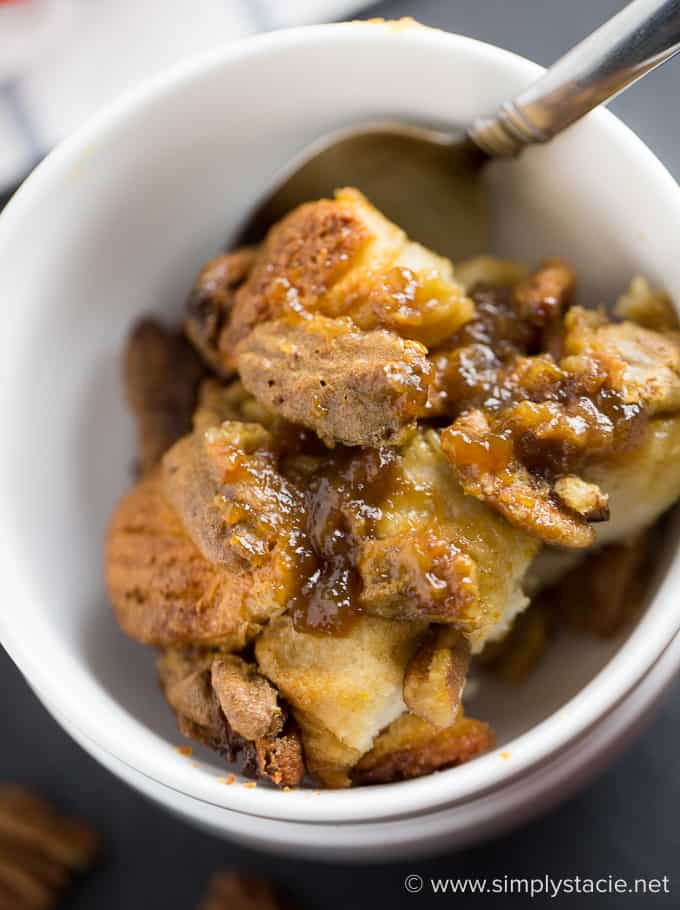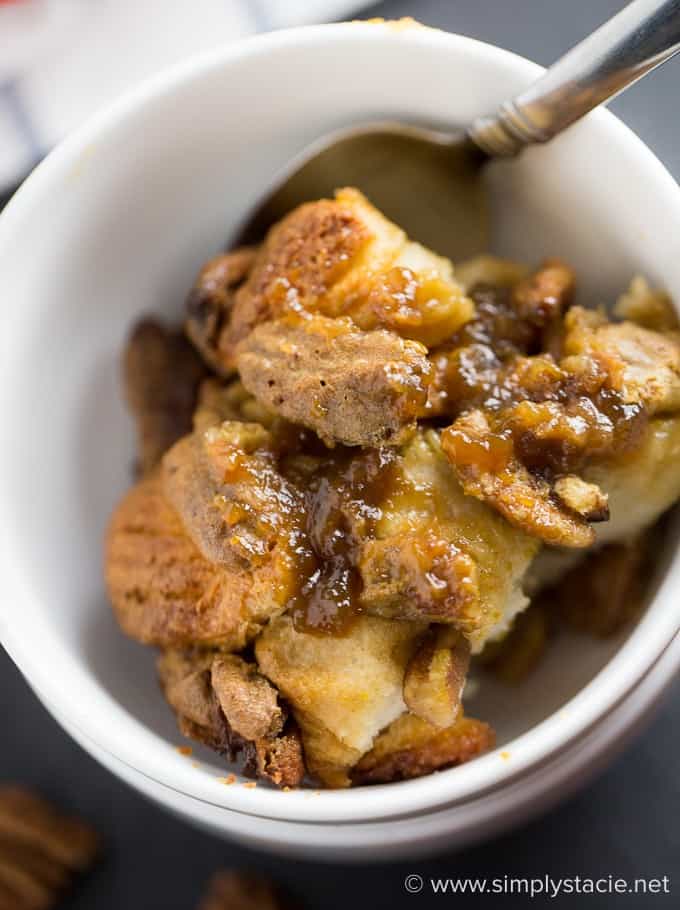 John thought that this dessert would be over the top sweet and he wouldn't like it. He said he was pleasantly surprised that it was not overpowering and had just the right amount. I don't overload the amount of butter tart filling I use so that's a big reason. I was planning to double it, but glad I kept with the amounts I did.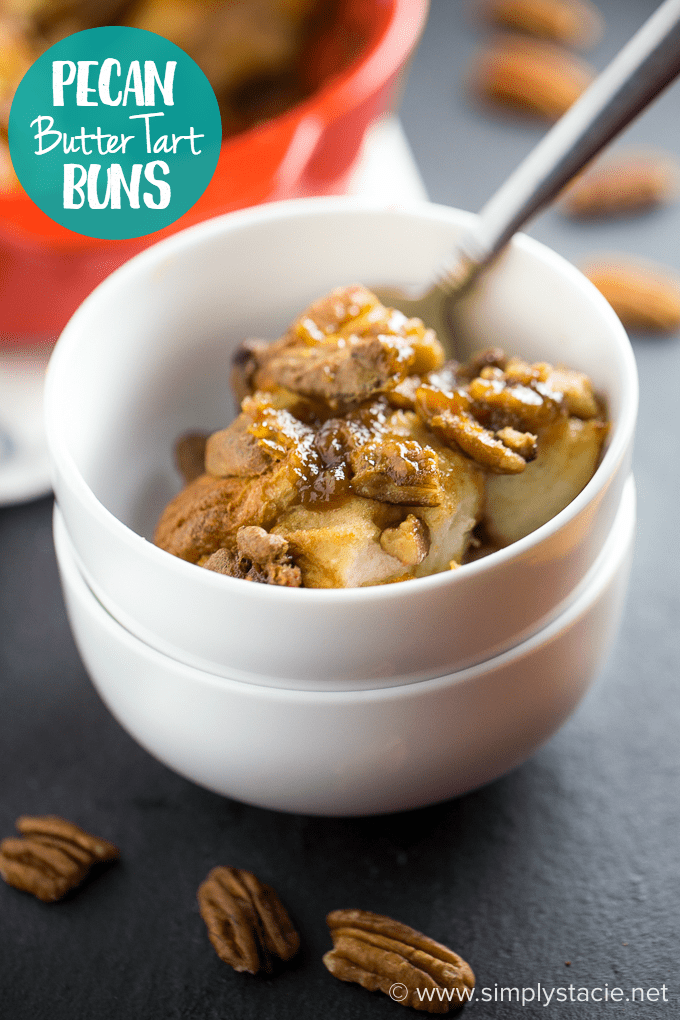 If Pillsbury Refrigerated Flaky Rolls aren't sold where you live, feel free to substitute another kind of refrigerated biscuit. I'm in Canada so I know they are sold here, but not sure about elsewhere.
For other butter tart and butter tart inspired recipes, try these Pecan Butter Tarts and Butter Tart Muffins.
Are you a fan of butter tarts?

Pecan Butter Tart Buns
A cross between Pecan Butter Tarts, Chelsea Buns and Monkey Bread. These three desserts are combined together to create an indulgent delight!
Ingredients
Cooking Spray
1 package of Pillsbury Refrigerated Flaky Rolls
3 tbsp butter, melted
1 cup brown sugar
1 egg
1/2 cup pecan halves
Instructions
Preheat oven to 375F. Grease a 1.5 quart casserole dish with cooking spray.
Cut flaky rolls into quarters. Place evenly on the bottom of the casserole dish.
In a medium sized bowl, mix together butter, brown sugar, egg and pecan halves. Pour over the rolls.
Bake for 30 minutes or until golden brown.
Recommended Products
As an Amazon Associate and member of other affiliate programs, I earn from qualifying purchases.
Nutrition Information:
Yield:

6
Serving Size:

1
Amount Per Serving:
Calories:

251
Total Fat:

13g
Saturated Fat:

5g
Trans Fat:

0g
Unsaturated Fat:

8g
Cholesterol:

46mg
Sodium:

90mg
Carbohydrates:

33g
Fiber:

1g
Sugar:

30g
Protein:

2g