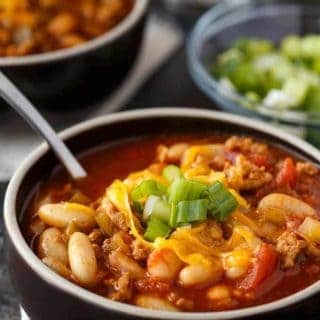 Quick White Bean & Turkey Chili
Yield: 6
Prep Time: 25 minutes
Cook Time: 20 minutes
Total Time: 45 minutes
This Instant Pot chili is easy to make and so delicious!
Ingredients
1 tablespoon neutral-flavored vegetable oil, such as canola or peanut
1 medium green bell pepper, stemmed, seeded and chopped
1 medium white or yellow onion, chopped
2 large stalks celery, leaves discarded, chopped
1 clove garlic, finely chopped
1 pound ground turkey
2 tablespoons chili powder
1 teaspoon salt, plus extra as needed
1/4 teaspoon freshly ground pepper, plus extra as needed
1/2 teaspoon dried oregano
3 tablespoons tomato paste
1 can (14 1/2 ounces) diced tomatoes with their juices
1 can (15 ounces) white beans, such as great norther or white kidney, drained and rinsed
1 cup shredded Cheddar cheese, for garnish
2 scallions, trimmed and thinly sliced, for garnish
Instructions
Press Sauté and use the Sauté or Adjust button to select the middle temperature ("Normal"). Place the vegetable oil in the inner pot, wait about 1 minute for it to warm, then add the bell pepper, onion, celery and garlic. Cook with the lid off, stirring occasionally to break up, until the onions soften slightly, about 5 minutes.
Add the turkey and use a wooden spoon or silicone spatula to break it up into small pieces as it cooks. Cook the turkey until it is no longer pink, about 5 minutes.
Add the chili powder, salt, pepper, oregano, tomato paste, and diced tomatoes with their juices and stir until everything is evenly mixed.
Close and lock the lid. Set the valve to Sealing. Press Cancel, then press Manual or Pressure Cook and use the Pressure or Pressure Level button to select High Pressure. Use the – or + button to set the time to 20 minutes.
When the cooking cycle ends, carefully use a wooden spoon to release the pressure by turning the pressure-release valve to Venting. (The pressure is released when the small metal float valve next to the pressure-release valve sinks back into the lid and the lid is no longer locked.)
Press Cancel and remove the lid. Add the beans, stirring to distribute them evenly, then close and lock the lid to allow the residual heat to warm the beans, about 5 minutes.
Taste and adjust the seasoning, adding more salt and pepper as needed. Serve the chili hot, garnished with the shredded Cheddar and scallions.
Notes
Quick White Bean and Turkey Chili will keep, in an airtight container in the refrigerator, for up to 4 days. To reheat, place it in a pot and warm on the stovetop over medium heat, stirring occasionally, until hot, about 5 minutes.
Excerpted from How to Instant Pot by Daniel Shumski (Workman Publishing). Copyright (c) 2017. Photographs by Ken Carlson.
Nutrition Information:
Yield: 6
Serving Size: 1 cup
Amount Per Serving:
Calories: 363
Total Fat: 16.1g
Saturated Fat: 7.1g
Trans Fat: 0.3g
Unsaturated Fat: 6.4g
Cholesterol: 70.8mg
Sodium: 836.9mg
Carbohydrates: 29.4g
Fiber: 8.3g
Sugar: 6.2g
Protein: 27.5g