Gingerbread Whoopie Pies
Disclosure: This post has been sponsored by Kraft Heinz Canada ULC. All thoughts and opinions are my own. 
The Christmas season is my favourite time of year. I may be close to 40 years old, but I still can feel the magic the holidays bring. I don't believe in Santa, but I do believe in togetherness and giving. I love spending time with my family and celebrating all of life's blessings. Our family has many holiday traditions including a Boxing Day dinner, holiday games and my personal favourite, baking!
My mom wasn't a big baker, but my grandmother was. I remember visiting her home and enjoying a tray of sweet delights. Her shortbread cookies were the best I've ever had. When I started my own family in my early 20s, I knew I wanted to be like my grandma with her baking expertise. The first year, I bought a cookbook and I made pretty much every recipe in the dessert section. No I'm not kidding. I had so many desserts that I didn't have room for them in my kitchen. I remember having to drive to relative's houses to drop off desserts. No one complained, but the next year I made sure to be more selective with my baking selections.
Fast forward almost 20 years and I've learned a baking trick or two. Quality is important to me. I want to serve my family quality recipes made with the best ingredients. I find this simple tip makes my recipes turn out so much better.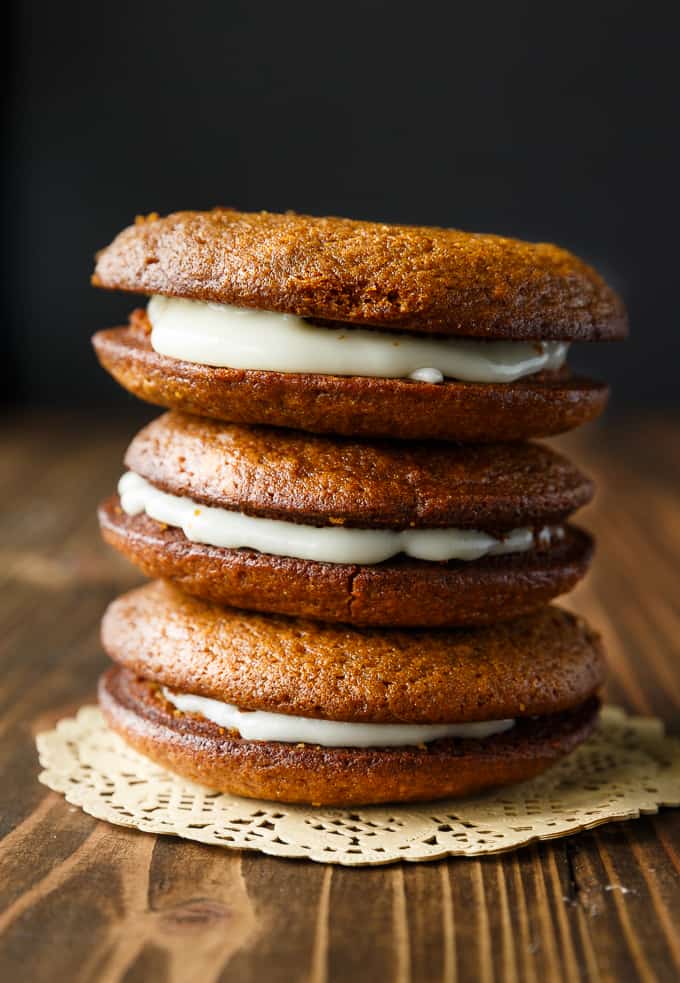 I recently developed a new recipe that is going on my holiday baking roster: Gingerbread Whoopie Pies. I tested it out three times to get the recipe absolutely perfect and I finally got it right. The highlight of the recipe, in my opinion, is the ultra-creamy, smooth cream cheese filling. It tastes heavenly paired with the spice of the gingerbread.
Like I mentioned, it all starts with QUALITY. The only cream cheese I will use in my holiday baking recipes is PHILADELPHIA® Cream Cheese. Why? Because I can rely on it to yield great results in terms of flavour, texture and presentation.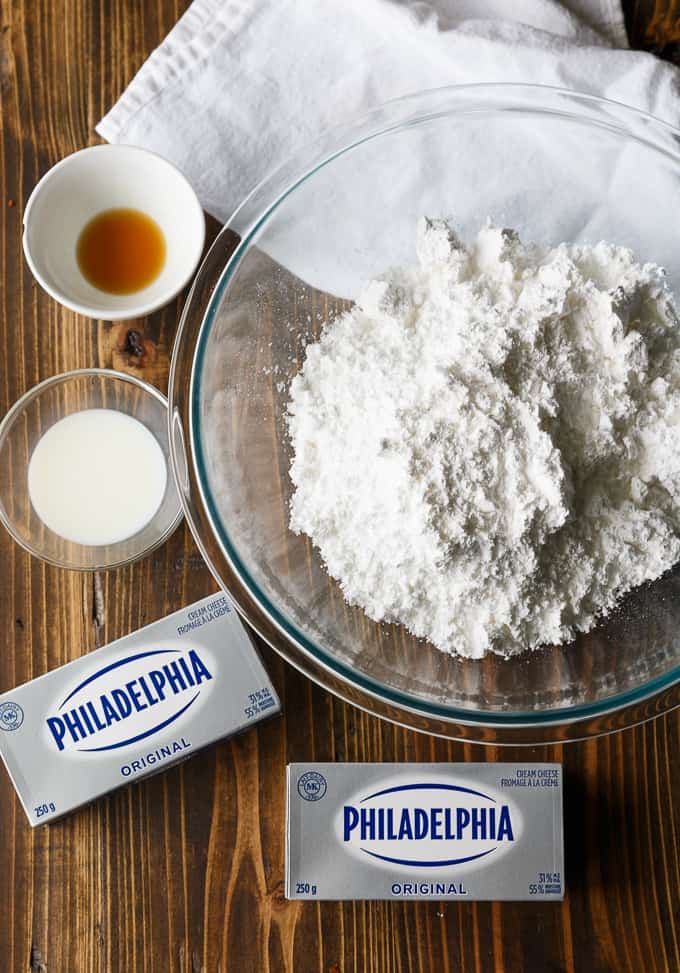 I've been using PHILADELPHIA® Cream Cheese for as long as I've been baking. When I was shopping in the dairy aisle at the grocery store, I grabbed a bunch of them to use in my holiday baking recipes. This particular recipe uses two bricks.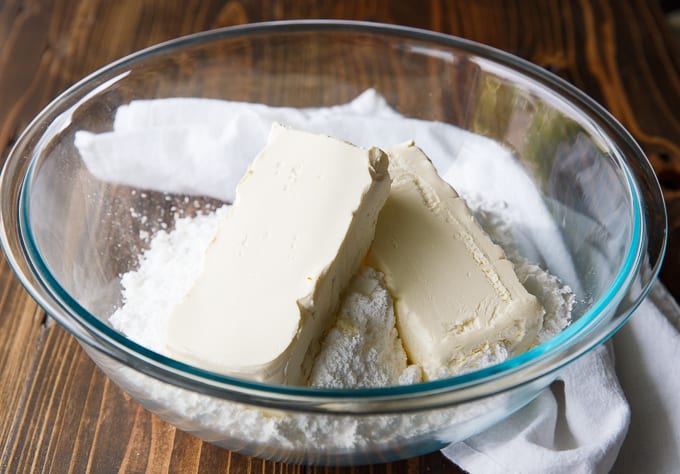 I tested it out with one brick, but ended up adding two in the final recipe to make the filling creamier and richer. This is a lick the bowl kind of recipe! I saved a small dish of filling to use for dipping.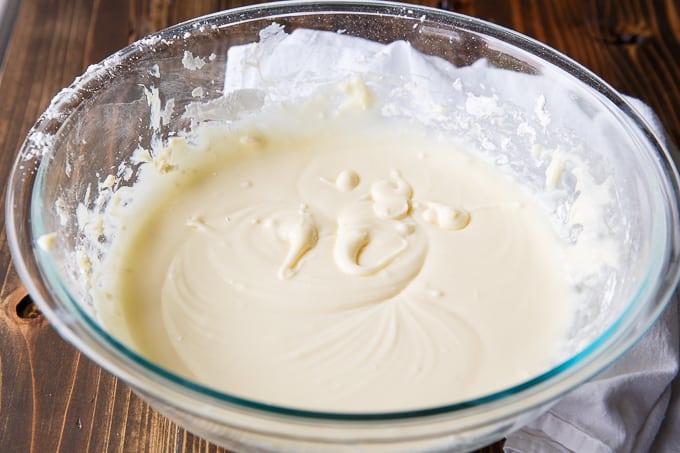 When I was trying to come up with a vehicle to serve this delicious cream cheese filling in, I came up with one of the quintessential holiday flavours: gingerbread. It's super easy to whip up in a matter of minutes!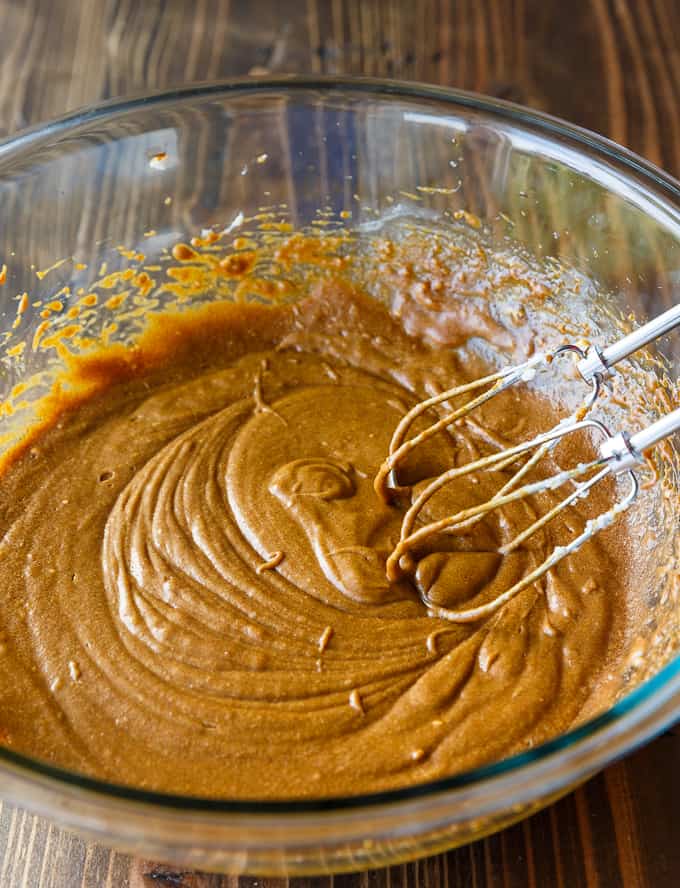 I made Gingerbread Muffins recently and found they weren't as sweet as I would have liked them to be. For this recipe, I used both sugar and brown sugar to up the sweetness factor and bring out the spicy flavours.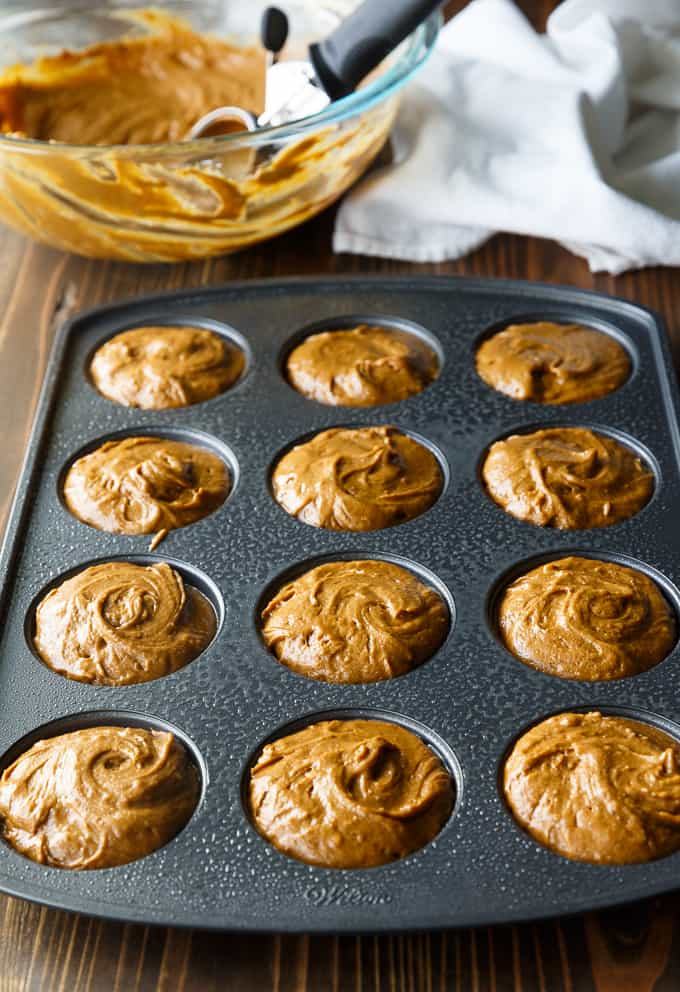 For best results, use a muffin top pan or whoopie pie pan. It will help your whoopie pies form the perfect circular shape. I tested them on a regular baking pan and they will still work, but will be a little flatter. Just make sure to leave enough space in between each pie so they don't stick together.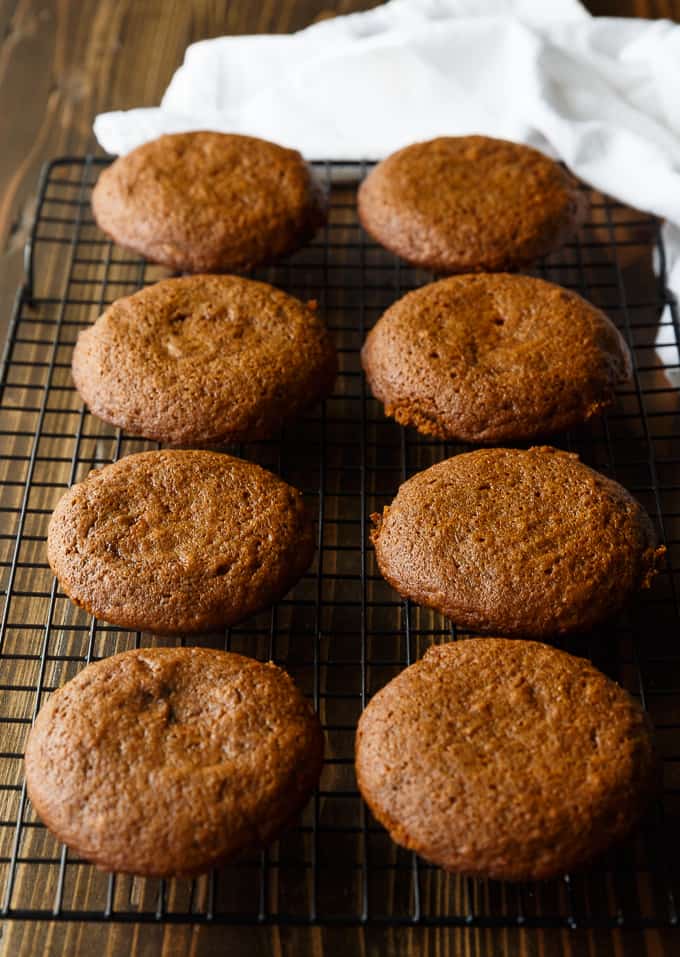 My youngest daughter saw me baking and asked if she could help. It was nice to see that she has taken an interest in one of my passions. I hope one day she will follow in my footsteps and bake for her own family and friends. I had her add a heaping tablespoonful of cream cheese filling to one half of the whoopie pies.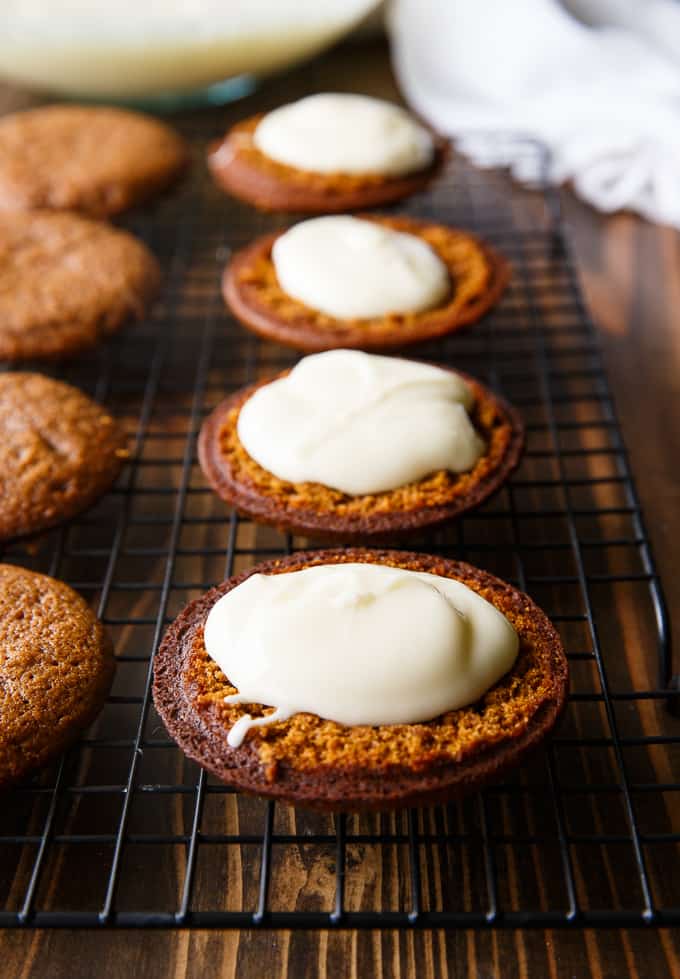 This recipe is a keeper and I couldn't be happier with how they turned out. Gingerbread + cream cheese is a heavenly match.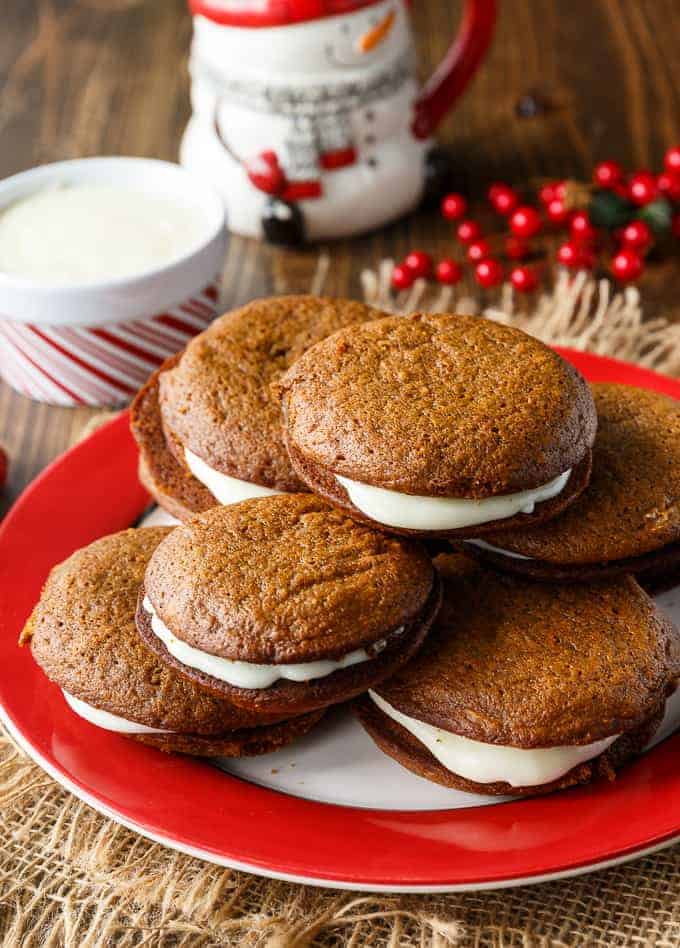 Each bite is a burst of holiday flavours with the spicy gingerbread cake and the creamy, sweet richness of the cream cheese filling. I made the pies on the bigger side so one serving leaves you pleasantly satisfied.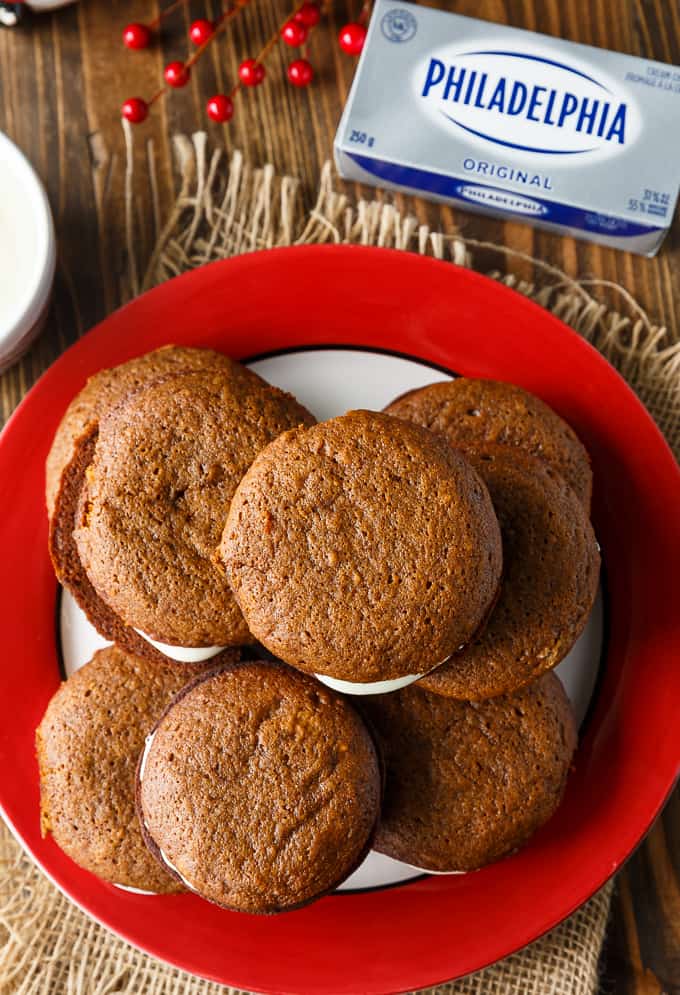 My family adored this recipe and gobbled them up faster than you can say "Christmas". It made me feel good inside knowing they enjoyed the recipe. That's the main reason why I bake. Seeing the smiles and hearing their praise is so worth it.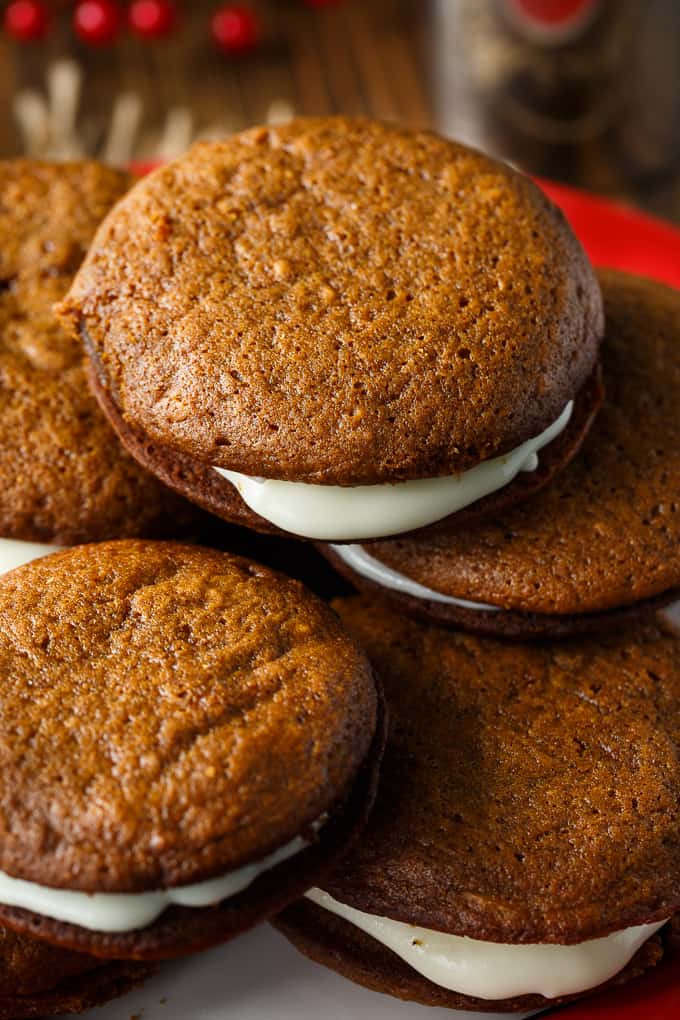 If you are looking for a high quality, delicious recipe for the holidays, this recipe is one you need to try! I hope your family enjoys it as much as mine has.
Get some money saving coupons for Kraft products!
What are you baking this holiday season?

Yield: 8 to 12
Gingerbread Whoopie Pies
Each bite is a burst of holiday flavours with the spicy gingerbread cake and the creamy, sweet richness of the cream cheese filling.
Ingredients:
1/2 cup shortening
1/2 cup sugar
1/2 cup brown sugar
1 cup molasses
1 tsp vanilla extract
1 egg
2 1/3 cup flour
1 tsp baking soda
1 tsp ginger
1 tsp cinnamon
1/2 tsp nutmeg
3/4 tsp salt
3/4 cup hot water
Cream Cheese Filling
2 – 250g packages PHILADELPHIA® Cream Cheese, softened
4 cups icing sugar (powdered sugar)
1 tsp vanilla extract
2 tbsp milk
pinch of salt
Directions:
Preheat oven to 325F. Spray a muffin top pan (or whoopie pie pan) with cooking spray. Set aside.
In a large bowl, beat the shortening, sugar, brown sugar, molasses, vanilla extract and egg on medium speed until smooth.
In another large bowl, stir together flour, baking soda, ginger, cinnamon, nutmeg and salt.
Add 1/3 of dry mixture to wet mixture and stir. Add 1/3 of the hot water to the wet mixture and stir. Repeat steps alternating between adding the dry mixture and hot water.
Scoop batter into muffin top pan. Bake 20 minutes or until a toothpick inserted comes out clean. Let cool 10 minutes in the pan before removing to a cooling rack.
Cut bottoms off each muffin top so you are just left with the top part. Set aside.
Cream Cheese Filling
Add icing sugar, PHILADELPHIA® Cream Cheese, salt and vanilla extract to a large bowl. Beat on low speed until combined.
Add milk, 1 tablespoonful at a time, beating in between, until mixture is smooth.
To assemble, add 1 heaping tablespoonful of cream cheese filling to one half of gingerbread. Cover with another half of gingerbread to create a sandwich. Enjoy!