Spaghetti Casserole
Growing up, we ate a lot of baked pasta casseroles. My mom was a big fan of them and this recipe for Spaghetti Casserole was one of her favourites. Being the picky kid that I was, I hated it. That was normal for me since I disliked pretty much all foods except for a few things. Now that I'm an adult, I can see the appeal. This casserole is delicious comfort food and is worth the bit of extra assembly required to make it.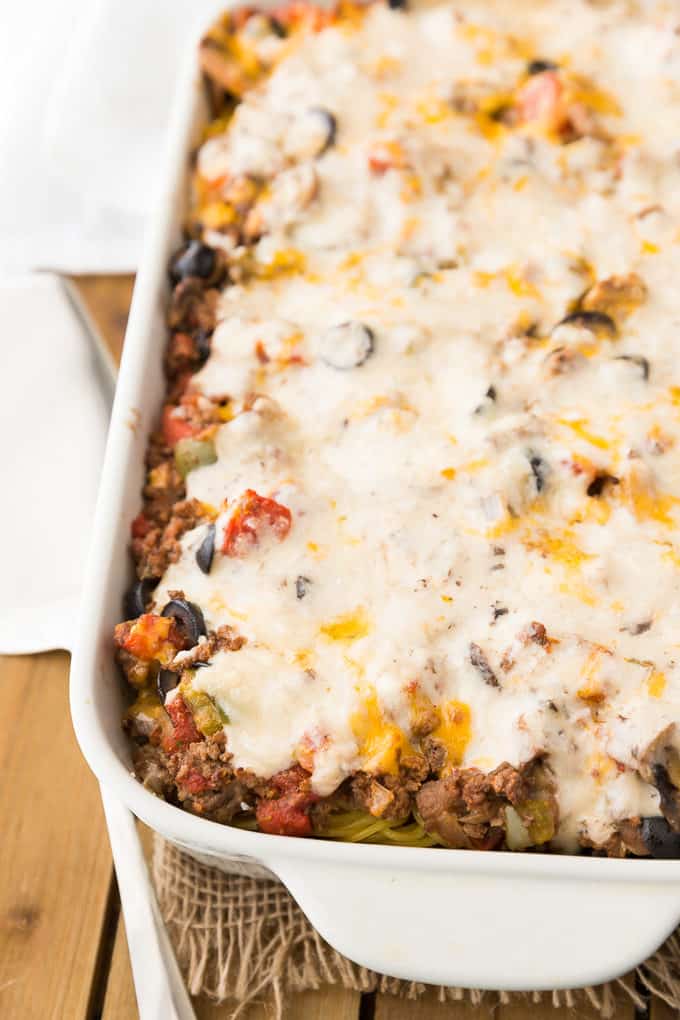 Spaghetti Casserole
It requires a few extra steps to prepare it. You have to cook the spaghetti noodles first as well as brown the ground beef. The veggies are chopped and cooked separately. That creamy sauce comes from a can – it's cream of mushroom soup! I'm not a big fan of canned cream of mushroom soup, but I like it in this recipe.
It's messy to eat, but so so good. It also huge so it serves a good amount of people. If you're family is small, you'll probably have some leftovers. It tastes just as good heated up the next day.
I totally understand now why my mom loved her casseroles. I make them regularly for my family so I guess the apple doesn't fall far from the tree. Mind you, my girls are picky just like I was so I guess that's karma coming back at me!
Do you have a dish that you hated as kid, but love to eat it now? 

Yield: 8
Spaghetti Casserole
My mom made this recipe all the time when I was a kid. It's hearty and filling and tastes just as good the next day.
Ingredients:
1 tbsp extra virgin olive oil
1 onion, chopped
1 green pepper, chopped
1 28oz can diced tomatoes
1 284ml can sliced mushrooms
1/2 cup black olives, sliced
2 tsp oregano
1 lb ground beef, cooked and drained
4 cups spaghetti noodles, cooked
2 cups cheddar cheese, shredded
1 284ml can of cream of mushroom soup
1/4 cup water
1/4 cup Parmesan cheese, shredded
Directions:
Preheat oven to 350F. Grease a 9×13 casserole dish with cooking spray.
Heat olive oil in large skillet over medium high heat. Add onions and green peppers and cook, stirring often, until softened, about 5 minutes.
Add tomatoes, mushrooms, black olives, oregano and ground beef. Cook, uncovered, for 10 minutes, stirring occasionally.
Add half of the spaghetti to the bottom of the casserole dish. Top with 1/2 of the tomato/beef mixture. Sprinkle 1 cup of cheddar cheese on top. Repeat these layers a second time.
In a small bowl, mix together the cream of mushroom soup and water. Pour evenly on to the casserole. Top with Parmesan cheese.
Bake for 30 minutes. Serve hot.