Slow Cooker Rosemary Garlic Mashed Potatoes
Sometimes, you just can't win. John's been complaining that it's been a long time since I made mashed potatoes. So I went out and bought a big bag of them and made three different potato dishes in a week. Now, he's complaining that we are having it too often. See what I mean? It's either not enough or too much. I guess, in a way, I did go a bit nuts with potatoes. We were supposed to have them again last night, but I had an extreme recipe fail. The kind where you ruin a pot….but let's talk about recipe successes instead. These Slow Cooker Rosemary Garlic Mashed Potatoes were yummy and no pots were harmed during the preparations.
I love using the slow cooker to make potatoes. It takes a bit longer to cook, but requires barely any effort on your part. All you have to do is get the ingredients in the slow cooker and set it to cook. After a few hours, mash it up and dinner is served. Easy!
I often add garlic to my mashed potatoes. This time around, I added some fresh rosemary. We had a bunch leftover in the fridge from another recipe I was making. It turned out beautifully. Garlic and rosemary are a match made in potato heaven.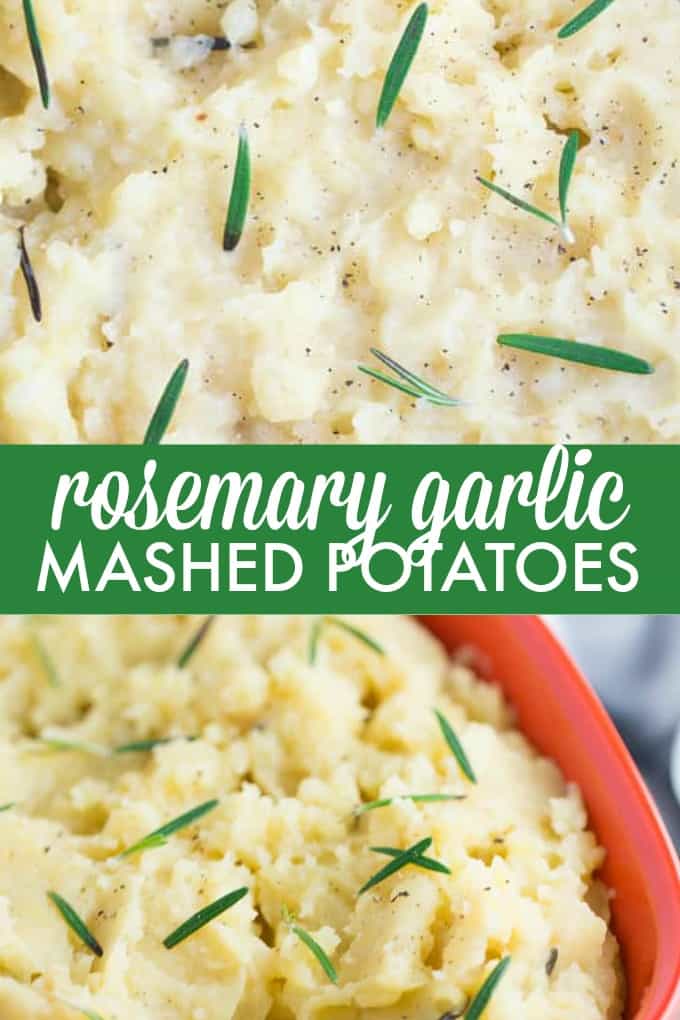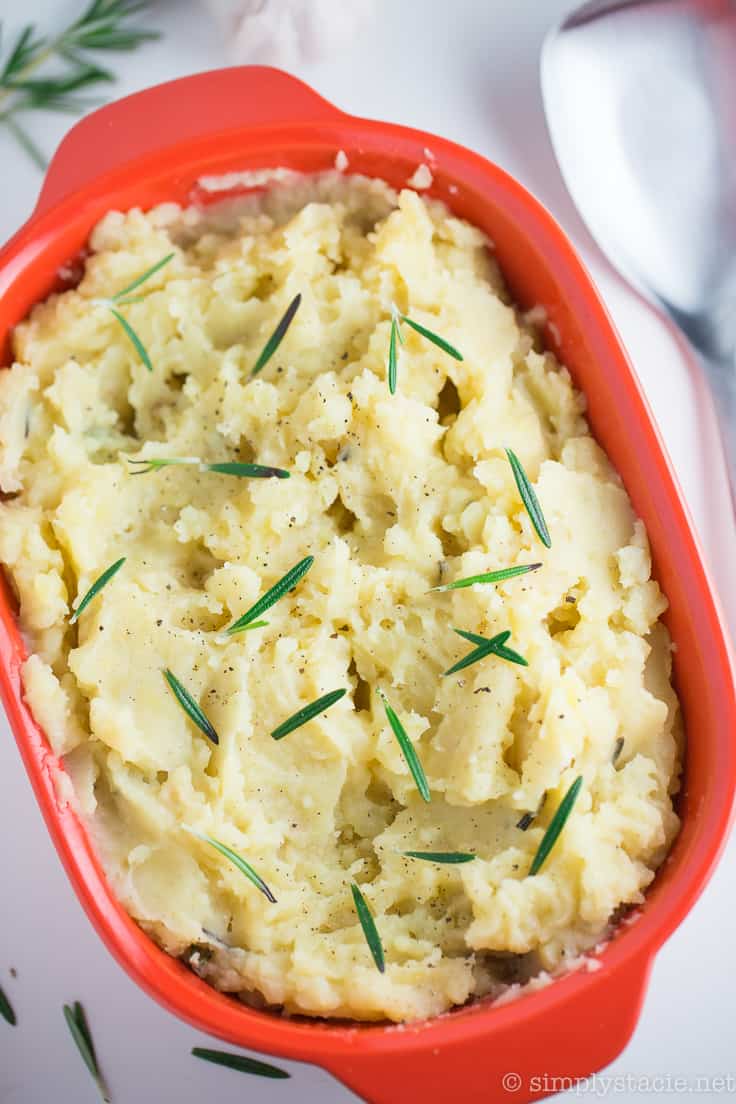 If you don't want to make the recipe in your slow cooker, you can also do it on the stove top. Cook the potatoes like you normally would and at the end, add all the ingredients minus the chicken broth. Whip or mash and serve.
Have you ever made mashed potatoes in your slow cooker?
Slow Cooker Rosemary Garlic Mashed Potatoes
Yield: 4
Prep Time: 10 minutes
Cook Time: 3 hours
Total Time: 3 hours 10 minutes
Slow Cooker Rosemary Garlic Mashed Potatoes are the best way to make potatoes. Creamy, rich, garlicky flavor in every bite. These creamy mashed potatoes are the perfect weeknight side dish, or serve up for a crowd this holiday season.
Ingredients
3 lbs yellow or white potatoes, peeled and cut into large chunks
1/4 cup butter, cut into cubes
5 cloves garlic, minced
1 cup chicken broth
1 tbsp fresh rosemary
salt & pepper, to taste
1/3 cup milk
Instructions
Add potatoes to the slow cooker. Top with butter, garlic, rosemary, chicken broth and salt and pepper. Cover and cook on high for 3 hours.
Turn off slow cooker. Remove lid and add milk. Mash with a potato masher until desired consistency. Serve hot.
Recommended Products
As an Amazon Associate and member of other affiliate programs, I earn from qualifying purchases.
Nutrition Information:
Yield: 4
Serving Size: 1
Amount Per Serving:
Calories: 438
Total Fat: 13g
Saturated Fat: 8g
Trans Fat: 0g
Unsaturated Fat: 4g
Cholesterol: 33mg
Sodium: 441mg
Carbohydrates: 75g
Fiber: 8g
Sugar: 4g
Protein: 10g